How To Send More Personalized Push Notifications
We held our webinar, "How To Skyrocket Engagement With Personalized Push Notifications," last week. It won't be available on-demand, so in case you were unable to attend, there will be a two-part blog recap of everything you missed. Part one will go over the top takeaways discussed by our special guest, Forrester's Julie Ask, and our CEO, Momchil Kyurkchiev. Part two will address some of the questions we didn't have a chance to get to during the Q&A portion of the webinar.
So without further ado, here are six things we learned in the webinar.
There Are 150-200 Mobile Moments per Day
Some quick math: in the US alone there are 200 million smartphones, which means that there are 30 billion mobile moments per day just in the US.
Most of these mobile moments happen in apps. When consumers are on their smartphones, they spend 78 percent of their time in apps, and only 22 percent on the web in an internet browser.
Julie Ask tells us that commerce players own too few of these mobile moments. Consumers increasingly expect proactive engagement in the moment they have a need. Many companies aren't adequately equipped to be there for US consumers' 30 billion mobile moments a day.
Consumers Respond to Messaging
Forrester posed this question of smartphone users: what action(s) did you take the last time you received a notification?
57 percent read it, opened app, and took action within the app

22 percent read it and took action offline

14 percent read it and replied within the notification
This indicates that consumers are ready and willing to engage with push notifications.
Consumers Demand Immediacy & Relevancy
According to more Forrester research, here's why users opt in or out of push notifications:
49 percent of users opt-in to receive notifications to receive timely information

41 percent opt-in to receive coupons and deals

But 52 percent opt-out of notifications because they were too frequent, irrelevant, and untimely
Consumers want to receive push notifications when they offer they relevant and timely information, or exclusive deals hand-picked for them. Enterprises can capitalize on this preference, rather than blasting their users with a barrage of messages that are unrelated to what they need or want in the moment.
Too Few Companies Leverage Personalized Messaging
Julie Ask tells us that too few enterprises use context to make services relevant to consumers. She cited that only 34 percent use context to anticipate the needs of consumers. Additionally, when polled, only 25 percent of companies said that they regularly use a mobile push notification strategy.
This indicates a great opportunity for companies to start using mobile messaging campaigns to provide personalized, contextual information that will delight their users.
Identify Your Customer's Mobile Moments & Context
Identify mobile moments using the IDEA strategy.
Identify

the mobile moments and context

Design

the mobile engagement

Engineer

your platforms, processes, and people for mobile

Analyze

results to monitor performance and optimize outcomes
Factors That Determine Why Users Open Push Notifications
Then we leaked the hottest points  from our new data science report, "Personalize or Bust: The Impact on App Engagement." Inside the report, we share three elements that lead to higher push opens.
#1: Platform
Push notification open rates on Android are 2x that of iOS.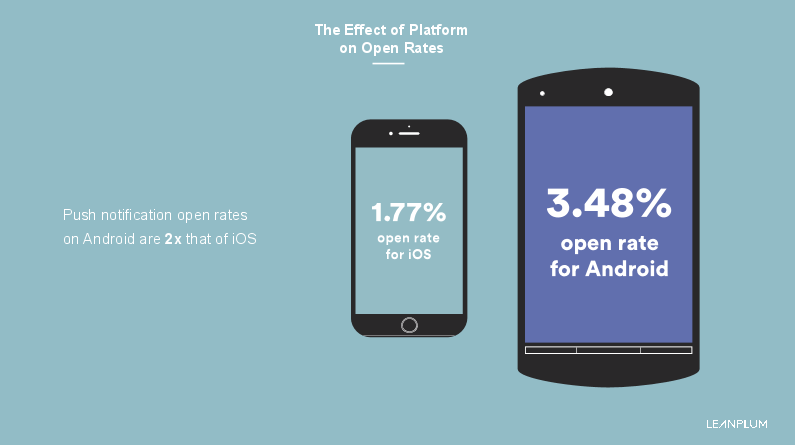 Additionally, users open push notifications 7x faster on iOS than on Android.
Our hypothesis is that fundamental differences in the user interface affect these statistics.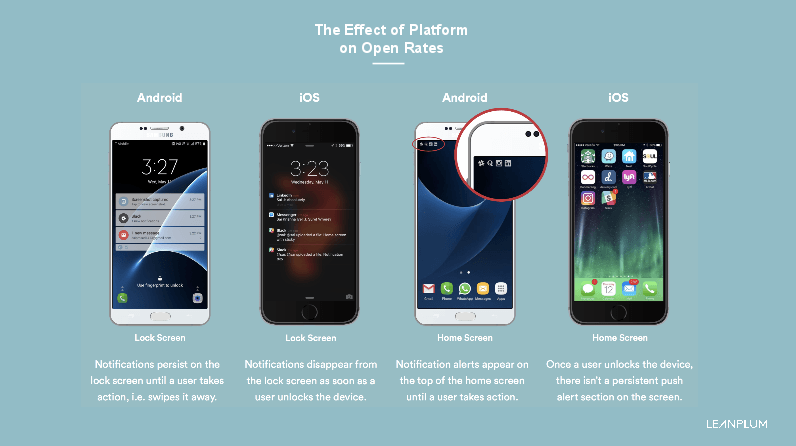 This is something to think about when creating messaging campaigns: consider the platform of your users and how that might impact how they engage with your notifications.
#2: Content
Personalizing the content of your push notifications can result in a 4x lift in open rates.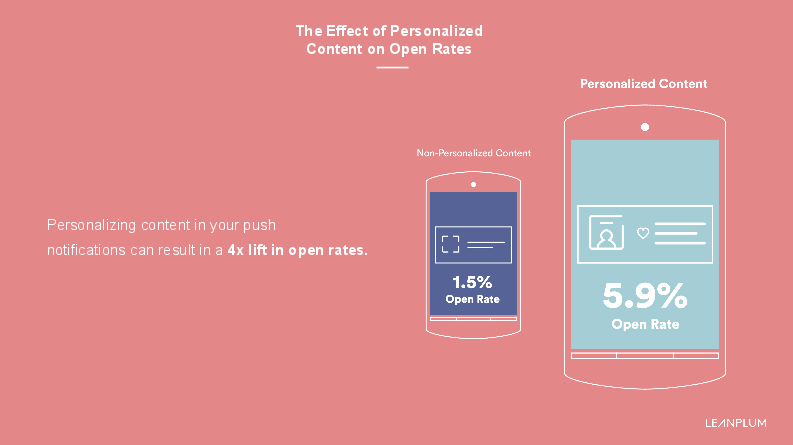 Personalized content is valuable because it engages your users and recognizes their needs and preferences. Use data from user profiles to cater notifications to what you know your users will want to see.

#3: Delivery
There are two main categories of delivery type: scheduled and behavior-based.
Scheduled delivery can be further broken into three main types. A blast campaign, in which you set a date and time for your message to be delivered to all your users. By time zone, which takes your users' location into consideration. Using Optimal time, which uses Leanplum's machine learning to intelligently deliver notifications to users at the time they are most likely to engage with your app.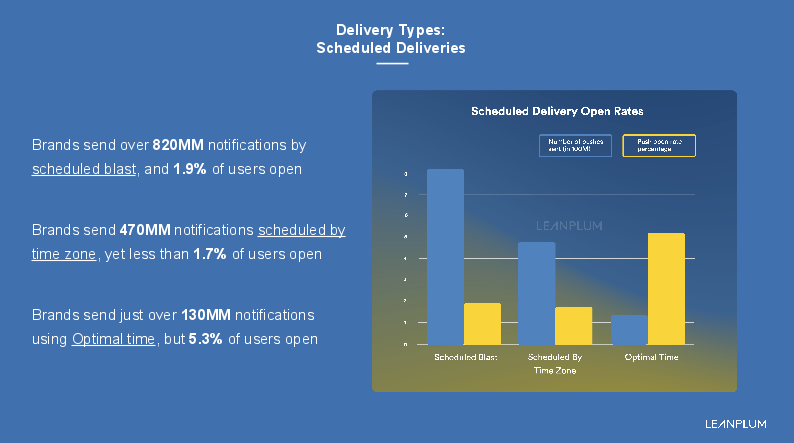 As we found in our report, using Optimal time can improve open-rates by over 3x.
The second delivery category can be broken into two groups: immediate or behavior-based.
Sending notifications immediately means manually pushing a notification to your users as soon as you hit go. Behavior-based notifications push to users based on the context of what the user does inside your app. This can be filtered by in-app actions, like adding an item to a cart, or by physical location, like arriving in a specific city.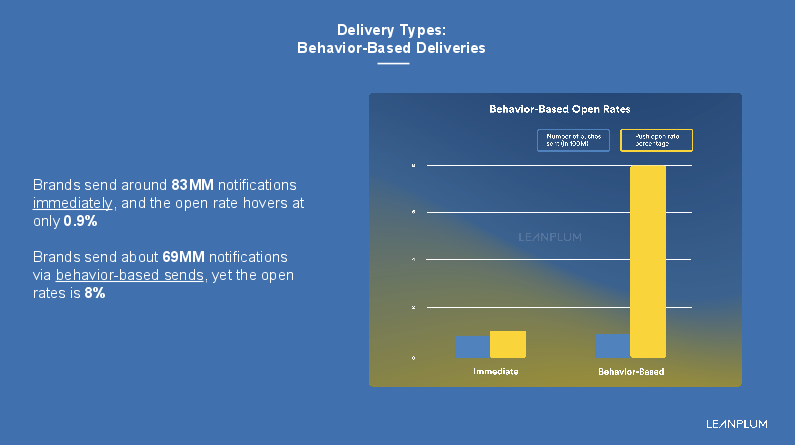 In our report, we found that behavior-based sends increase open rates by 4x.
Solutions for Better Personalization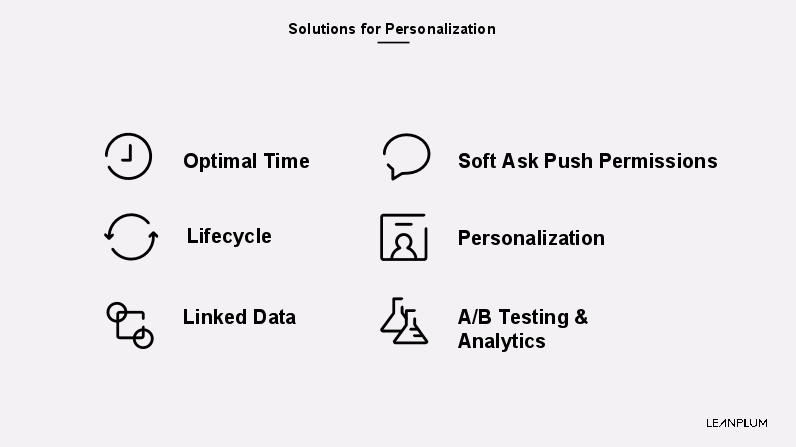 A few of these we've already discussed, like Optimal Time and Personalization. Check out these handy resources to learn more about how Leanplum can help you solve for personalization:
Conclusion
For more info on how personalization can boost your app engagement, check out our full report, "Personalize or Bust: The Impact on App Engagement."
Thank you to everyone who participated in our webinar, and stay tuned for part two of our webinar recap, where we'll address all of your burning, unanswered questions.
—
Leanplum is the most complete mobile marketing platform, designed for intelligent action. Our integrated solution delivers meaningful engagement across messaging and the in-app experience. We work with top brands such as Expedia, Tesco, and Lyft.