If there's one thing that resonates with mobile users more than a well-timed push notification, it's a creative one. Copy is important in all messaging channels, and the best mobile teams stretch their creative muscles to fit engaging content into the limited space of a push message.
Below are some of our favorite examples of creative push message campaigns, both from personal experience and from around the web. No matter the app vertical, there's always a way to write content that turns heads while offering an exciting experience.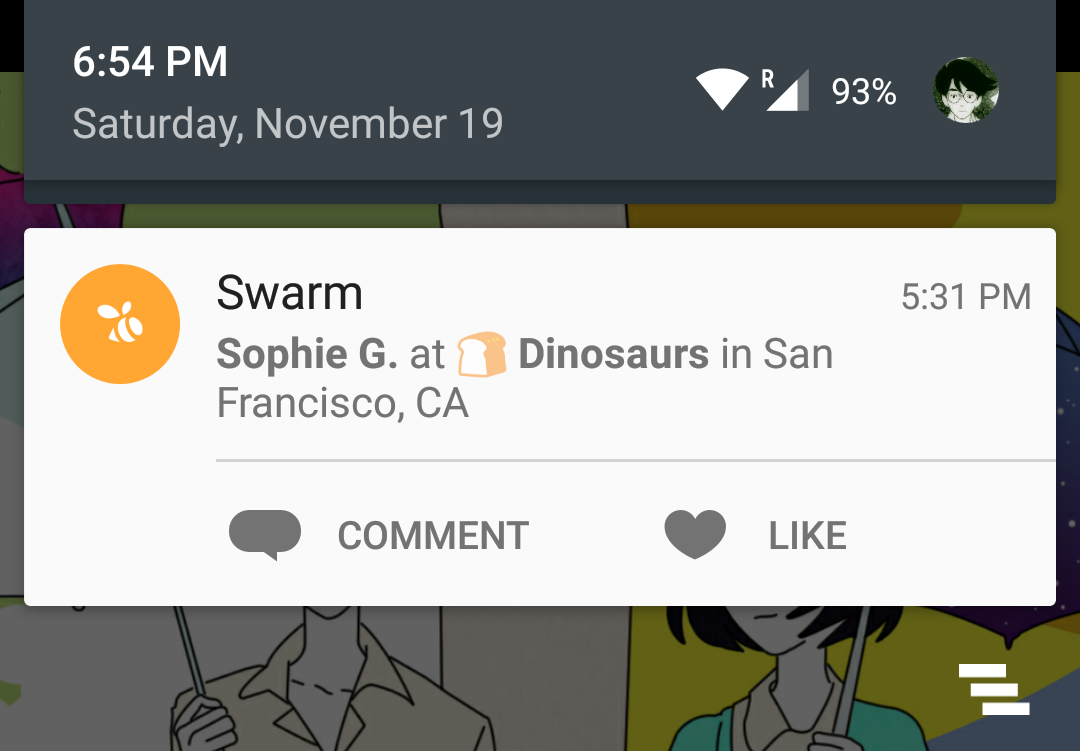 Swarm's messages are a good place to start because they exhibit so many of the push notification best practices.
This is an example of a behavioral trigger: the push message was sent when a nearby friend checked into a new location. The user and venue names are conveniently bolded within the copy, making it easy to read at a glance.
The bread emoji before the restaurant name is also a creative touch, as Dinosaurs is a sandwich shop. Presumably, Swarm uses unique emoji for each category of venue in their database, allowing them to add a bit of flavor to their notifications.
Furthermore, this message is interactive. Users can quickly like the check-in or leave a comment, without clicking through to the app. This usability feature gives the recipient yet another reason to remain opted in to push notifications.
The most impactful push notifications are the ones that engage users with personal and relevant content. Messaging triggers (as used in the example above) are powerful tools when it comes to orchestrating campaigns with real-time engagement. Leanplum helps to optimize push notification engagement with message triggers and more, find out how.
2.
Sunshine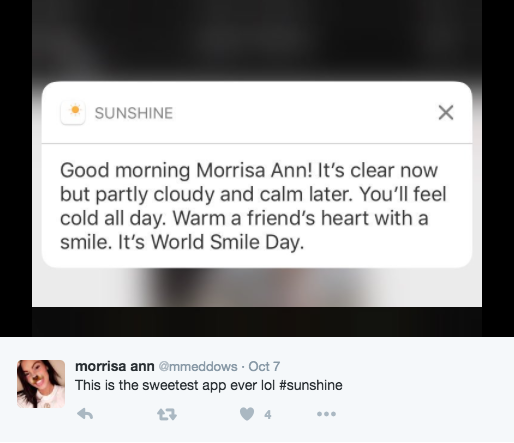 Sunshine is a weather app that sends personalized forecasts based on your tastes.
For this user, the message says that "you'll feel cold today," but another person might receive a message that says something like "it's mild outside today." By telling the app when you feel too warm or too cold, users will eventually receive personalized forecasts that predict how they'll feel when they step outside.
This feature is core to Sunshine's differentiation as a weather app, and the company has clearly invested time into writing copy that fits their personalized data. By combining a location-specific forecast with user-specific names and preferences, the message comes across as personal and welcoming.
If there's one thing that never fails to get an audience's attention, it's personalisation. Clever use of automated tools makes all kinds of unique personalised tricks possible. If you'd like to find out more about how to personalise push notifications and captivate your target market, speak to our team.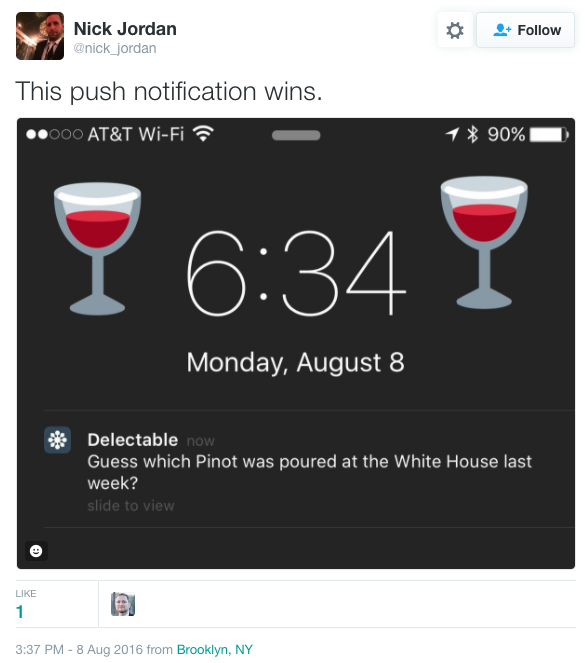 Delectable, the wine database app, found a way to incorporate topical events into its messaging.
Instead of following in the footsteps of most media apps and offering recommendations based on usage history, this notification catches your attention with a simple piece of trivia. Of course I'd like to find out which Pinot was poured at the White House last week — and maybe I'd like to drink it, too.
The creativity of this message shines through its effectiveness at both entertaining the user and offering a recommendation. This is the best of worlds, as it's a simple CTA that doesn't come across as promotional.
Let your creativity run wild and you're far more likely to engage your audience in a way that feels both authentic and entertaining. Look to seasonal events and topical talking points for inspiration, and if you find something that's relevant to your brand and guaranteed to interest your audience, you'll be able to turn it into a push notification that speaks directly to them. 
To learn more, take a look at our content creation tools. We help brands to power up engagement and make the most of their content, orchestrating email, mobile, and web messages for optimal engagement.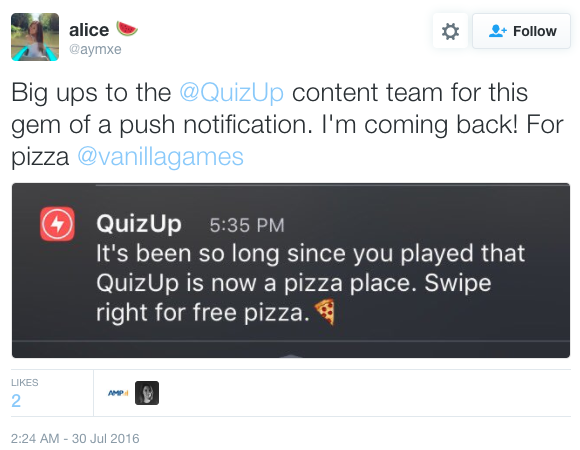 QuizUp, a mobile trivia game, came up with this ingenious re-engagement message.
Usually, the idea behind a re-activation campaign is to remind users of the value of your app before they churn. This is a good approach in most cases, but it can get a bit repetitive from the user's point of view.
In this example, the person surely remembers why they downloaded QuizUp. It's a casual trivia game, not a marketplace or service. The user doesn't need a discount to regain interest in the app — a gentle reminder could be enough.
This comical message reminds the recipient about QuizUp in an original way. In the process, there's a chance that the person will remember what they liked about the app in the past and give it another try. This is more effective than stating the obvious in a standard "hey, we miss you!" reactivation message.
If you're currently focusing on customer retention, push notifications should be a key feature of your ongoing retention strategies. Find out all about how push notifications can bring existing customers back to your brand, and how top companies are using push notifications to improve brand loyalty here.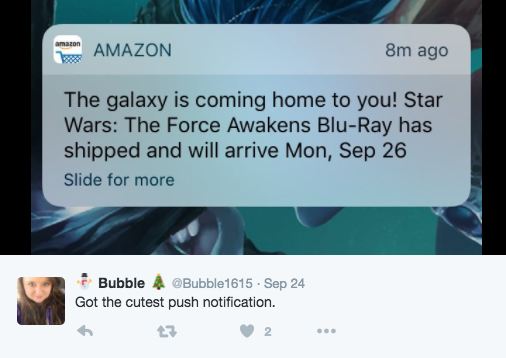 This retail push notification from Amazon spices up an otherwise mundane shipping notice. By writing customized copy for popular items like the Star Wars movie, Amazon elicits a better response from fans of the franchise.
This strategy is effective because the message is essentially tailored to the user, even though it doesn't depend on user data. We usually associate personalized messaging with user attributes such as name, location, and purchase history. But mobile teams can personalize messages without user attributes.
In this example, the copy is personalized to the specific item rather than the recipient. Yet, if the recipient is a Star Wars fan, the message is essentially personalized to her as well. Amazon is leveraging a user preference that it's certain of to add a charming, personalized touch to an otherwise prosaic message.
When thinking about how best to use your customer data, remember there are endless possibilities out there! Think outside the box and you're more likely to get a customer's attention, and leave them with a great lasting impression of your company. Take a look at our guide to learn more about how to use customer data to improve engagement.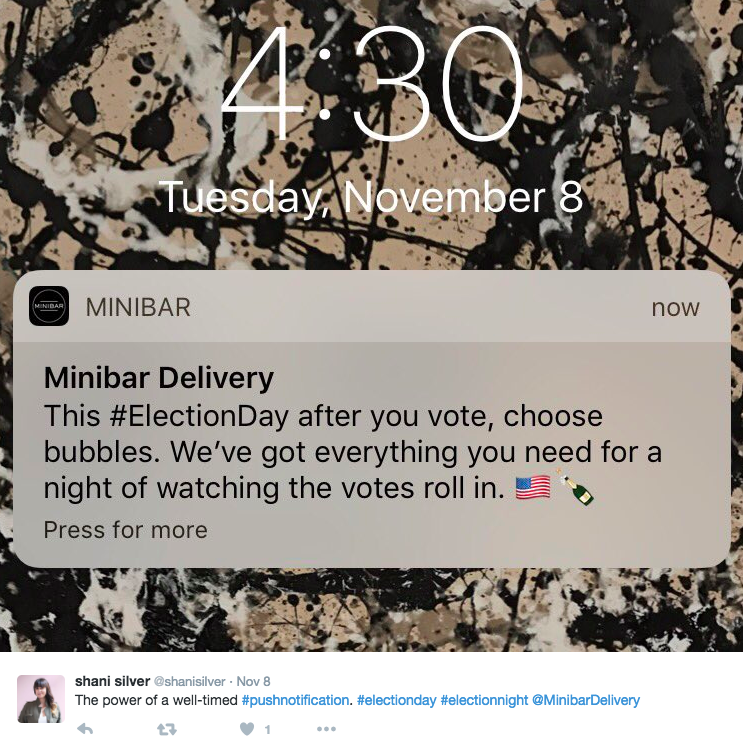 It's common advice in marketing to "ride the wave" of current events, but that's easier said than done. Many brands struggle to insert themselves into otherwise unrelated trends, and sometimes they miss the mark.
Minibar, the liquor delivery startup, found the perfect opportunity to ride the US election wave. In addition to encouraging users to exercise their civic duty, the push message presents an alluring call to action.
Many people watch the election results live like an entertainment event, making it a great opportunity to order drinks on the side. With the right timing, a message like this could easily trigger an impulsive order of champagne.
When it comes to getting the most out of push notifications, timing really matters. We can help you identify the best possible times to press send, and automate the process from then on. Take a look at our push notifications guide to learn more about how best to manage timing to get the maximum ROI for every notification that you send.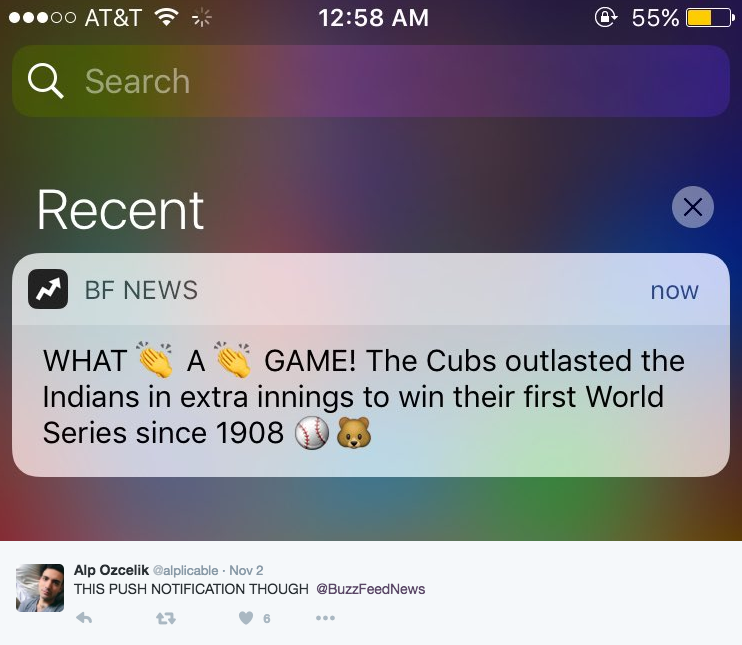 This update from Buzzfeed News is the exemplar of how news apps can optimize their content for push messaging.
Often, news apps send messages that simply repeat the article's headline. But the purpose of a push notification is different — news app users might prefer to read certain updates solely as push, only clicking through to the article when they have time to read it.
While "clickbait" headlines work well on social media where the goal is to pull readers to your site, they make less sense for push messaging where app users have already committed to following your content.
This example delivers all of the key information in a single message, yet it isn't as dry as a traditional news headline. It boasts Buzzfeed's iconic laid-back brand voice while delivering an interesting piece of trivia alongside the news. The message suits the medium; it doesn't feel like a repurposed news headline, clickbait or otherwise.
Think carefully about the content that goes into your push notifications, because for many users this copy will determine whether or not they engage with a notification, or delete it without a second thought. Analyse past users' behaviour to learn about the styles of content that appeal to your audience, and tweak your copy until you find that tone that resonates best with your target market. View our complete guide to push notifications to find out more. 
—
Putting these examples together, it's clear that personalization is the key to push message success. Whether you choose to personalize your message's timing, content, trigger, or anything else, you're taking a step in the right direction.
For a quick run-down of how mobile marketing platforms can help you write better messages, see our step-by-step guide to the perfect mobile message. With enough data, you can craft creative push notifications in any app vertical.
—
To learn more about what Leanplum can do for your team, check out these resources: