Unexpected Insights From 257 Billion Mobile Impressions
Mobile acquisition is expensive, engagement is complicated, and retention is out-right daunting.
Needless to say, mobile ain't easy.
Which is why we teamed up with Liftoff to create the 2018 Mobile App Engagement Index.
This comprehensive report analyzes more than 257 billion impressions to help mobile marketers understand every moment in the customer lifecycle, from install to purchase to subscription and beyond. We report the cost, conversion, and retention rate across app category, region, platform, and even gender.
Of course, all that data can be overwhelming. So we summarized five of our favorite takeaways below. If you want to download the full report, get the 2018 Mobile Engagement Index here.

1. The Cost Per Action Is in Flux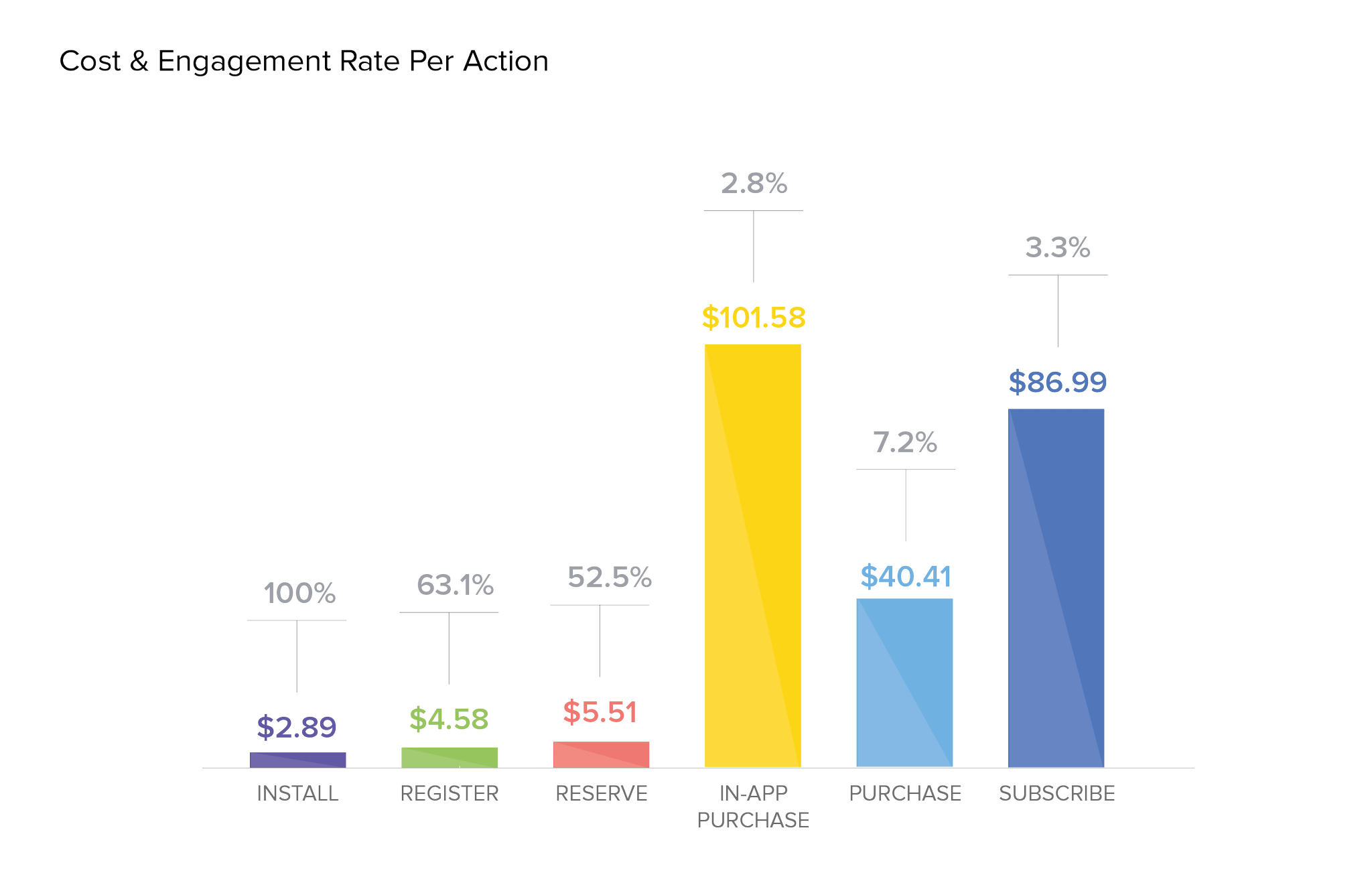 Mobile marketers, we have good news and bad news for you.
First, the good news. It's cheaper and easier than in previous years to get users in the door. The cost to acquire a user who installs an app is now at $2.89, a nearly one-third decline from 2017, when it was $4.12. That means the eternal goal to grow your audience is within reach — and budget.
Now, the bad news. The cost to acquire a user who opens their wallet to make an in-app purchase is higher than ever. At $101.58, this cost comes in at a whopping 32.96 percent more than the previous year, when it was only $64.96. What's worse, conversion rates have dropped by nearly half to hit 2.8 percent.
But this is what you should expect in a market flooded with apps. Apple's App Store has an estimated two million apps available for download, a number that has risen steadily over the years and decreased only once in its history. On top of that, the Google Play store has about 3.8 million apps.
This means that while acquiring users may be easier than in the past, getting them to convert and show lasting loyalty is a continued challenge. Mobile apps need to sharpen segmentation, optimize targeting, and craft campaigns to rise above the noise and reach an audience bordering on fatigue.
2. There's a Flurry of Activity During the Holidays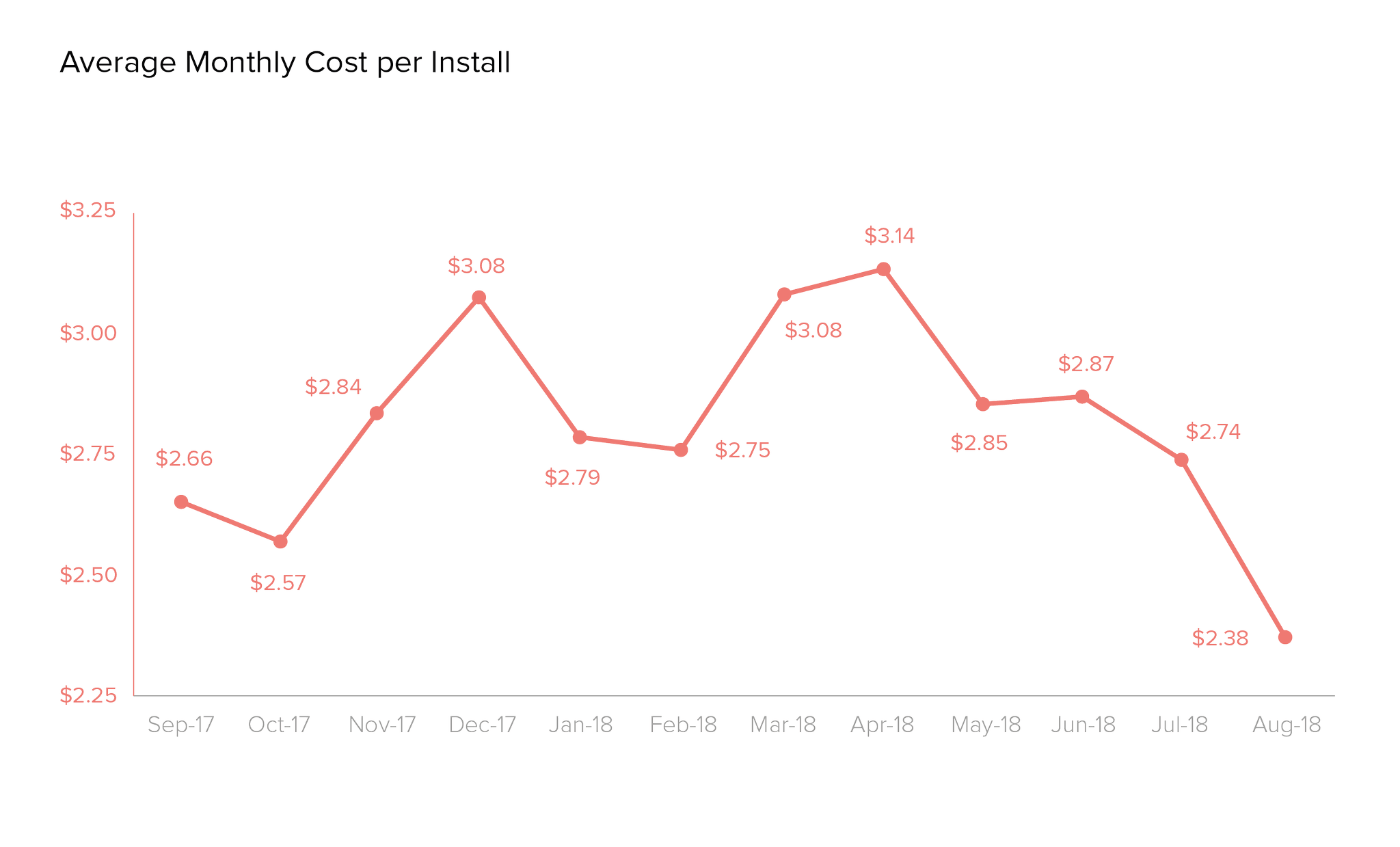 When you compare index data to user behavior patterns, a compelling picture emerges. Low cost per installs (CPIs) correlate with a low level of activities during less eventful periods of the year. The same goes for the inverse.
Over the summer, the CPI drops to its lowest point, $2.38. During this time, users are likely on summer vacation, enjoying the weather, or spending quality time with family — less likely to be glued to their phones.
But in October, user engagement begins to rise, as users spend the month downloading apps to ramp up their routine. Likewise, CPIs rise November to December, a period that sees a flurry of acquisition activity and a flood of new apps. Then, heated competition for users, many of whom received new devices as holiday gifts, cools slightly in January.
Overall, seasonality has some influence on user behavior. But it's not the full story. In the case of many app categories, user activity is constant — so make sure your campaigns never hit a lull.
3. Each Region Represents a Different Opportunity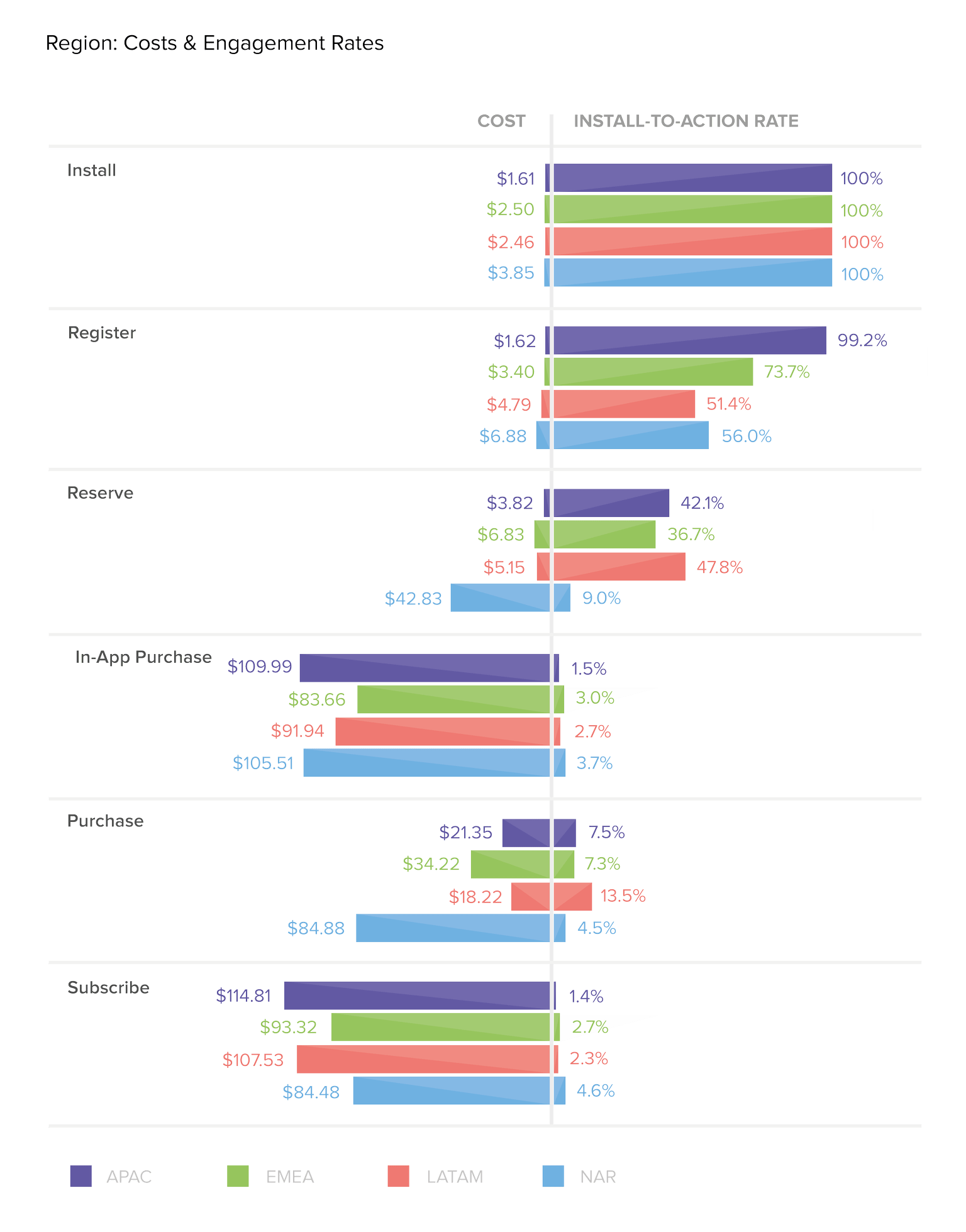 Latin America (LATAM) offers massive growth potential. But the region lacks a robust payment infrastructure, so while marketers can influence users to make purchases, not all users can complete them.
Asia-Pacific (APAC) mirrors Europe, the Middle East, and Africa (EMEA) at many stages, exhibiting similar costs and conversions. But APAC is an especially hypercompetitive market. Users in this region, though cheaper to acquire and guide through mid-funnel engagement activities, are harder to pin down to a purchase. As for EMEA, a region impacted by GDPR privacy laws, marketers are well-advised to complement app marketing campaigns with traditional channels, to reach users without an express opt-in.
North America (NAR) is an advanced and expensive market, where high costs across most engagement activities are not always offset by high conversion rates. However, it's an audience worth fighting for. Marketers who use data to engage at intent-rich moments will be richly rewarded.
4. Category Retention Varies Widely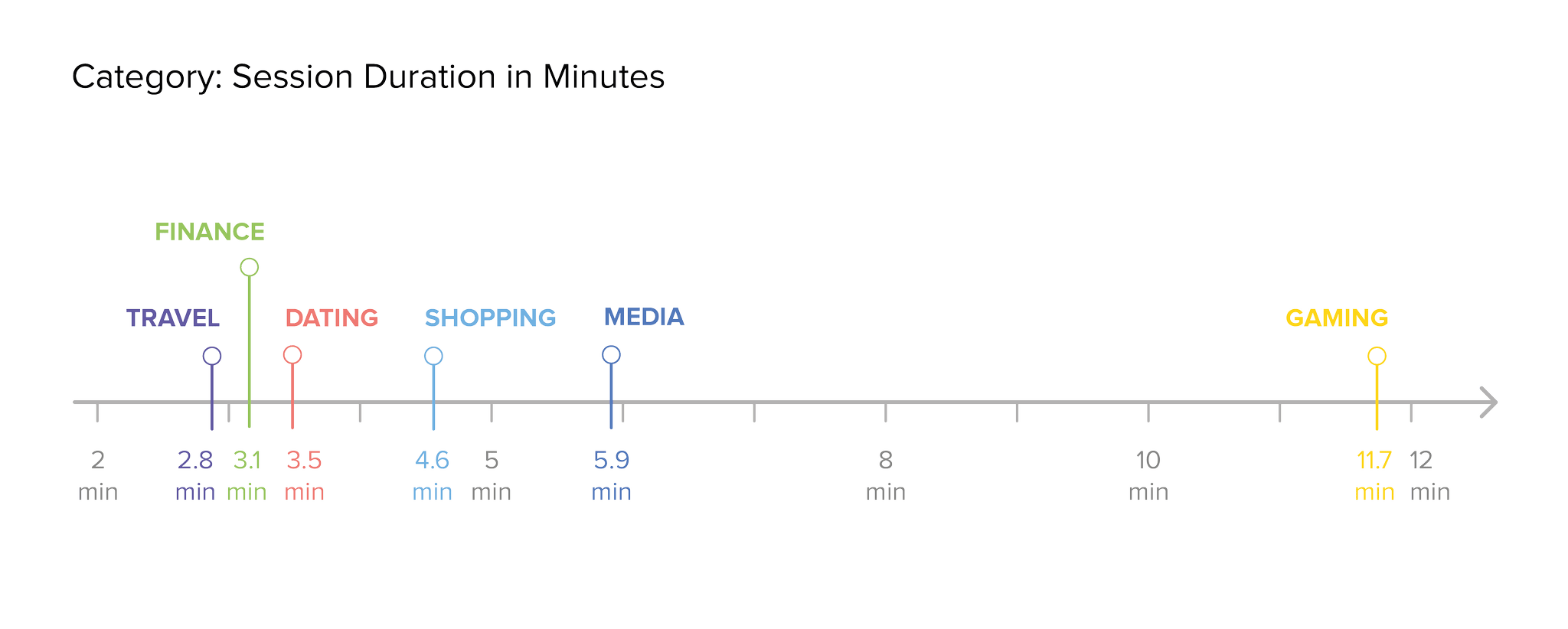 A breakdown by app vertical tells an interesting story about session duration, days since last active, and percent of active users.
A few trends that emerge:
Apps that help users get stuff done, like finance, have more active users and those users return quicker — but they don't spend long in app.

Apps that are primarily for fun, like gaming, persuade users to spend more time in app — but have a low percentage of active users.

Apps that fulfill a social need, like dating, struggle with users who stay away for long periods and have shorter sessions when they do return — in other words, they get what they need and leave.
Of course, it's important to remember that each category also has its own benchmarks when it comes to natural usage frequency. What is realistic will depend on your app category and your business objectives.
With that said, we've sprinkled a few best practices for every category in the report. For strategies tailor-made to your industry or audience, download the report now.
5. Multi-Channel Messaging Protects Your Acquisition Investment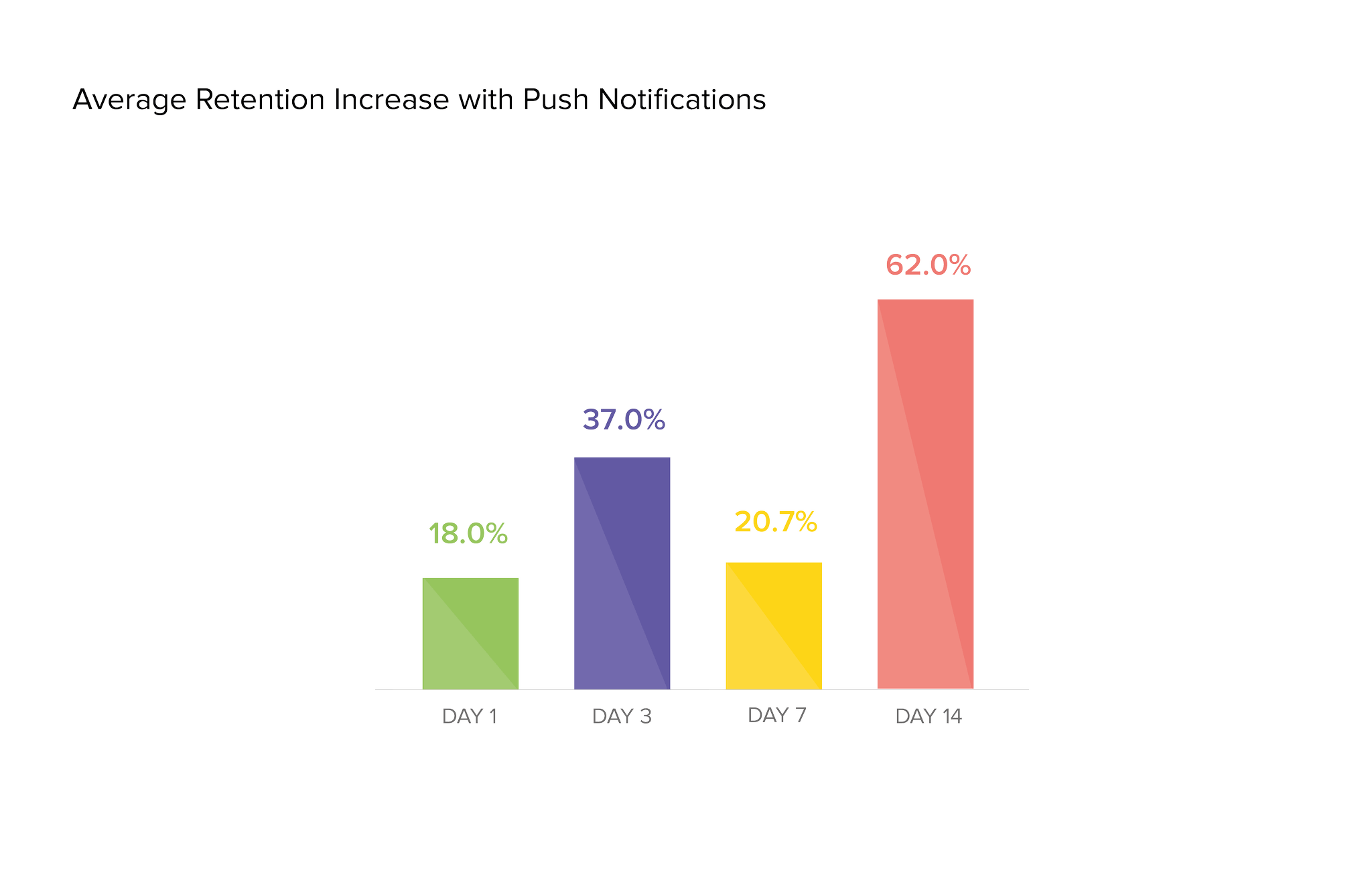 Finally, after you've spent all that money on convincing users to install, make a purchase, etc. — you want to retain them and build a long-lasting relationship.
No matter your region, category, platform, or anything else, multi-channel messaging is an unbeatable strategy to drive app re-engagement. Apps that send push notifications from the get-go see 18 percent higher day-one retention. The results only get better from there. By day 14, retention can be up to 62 percent higher.
Couple this with another channel, like email, and you can increase your average weekly sessions by 3x.
Email stands out as a particularly strong channel for re-engaging users who have uninstalled your app or never opted in to receive push notifications in the first place. But there are several other channels you should consider, like web push notifications, in-app messages, App Inbox, and even the in-app experience itself.
Coordinating messages across channels is the best and most effective way to capture user attention, drive connection, increase engagement, and keep your app top of mind.
—
Want to read more? Download the 2018 Mobile App Engagement Index today.