13 Simple Welcome Messages to Spice Up Your Onboarding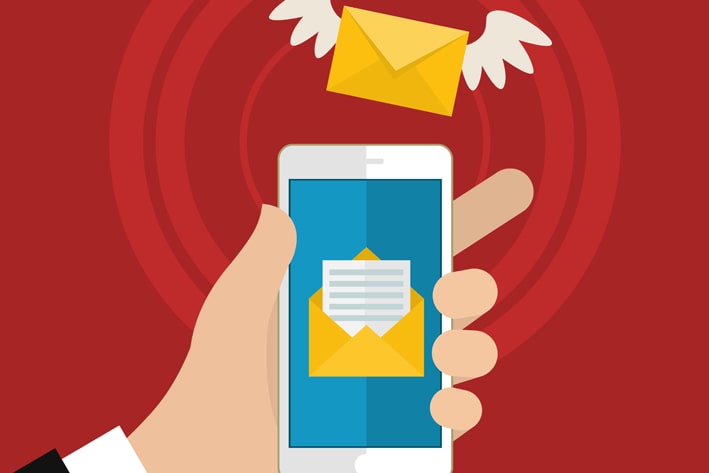 Welcome messages: The definitive first impression for your mobile app.
First impressions count, both for people and products. Apps have one chance to grab a new user's attention. This is especially true when you consider the average mobile app retention rate: Only 21 percent of users remain active after the first 24 hours of downloading an app. To raise your retention rate, it's imperative to make a first impression that really sticks.
First impressions count. Apps have one chance to grab a new user's attention.
Click To Tweet
Elements of the in-app experience (like user interface, design, and copywriting) all impact the user's first impression. But it's also possible to enhance this experience with out-of-app content like push notifications and emails. Combined, both in-app and out-of-app messages can help the user along the early parts of their journey.
Welcome messages are the perfect way to solidify a person's first impression. By reaching users on multiple channels, they'll have an easier time remembering your app and the onboarding experience.
Below, we list 13 of the best welcome messages we've seen. Use them as inspiration in unison with an in-app onboarding flow to make a stellar first impression on new users.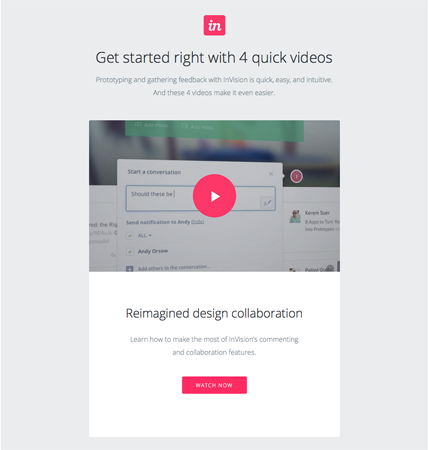 InVision is a design platform with features like prototyping and real-time collaboration.
This welcome email is clean and readable. And most importantly, there's one clear call to action at the top of the message: Watch the video now. By focusing on this one CTA, InVision ensures that readers aren't overwhelmed by offers and upsells.
Since InVision is a SaaS product with many features, it's crucial that users understand the product as soon as possible. This could be why the company focuses on tutorials in its welcome email. The goal is to get customers using the product right away so they'll discover how it might help with their business.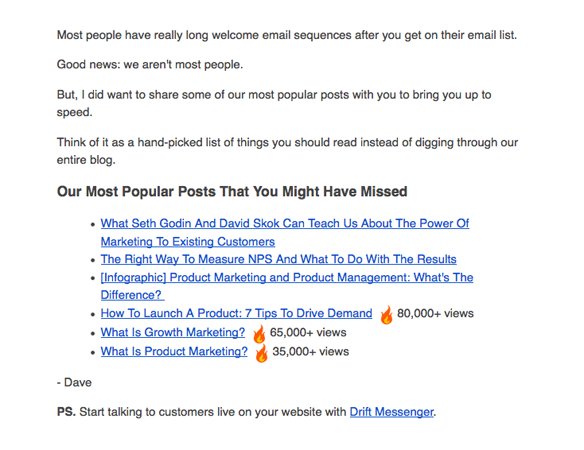 Drift is a marketing and sales platform that lets businesses send messages and chatbot-powered flows to website visitors.
The company's welcome message deliberately breaks some long-standing rules of email marketing. It's not visual at all — the only graphics are a few emojis at the bottom — and there are several CTAs. However, it's by breaking the mold that this email stands out.
Many people are too used to the look and feel of promotional emails. Sometimes, going overboard with visuals makes the message look like a marketing material rather than an email from an actual person. This email is written in the first person, which intuitively feels less promotional and spammy, even if it's still automated.
The CTAs in the email are also an interesting choice. Even though Drift is a SaaS product, the welcome email drives users to blog posts rather than the product itself. This is a unique strategy that might appeal to users because it's less pushy.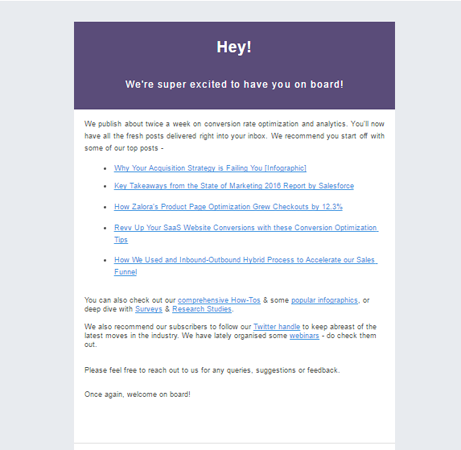 VWO is an A/B testing and conversion rate optimization platform for websites.
The company's welcome message follows the same strategy as Drift's. Instead of driving new users toward product tutorials, this email's primary CTAs are the five recommended blog posts. In addition, the email links to the company's Twitter handle, which could lead to more followers over time.
Why is this approach so successful that multiple brands copy it? Simple. This approach offers value before asking for anything from the user.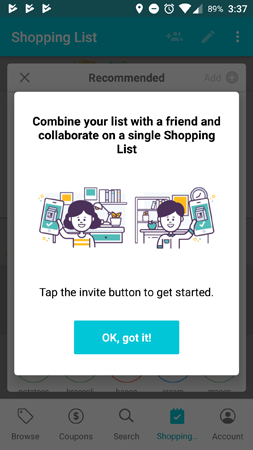 Flipp is an app and website that helps shoppers find coupons and discounts for everyday products.
The Flipp app delivers this in-app welcome message when new users scroll to the shopping tab for the first time. On one level, the message acts as a tutorial screen because it explains how combined shopping lists work. But on another level, it's a clever CTA to drive more app installs via invites.
This welcome message gives new users a good reason to invite a friend, even before they've gotten deep into the app — a smart strategy for increasing acquisitions without spending a penny.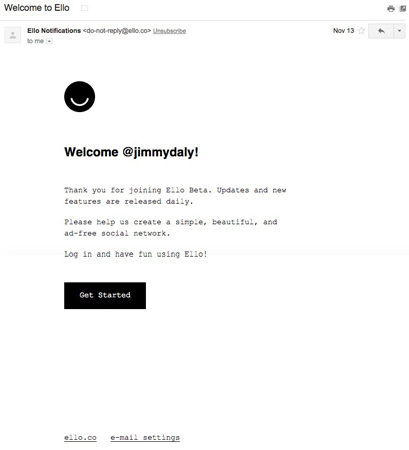 Ello is a social media platform for artists — and it's all about visuals. That explains why its welcome message features such a distinct look. The monospaced typewriter-style font gives the email a vintage feel, even in the absence of photography. The logo also features prominently at the top, and it stands out because it's the only image in the message.
The content of the email is straightforward. This message was apparently sent when Ello was still in beta, so the company was likely just trying to get people to use the product. This welcome message sets the tone for the user experience that follows.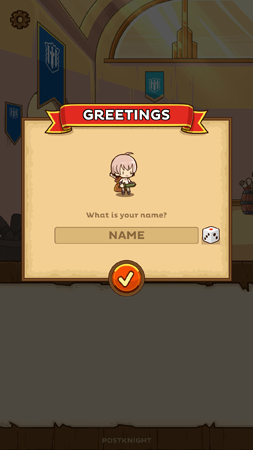 Postknight is a popular game about a knight who delivers mail across a fantasy land. This game opens with an in-app message prompting users to enter their name, which also becomes the name of the main character in the story. This is an effective way to pull players into the game immediately, instead of opening with a long cutscene explaining the backstory or tutorial that teaches players the ropes.
It's a quick way to get a simple piece of data from the user, which can later be used for personalization in other messaging campaigns. And as a bonus, by naming the main character right away, players might feel more invested in the game, as if they're injected into the plot.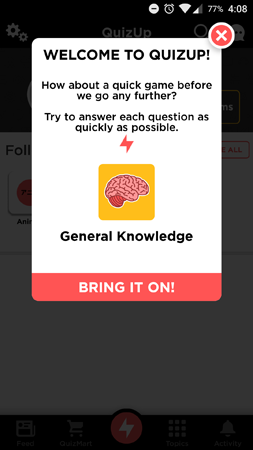 QuizUp, a trivia game, pulls users into the action as quickly as possible. Instead of dropping people directly into the app, QuizUp pushes for new users to play a game right away — an easy way to get them hooked to the rush of competition. The idea is to teach people how to play and get players addicted from this initial game, before explaining different settings or game modes.
In a sense, the initial play for a gaming app is similar to the onboarding flow of a regular app. It's the most intuitive way to teach users how the app works and what value it offers.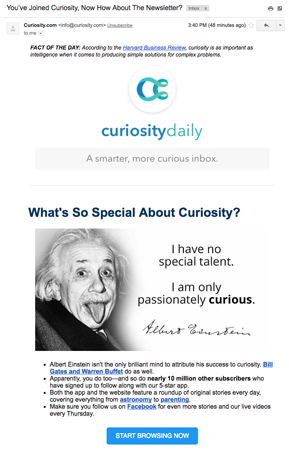 Curiosity is a website and app that features miscellaneous news articles from a variety of disciplines. This welcome message immediately catches readers' attention with the iconic photo of Einstein. The app promises to "make you smarter" — and branding the welcome email with Einstein makes that promise even more clear.
It doesn't look like it, but the point form text at the bottom is actually just a description of what Curiosity is. It features CTAs to content within the website as well as a Facebook link to acquire more likes. The email establishes Curiosity's brand while giving readers the practical resources to get started.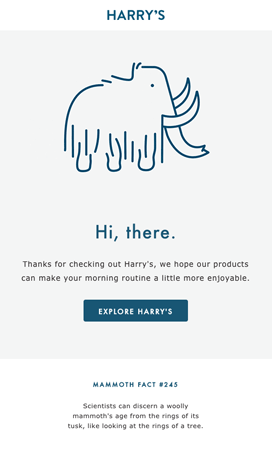 Harry's is an ecommerce company for men's shaving products. It delivers a welcome message that's exactly what it sounds like: It humbly welcomes new users to the product and asks them to look around.
This email appears to be more about branding and relationship building than any sort of revenue generation. It doesn't ask new users to buy a product or accept a discount, but it does catch your eye with its mammoth logo and Mammoth Fact #245 (you can determine a wooly mammoth's age from the rings of its tusks, which is apparently true).
As a retailer, it's important for Harry's to build its brand image with customers. This message foregoes the traditional focus on conversions to simply help new users enjoy the website. The hope is that users remember the good experience and return to the app soon.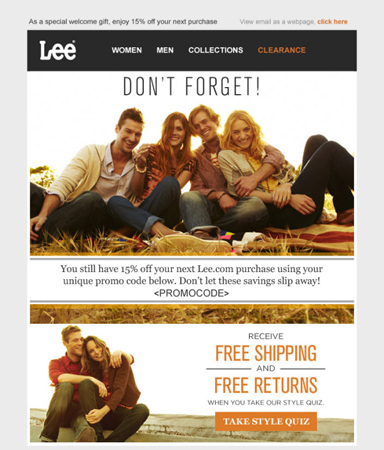 Lee Jeans pursues the opposite goal of Harry's with its welcome message. The lifestyle photos are the only element of brand-building in the email. Instead, the message offers two promotions to new users: a 15 percent discount and free shipping/returns. These CTAs are designed to get users shopping as quickly as possible. On average, users who make in-app purchases do so 12 days after the first app launch, but it always helps to drive early monetization.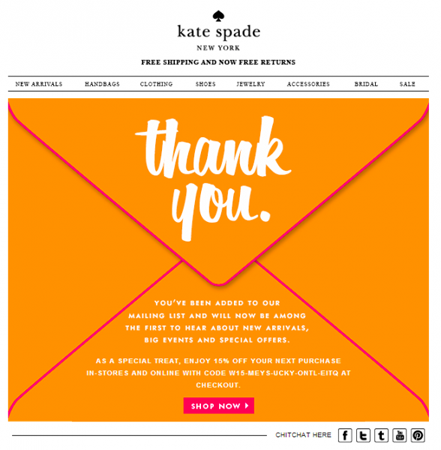 The visuals are the first part of this Kate Spade email that stand out. Overlaying the email content onto an envelope graphic is a unique design decision that catches your attention right away.
Better yet, this welcome email offers a 15 percent discount to new subscribers. This is an important technique for retailers to get shoppers excited.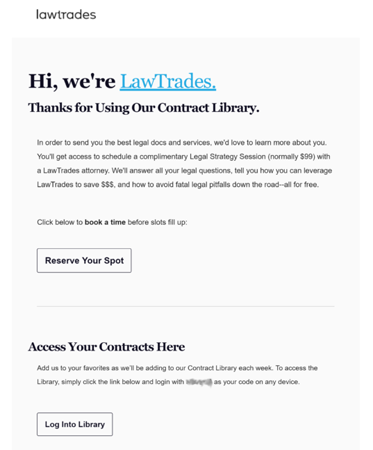 LawTrades jumps straight to conversion by asking new users to book a free strategy session with an attorney. The email capitalizes on the fact that these sessions are time sensitive. The message implies slots might fill up, so readers will be more inclined to book a meeting earlier than later.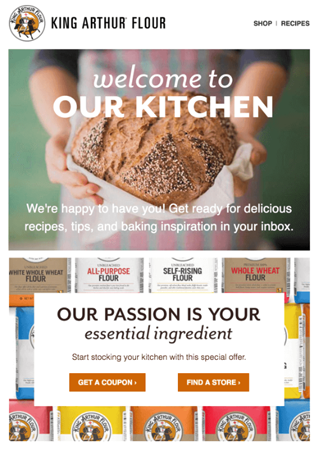 King Arthur's welcome email is an effective blend of brand-building and promotion. On one hand, King Arthur must differentiate its product from cheaper alternatives like store brands. The photo of freshly baked bread, along with phrases like "our kitchen" and "our passion," brings to mind a small-scale and personal production process. Even though King Arthur is a large company, this branding makes it feel like a product from a local farmer's market.
On the other hand, the email doesn't stop at branding. It still offers a clear CTA for readers to either take a coupon or find a place to buy King Arthur products. The company also sells items online, but a coupon might result in brick-and-mortar purchases at a grocery store that wouldn't have happened otherwise.
—
There you have it: Our favorite welcome message examples for mobile apps. Whether your goal is branding, conversion, or user engagement, there's a way to nudge users in the right direction with a well-timed message.
What's your favorite approach? Tweet us @leanplum to let us know your thoughts.
—
Leanplum is the mobile marketing platform built for engagement. We help brands like NBC, Tinder, Grab, TED, and Zynga orchestrate multi-channel campaigns — from messaging to the in-app experience — all from a single, integrated platform. Schedule your personalized demo here.