In case you missed it, we walked through several geolocation marketing strategies in our webinar this past Halloween. We covered everything geolocation — from geotargeting, geofencing, to beacons — for mobile teams across industries like retail, commerce, travel, transit, and media.
I'll go over the learnings from the webinar in this blog, but you can also watch the replay in our on-demand version here. Either way, you'll find out the what, when, and why geolocation pairs well with mobile, and most importantly, how you can do it too.
What Is Geolocation Marketing?
Geolocation terminology gets thrown around a lot, but I'm happy to help clear up any confusion. To level-set, geolocation marketing, geotargeting, geofencing, and beacons all involve communications that use a person's physical location — at varying degrees of distance.

Geolocation is the identification (or estimation at best) of a device's physical place. With regard to mobile apps, geolocation marketing involves attributing a particular device to an actual person and communicating a brand's value through messaging based on that person's location.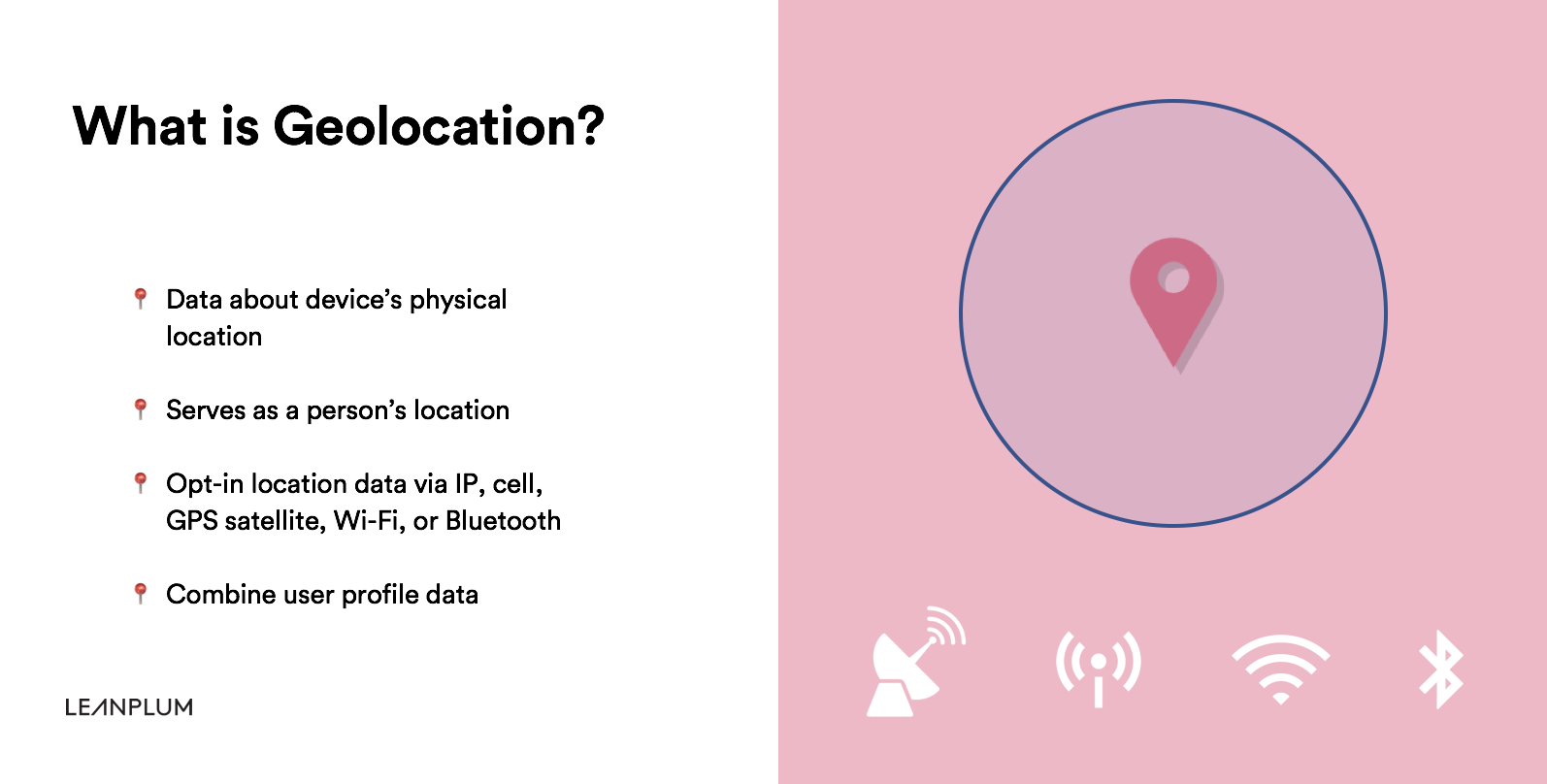 You'll note here that users need to opt-in to location services, then the data is captured from avenues like IP address, GPS, Bluetooth, Wi-Fi, and other technology. You can, however, capture location data without opt-in for IP addresses.
The real value comes in when you pair that data with user behavior data to better target based on preferences. And that's with geotargeting — setting up campaigns for anyone who was in a particular range on a given day and is better used for cases when a person is regularly associated with an area.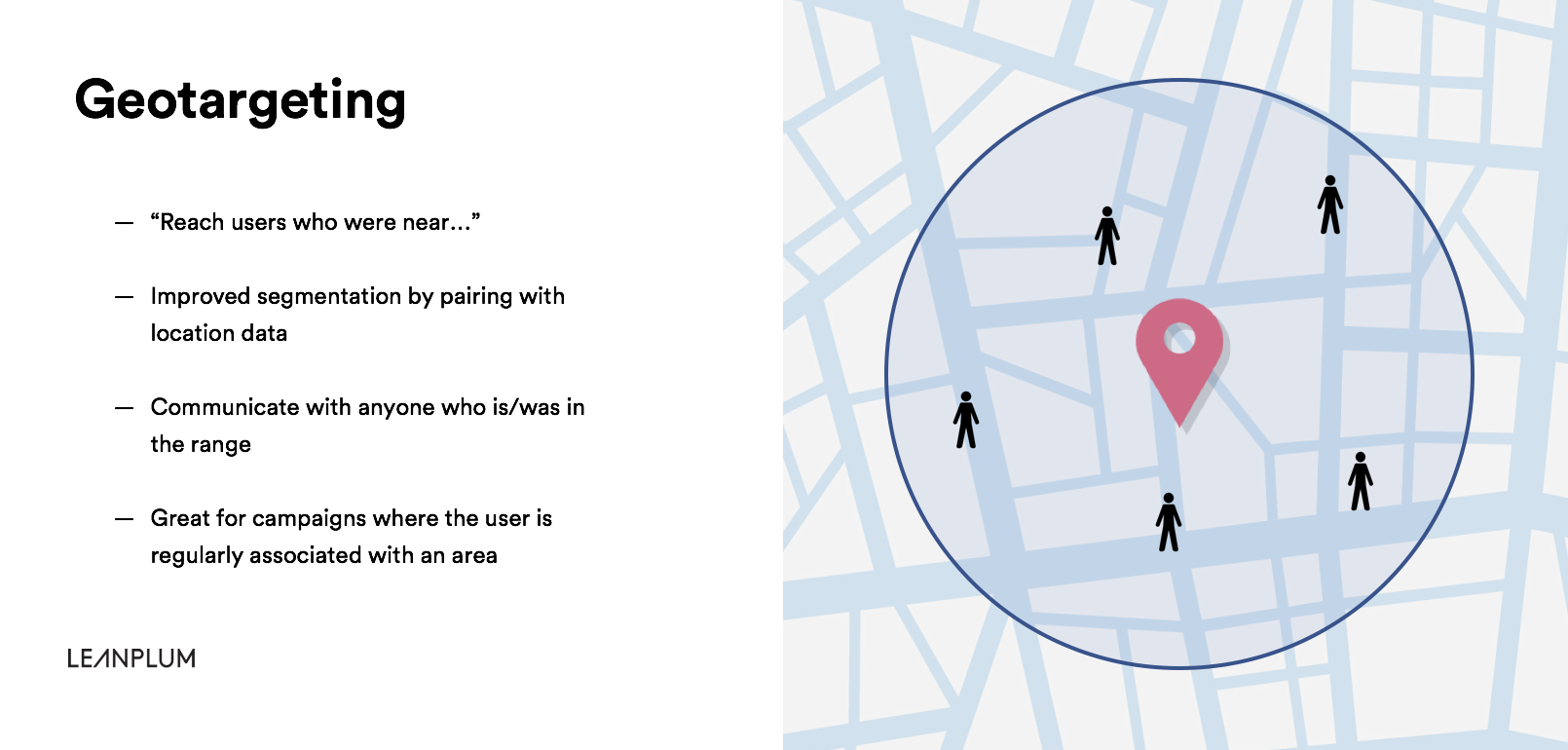 Geofencing, on the other hand, is setting a message that fires when a device aka person crosses a predefined virtual perimeter. Unlike geotargeting, geofencing is dependent on a person's mobility — like crossing a designated boundary.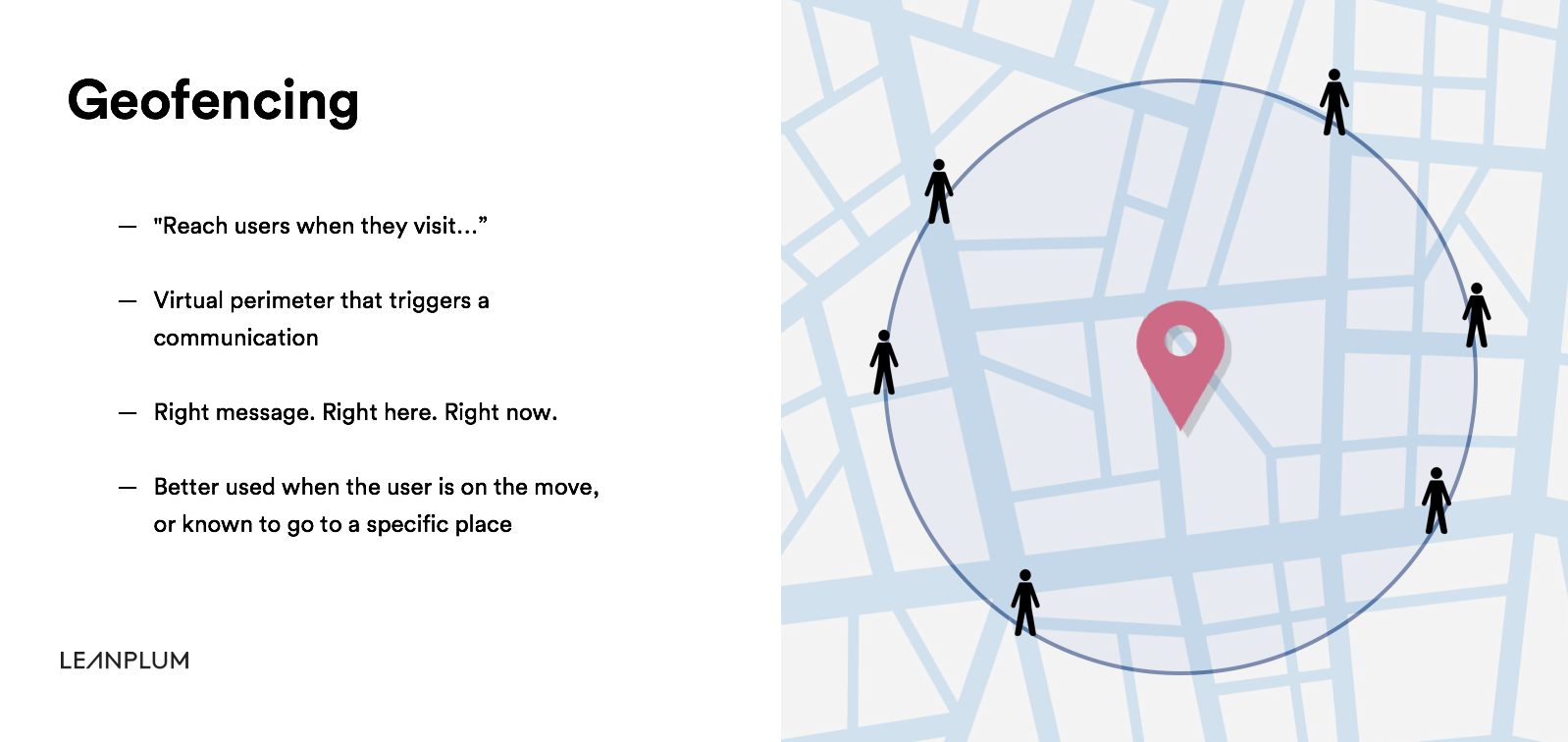 Geofencing is more right-here-and-right-now compared to geotargeting and is better suited for scenarios when you think a user is on the move. As soon as they cross the imaginary line, they'll get the message that delivers value to them and your company.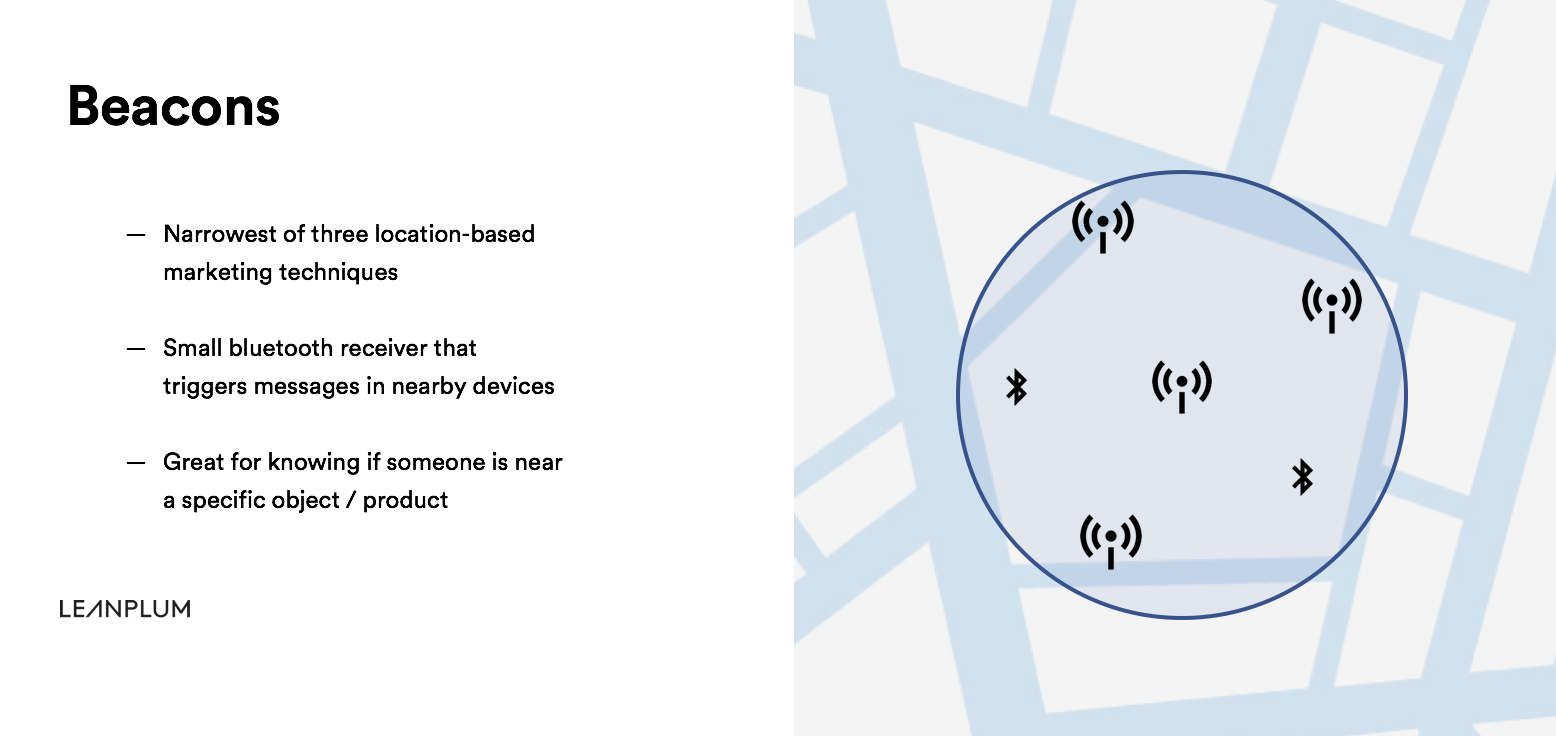 At the closest level, beacons are Bluetooth-enabled devices that are great for connecting with people in your store or at an event.
The upside of Bluetooth is that you can reach users in locations with poor cell reception, but the downside is that their Bluetooth must be on. Yet, another upside is that that battery life is nearly a non-issue now since Bluetooth is incredibly energy efficient.
Why Do I Need to Run Geolocation Marketing Campaigns?
Before we get to the section where I answer your questions, I've got one for you. Ask yourself, what consumer behavior are you really attempting to evoke? If your answer is, "I want them to buy more things," then we need to go back to the drawing board.
For those of you who thought about delighting users with a personalized experience, then you hit it on the nose. We've found that 86% of shoppers would find it beneficial to receive store offers or coupons on their mobile devices while shopping in their favorite stores. Location-based marketing drives real value by helping you create contextual experiences for customers.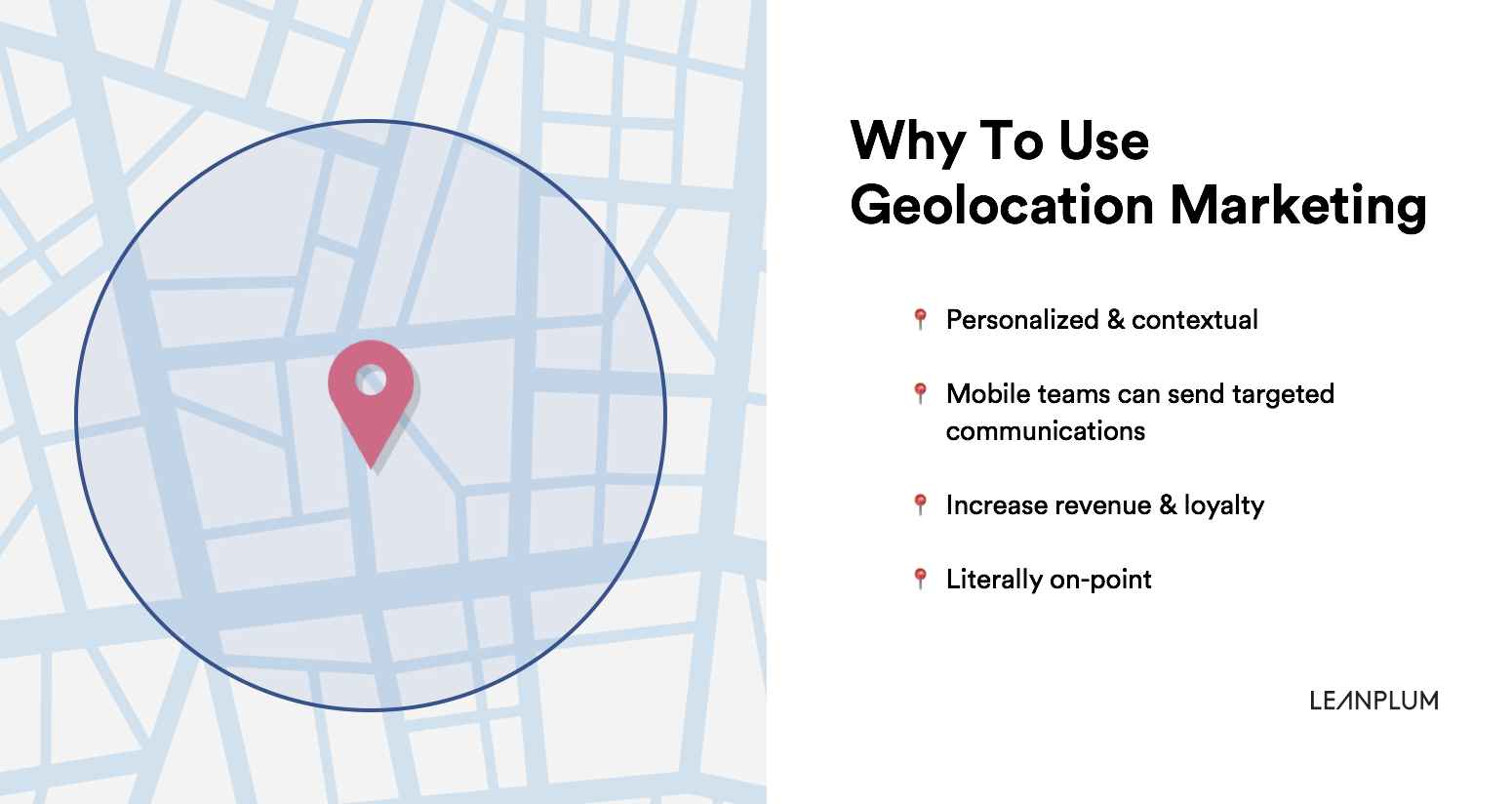 When you create a contextual experience for them — by pulling relevant data — they feel like you've personalized and curated content just for them and are naturally more likely to engage and convert.
How Can I Get Better at Geolocation Marketing?
Again, leveraging geolocation for your marketing campaigns is about creating contextual and personalized experiences, but of course, your bottom line depends on selling your products. Below are a selection of use cases on how to improve users' in-person experiences.
Tailored Recommendations
A media or lifestyle app can geotarget a neighborhood and trigger a push message to suggest favorite nearby venues.
A travel app can geofence an airport to recommend places to stay or ways to get around the city.

Suggest New & Relevant Products
A commerce app, given a user's preferred store location, can geofence an area and send coupons or time-specific promos.
A car-sharing app can prompt users with updates about new rides that are available in the area when a person lands at an airport.

Geo-Optimizations Down the Road
Over time and with more user data, you can move down a more sophisticated geolocation path. Here are several ways you can optimize geolocation marketing strategies for the future.
Suggest routes & offers along the way

A/B test messaging, time, & UI/UX

Pinpoint regularly visited locations

Incentivize location sharing to monetize

Your Questions Answered
You all had some great questions during the webinar. Unfortunately, we didn't get to everyone's questions, so we'll tackle a few below.
___
Q: I have an app and want to drive more foot traffic to stores. How do I get started?
A: Getting in touch with a Leanplum representative is your best bet. But with regard to overall strategy, start small. It's tempting to want to launch with 100 thousand beacons across 20 thousand stores, but keep scale in mind. Walk before you run — roll out with 20 beacons in three stores, measure the ROI, then using the results to justify new campaigns.
___
Q: That fine line between creepy and contextual is still blurry for me. How do I ensure that I'm not one of the creeps?
A: Try not to explicitly repeat what your data tells you. Instead, make your marketing relevant by using the data as cues. One of our customers in the fast-casual dining industry does this really well by suggesting appetizer pairings around dinner time when users are near their restaurants.
Also, there's no need to promote new cashmere sweaters with a beacon when people are standing right in front of the cashmere sweater. Instead, try cross-promoting and push the black pants that go great with the sweater. You could even show a price promotion guide that pushes a message like, "A department store sells this same sweater for 40% more. Get it here!"
___
Q: For brands, do you need an app to do geolocation marketing? For example, if they're at a trade show and on our stand, we need to do a beacon campaign push to people passing by to stop and talk to them?
A: Beacons can only be detected by people who have your app installed. Otherwise, those distractingly fun, dancing corner promoters would have a sandwich board equipped with beacons that can blast everyone who walks by.
[We answered this on the webinar as an app is not needed, but I wanted to clarify this. That answer was specific to the trade show use case, where a vendor may request access to the trade show's app that is connected via Bluetooth and users are opted-in to sharing location].
___
Q: When a user opts out of geolocation on iOS, Leanplum still collects location data based on IP address and the like. What is the need to collect permission to pinpoint their location?
A: Although you don't need a user's permission to collect IP data, location data on IP addresses has lower accuracy and lower granularity. Even when it's right, it's only as exact as the city level so you would need supplemental information if you wanted to properly target users.
—
Leanplum is the mobile marketing platform built for engagement. We help brands like NBC, Tinder, Grab, TED, and Zynga orchestrate multi-channel campaigns — from messaging to the in-app experience — all from a single, integrated platform. Schedule your personalized demo here.