Mobile Marketing Automation,
at Scale
Mobile Marketing Automation creates context-rich campaigns
that understand and respond to user actions.
Mobile Marketing Automation
Engage along the full customer journey with Leanplum's Mobile Marketing Automation solution. In response to personalized behaviors, you can set up a series of self-activating messages. For instance, if a 
user browses flights inside a travel app, automatically send a notification when that flight goes on sale, boosting the chance 
they will book. By automating context-rich campaigns, you increase conversions with minimal effort.
Leanplum gives you the ability to target based on what users do and who they are, recognizing individuals at scale. Engage along every touchpoint in the customer journey to create relevancy that maximizes ROI.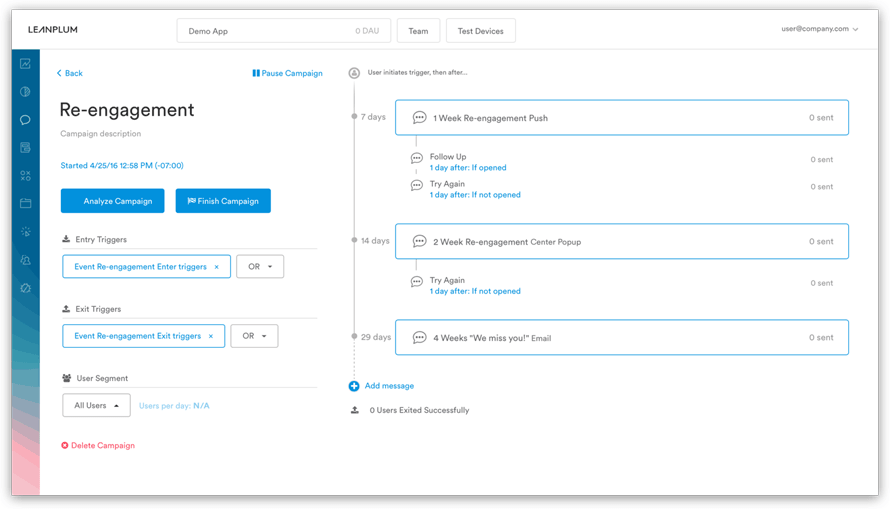 Orchestrate at Scale
Seamlessly manage hundreds of campaigns that move users towards milestones.

Relevant Action
Tailor interactions based on behavior, location, timing, and channel to add context that boosts conversions.
Effortless Analysis
Since messages group together, data is aggregated for easy performance evaluation.
Lifecycle Engine
Build personalized drip campaigns in one visual timeline across any messaging channel, such as push notifications, in-app messages, email, app inbox, and more. Use a combination of mobile app automation tactics to onboard new users, eliminate shopping cart abandonment, reduce app churn, and more.
Optimal Timing
Automatically deliver push notifications when users are most likely to open. Our predictive machine learning algorithm analyzes individual usage patterns. As a result, you can maximize engagement with the right timing.
Programmatic Delivery
Automatically send messages to segments based on key behaviors, in response to events like news updates, content releases, and promotions. For instance, alert listeners inside a music app that their most-played artist released a new song.
Complete Control
Activate message caps to prevent over-sending, a quiet hours option to respect nighttime in local time zones, and a calendar view to see scheduled content in one place.
Dynamic Deep Links
In messages, link users to relevant in-app content, such as a shopping cart or new music playlist, to maximize their engagement. "In using Leanplum, we hope to continuously optimize the customer journey and create a more personalized and engaging app experience."
Tony Hyde, Sr. Solutions Manager at Macy's
Explore More Capabilities