6 Tricks — You Haven't Tried — to Lift User Onboarding
Note: This guest post was written by Ty Magnin, a Director of Marketing at Appcues.
---
You've probably spent some time thinking about user onboarding and how you can maximize your first-time user experience. You know user onboarding best practices like the importance of driving users to their Aha! Moment. But it's unlikely you've truly maxed the effectiveness of your user onboarding flow.
So here are six tricks you haven't tried to improve your user onboarding experience:
1. Send Users on a Mission from Your Welcome Message
New users sign up for your product because of the value you've promised them. When they first open your app, they are emotionally primed to readily receive that value, even if they're not mentally ready. Your new users don't know how your app works really. They aren't familiar with your interface, and they sure as hell won't receive their Aha! Moment without a little persistence.
An app's welcome message is an important moment in a user journey. It's a special moment where you can harness the excitement of your new user and drive it towards a common goal—getting the user to value. From what I've seen, the best way to do that is to steer your users' attention to that goal by way of a mission.
Here's what I mean: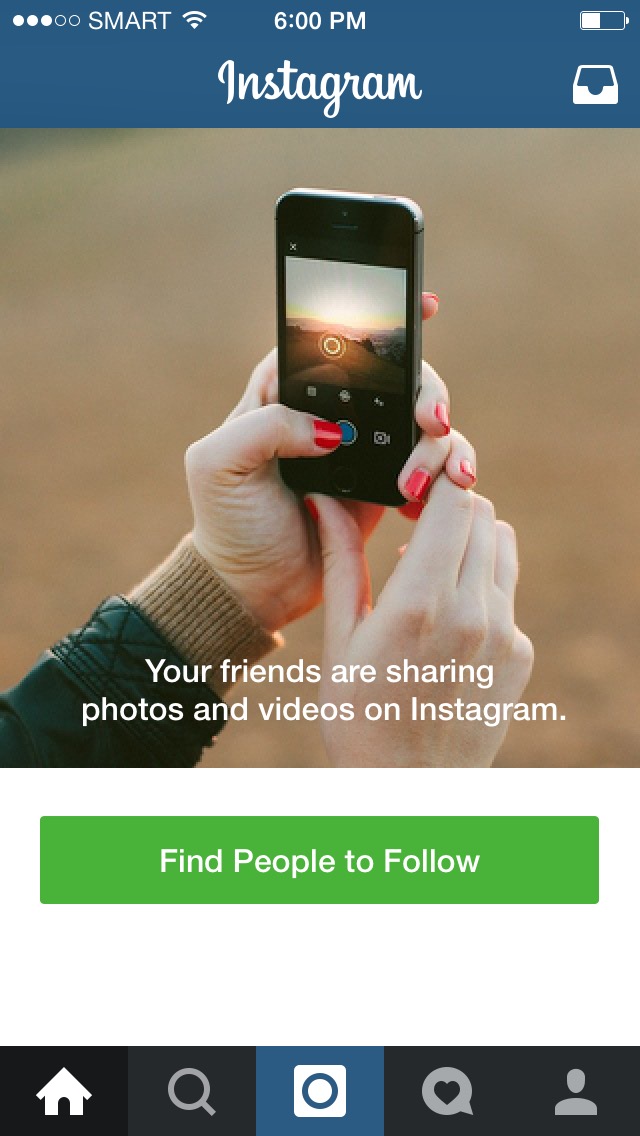 Instagram's welcome message does a great job of directing attention towards an attractive proposition. Their message to new users is deeply motivating and plays on social pressures. As someone susceptible to such forces, I immediately feel a desire to hit that green button and join the party. The button springs new users into an important action, which happens to drive them towards their Aha! Moment.
2. Don't Just Drop New Users Onto Your Dashboard
When I dropped my son off on his first day of preschool, I didn't just open the car door and let him out at the curb. I held him by the hand, walked him into his classroom and made a clean handoff to his teacher before slipping out.
A new experience can be a bit anxiety provoking for people of all ages and experiences, so don't drop your precious new users on your dashboard and say "sayonara." Get them where they need to go before letting them run wild.
At Appcues, we implemented a simple redirect from our welcome message to our creation step and saw an 50% lift in activations. No joke. This effectively eliminated a few steps required to get the user to this point, and got them closer to their Aha! Moment—publishing their first in-app message.
3. Use Tooltips to Point the Way
Product tours built with tooltips often get a bad rep. They can be overused and can end up feeling like a bad episode of MTV Cribs where the host shows off every last toy he has.
When you use tooltips for your tour, start by considering what kind of tooltip to use when (action driven, persistent, or non-invasive). A better understanding of what kinds of guidance most appeals to your users means that you can more effectively steer attention to the right button or page at the right time to get your user to their Aha! Moment.
ProdPad implemented product tours to help new users learn to use their application. In doing so, they reduced the time it took new users to convert from a free trial to a paid account by 80%: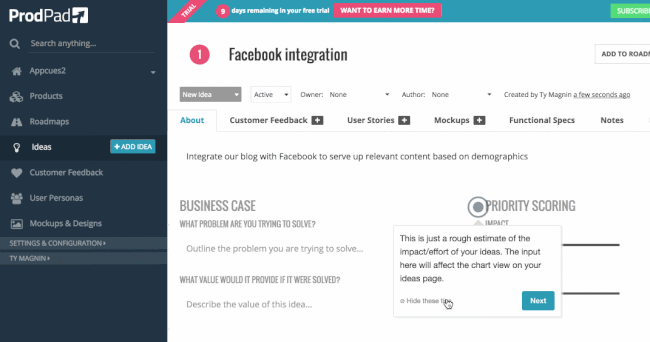 The tooltips they implemented don't simply show off every corner of their product. They contextualize the most important few things on a given page.
4. Use Your Welcome Email to Establish a Relationship
While you use your welcome message to steer your new users towards Aha!, your welcome email should serve a different purpose. Because email happens in a place outside of your app, it's a great place to be personable and to establish a relationship for further interaction.
This can come in the form of setting a tone to your brand, or giving them contact info from an assigned customer success rep or your support team. You can personalize welcome emails like these with custom data with an all-in-one solution like Leanplum.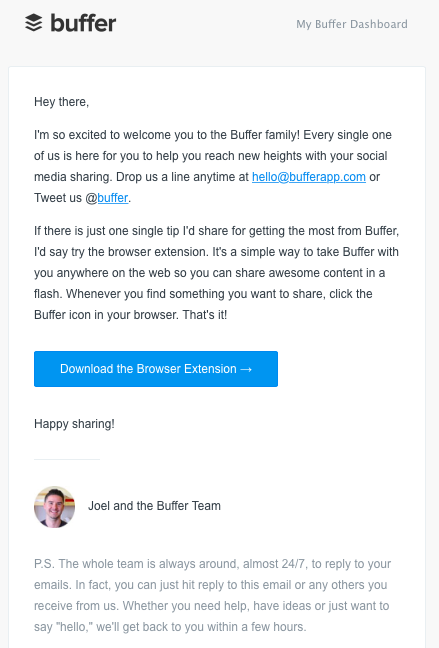 Buffer does a great job welcoming new users via email. This email from Joel, Founder and CEO, opens multiple lines for human to human interaction that can be helpful to new users. The email gives "one single tip," which is a good way to help users engage deeper in the application without giving them a checklist that they probably will never open again.
One way to think about your welcome email is that your goal may be to get users to open future emails. So make it fun, exciting, or even a bit surprising.
5. Focus On One Step at a Time
When it comes to measuring the effectiveness of your first-time user experience, many people have a multi-step funnel in Leanplum or Amplitude that looks like this: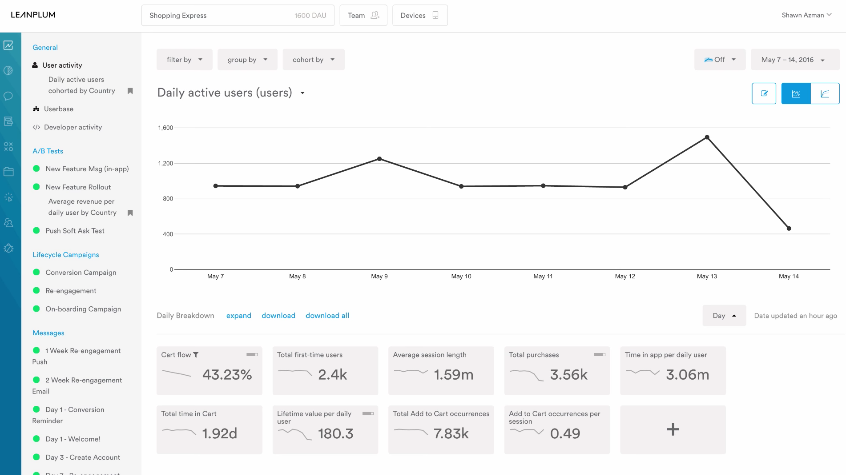 From what I've seen, these funnels often place their Aha! Moments at step two or three and have a lot of deep activation steps follow. By focusing your onboarding enhancements on getting new users to that first Aha! Moment, you'll improve your app's stickiness dramatically.
It's ok if there are a series of steps between signup and Aha! If this is the case, you can use these analytics tools to drill down on user behavior and find out what steps have the biggest opportunity to improve.
6. Personalize Messages to the Max
Email and push notifications can help bring users at risk for churn back into your application. You might already be using some form of email or push drip to keep users engaged, but to get much more out of these messages, you have to personalize the daylights out of them.
A recent Leanplum study suggests that personalized push notifications result in a 4x lift in open rates. By sending messages not only populated with user properties, but also based on events, you can improve your opens and increase your user engagement.
Focus your onboarding messaging on users when they don't take an action. Something like "Hey [Sarah], you never published the [feature announcement] you created [yesterday]. Let's guide you through the final 2 steps. Click here."
As a pro tip, you can take these messages and link them to product tours to get your users hyper-engaged and working through your important conversion points.
—
Ty Magnin runs marketing at Appcues — a user onboarding software that empowers people to create, publish and iterate on their user onboarding experience without writing any code. He's a co-author to The User Onboarding Academy.