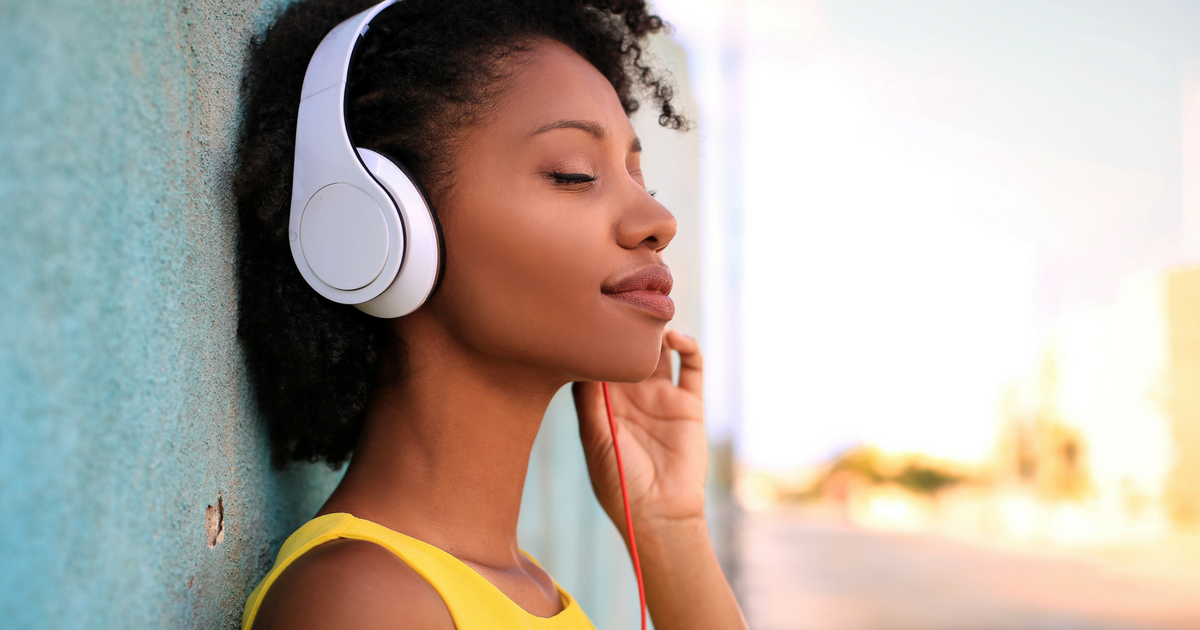 Since its launch in 2008, Spotify has been a force to be reckoned with in the entertainment industry. One of the first companies to bring music streaming mainstream, it has since expanded to include podcasts, videos, and more. As of May 2018, Spotify has 170 million monthly active users, 75 million of which are paying subscribers.
In February of this year, Spotify filed to go public. Shares began trading in April. The company's valuation of nearly $30 billion makes it the third largest tech IPO on record in the US market.
Around the same time, Spotify overhauled the free, ad-supported version of its mobile app. The update, officially released in April, impacts the majority of its users — a whopping 95 million people.
In our latest app teardown, we take a close look at the newest version of Spotify's mobile app. Our focus will be on the onboarding process, discovering and listening to music, and unique features.
First-Time User Experience
What Spotify Does Well
Spotify has a straightforward (and colorful!) onboarding flow.
On the app's welcome page, I am given the option to sign in, continue with Facebook, or register for a new account. A subtle value proposition touts Spotify's top features and capabilities.
Communicating your app's benefits during the onboarding process is, in general, a mobile marketing best practice. If users don't understand what they will gain from your app, they are more likely to abandon it.
I create a new account and am dropped right into the thick of the action as the app prompts me to pick musical artists that I like — a "taste onboarding" process.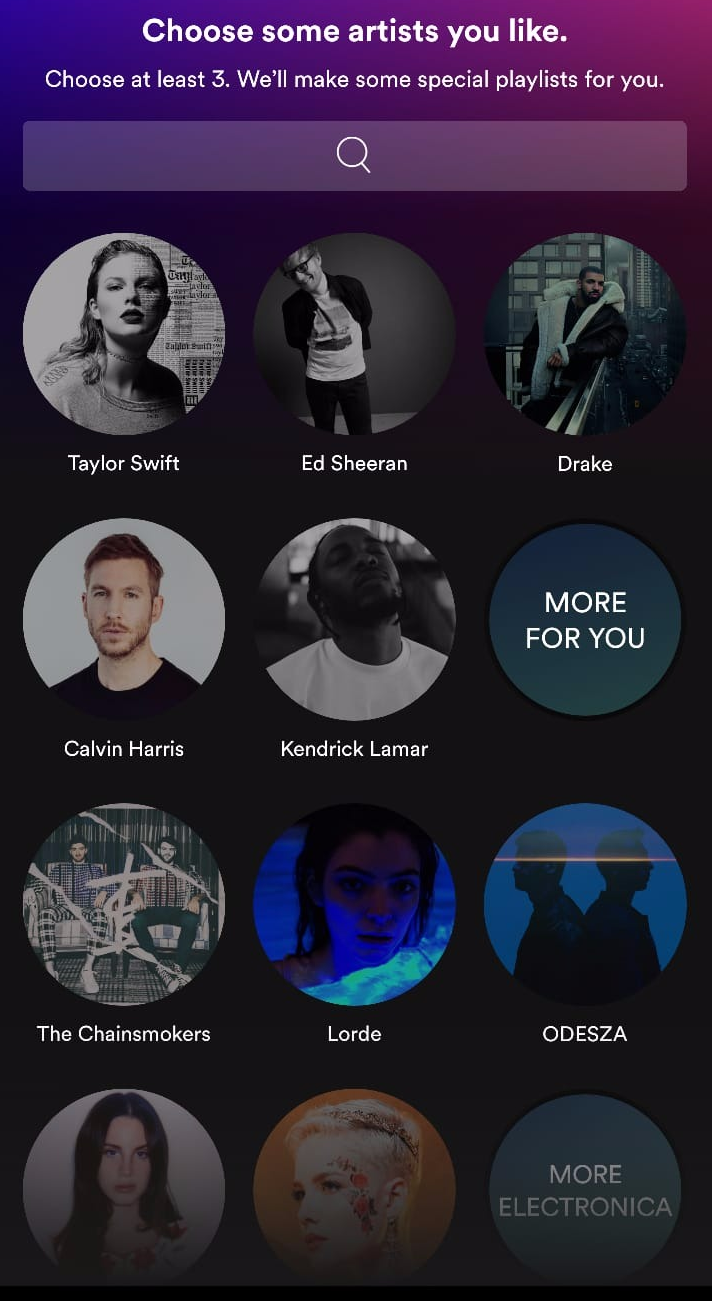 Don't see artists you like? Simply use the search bar at the top of the page to find exactly what you want.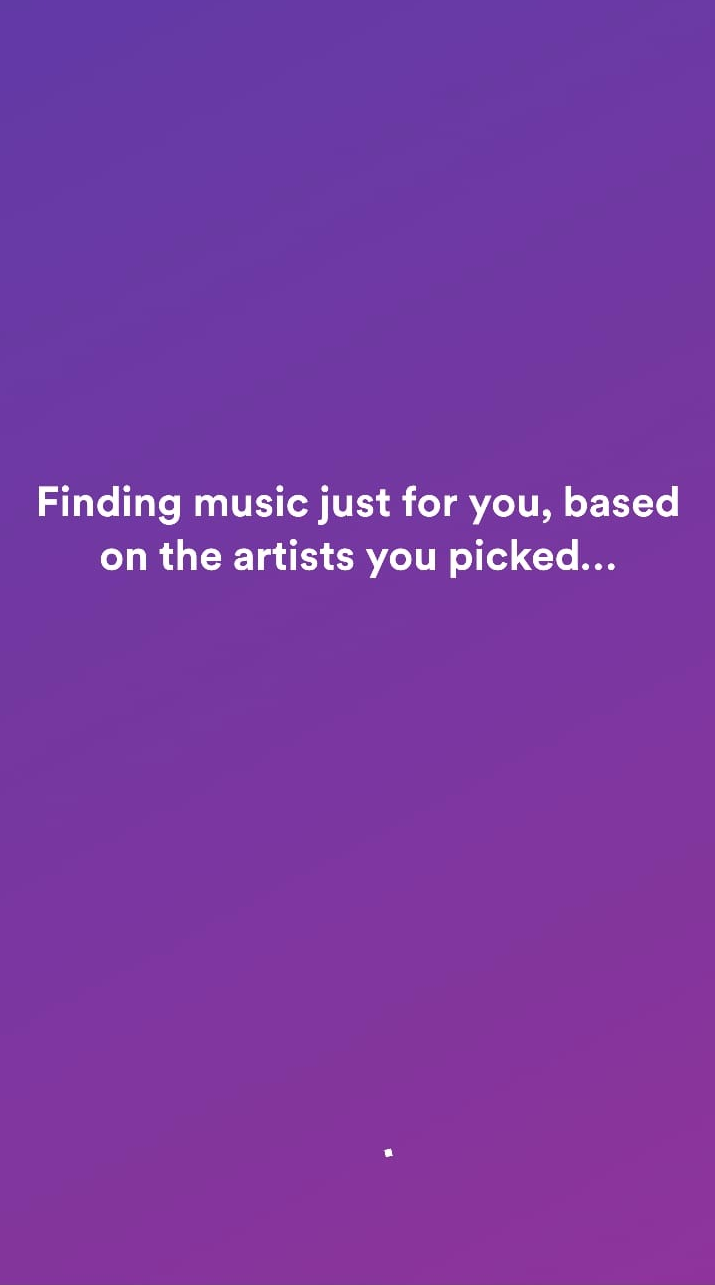 After selecting my faves, I am presented with a personalized music feed — my default app homepage moving forward. There are 15 playlists on the feed that are either curated just for me or recommended based on my preferences.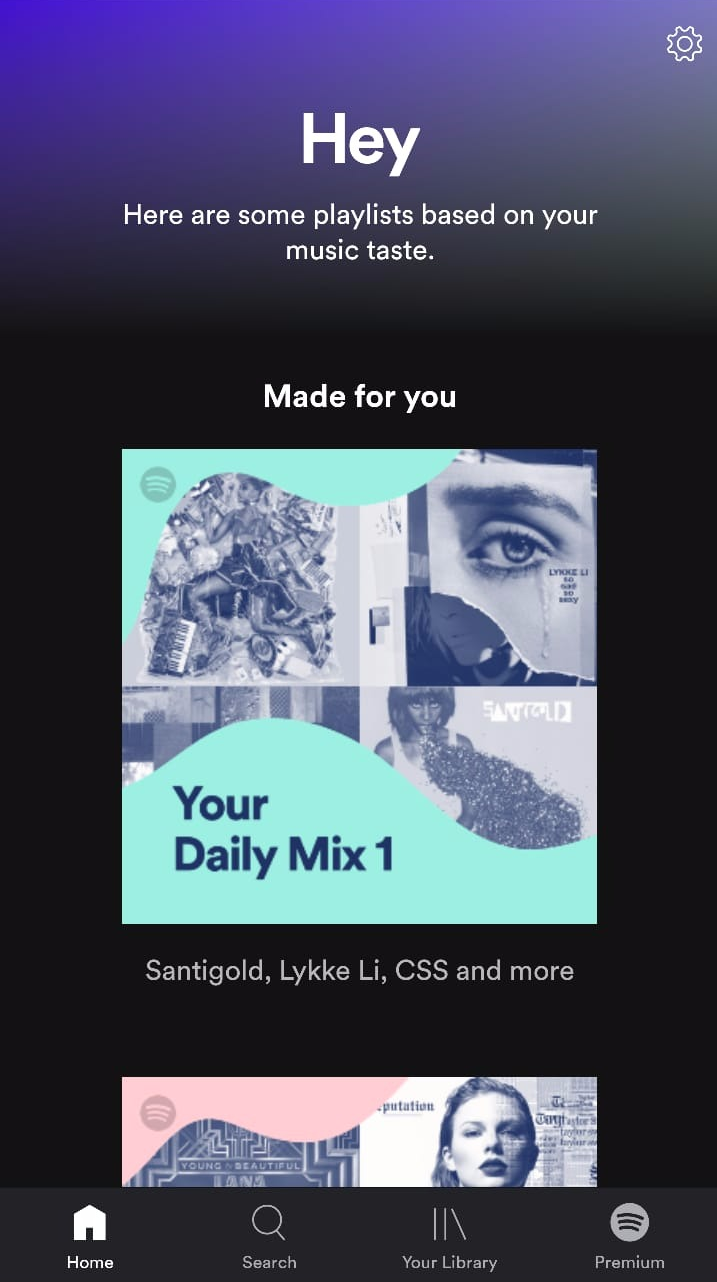 As part of Spotify's recent app update, non-paying users can now freely skip through songs in these 15 "on-demand" playlists. On other custom playlists, artist pages, and albums, however, users can still only shuffle play and skip six songs per hour.
Multi-Channel Onboarding, Oh My!
Messaging users across channels during the onboarding process is a powerful way to reinforce the value of your app. Therefore, it is worthwhile to highlight that Spotify leverages email to welcome users and draw them back to the app with personalized playlists.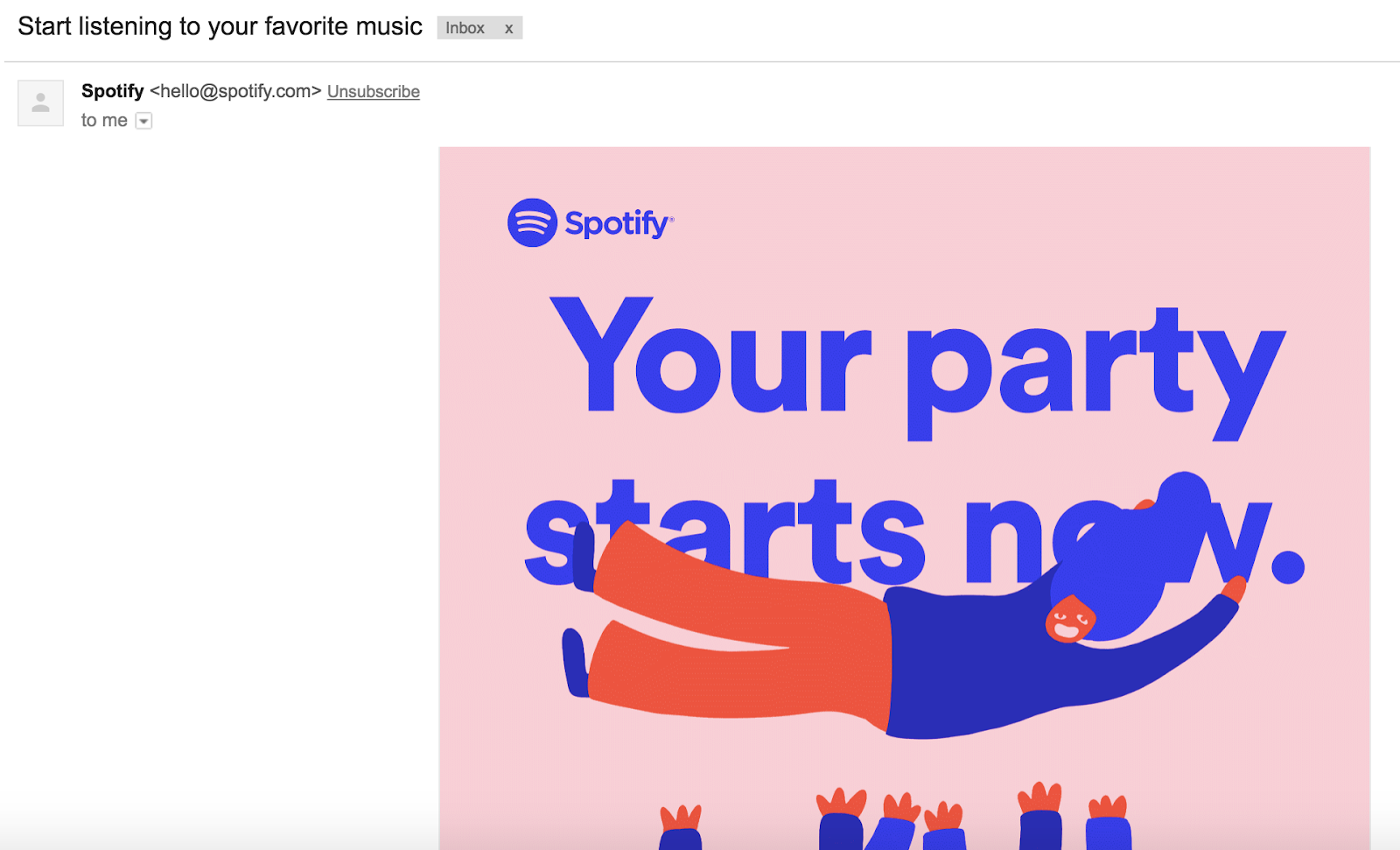 Props from the Leanplum team, Spotify.
One Thing to Improve
Spotify delivers a seamless first-time user experience. Right off the bat, users interact with the app and take part in building their own experience. Personalization is incorporated right into the onboarding process, which lays the foundation for the app to become an even more sophisticated future.
To optimize its multi-channel onboarding approach even further, Spotify could send a push notification to first-time users encouraging them to favorite more artists or create their first playlist. This would bring users back to the app, as well as accelerate the rate that Spotify can personalize recommendations.
Main Menu
What Spotify Does Well
Spotify's new main menu (located toward the bottom of the app) has four tabs: home, search, your library, and premium.
The new addition in this update is the "Premium" tab. When clicked, it provides a comprehensive description of what users receive from a subscription upgrade.
This is a smart move. The sustainability of Spotify's business model relies on free tier users upgrading to Premium membership. Spotify's Premium subscribers are a minority of its user base, yet account for 90 percent of its 2017 revenue.
The prominent placement of the Premium tab keeps the option consistently top-of-mind. If a user gets frustrated at limitations placed on song skips, or at ads interrupting their listening experience, they now know exactly where and how to upgrade.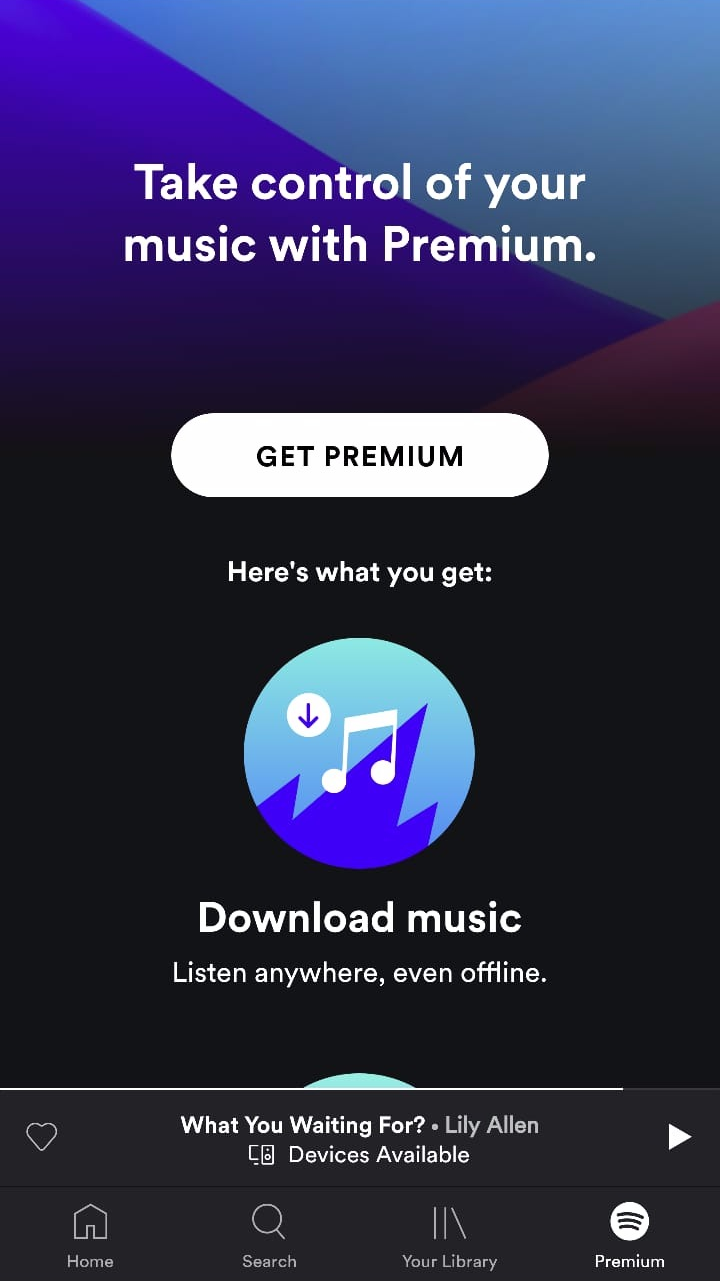 The "Search" tab brings users to a screen of quick access categories. When you type in a keyword in the search bar, Spotify pulls artists, playlists, albums, podcasts, videos, and any other content that may be relevant.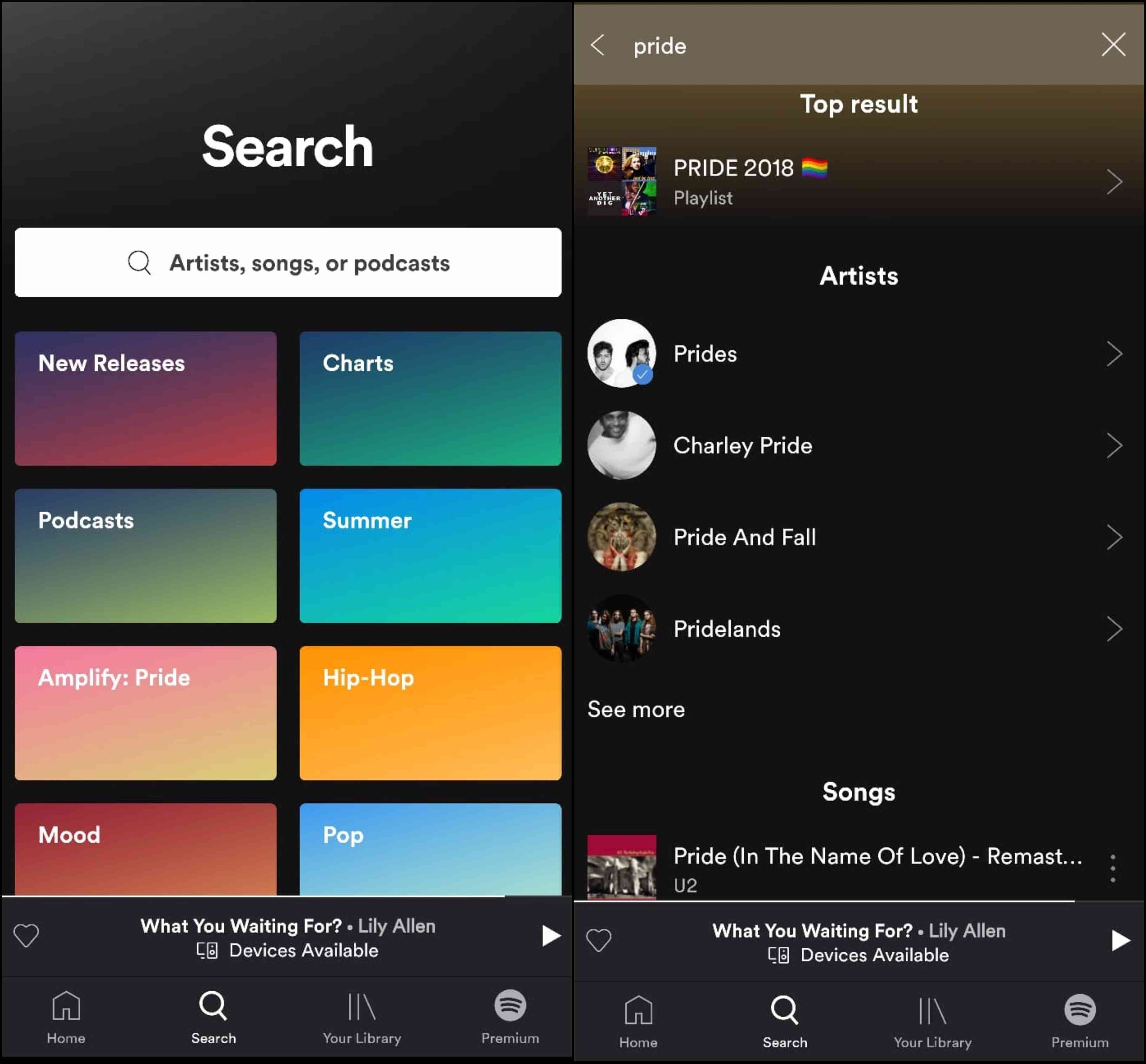 All the playlists, artists, albums, and podcasts that you save throughout your listening experience live in "Your Library." These media types are categorized by tab towards the top of the page — a nice way to keep them organized and easily accessible.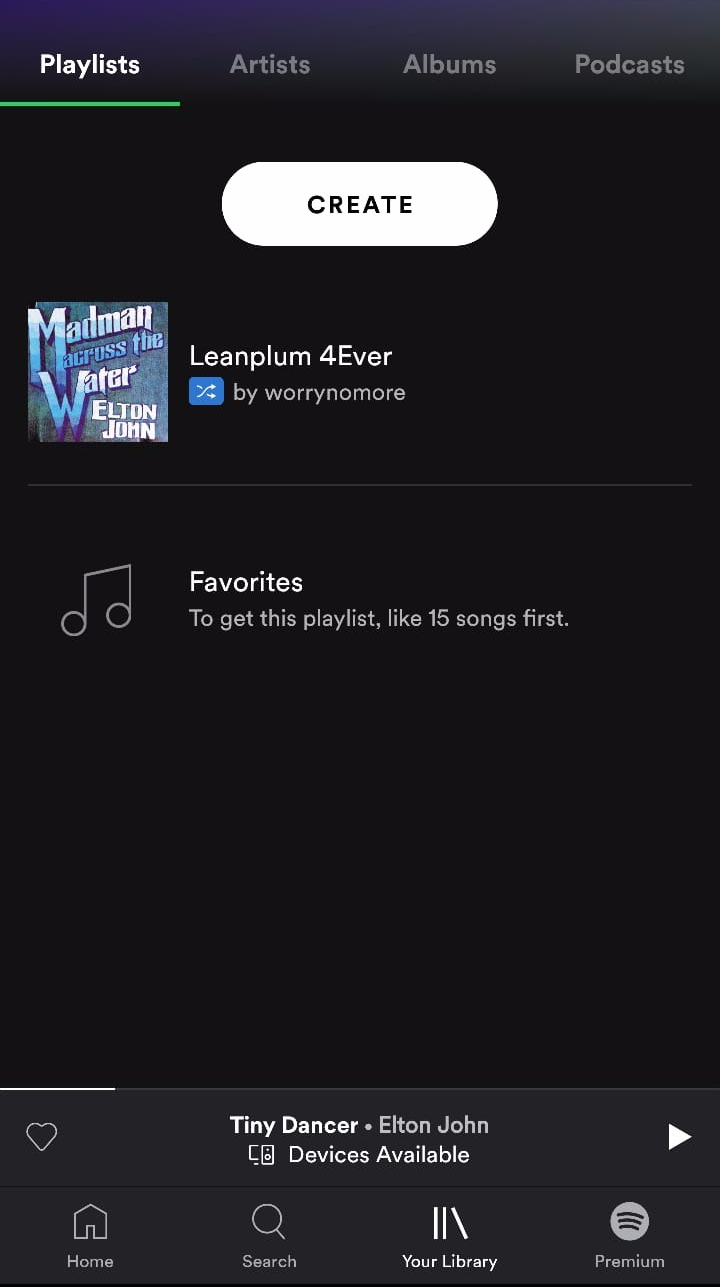 One Thing to Improve
From the minimal menu to the neatly categorized content types in "Your Library," Spotify's new interface is incredibly easy to navigate.
One thing that may benefit first-time users is a brief tutorial that explains the ABCs of the app. As mentioned above, Spotify sends a friendly welcome email. This would be a perfect medium to introduce some tips for optimizing the user experience.
Another option is leveraging dynamic in-app messages that point out key features and functionalities throughout the onboarding process. Trulia does a wonderful job of educating users interactively after they first download the app. It may be worth it for Spotify to experiment with a similar strategy to feel out the impact on engagement and retention.
Discovering & Listening to Music
What Spotify Does Well
Spotify's music catalog is incredibly deep. It seems like any artist — no matter how far outside the mainstream — has a presence on the platform. And not just their recorded albums, but live sessions and brand new singles as well.
This amount of music seems intimidating, but Spotify organizes it in a very digestible way.
A heart ( ❤) and "no" symbol ( 🚫) next to each track (both in-app and out via a push notification) allow users to either favorite a song or make sure it never gets played again. The same option exists for individual artist profiles. This system allows Spotify to become increasingly knowledgeable about your preferences for future recommendations.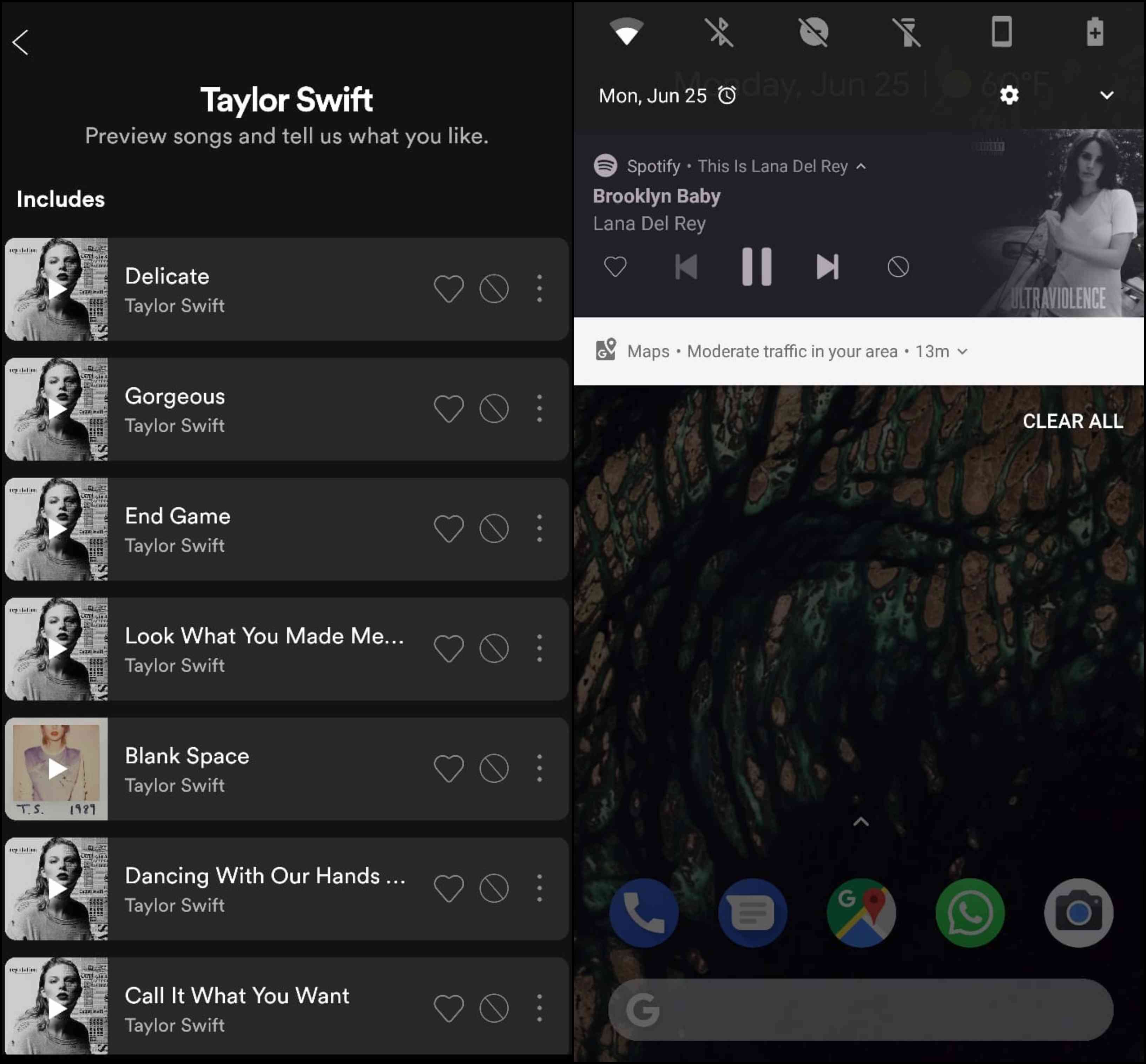 Some notable features and playlists for discovering new music include:
Personalized Playlists
Discover Weekly: A roundup of songs released each Monday based on your listening habits and the listening habits of those with similar musical tastes to you
Daily Mixes: A playlist of songs by your favorite artists along with songs that Spotify thinks you will love. Users receive between one and six mixes depending on how broad their tastes are and the songs they have been listening to
Release Radar: A selection of newly released music that matches your tastes
Assisted Playlists
AI-backed "assisted playlisting" capabilities leverage machine learning for personalization. When you create a new playlist, Spotify analyzes its name to recommend new music.
Here's what happens when I input "Beyoncé is Life":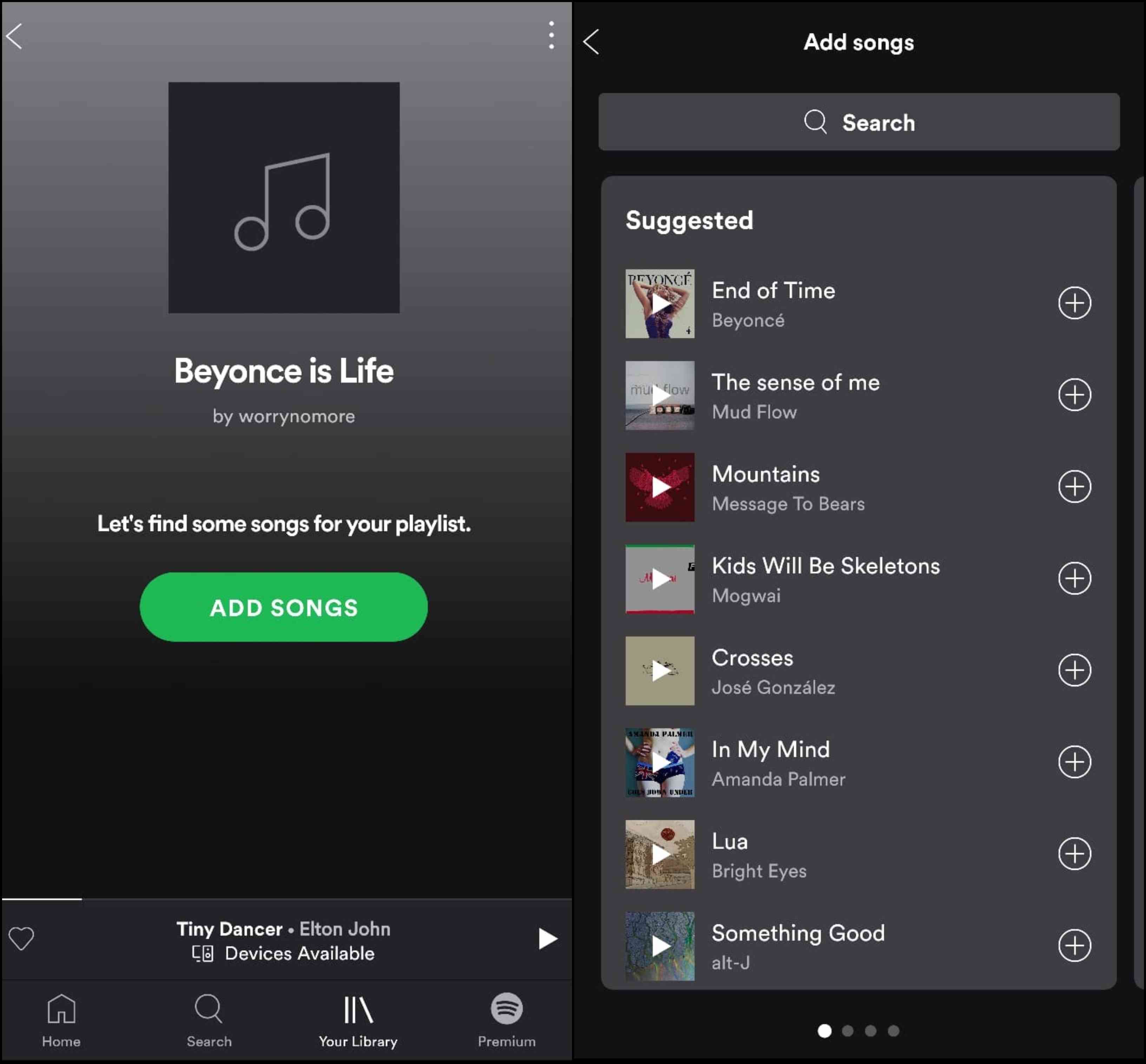 An interesting feature, and one that will certainly get smarter the longer a listener uses the app.
Contextual Suggestions
Spotify provides contextual suggestions based on songs already added to a playlist. In the screen below, I added the first two songs, and Spotify picked up where I left off.
As I continue to add more songs, Spotify will update its recommendations in real-time to accurately reflect my tastes. This makes it easy as 🍰to continue building the playlist with all new music.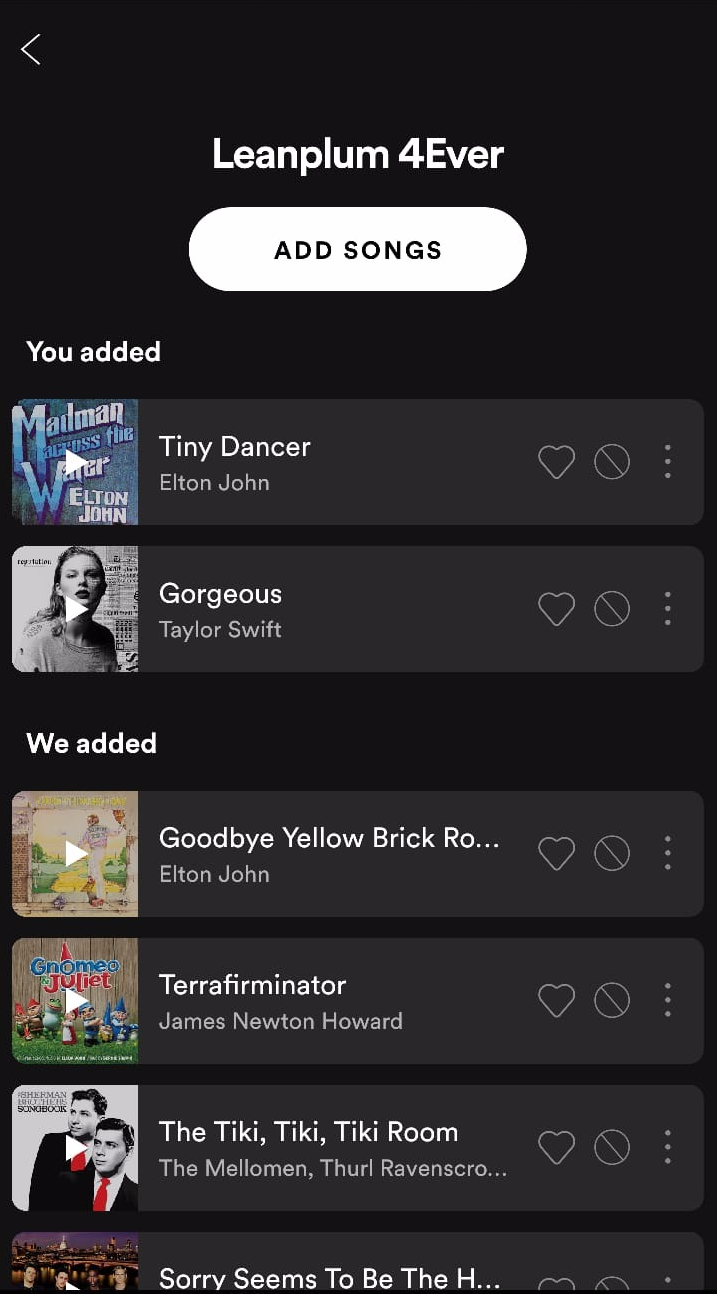 Autoplay
When a user reaches the end of an album, playlist, or other series of songs, Spotify continues to play similar music that can be seamlessly saved for future listening. Talk about effortless discovery!
One Thing to Improve
When you open a playlist, album, or other selection of tracks outside of the 15 playlists on your home feed, you are directed to a preview page where an extra step is needed to access a full list of songs.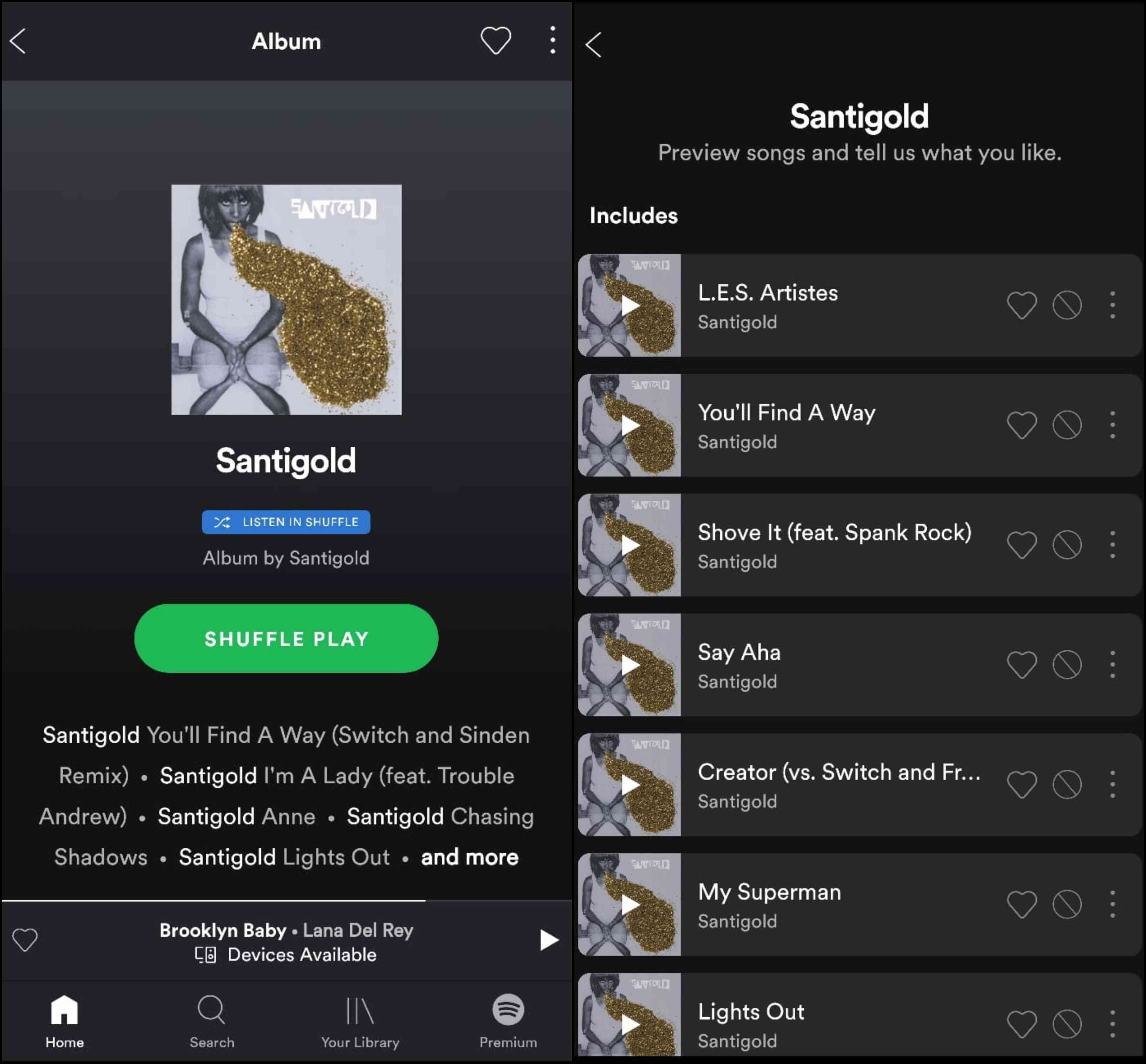 To save users a tap and a bit of confusion, Spotify could skip this preview page and lead users to the full song list directly. Setting up an A/B test could help Spotify assess whether this change impacts user behavior in a statistically significant way.
In general, Spotify smashes music discovery out of the ballpark. The app seems to have thought of every trick in the book to help users navigate its massive library and find their next favorite track.
Unique Features
Outside of music discovery and personalization, Spotify has many other notable features. Here are a few of my favorites:
Artist Profiles
Artist profiles are a convenient one-stop-shop for everything related to a chosen musician. Profiles include a biography, Artist Playlists/Artist Picks (compilations of music that they enjoy), newly released music, available albums, concert schedules, other playlists they appear on, recommendations of similar artists, and more.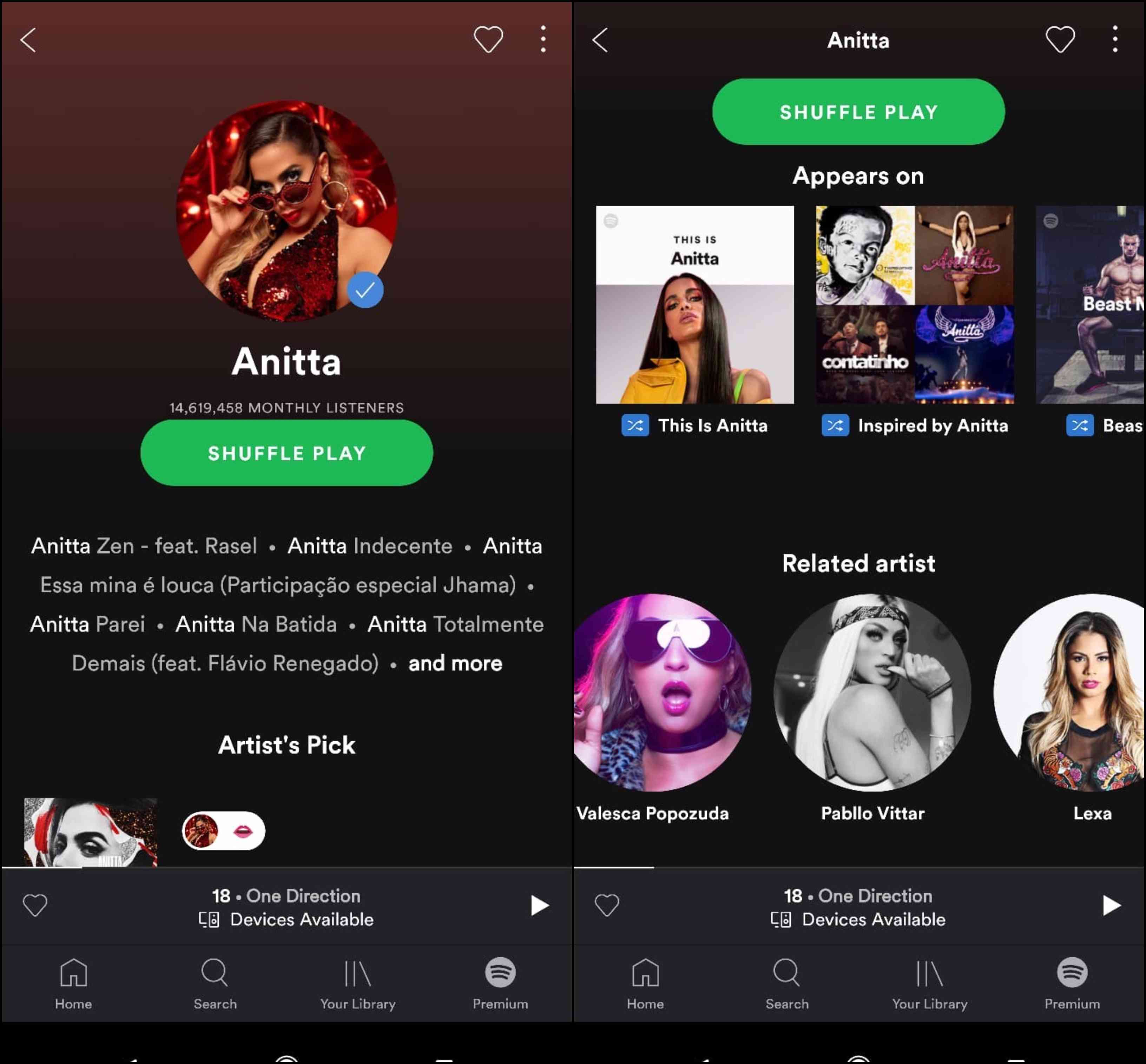 Social & Sharing
There are many social media-inspired features throughout Spotify that make the app fun and interactive.
Users are able to follow both the profiles of their friends in real life as well as musical artists they admire to access diverse playlists. They can also create collaborative playlists with multiple contributors.
Data Saver Mode
Spotify's new update introduces a data-saving mode where your music quality is set to low by default. The feature is located in settings, accessible from the gear icon on the app's top right corner.
Alternatively, you can customize your music quality — the higher the quality, the more data used. Both of these options make life easier for users on capped data usage plans.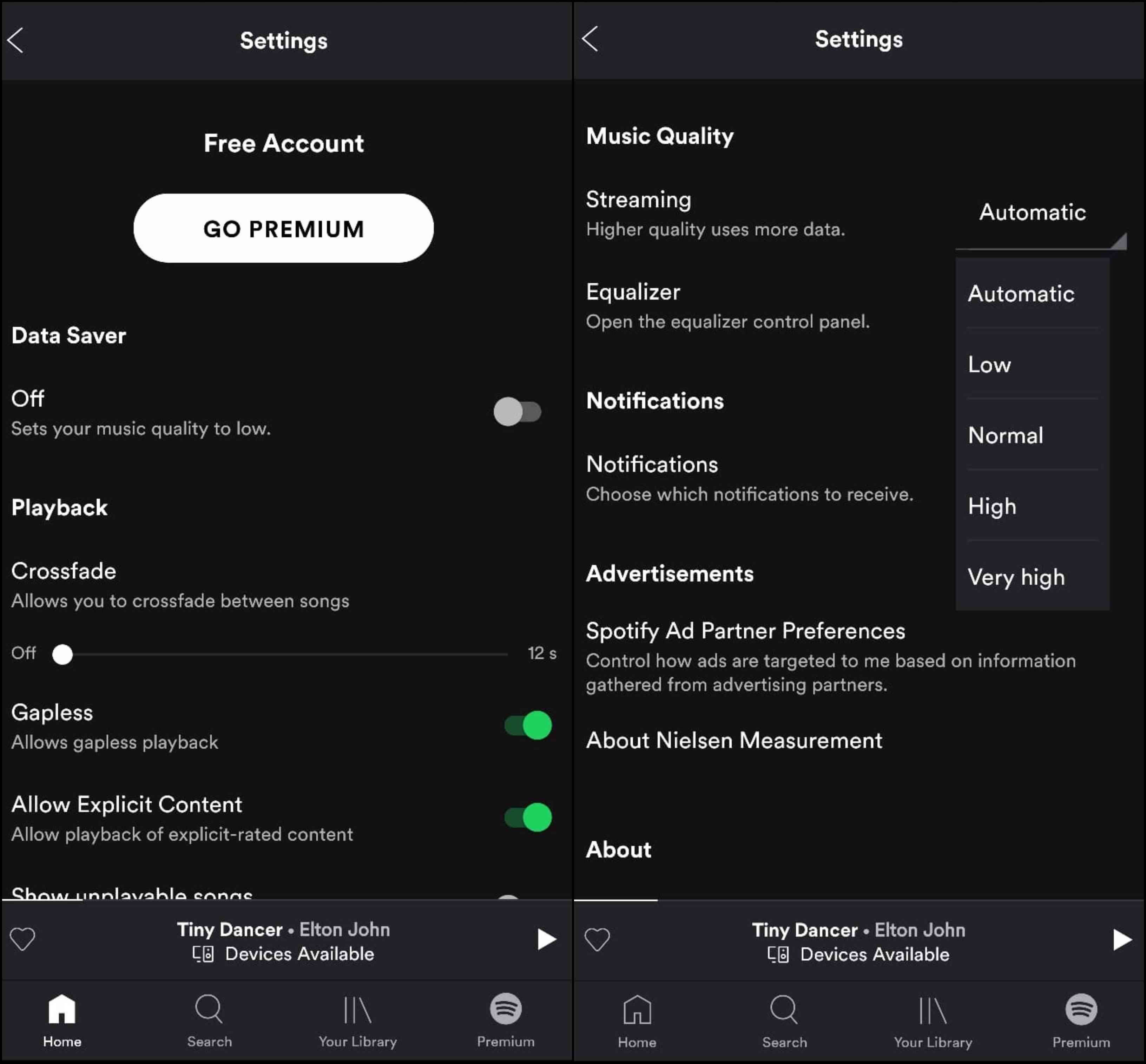 One Thing to Improve
It's clear that Spotify has tweaked and refined its app over the years to consistently deliver thoughtful user experiences. All features work as expected, and are intuitively embedded throughout the app.
Spotify App Engagement
Spotify offers a powerful and multifaceted service that is still surprisingly intuitive. As a non-paying user, I was able to enjoy all the perks of music discovery and personalization — albeit, with a few limitations.
Each user truly does receive an experience that is uniquely tailored to their preferences.
I look forward to seeing how Spotify evolves its mobile app and offerings into the future. If the company continues to follow the path they are already on, innovation will surely be on the playlist.
For more in our ever-growing list of App Engagement Analyses, see our articles on NYT, Snapchat, and TuneIn.
—
Leanplum is the mobile marketing platform built for engagement. We help brands like Tinder, Grab, Tesco, and Zynga orchestrate multi-channel campaigns — from messaging to the in-app experience — all from a single, integrated platform. Schedule your personalized demo here.