Timely Push Notifications See Greater Success on Weekdays
Note: This post originally appeared on Openxcell.
---
Awhile back, we released a data science report on push notification send versus open rates. We found that across the world, apps sent push notifications at certain times, but users actually opened them at others.
After analyzing over 671,587,169 push notifications, we found that 63 percent of apps sent push at the wrong time.
This data is extremely useful because it gives valuable insight into opportunities around mobile messaging. To help break down the information we analyzed, this article is going to dive into the nitty-gritty of send versus open rates for weekdays by region.
North America
Benchmark: On weekdays in North America, sends spike during morning commuter hours, lunch breaks, and after school ends.
Opportunity: Brands should send after dinner, from 6–9pm.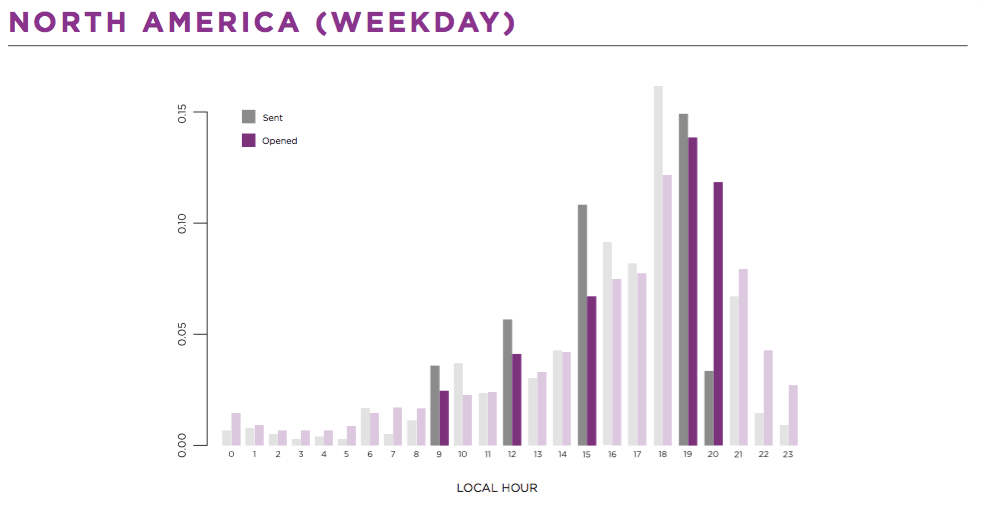 On weekdays when kids get home from school, engagement begins to peak. Opens fully vest at 7pm, when people reach their most engaged for hours. This proves that the old adage not to call at dinner is false.
When the 8pm drop-off in sends occurs, apps actually have the least competition, and therefore the highest chance of grabbing user attention. Our theory: users are relaxing at night, unhindered by work or chores.
Europe, The Middle East, and Africa
Benchmark: On weekdays in EMEA, apps send late at night, with push peaking from 9pm–1am.
Opportunity: Brands should instead target mornings, from 6–8am, when users are more likely to open.
When in doubt, 9pm is the magic number in EMEA.
Here we see the complete opposite of North America. On weekdays, users are much more likely to open push notifications in the morning hours, particularly from 6–8am. Marketers should focus on this goldmine before work.
However, a look at the late night hours, between midnight and 1am, reveals an alarming discrepancy. Sends peak, yet users aren't engaging. One possibility is that marketers in other geolocations fail to take into account individual time zones and send every notification at once.
Latin America
Benchmark: On weekdays in LATAM, customer engagement is high in the morning and night.
Opportunity: Brands should engage at 8am or 6pm, rather than over send in the afternoon.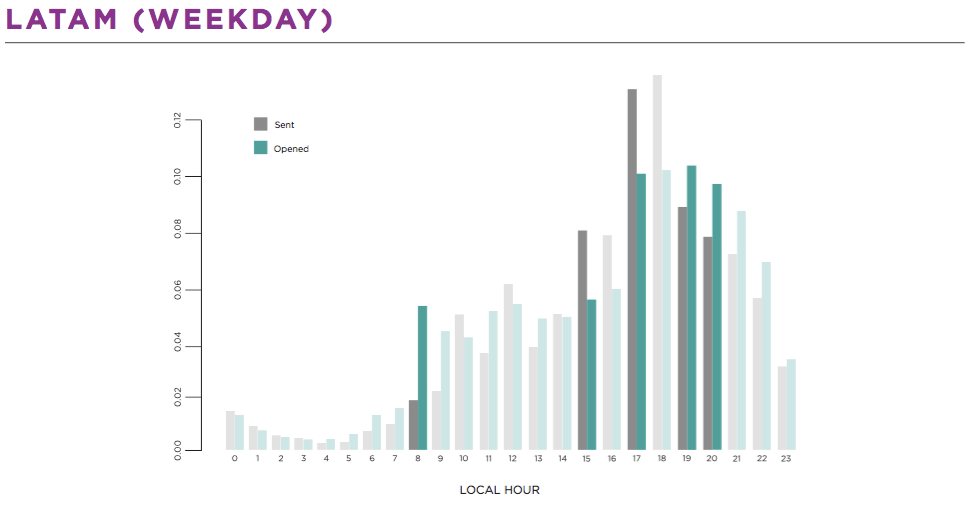 Latin America's results are quite telling. On weekdays, opens peak during commuting hours, at 8am, and then drop during work hours. Opens dramatically increase at 5pm when users clock out, the time we have happily dubbed, "push notification party time"!
Asia-Pacific
Benchmark: On weekends in APAC, push frequency is higher in the late morning.
Opportunity: Brands should send earlier from 7–9am to have a better chance at engagement.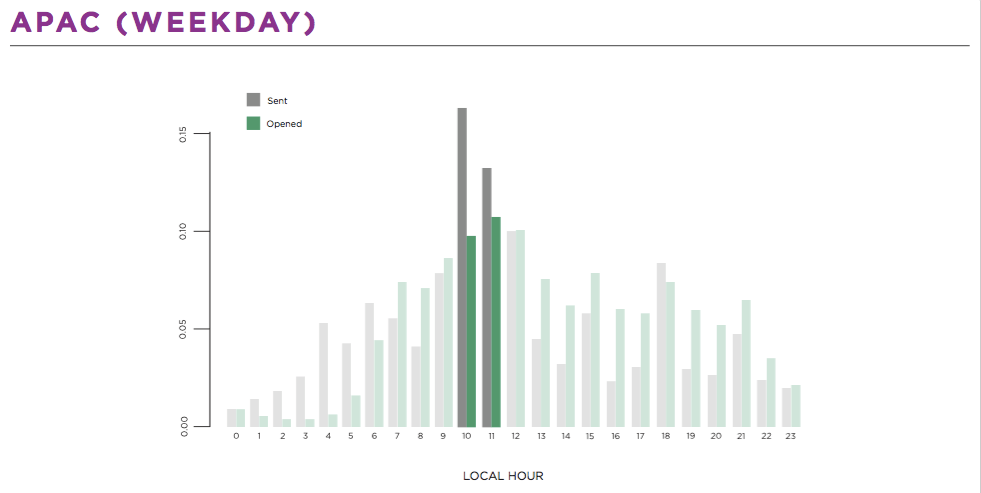 On weekdays in APAC, there's an appetite for morning pushes. Starting at 7am, consumers are more engaged than apps anticipate, but as opens rise throughout the morning, so do sends. By 10am, apps actually flood users with messages.
Conclusion
Looking at this data, it's apparent that far too many apps send push notifications at times when users aren't likely to open. Using data and metrics to measure and track your success is essential to increasing user engagement and retention on mobile.
If you enjoyed this insight, stay tuned for our follow up post on our analysis of send versus open rates on weekends by region.
In the meantime, you can check out the full report, "Breaking Barriers to Push Notification Engagement."
—
Leanplum is the most complete mobile marketing platform, designed for intelligent action. Our integrated solution delivers meaningful engagement across messaging and the in-app experience. We work with top brands such as Expedia, Tesco, and Lyft.