Happy World Emoji Day!
The world was forever changed when Apple introduced the iOS emoji keyboard back in 2011. Since then, emojis have enjoyed nothing short of a meteoric rise ☄.
In the past year, emojis staked their claim in mainstream culture with a full-length feature film 🎥. Dictionary.com became the first major reference to officially document emojis 📕. Emojis have even been labeled as the first truly global form of communication, transcending borders and language barriers 🗣.
Which is why today, we are excited to announce an update to our enormously popular 2017 emoji trends report. The rejuvenated study — informed by 300 million mobile messaging deliveries and five billion data points — reveals that emojis don't just add a little flair to mobile messages. They significantly impact mobile usage and engagement.
Here's what in store.

Emoji Usage Rises 📈
If you thought emojis had already reached the height of popularity, think again. Emoji usage continues to skyrocket year-over-year with no signs of stopping.
From 2017 to 2018, the average number of emojis used per message and the percentage of messages including at least one emoji both doubled.
This is not surprising. Marketers are becoming increasingly savvy about the irresistible draw of emojis 😍. And the pool of emojis to choose from is getting larger. 157 emojis are scheduled to be released in the second half of 2018, bringing the total number of emojis to 2,823.
A brain, a lobster, a nazar amulet (to ward off the evil eye), an abacus, and a party face are all part of this new set.





Emojis ⬆ Push & Email Engagement
To understand the impact of emojis on engagement, we analyzed the open rates of push notifications and emails that contained emojis versus the open rates of those that did not.
Emails with emojis see a 66 percent increase in open rates, and push notifications with emojis see a 254 percent increase. That's 3x higher compared to our earlier report, proving that users aren't getting sick of emojis any time soon.

In short, emojis turbocharge push notification and email open rates.
🌮'bout some serious app engagement.
More Emojis Equals…Higher Retention Rates?
Emojis indisputably improve in-the-moment engagement. But do they make a difference when it comes to long-lasting retention 📱?
Turns out that yes, yes they do.
Newly excavated data shows that apps that use emojis in their messaging experience 26 percent fewer uninstalls than apps that don't.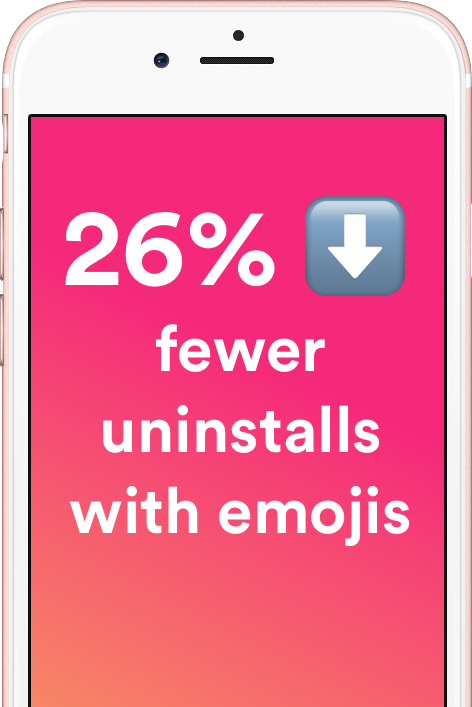 Fewer uninstalls mean more opportunities to engage and monetize users. This is key to the long-term success of any app, especially in the crowded app marketplace of today — Android users have access to 3.8 million apps, while Apple users choose from 2 million apps.
🆙 Your Emoji Game
Intrigued? We have so much more in store — including the most popular emojis by vertical and by country 🌍.
Get the latest and greatest data to deliver real impact in your next mobile marketing campaign. Download the full emoji report, Un🔓 Engagement & Growth With Emojis.