Mobile marketing is a multi-purpose tool. You might focus on one goal or another, depending on the specific needs of your app. Some teams primarily chase after mobile growth, using targeted campaigns to grow their active user base. Some focus on mobile engagement, which helps them build relationships with their users for better customer satisfaction. And some build their campaigns around mobile retention, to ensure that their current users remain active and engaged in the long run.
There's a mobile marketing campaign for every type of goal out there. If you're still not sure where to begin, we've compiled four examples of mobile marketing campaigns to get you started.
Example #1: Build Customer Loyalty by Recognizing Achievements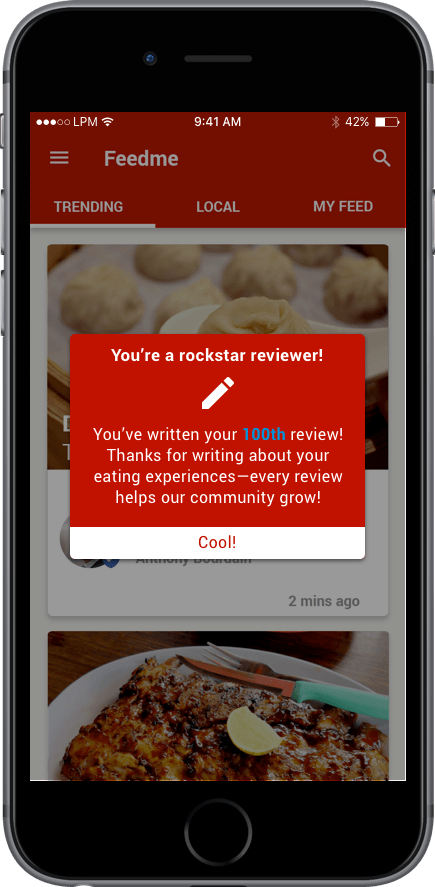 Customer loyalty is a critical aspect of long-term user retention. One simple way to improve loyalty is by recognizing user achievements.
By achievements, we're referring to any milestone that the person might reach while using your app. If the app is a game, it might be a literal achievement, like rewarding the player for clearing a level. However, non-game apps can do something similar by rewarding users for reaching engagement milestones. You could create an in-app message to congratulate users for creating an account, filling out their profile information, making their first purchase, etc.
Essentially, if there's any in-app activity that you want your users to perform, you can reward them for this activity with an in-app message. You can go one step further and offer coupons or discounts when users reach certain milestones — but even the simple act of recognizing an achievement could go a long way towards promoting customer loyalty.
Example #2: Convert Trial Users to Paying Subscribers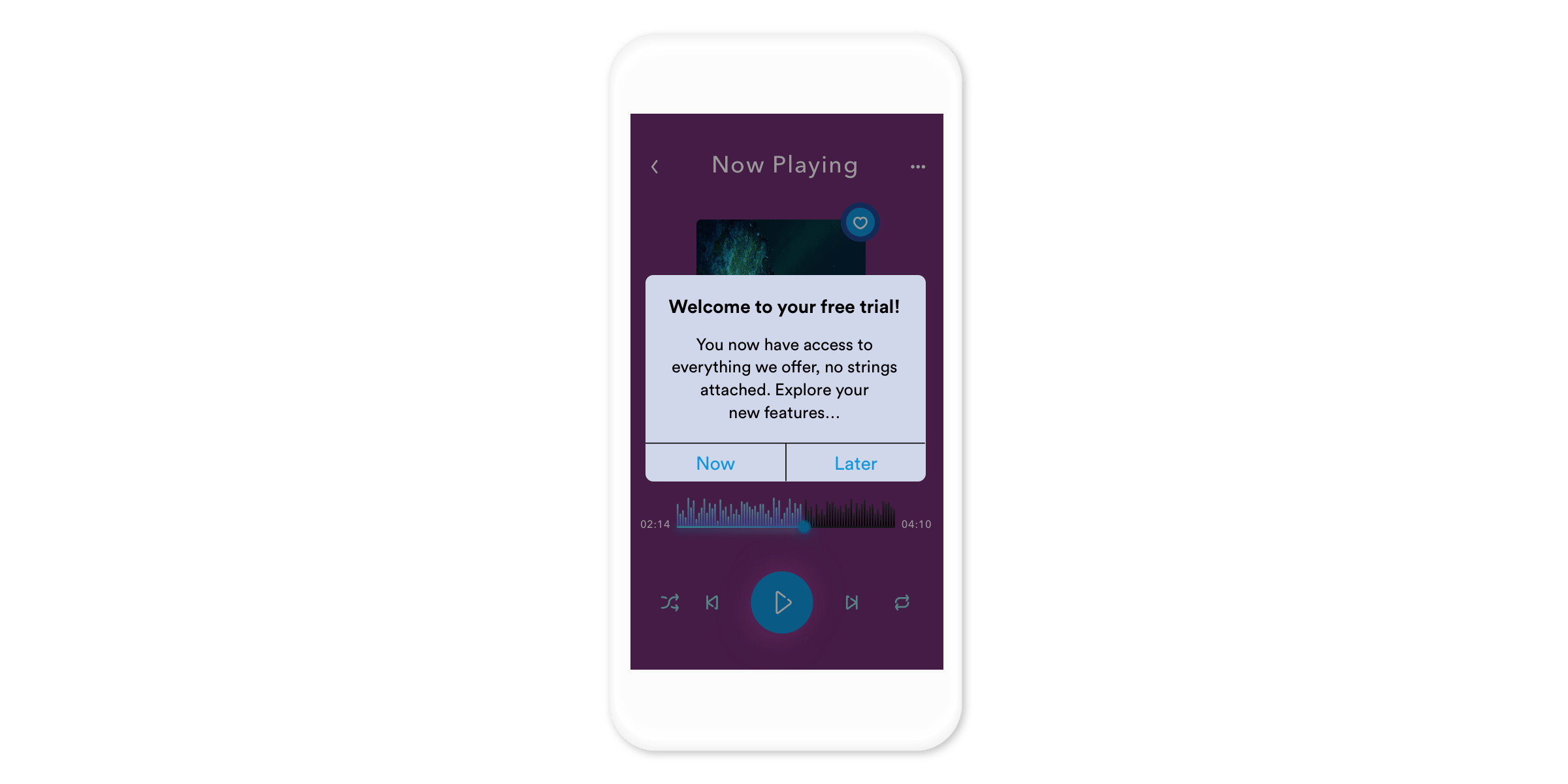 Some apps offer most of their functionality for free, but provide extra features for paying customers. For example, music streaming apps typically offer an ad-supported free version and an ad-free service for paying subscribers. For apps like this, converting users from free to paid is essential for monetization.
An example of a mobile marketing campaign that targets free users would be to offer a free trial of the paid features. You could wait until new users have engaged with your app for a few weeks, and then trigger an in-app message offering a free trial with no strings attached. If users agree to the trial, they'll be able to use all the features available to pro users and evaluate whether they want to subscribe.
During this campaign, it would be helpful to point out the differences between the free and paid versions of the app. When users sign up for a free trial of the paid version, you could include an onboarding flow to highlight the features that are now available to them. Then, at the end of the trial period, you can remind users of what they'll give up if they revert to the free version. Drawing attention to the benefits of the paid version could encourage some people to convert.
Example #3: Reactivate Dormant App Users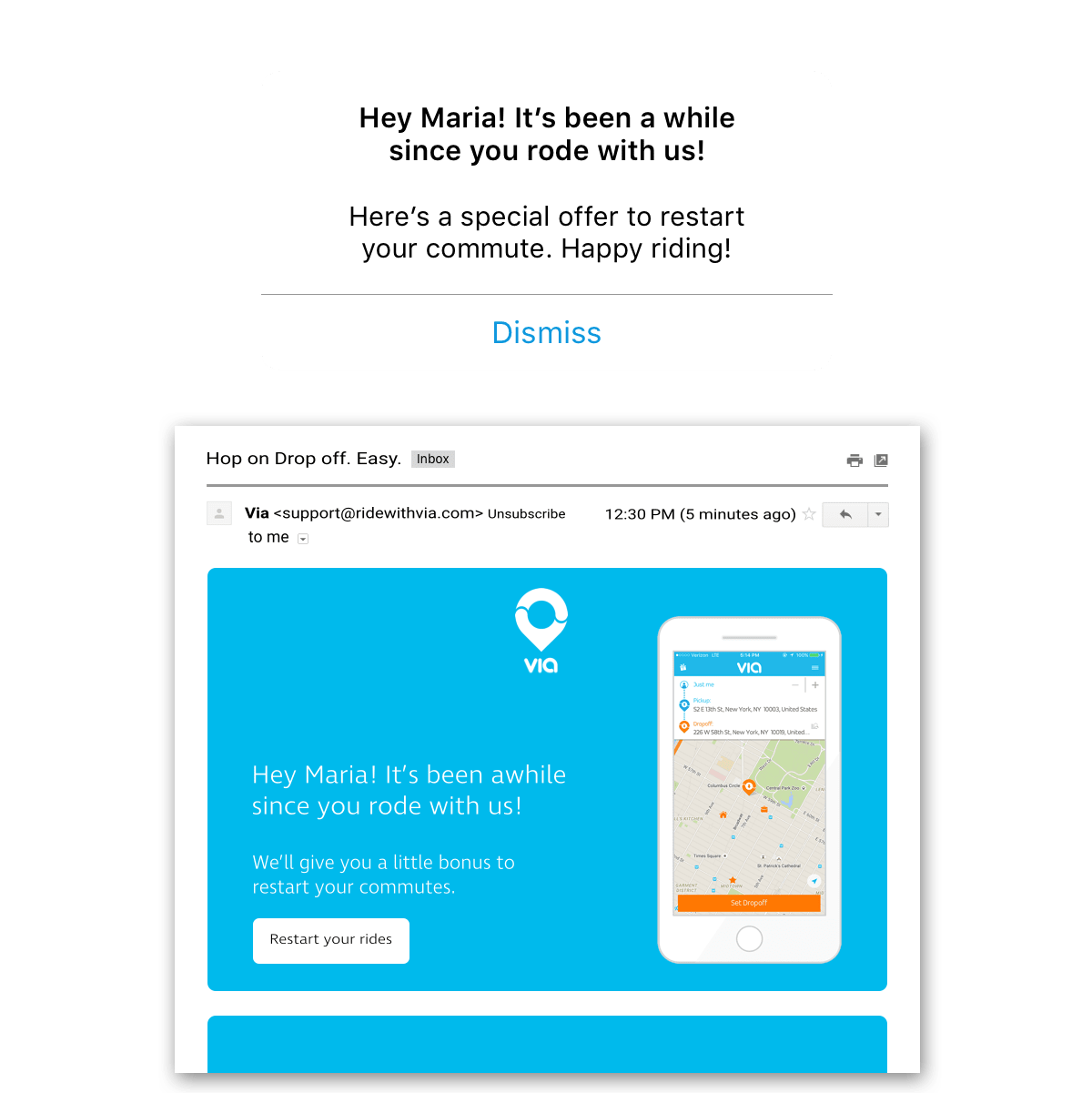 No matter how engaging your app might be, there will come a time when some users fall dormant.
On average, mobile users launch 30 different apps per month. This sounds like a high number, but it accounts for less than half the apps installed on the average user's phone. In other words: On a monthly basis, the average person doesn't even use half the apps on their phone!
It's inevitable that some users will fall dormant. That's why reactivation campaigns are another popular example of mobile marketing campaigns. These campaigns target inactive users and attempt to bring them back to the app.
Since dormant users are no longer using the app (by definition), reactivation campaigns typically revolve around external messaging channels, like push notifications or emails. These messages can remind users that your app exists, and perhaps offer a promotion or discount to entice them to return. This is commonly seen in ridesharing apps, where inactive users might receive discounts on their next ride.
With a reactivation campaign, you can ping users at different points in time — like seven, 14, or 30 days — and provide a personalized offer to bring them back to the app.
Example #4: Activate New Users With Onboarding Reminders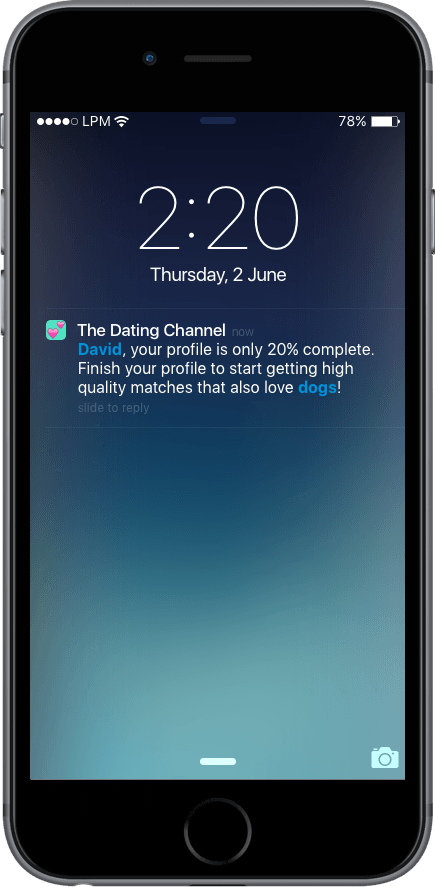 Onboarding flows are helpful for easing new users into your app. Instead of dropping people into the app without any explanation, you can quickly guide them through the key features, and prompt them for the required device permissions and user account info (usually just a name and email address or social media authentication). A brief onboarding can help familiarize new users with the app, without turning them off by requesting too much info up front.
However, some users simply don't complete the onboarding right away. Sometimes people don't know how long the onboarding flow will take, or they simply don't feel like reading through each screen, so they close the app part way through. Unfortunately, this decreases the chances that this person will eventually come back to the app. The data shows that day one retention is 40% higher for users who receive onboarding reminders. Getting new users through the onboarding flow is critical for retaining them in the long run.
Here's an example of an onboarding reminder campaign. First, create a segment for users who've started the onboarding flow but haven't finished it. Then, if you've obtained push notification permissions, you could send a push reminder before the end of the day in local time.
If you don't have push permissions, you could send the message via email or SMS, depending on what information you have on that particular user. Of course, if the person re-launches the app on their own, you can redirect them to the onboarding flow or prompt them to continue with an in-app message, depending on if you want the onboarding to be mandatory or not.
Looking For More Examples of Mobile Marketing Campaigns?
If these four examples aren't enough, we suggest browsing our list of mobile use cases to discover more ideas for mobile marketing campaigns or take a look at our article on in-app marketing.
In this post, we covered one item from each major category: The first-time user experience, user engagement, conversion, and finally loyalty. By creating campaigns for each of these four goals, you're creating a direct path from user acquisition to long-term engagement and retention. And if you'd like to see how Leanplum can help you develop that path, contact us for a personalized demo today.
—
Leanplum is a mobile engagement platform that helps forward-looking brands like Grab, Tinder, and Tesco meet the real-time needs of their customers. Schedule your personalized demo here.