This Valentine's Day, love is in the air. That is, our love for engaging your mobile audience.
Today, we're excited to unleash a few red-hot 🌶 mobile marketing trends, just in time for the most romantic day of the year.
In 2018, a large portion of the world turns to their phones to find partners. And because Leanplum works with some of the biggest dating apps in the world, we have access to billions of data points about how people go looking for love.
So we decided to dive in and find out what makes people tick when it comes to dating apps.
We analyzed four big questions.
What are the most popular emojis?

When do the most matches occur?

When do people turn to dating apps?

Are people more likely to open dating app pushes and emails?
1. 😍 Emojis 😉
When it comes to messaging inside dating apps, sometimes a picture is worth 1,000 words. Especially emojis, our favorite lovable little pictures.
We sat down to analyze the most popular emojis sent by dating apps in push notifications and emails. The results: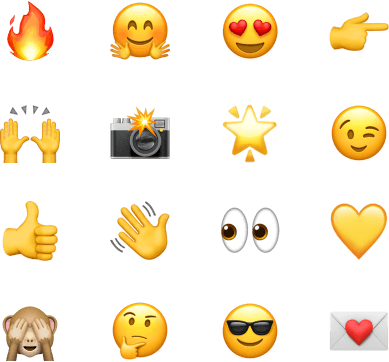 So what does all this data mean? We have a few theories on what dating brands are saying to their mobile users.
🔥 = your love is lit
🤗 = you made a new friend
👉 = you're going to want to swipe right on this next one
🙌 = new match — you're awesome!
📸 = send a selfie to your match
👀 = there's a new match waiting for you
💌 = there's a new message waiting for you
🙈 = I can't believe what your message says
2. Push It, Push It Real Good
Push notifications — and emails for that matter — tend to get opened more often on dating apps than on apps in other industries. So go ahead and push that message, a la Salt-N-Pepa.
Just how many more opens are dating app messages getting? On average, dating push notifications see 2.15x as many open rates as other verticals. And emails see 22 percent higher open rates — at 27.6 percent, compared to 22.6 percent.
The reason? Easy.  Everyone loves seeing an alert that they have a match. You get butterflies in your stomach. Someone likes you. As we've learned in a past report, evoking positive emotions is a great way to capture the attention of your audience and bring them back to your app.
3. Strike a Match
Next, we discovered which time of the year has the highest matches by looking at four holidays:
New Year's

Valentine's Day

St. Patrick's Day

Fourth of July
Surprise. It wasn't Valentine's Day.
Shocking, I know. We bet a lot on the holiday of love. It's the tail-end of engagement season (yes, that's a thing) and a time when many are hyper-focused on finding a relationship. It's also the dead of winter, when it's cold and dreary and the only reasonable thing to do is find someone to cuddle.
So when February lost out to a different holiday, we were scratching our heads. St. Patrick's Day outperformed Valentine's Day in terms of the number of matches per user. But when we considered the timing, it did make sense.
Our theory: users are looking to pair up for the boozy holiday, or perhaps looking for a fun spring fling.
4. Swiping for Love
Okay, so we know what brands are saying to lure users back into dating apps. But when do users actually like to engage?
When it comes to time in-app, of those four holidays, the Fourth of July won. A typical user spends about 14 percent more time in the app during the summer holiday, compared with Valentine's Day (and 40 percent more time in app than during St. Patrick's Day).
Maybe users are matching up more during spring, but spending significantly more time in an app trying to find a mate during summer. Blame the attraction of a nostalgic summer tryst, but our emotions tend to heat up when temperatures rise.
5. Your Best Pick Up Line, Please….
So we know when users get matched up, and when they like to spend time in app. But when do users' inner Chatty Cathys come out?
When it comes to users messaging each other, Valentine's Day steals the show. Users send almost 2x the messages to each other in the week leading up to Valentine's Day, compared with St. Patrick's Day, and send 17 percent more messages compared with the Fourth of July.
To our shock, New Year's underperformed in all three areas — matches, time in-app, and chats. I guess finding the perfect person to kiss when the clock strikes midnight isn't as much of a priority.
Want more data to get your heart racing? Here are two sources: 1) Check out our infographic below, and 2) Watch our oh-so-lovely webinar, Swipe Right on Mobile Engagement.


—
Want to learn more? Watch our webinar, Swipe Right on Mobile Engagement.