Heart This: Emoji Push Notifications Increase Mobile Marketing Engagement
TLDR; Emojis lead to 85% higher push open rates, influence conversions.
Today, Leanplum released a new Mobile Marketing Trends report that confirms the effectiveness of emojis in mobile communications. This growth is driven by consumer love for emojis and the emotions they evoke, and it is clear from the data — provided by us and App Annie — that emoji push notifications are more likely to influence conversions. The report provides a blueprint for organizations seeking to better engage their customers through more delightful and personalized communications.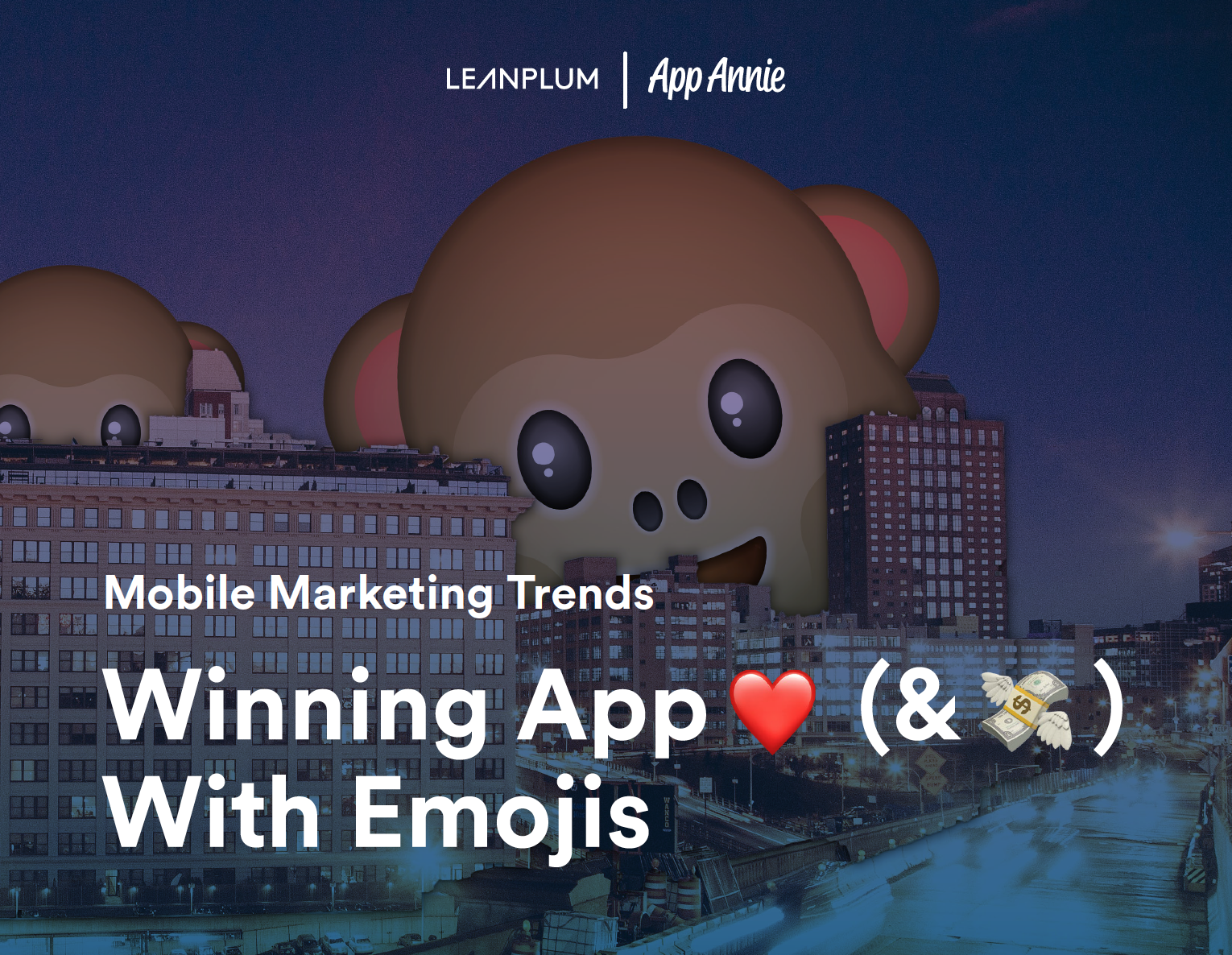 Our mobile marketing platform is installed in one of every two smartphones worldwide, and tracks 10 billion daily user actions. This gives us a vast source of data intelligence on push notifications and their effectiveness on mobile marketing campaigns. For this report, we analyzed over 2.6 billion push notifications, discovering thatpush notifications with emojis saw 85 percent greater open rates on average, compared to those sent without emojis. This validates that emoji-powered notifications are a great tool for engaging end users, and can lead to higher usage, loyalty, and conversions.
Additional insights include:
Android emoji push notifications have higher open rates than iOS emoji push:

iOS push notifications with emojis are opened 50 percent more often than notifications without emojis, while Android push notifications are opened 135 percent more often than notifications without emojis.

Emoji push notifications can increase conversions:

Emojis that were A/B tested in push notifications led to a nine percent increase in users who clicked the notification's call-to-action, suggesting that emojis lead to a boost in conversions.

Emojis can lift app retention rates:

Emojis that were A/B tested in push notifications led to a 28 percent lift in day two retention, helping mobile brands ensure continued app adoption.

The 25 most powerful emojis, revealed:

The report also lists the 25 emojis that are most likely to increase your push notification open rates.

Emojis perform better than images:

In-app message A/B tests comparing emojis against simple images, revealed that emoji variants outperformed the image versions — also by nine percent.
"Understanding how users respond to content is an important part of building a healthy relationship with them," said Shipra Mahindra, Product Coordinator & Growth Marketer at Canva. "In a recent A/B test, we learned that including emojis with plain text in our in-app messaging lifts engagement more than including illustrative images. Thanks to Leanplum's easy-to-use messaging solution and automated insights, we can effectively engage more users, with content that resonates."
As mobile marketers become smarter about sending messages that resonate with user preferences, including emojis, worldwide trends in app engagement continue to rise. App Annie reports that in the last two years, App Store revenue has increased 80 percent, and time spent in app has increased 95 percent. The demographic most interested in emoji-powered push notifications are millennials.
"Improving re-engagement and retention are two of the most impactful ways that publishers can get the most out of their apps," said Amir Ghodrati, Director of Market Insights, App Annie. "When you see examples of emojis helping to contribute to a 28 percent increase in day two user retention, that goes a long way toward increasing the lifetime value of every single download for those apps. It's important for mobile marketers to note how significant push notifications, and the creative methods that go into driving users back to apps, will continue to increase interaction."
"Today's app users demand delightful content to engage with. This means marketers have to deliver mobile messaging campaigns that resonate with emotion on an individual level and at scale," said Momchil Kyurkchiev, Leanplum co-founder and CEO. "This report confirms, along with first-hand conversations with customers, that emojis help drive higher open rates, greater conversions, and deepen user connections."
–
Download the full Mobile Marketing Trends report, Winning App (& ) With Emojis: https://www.leanplum.com/resources/library/emoji-push-notifications-report.