What You Missed: Leanplum's Data Science Year-in-Review
2016 was the year when mobile marketers got serious about personalization.
This year, people spent more time than ever on mobile devices, with 90 percent of user time allotted to apps. And when it came to closing the buying funnel, mobile was responsible for a larger percent of digital sales than ever before. In fact, according to Recode, this year's Black Friday was the first >$1B mobile shopping day in US history.
Amid all these transformations, Leanplum helped some of the world's biggest brands intelligently increase app engagement and ROI. To share these strategies with the world, we released three heavy-duty data science reports that unveiled the key trends to app success.
Breaking Barriers

uncovered the times apps send versus when people open push notifications around the world.

Personalize or Bust

examined the impact of personalization on app engagement.

Retention, Revealed

investigated the current state of app retention, and explored what mobile teams can do to improve their numbers.
In the below post, we'll review the biggest findings from this year's reports. Read on to discover the strategies you may have missed — and what you need to know to stay ahead of the curve next year.
Finding 1: 63% of Marketers Send Push at the Wrong Time
In our first data science report this year, we analyzed app send vs. user open times of 673 million push notifications sent around the world. We found that 63 percent of marketers send push notifications at the wrong time. To keep it simple, here's the region-by-region breakdown of user engagement during the weekdays.
North America
On weekdays in the late afternoon, engagement begins to peak. Opens reach their height at 7pm, when people reach their most engaged for hours. When the 8pm drop-off in sends occurs, apps actually have the least competition, and therefore the highest chance of grabbing user attention. Our theory: users are relaxing at night, unhindered by work or chores.
Europe, the Middle East, and Africa
Here we see the complete opposite of North America. On weekdays, users are much more likely to open push notifications in the morning hours, particularly from 6–8am. However, a look at the late night hours, between midnight and 1am, reveals an alarming discrepancy. Sends peak, yet users aren't engaging. One possibility is that marketers in other geolocations fail to take into account individual time zones and send every notification at once.
Latin America
On weekdays, opens peak during commuting hours, at 8am, and then drop during work hours. Opens dramatically increase at 5pm when users clock out of work, the time we have happily dubbed, "push notification happy hour"!
Asia-Pacific
On weekdays, there's an appetite for morning pushes. Starting at 7am, consumers are more engaged than apps anticipate, but as opens rise throughout the morning, so do sends. By 10am, apps actually flood users with messages.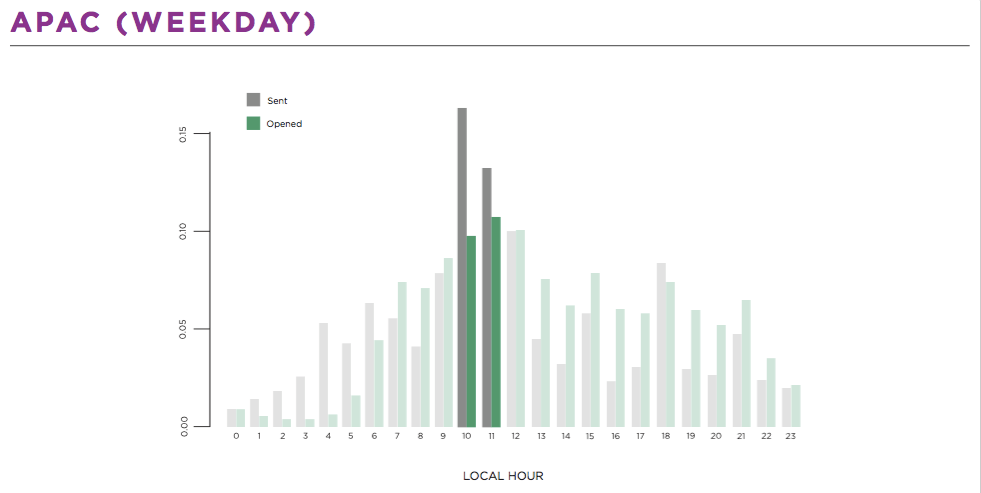 Download Breaking Barriers to learn more.
Finding 2: On Android vs. iOS, There's a Race for Engagement
In addition to geographies, we studied how users interact with push notifications across mobile platforms. We found that the push notification open rate is twice as high on Android than on iOS.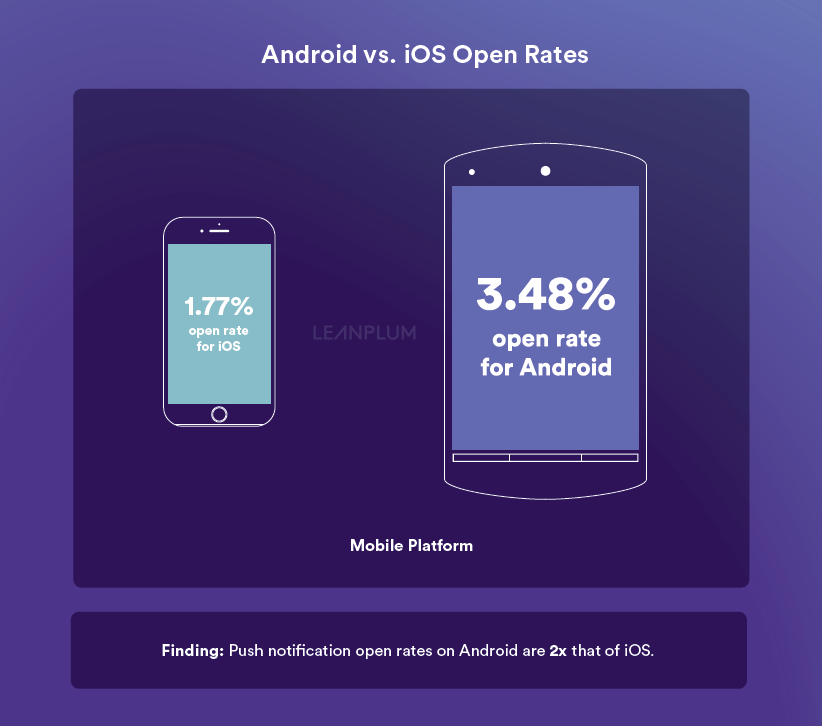 We believe that the platform design influences the way users engage with push notifications. On Android, messages "stick" around longer in the lock screen. Even after users view notifications, Android still lets them know they have unread notifications by adding a sticky icon to the top left corner of the home screen. A user is required to acknowledge the notification in some form, whether opening or dismissing, for it to disappear.  
Conversely on iOS, once a user unlocks their screen to take any action, the message moves straight to the notification tray. It is then only accessible if a user drags the tray down from the top bar.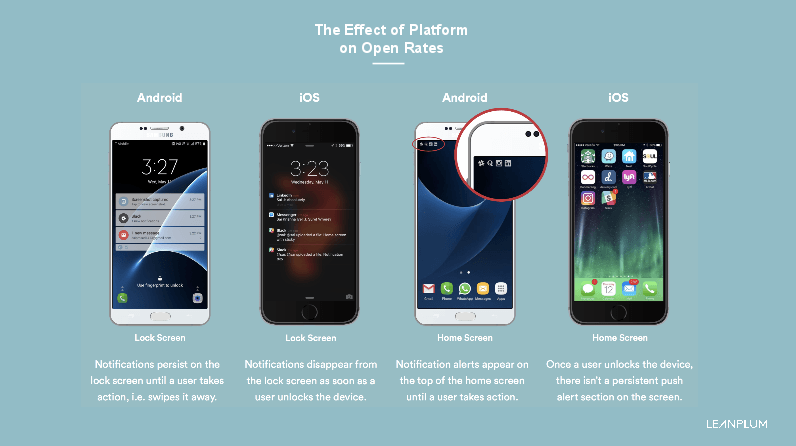 Now, let's examine the time to open duration for Android versus iOS.
Android, which has twice the open rates, sees a much slower time to open. The median time Android users take to open a push notification is around 48 minutes. On the other hand, iOS users are fast, opening push in median time of seven minutes. Our hypothesis is that the difference is also related to the distinct user experience between iOS and Android.
Since iOS pushes disappear after a user unlocks their screen, open rates are lower. Yet iOS users who open, do so faster than those on Android. As notifications disappear after a user unlocks their iPhone, users open push directly from the lock screen. Perhaps iOS users are trained to act with more immediacy, knowing how quickly pushes will be moved into the hard-to-find notifications tray.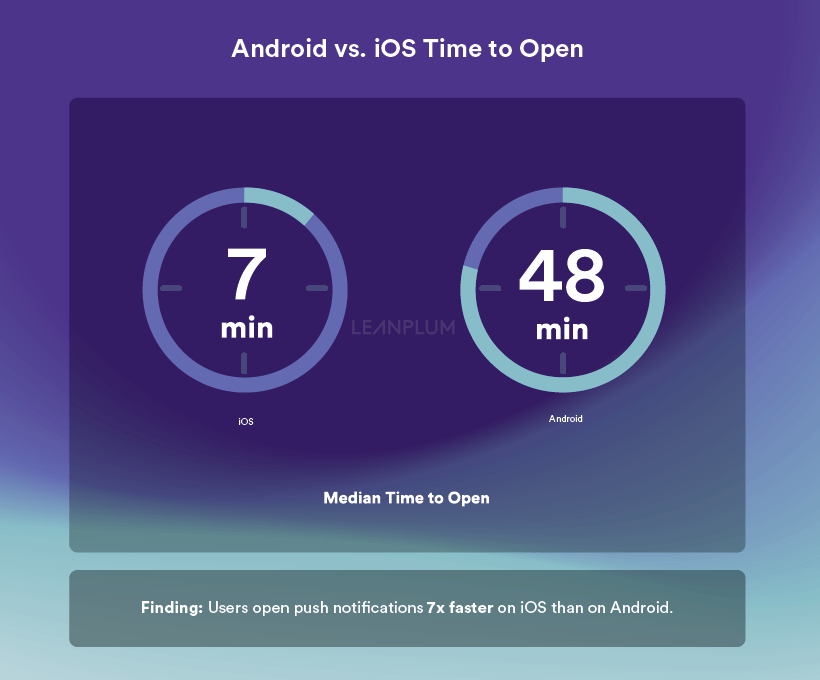 Download Personalize or Bust to learn more.
Finding 3: Personalized Push Content Garners 4x the Engagement
Mobile teams can personalize push notifications in a variety of ways. They can factor in small details, such as the receiver's first name. Or dive deeper to include an event parameter, action item, language, lifecycle, real-time location, and more. When mobile teams engage users with personalized content, they initiate a one-to-one conversation, rather than putting the user on the receiving end of a generic blast.
An integrated platform that can personalize on a long list of attributes makes content-rich messaging a breeze. The most successful marketing strategies recognize user behavior, provide value, and in turn ask users to take action inside the app. For example, a push notification could be as specific as, "Hey [Tina], you left an [African Block Print Skirt] in your cart. Only [two] left in stock. Come back and check out."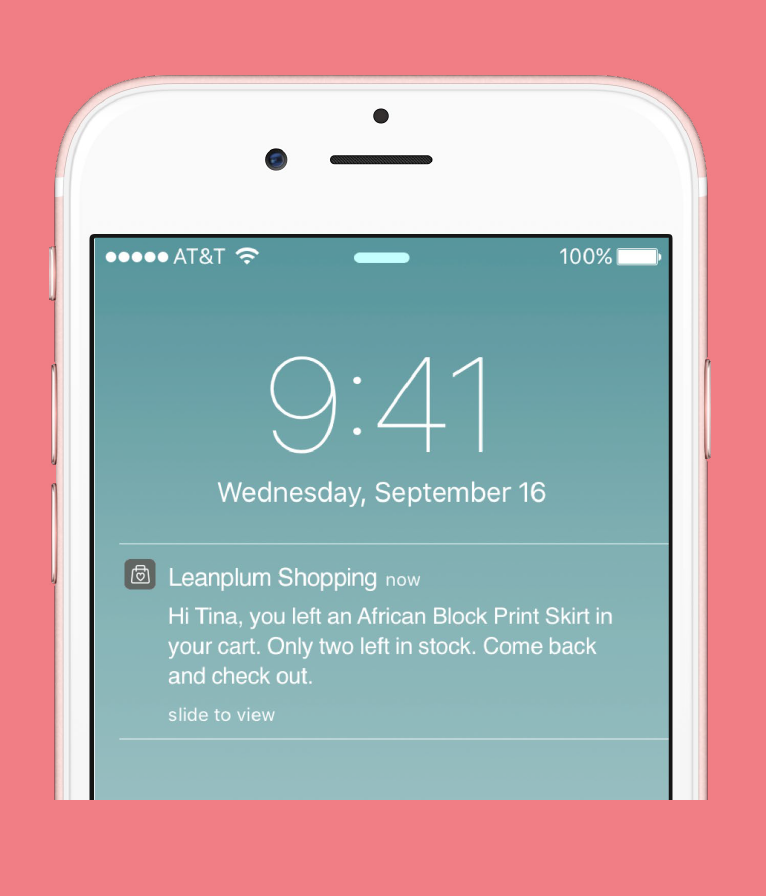 The personalization opportunities are vast. And the research shows personalization works. On average, 1.5 percent of people open a push notification sent with generic content. Conversely, 5.9 percent of people open a push notification that contains personalized content — anything from a name to an event parameter. That means personalizing the content in your push notifications can result in a 4x lift in open rates.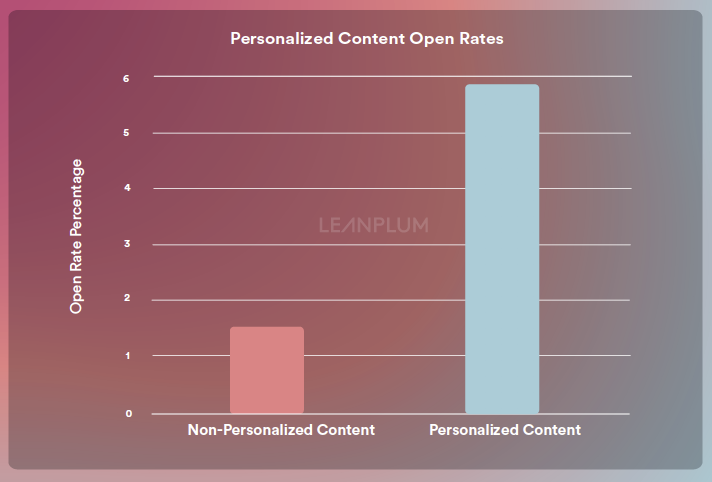 Download Personalize or Bust to learn more.
Finding 4: Apps Lose the Majority of Users by Day 1 — But There's a Solution
Unfortunately, most users end up abandoning an app after the first open. By day one, apps only have a 21 percent retention rate. By day 10, this number reduces to 7.5 percent. By day 90, number drops to 1.7 percent. And no matter how we sliced the numbers (by vertical, platform, etc.), the average retention rate hovered under five percent.
However, the day 10 through 30 retention rates are relatively consistent. By focusing on improving the day 10 numbers, you can positively impact the retention of a user throughout their first month. And since the majority of abandonment has already occurred within the first month, you may be able to increase retention for all your users in the long-term.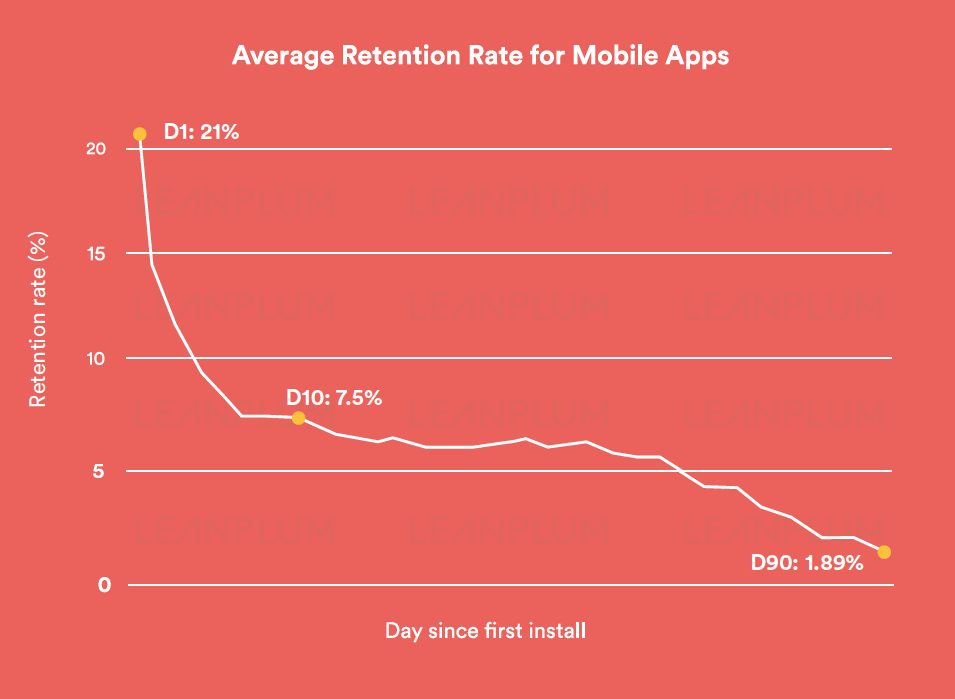 So what is the best strategy to retain users until day 10?
After looking at retention trends in hundreds of mobile apps, we found that push notifications can increase user retention by 20 percent. What does this mean in real-life examples? We hypothesized that if Pokémon GO sent push notifications, it could retain an extra 1,210,500 potential players by day 15.
That's a lot of retained users!
Adopting push notifications in your mobile marketing arsenal can impact how users interact with your app over the course of their lifetime. You increase retention and preserve your financial investment in app installs.
It gets even better. If you personalize push notification send times, you can increase retention by 7x.
To see how this would impact a real app, we looked at Target's Cartwheel app. If Target personalized push notification send times as part of its messaging strategy, it would have the potential to retain 1.74MM more users and earn an extra $209MM in revenue over the app's lifetime. This is a substantial gain for such an easy tactic.
It's clear that personalization is a key element to driving higher engagement with app users, but of course, there are many factors to consider, including platform, content, and delivery type. A/B testing to experiment with the right combination of message and content will ensure greater app engagement and ROI.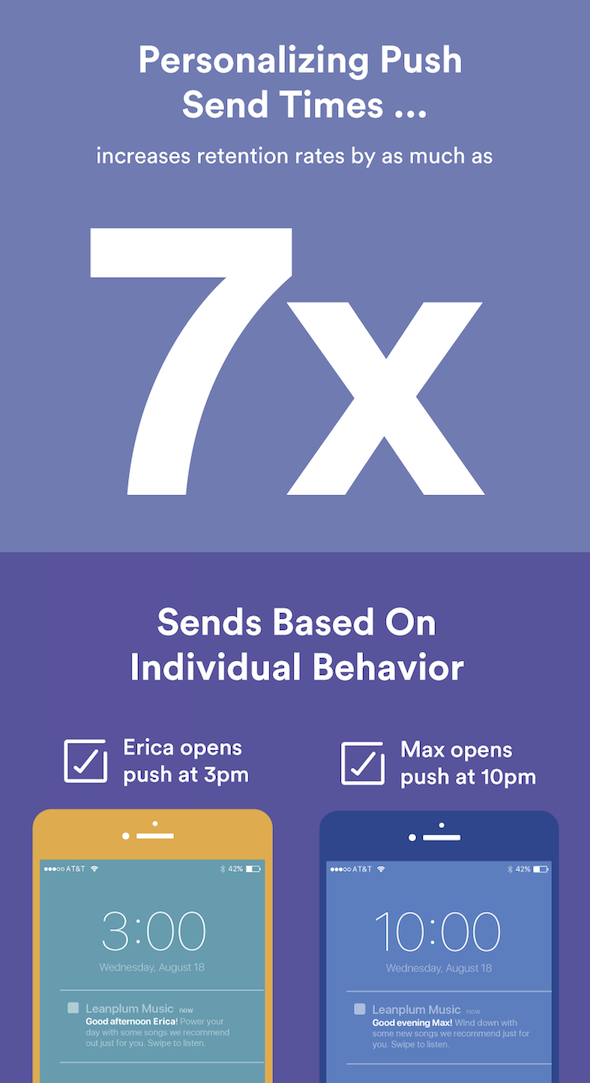 Download Retention, Revealed to learn more.
Looking Ahead to 2017
Tomorrow, we're releasing our 2017 Mobile Predictions. Come back to the blog to find out how we think the near future will be powered by machine learning, predictive analytics, and automation. We'll offer a colorful infographic that highlights insights from the biggest mobile brands today.
See you then!