5 Personalized Emails We Absolutely Had to Share
It's time for mobile teams to get serious about email.
It may be tempting to assume that email is on its way out as users migrate to apps and websites, but the stats tell a different tale. Email engagement is as high as ever — the average clickthrough rate for emails across all industries currently sits at 2.74 percent, comparable to the average push notification open rate of 2.63 percent.
Email remains a powerful messaging channel in the mobile era. That's why our platform supports mobile-first email.
In the mobile world, email is the flip side of push notifications, enabling teams to reach users out of the app without requiring an opt-in. Yet email suffers from the same challenges as push: generic blasts struggle with low open rates, and excessively aggressive campaigns could cause users to unsubscribe for good.
Just as with push notifications, the key to a good email is personalization. Below are a few fantastic examples of email marketing done right — they're personal, readable, and actionable. Bookmark these as a reference, so the next time you're stuck on a campaign draft, you'll have some ready-to-use inspiration.
1. Owler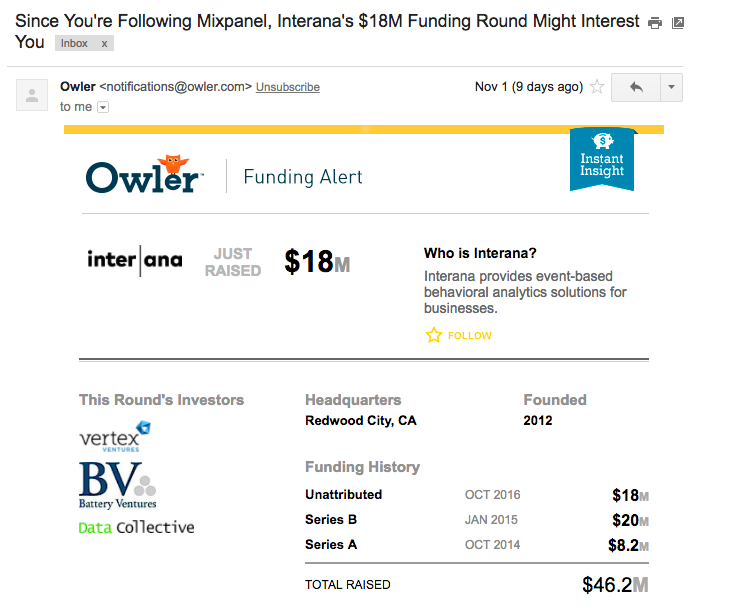 Owler is a business intelligence tool that keeps subscribers up to date on other players in the industry. This particular email was a funding alert with a powerful subject line: "Since You're Following Mixpanel, Interana's $18M Funding Round Might Interest You".
This is a great example of personalization because it uses a name that I'm familiar with — Mixpanel — to draw attention to another company that I wasn't following. Mentioning a well-known company to grab attention is a well-known strategy. Take "the Tinder of jobs" apps Jobr as one example. By likening your news or content to the name of a company your users are familiar with, you may garner a few extra clicks.
Of course, "$18M Funding Round" is an attention-grabbing phrase in itself, so the email is doubly effective. The subject line is difficult to ignore because it mentions both a familiar name and a large funding round.
2. Do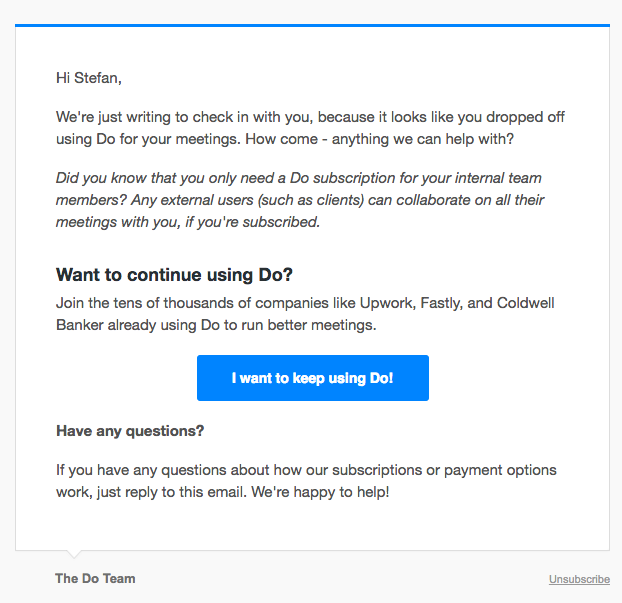 Email marketing isn't just about engagement and conversions. For SaaS companies, email is an effective channel for customer success.
This example from Do showcases a behaviorally triggered message aimed at churning users. I had signed up for a Do account to join a team member's meeting, but as we haven't committed to using the platform, I hadn't revisited the site in several days. Presumably, this triggered a behavioral flag in Do's email marketing provider, causing the company to send a follow-up.
The email is effective because it isn't too pushy. The subject line simply reads "Did you stop using Do?", while the first paragraph of the copy asks a question rather than posing a solution. Churning users could be unhappy with the product, so it's great that Do recognized this and wrote email copy specific to this situation. The email still offers a value proposition and a clear call to action, but the tone of the copy is more friendly and less sales-ey than a standard prospecting email, making it perfect for this behavior-specific situation.
3) Yelp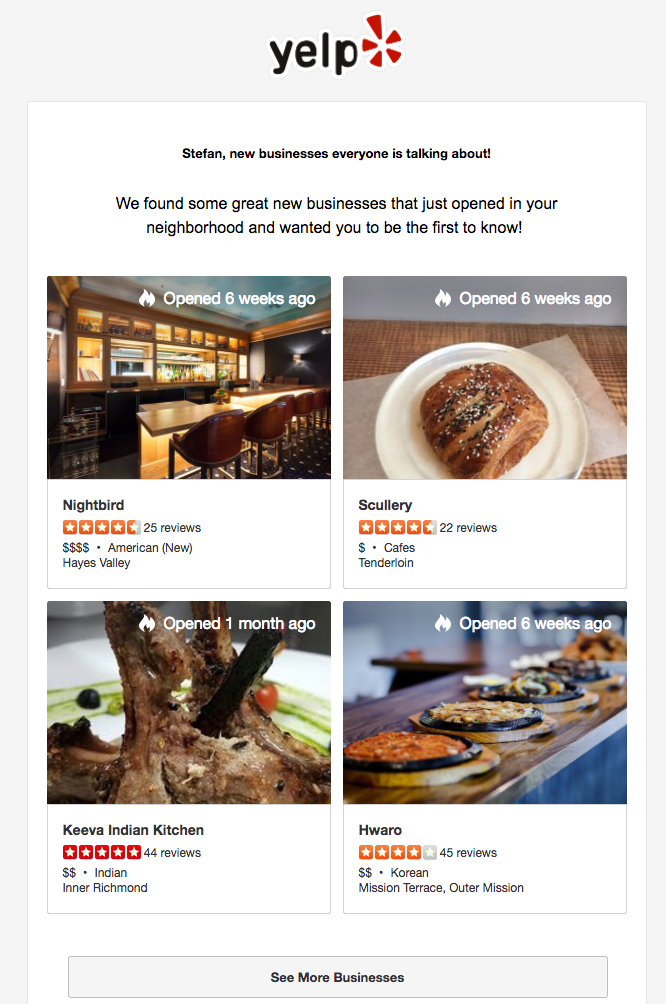 Yelp's business is location-based by its very nature, so it's not surprising that the company personalizes its emails based on the recipient's location.
In this example, Yelp is searching my immediate area in San Francisco for trending new restaurants that opened recently. This list of recommendations is more valuable than if it matched my location to the Bay Area as a whole, or even SF as a whole.
I don't use Yelp much, so the app wouldn't have access to much user data from me. Yet even without an extensive usage history, Yelp was able to send a valuable personalized email by using my location.
Any mobile app can incorporate this strategy. Because smartphones live in a user's pocket or purse, location-specific updates are always relevant. Retail apps can understand and reach out to users near a brick-and-mortar location, travel apps can let users know about rental cars and city guides when they land in a new destination, media apps can offer breaking news in a reader's local city, and more.
4) CareerBuilder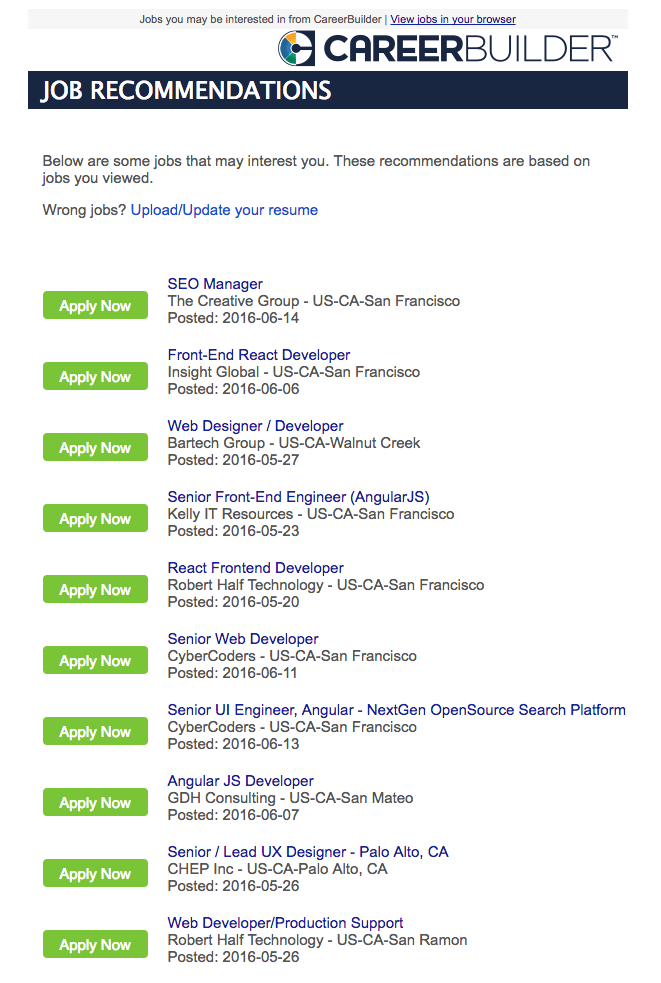 CareerBuilder's job recommendation email is upfront about the fact that its suggestions are based on my browsing history. In fact, there's even a call to action urging the recipient to update their resume if the jobs are off-topic.
While straightforward, this email does a good job of putting relevant content in front of the reader. The listings continue on below the screenshot, offering more than a full page of openings for an eager job-hunter to check out. More importantly, the job fields and locations are targeted to my interests, and they would likely become even more accurate as I continue to browse.
Use this tactic in your emails to re-engage dormant users. Reference products shoppers browsed, destinations travelers searched, or playlists music lovers listened to once.
5) Camaloon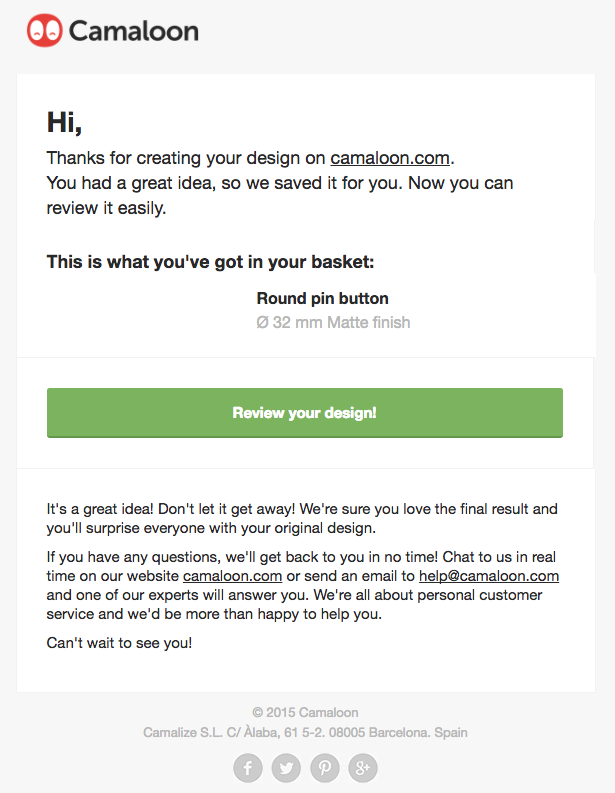 This abandoned shopping cart notice from Camaloon is effective for a couple of reasons. On the surface, it works the same way as a shopping cart push notification: the message is personalized to include the specific item that I left in my cart, reminding me of its value and encouraging me to convert.
But this email is even more effective because Camaloon's products are user-generated. The company enables customers to order prints of buttons, t-shirts, and more, featuring their own designs. In this example, the value of my shopping cart isn't just the item that I left behind, but the design that I worked on.
The company recognizes this value in the email subject line: "You had a great idea! Don't let it get away!" Camaloon acknowledges that the emotional value of the order rests in the user-made design rather than the item itself, encouraging customers to make the most of their hard work by completing the purchase.
—
There you have it: five of our favorite personalized emails. Next time you're drafting a new campaign and you're out of inspiration, look to these to get the ball rolling.
—
Leanplum is building the marketing cloud for the mobile era. Our integrated solution delivers meaningful engagement across messaging and the in-app experience. We work with top brands such as Expedia, Tesco, and Lyft. Schedule your personalized demo here.