Publishers Clearing House (PCH), a company widely known for its direct marketing sweepstakes, used Leanplum to optimize its mobile messaging strategy. The marketing team at PCH understood that user delight and retention are effective means for creating loyal app users. Through the lens of several campaigns, they tested many elements of messaging to drastically boost retention, engagement, and monetization.
30% more DAU w

ith personalized push notifications

27% higher CTR

 f

or lifecycle campaigns

App Monetization is 2X

 mobile web monetization
Meet Publishers Clearing House
PCH realized that mobile is at the center of everyone's world, and now manages several apps including the PCH App, PCH Frontpage, and PCHLotto. Combined, PCH apps have been downloaded millions of times, making them one of the biggest players in the app ecosystem.

Goal – Convert More Users
PCH is laser-focused on growing their mobile business in 2017. With a goal to drive growth and revenue in mobile, they strategized with Leanplum to help optimize lifecycle campaigns — particularly onboarding and conversions.
Success – Retained More Users
PCH's results-oriented approach to app campaigns drives their ongoing success with mobile marketing. Whenever PCH sent push notifications, it saw a high response from users. Push enabled them to reach all of their customers, and retain 30 percent of daily active users (DAUs) — a huge win for PCH.
"PCH leverages Leanplum's platform to send targeted content and smarter messages to our users, helping us drive more engagement throughout the user experience."

– Brooke O'Keefe – Associate Director, Integrated Marketing at PCH
Keys to Success
Behavior-Based Lifecycle Campaigns
To retain more users, PCH created a welcome series with Leanplum's mobile messaging and automation engine that sends daily reminders to users for the first week. PCH brought back 30% more with lifecycle push notifications based on user behaviors.
Testing Messaging & Timing
PCH had a lot of fun with their mobile messages, testing everything from timing to Power Words to copy tone. It quickly found that the closer a user is to churning, the more urgent of a tone needed to reactivate them. A simple change in tone drove more than a 5% lift to response! PCH also experimented with the copy length, using emojis and other playful content to improve click-through-rate (CTR).

All-Around Benefits
Too many marketers hesitate when sending push notifications when in fact, a thriving testing strategy is needed. With all optimizations considered, PCH is retaining 30% more users, and keeping more people engaged than ever before.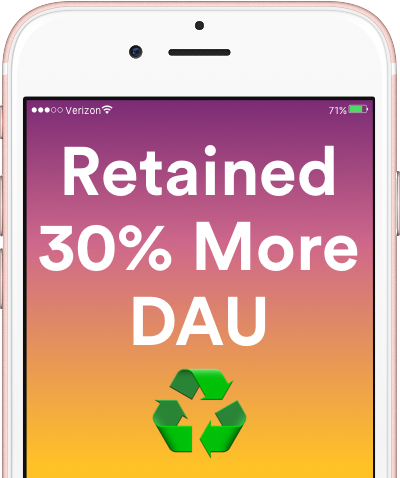 Tests With Positive Open Rate Results
| | |
| --- | --- |
| 27% Lift –> |  Using behavior-based push messages |
| 11% Lift  –> |  Personalization (name and/or location) |
| 5% Lift    –> |  Experimenting with tone |
| 20% Lift –> |  Shortening copy |
| 3% Lift    –> |  Adding emojis to messages ( = ⬆) |
| 5% Lift    –> |  Seasonal copy |
Benefits for Brands
Leveraging Leanplum A/B testing and analytics earned PCH better engagement results than they hoped for in their lifecycle campaigns. These mobile messages were sent at Optimal Time, our machine learning algorithm that analyzes individual app engagement patterns to automatically send messages when users are most likely to open. Each campaign proved to be a huge success that deepened user engagement, enhanced user experience, and added new learnings about user behaviors and churn.
Benefits for Users
PCH App users never have to miss out on the chance to win millions, the latest sweepstakes, or a brand new home anymore! A personalized and perfectly-timed message reminds them to open and engage with PCH and find their favorite prizes and sweepstakes.
–
Schedule your personalized demo with Leanplum today to learn how you can build an automated lifecycle campaign.