This is a guest blog from Sujan Patel, the co-founder of Web Profits, a growth marketing agency, and a partner in a handful of software companies including Mailshake, Narrow.io, Quuu, and Linktexting.com. Between his consulting practice and his software companies, Sujan's goal is to help entrepreneurs and marketers scale their businesses.
---
Let's just state the obvious: we love our apps.
We like our phones, but it's the apps we choose to download and install that truly make them an extension of who we are and what we want. Apps make the device. Apps are the reason we panic when we don't have or forget our phone at home.
It's a mobile world and apps are rulers of that kingdom: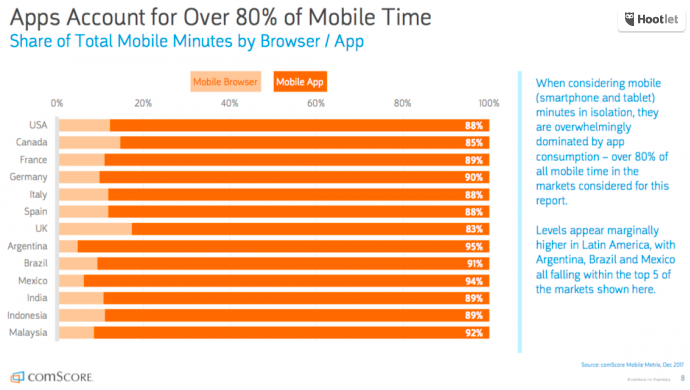 As you can see, there's good news: We love our apps and are always on the lookout for the next one we can't live without. And bad news: competition is fierce and only getting more so.
So what makes an app successful in a saturated market? How can an app developer or publisher rise above the hundreds of thousands of others?
In broad terms, you need to aim for sky-high engagement from the onset, product stickiness, social media buzz, recommendations, and reviews.
In terms of your app marketing and acquisition, you need to focus on both paid and organic channels. Cast a wide net.
Here's how.
The Paid Route
You've got to spend money to make money. There's no shortage of paid avenues you could use, but these four have consistently proven themselves effective for mobile acquisition.
Social Media Ads
Think about your own mobile usage. You no doubt spend a lot of time on Facebook, Instagram, and other social platforms.
Just how much depends on the age group. Teens spend upwards of nine hours on social each day, while the general average is "only" just under two hours.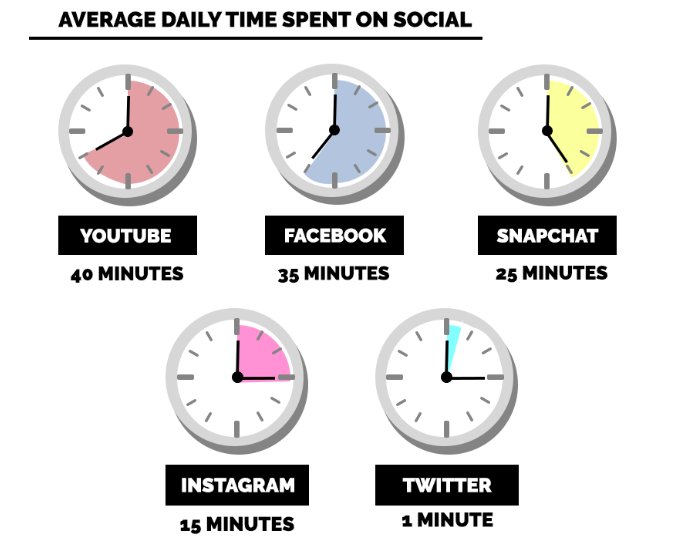 Armed with that knowledge, where better to advertise your shiny new app than on those very same platforms? It's a captive and active audience.
All the major players have built-in and affordable advertising capabilities: Facebook, Instagram, YouTube, Snapchat, Twitter, and most if not all others.  
Each platform will walk you through creating an account and launching a campaign — or you can find a third-party guide — but it's all pretty straightforward. For just a couple of dollars per day, you can select a very targeted audience (who knows more about us than our social media platform of choice?) and show them an engaging video or image ad at specified days and times.
You need to do some research beforehand, however, as all platforms are not created equal. Depending on gender, age range and interests, some will be better than others for your objective.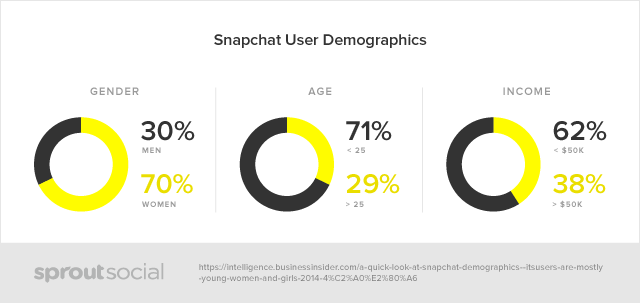 For instance, Snapchat attracts a primarily female crowd under the age of 25 …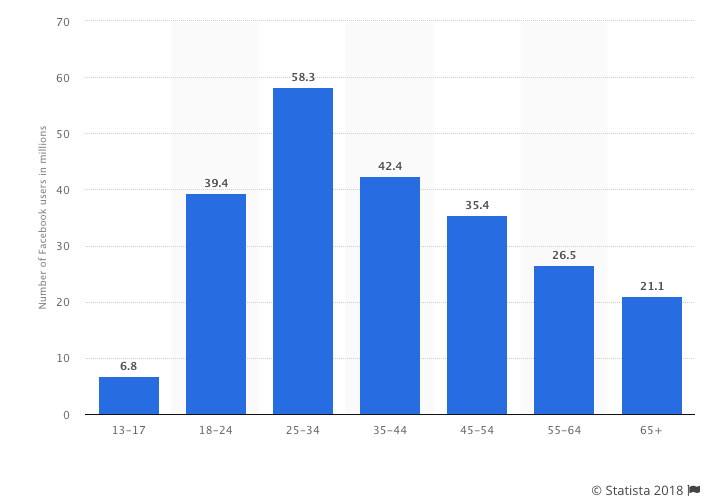 … while Facebook users tend to be 25 or older. You need to find your audience in the places they hang out.
But once you do, getting a campaign up and running is fast, easy, and affordable. Follow platform-specific best practices (Snapchat here and Facebook here), and look to other cutting-edge brands for inspiration.
Paid Referrals
Nothing is as effective as positive word-of-mouth and referrals. If you can get a satisfied existing user to refer their friends and family, much of the hard work is done for you.
A Nielsen study discovered that referrals are the most trustworthy type of ad you can use. People trust them more than banner ads, social media ads, and search engine marketing.
You can — and should — ask for referrals at key points, such as after a positive customer experience or accomplishment. 83 percent of satisfied customers are happy to refer a great product or service to their friends, but only 29 percent actually make a referral.
Why? Because no one asked them. Ask, and ye shall (maybe) receive.
If you want to tip the scales a bit more in your direction, ask and incentivize. Offer some kind of reward for the referral, and watch the number of them climb. The prize might be additional storage (like Dropbox), in-app credit (like Booking.com), free upgrades, additional features, an ad-free experience, cash back, discounts on future purchases, and more.
The incentive needs to be big enough to generate interest in your referral program, but not so big as to erase whatever profit is brought in by the referral.
In-App Ads
Advertising within an app may be irritating to some, but the data shows that it works. In fact, in-app ads account for the bulk of app revenue.
That's good news for you in your acquisition efforts. Other app developers are very willing and able to display ads — your ads — to their users.  
This method works because a) mobile users spend most of their time online via apps rather than mobile browsers, and b) the networks that provide the ads use advanced algorithms to serve the right ads to the right people.
Explore ad networks like InMobi, AdMob (owned by Google), StartApp (focuses on interstitial, or full-screen ads), Chartboost (specializes in gaming apps), and other platforms to find the best fit for you and your app. Follow best practices. Test, tweak, and optimize.
Video Ads
Video is taking over the web, so it makes sense that video ads would be gaining in popularity and power. Mobile video consumption increases by 100 percent each year.
A well-produced video ad shared on social media or served in-app can deliver big results.
Keep it short, put your best "stuff" in the first five-10 seconds, and remember that 85 percent of video is viewed without sound (use bold text and visual storytelling). So be sure to add those subtitles.
An enjoyable video ad increases purchase intent by 97 percent and brand association by 139 percent.
The Organic Route
While you shouldn't be afraid to spend a little on your acquisition efforts, don't fall into the trap of believing that organic (i.e. free) methods don't work. They do.
Search Engine Optimization
Let's just say it: SEO is always a worthwhile investment (in terms of time, energy, and money). If you want to bring traffic to your site or landing page, then you've got to optimize for the search engines.
Why? Because a whopping 51 percent of traffic is from organic search (while social media accounts for only 5 percent), and more than 40 percent of revenue is from organic search traffic.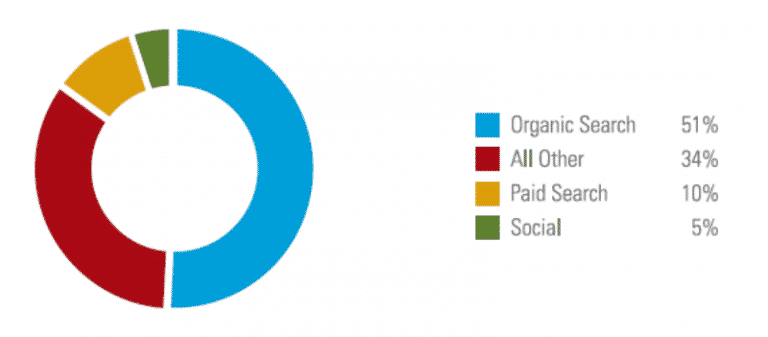 So, find a good SEO guide or two, read up, implement, monitor, and optimize. Generate page traffic, then convert it to app downloads with a tool like LinkTexting (driving over 200,000 app downloads daily).
App Store Optimization
Much like SEO, a little app store optimization (ASO) goes a long way toward getting your app in front of more eyes. The two have a lot of overlap. Searching for apps in the app store accounts for 65 percent of App Store downloads.
Your app store description needs a fantastic title and icon, a search-optimized description (do your keyword research), and regular A/B testing and tweaking. An app video can increase install rates by more than 23 percent, according to StoreMaven. Suffice it to say, ASO has a lot going on under the hood and could fill an entire series of posts. Check out these three how-to guides and manuals:
Just do it. Prioritize ASO, and thank me later.
User Reviews
We trust reviews and recommendations more than we trust ads. It's that simple. You need plenty of glowing reviews, with a few bad ones for good measure.
User reviews are 12x more trusted than a manufacturer's description, generate an average 18 percent uplift in sales, and 50+ of them can deliver a nearly five percent increase in conversion rate.
How do you get them? First, deliver exceptional service and product. That's most important. Then, ask for reviews after every positive user experience. Make it ridiculously easy for them to do it (the fewer clicks and steps, the better).
The easiest way to accomplish this: tigger in-app messages to appear after users have a positive experience, like favoriting a new playlist in a music app or beating a level in a mobile game. Ask users to rate your app or give them an option to privately leave feedback for your developers. This serves two purposes: 1) asking for reviews from your most loyal users and 2) eliminating the number of negative reviews in the app store.
A simple star-rating of four or more carries a lot of influence.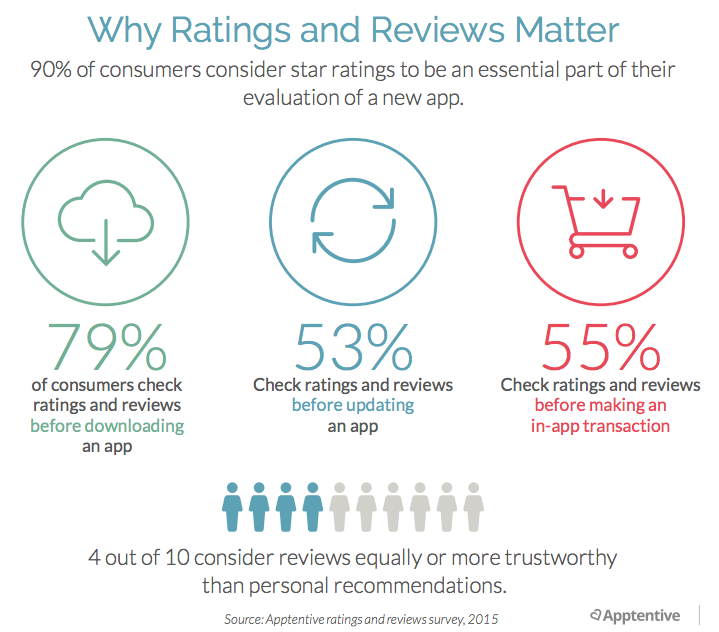 Ask for reviews and ratings, then work hard to improve them and get even better ones the next time.
After User Acquisition, What's Next?
Whether you're offering a SaaS or app or mobile game, you need to approach it like you would a traditional launch.
Some of the biggest brands of the past few years have used these tactics and more to boost their mobile app growth. Look to them for insight and motivation.
—
Acquisition is only half of the battle. After you convince users to download your app, you need to engage, convert, and retain them. For more on how to create a winning retention strategy, download this guide.