Connecting with your customers is harder than it's ever been.
The modern world bombards us with messages, images, and content from hundreds of companies doing everything they can to grab your customer's attention.
So how do you stick out from the crowd?
One powerful tool in your marketing arsenal is to make your target market laugh.
Laughter helps you connect with your customers in a light-hearted way while keeping them engaged in the customer journey. With email marketing, humor is especially helpful as few people enjoy checking their email — and even fewer appreciate a run-of-the-mill sales email.
Well-crafted humor turns what would typically be an irritation into a fun experience.
So what kind of humor is useful in email marketing? And where should you sprinkle it into your emails? Here are five fun ways to win at email marketing with humor.
1. Email Newsletter Sign-Up
Employing humor can make signing up for your newsletter light-hearted and fun, ultimately creating a powerful connection between organization and audience.
Copyhackers is one of the many companies taking advantage of this idea. Check out their current email capture from their website.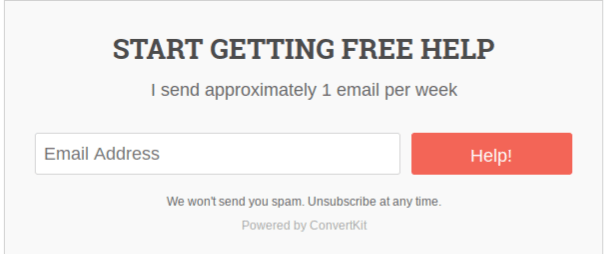 Copywriting is a competitive business and panic often sets in when companies don't have the information or copywriting skills they need.
"Help" acknowledges that fact and adding the exclamation point makes the whole thing dramatic and funny.
Monday uniquely uses humorous copy on their free trial capture forms as well.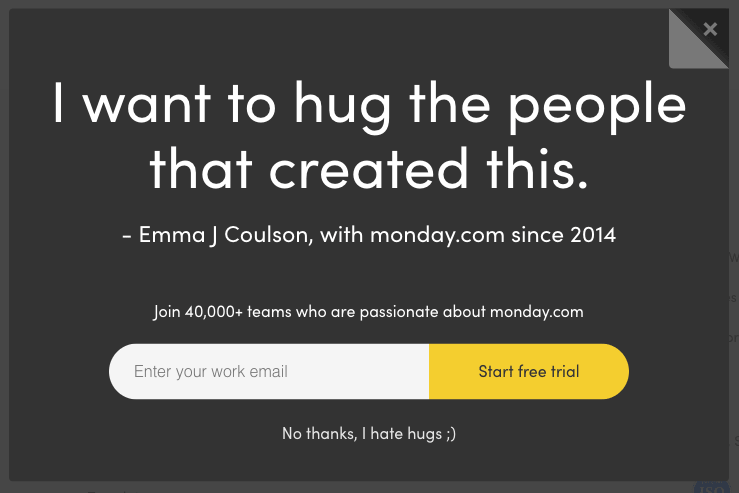 A simple yes or no tends to be the usual way these lead forms are set up. But Monday turns that simplicity on its head by adding humorous copy, giving visitors a vivid sense of the kind of value Monday provides.
2. Email Newsletter Copy
While the finish line of an email is important, getting your customer to read all the way to that finish line is just as important.
And like your final words, adding humor into the body of your email can help.
Below is an example of how Harry's got their customers laughing.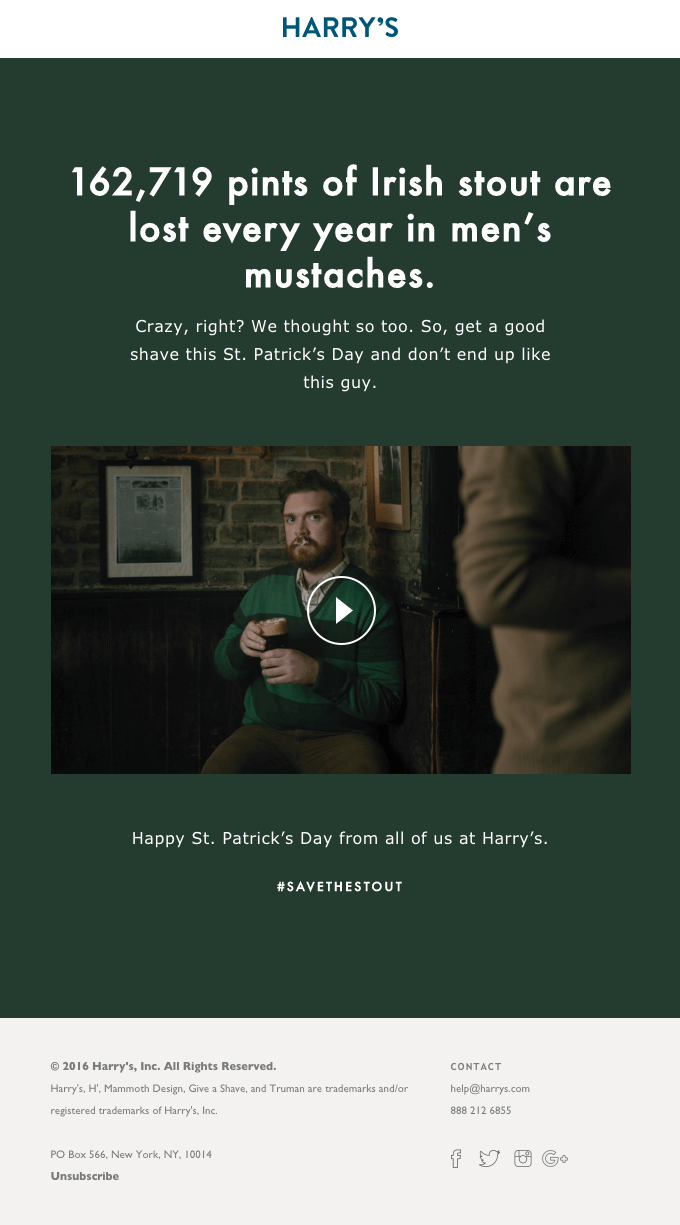 This email was sent to Harry's subscribers ahead of St. Patrick's Day. Besides wishing their subscribers a great day, the email makes pokes fun at bearded blokes who may need shaves.
A funny video is also attached to the email along with a humorous hashtag. The email copy succeeds at both advertising Harry's services and having fun with their customers.
Some companies send pictures to their subscribers, other write stories or product sales. The late great Poncho (now closed down) sent amusing weather alerts.

Poncho's copy included suggestions and facts with a sprinkling of humor.
The copy wasn't the only comedy gold — the weird hero images were a hoot, too. Wisely, Poncho's also added various ways to connect with their brand.
3. Unsubscribe Message
It's not only the signup and newsletter copy that you should pay attention to. Your unsubscribe message is also super important, so don't treat it as an afterthought. It's a fantastic opportunity to possibly change your customer's mind and to share options for customizing their email preferences.
And humor can be that saving grace.
1800 Contacts is a good example.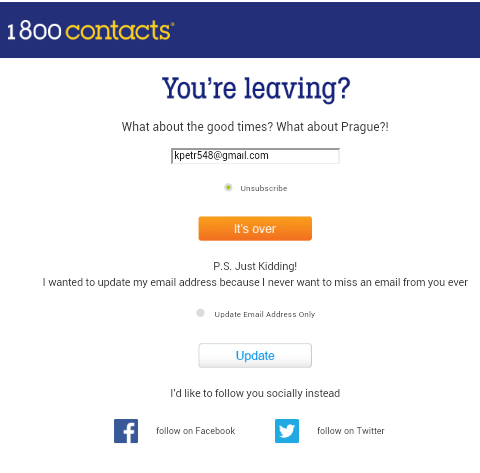 1800 contacts uses many great elements on this page, such as acknowledging the subscriber may have arrived at the page by accident and offering them the option to follow the brand on social media.
But the humor takes the cake. Who wouldn't smile at lines like "What about the good times?" and "What about Prague?!"
More importantly, the approach keeps the connection between you and a subscriber light-hearted, hopefully making them think twice about unsubscribing.
But the real winner for funniest unsubscribe page goes to Groupon.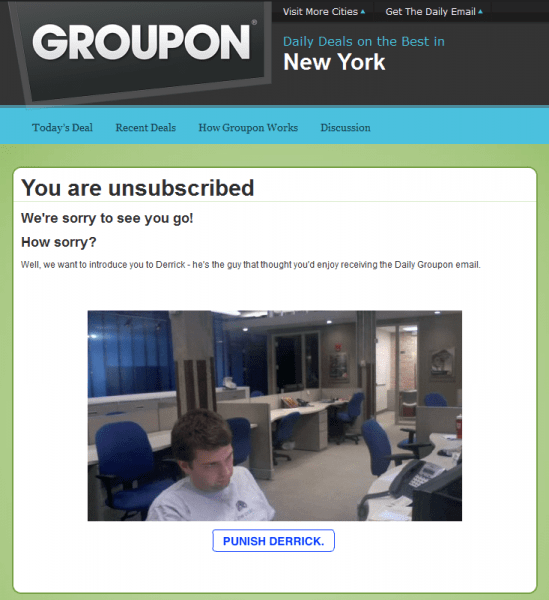 Poor Derrick gets coffee thrown in his face by another co-worker as soon as someone clicks the "Punish Derrick" button. The page is a hilarious way to make unsubscribing a low key thing for your prospects and keeps them feeling good whenever they think of your brand, even if they say goodbye.
4. Email Subject Lines
Thirty-five percent of people say they open emails based solely on the subject line. Humor can be a great way to get customers and subscribers feeling great about saying yes to a sales email, for example. And when a customer stops responding after several weeks, funny subject lines have a way of saving the day.
"Sleep around"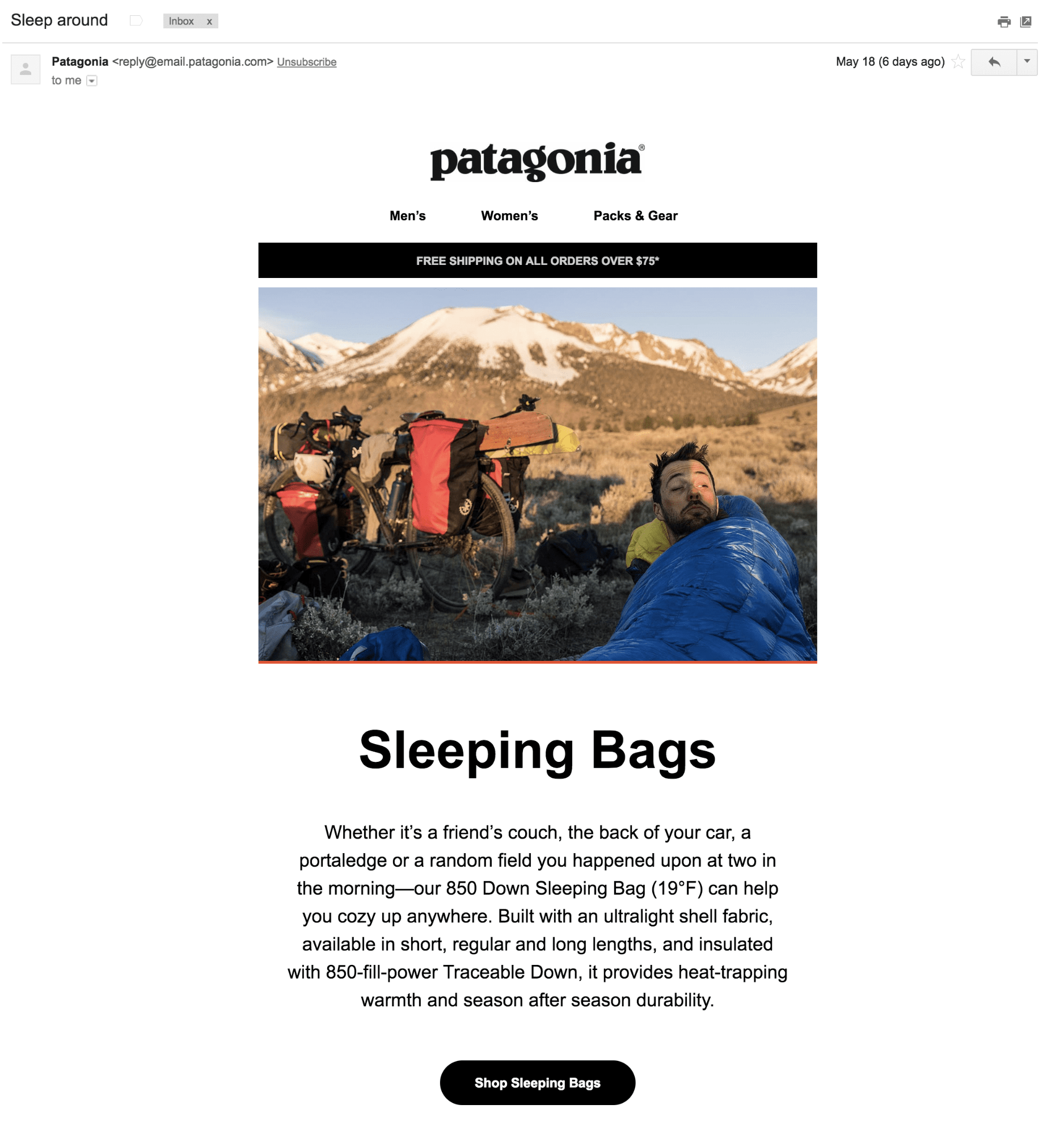 Marketing their line of high tech sleeping bags, Patagonia used "Sleep around" to add a playful note to their message. OK, "Sleep around" isn't funny at first, the laughs come after customers realize the email is actually about outdoor gear. After grabbing attention, a short paragraph on the many benefits of Patagonia's sleeping gear and a strong Call to Action pretty much seals the deal.
"Sooo… I messed up CoSchedule's conversion rate"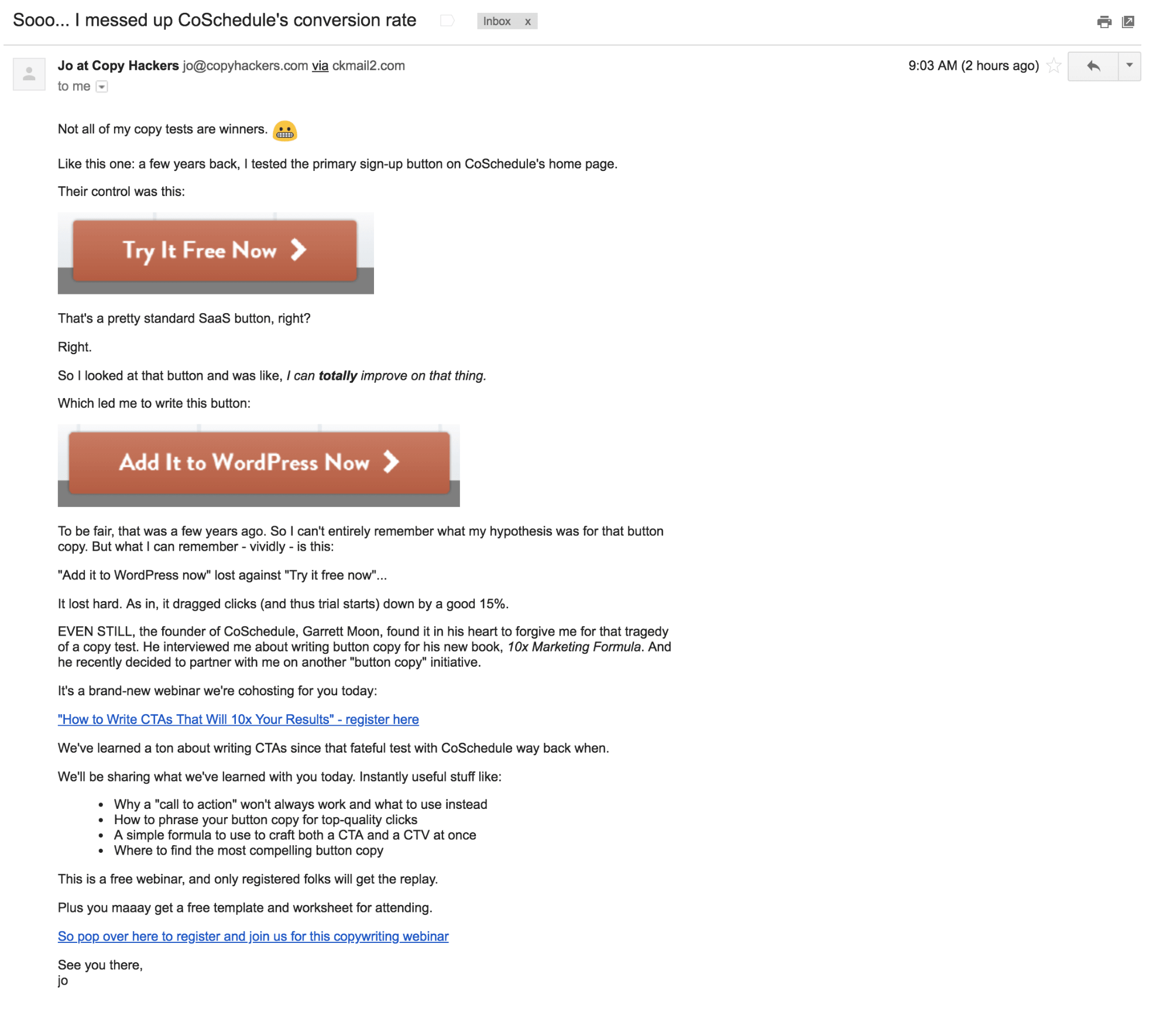 Humor and intrigue are fighting for dominance in this Copyhackers email. For me, humor wins: It makes me laugh to read a subject line about someone's mistake, pretty much as a WTF moment.
And there's the intrigue. Why would someone post their failure in an email subject line? It, too, garners an emotional response, almost guaranteeing engagement.
"UX-y and I Know it"

Well-placed pop culture references in your subject line can make people chuckle, as in this Appcues example playing off LMFAO's Sexy and I Know It. And note the treble clefs. Emojis, too, are also powerful emotional tools, as noted in Leanplum's emoji report.
5. Email Templates
The energy and details required to create not only compelling but humorous email copy for your audience can be a challenge. Here are some email templates to get your creative juices flowing.
i. Sales Pitch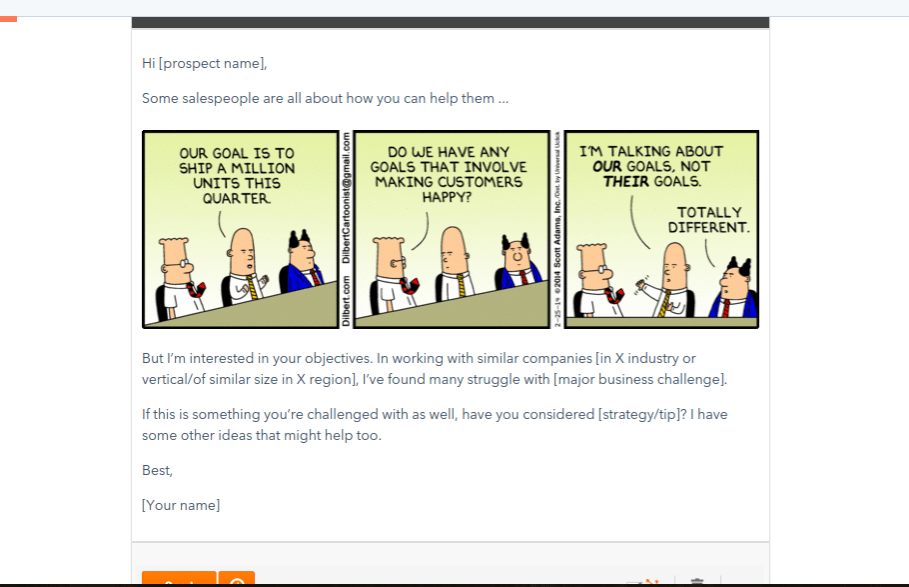 This Dilbert cartoon is one pitch-perfect example and a reminder how you need to always differentiate your company from your competition and promote customer value.
ii. The Follow Up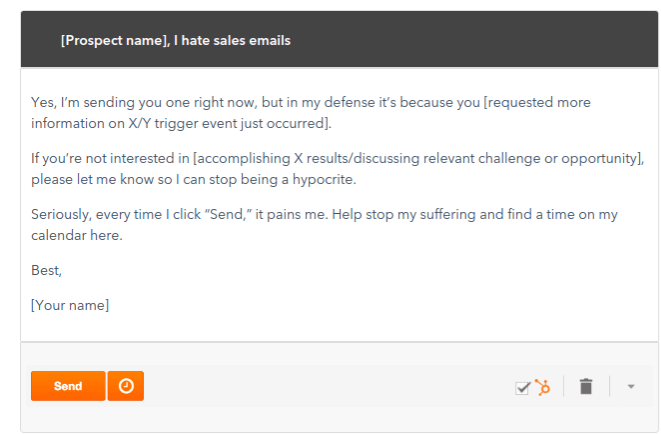 This kind of email will set you apart from your fellow marketers and make your customer smile in the bargain.
The tongue-in-cheek-marketing makes a great follow-up to an important event industry.
Start Flexing Your Funny Bone
Not every customer or prospect is going to find your funny or irreverent emails appealing.
Before using any of these comedic strategies, take into account the demographics, industry, and business pain points of your target market, along with all your prior conversations with them.
Sometimes, it's safer to stick with a straightforward approach rather than fall flat with poorly received humor.
That said, I'll leave you with the wisdom from professional golf legend Gary Player.
"The harder you work, the luckier you get."
—
About the Author
Emil Kristensen is the CMO and co-founder of Sleeknote, a company that helps e-commerce brands engage their site visitors—without hurting the user experience.