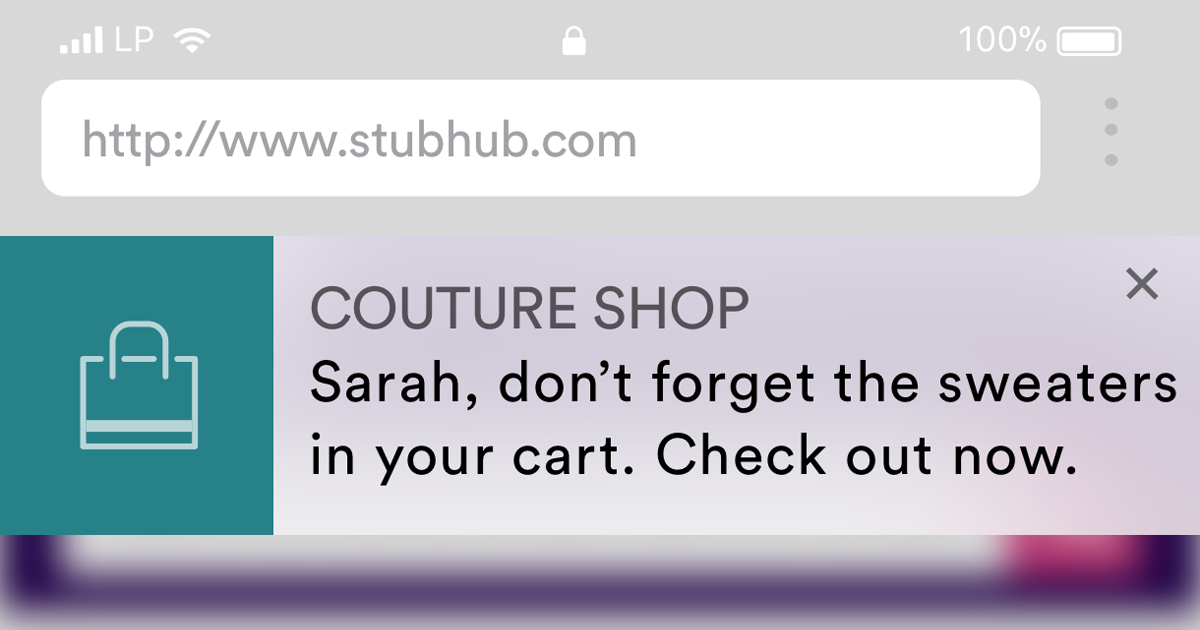 Mobile marketers have long been aware of the power of push notifications. Over the years, marketers have become increasingly sophisticated about their push notifications, personalizing the content, and triggering/targeting them based on users' in-app behaviors and usage patterns. The impact on conversions and loyalty from this method have been substantial. It's one of the main reasons marketers adopt mobile engagement platforms like Leanplum.
But not all users download an app. In industries where purchases are less frequent, including some parts of retail and travel, many users primarily interact via a mobile website. What if you could apply the tried and true techniques used for push notifications to reach these users, too?
Enter Web Push
Just as you can send a targeted push notification via your mobile app, browsers such as Chrome, Firefox, Opera, and others enable you to send push notifications to users via a browser. Like traditional push notifications, these notifications can contain rich content, such as images. When a browser is running on an Android device, in fact, the experience is almost indistinguishable from the push notifications with which users are already familiar.
Like traditional push notifications, to-date most usage has been transactional. Brands often send notifications asking a user to complete a task or check out a new message in Facebook or Gmail. That means marketers aren't using web push to its full potential.

Introducing Leanplum Support for Web Push
That's why we're so pleased to announce that Leanplum will now support web push. Marketers can now integrate web push notifications into their integrated campaigns using the same sophisticated personalization, targeting, and reporting you've already come to trust from Leanplum. In fact, web push is fully integrated into Leanplum's existing push capabilities, so you can immediately extend your existing campaigns to your web-based users.
Getting the Most Out of Web Push
So what sorts of campaigns are best suited to web push? A few common and impactful campaign ideas might include:
Shopping Cart Abandonment:

Use web push to remind potential customers of unpurchased items. Coordinate these web push reminders with other channels including traditional push notifications (for users who also use your app) or email.

Targeted Promotions:

Promote special offers or deals to users based on their previous actions or interests. Send a web push to users when specific items become available or go on sale.

Re-engagement:

Haven't seen someone for a while? Stay top of mind with a web push and bring them back with a targeted message encouraging them to come back to your app or website.

App Promotion:

App users are often

more loyal

than web users. If someone makes a purchase, try sending a web push with an app store link to encourage downloading your app. It will increase the odds they'll buy from you and not your competitors in the future.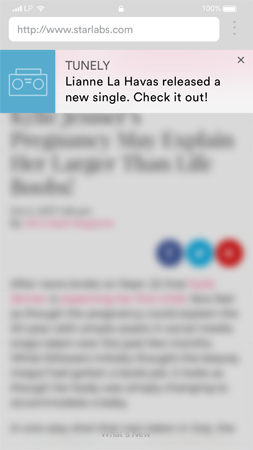 Perhaps the most powerful aspect of Leanplum's web push capabilities is the way it empowers you to manage all your user interactions. For example, you can trigger a web push based on in-app behavior, a native app push based on web behavior, or an email or other message based on actions across both. By integrating web push into its mobile engagement platform, Leanplum puts you in the driver's seat.
Curious how you can do more with web push notifications? We'd love to talk. Schedule your personalized demo with us today.
—
Leanplum is the mobile marketing platform built for engagement. We help brands like NBC, Tinder, Grab, TED, and Zynga orchestrate multi-channel campaigns — from messaging to the in-app experience — all from a single, integrated platform. Schedule your personalized demo here.