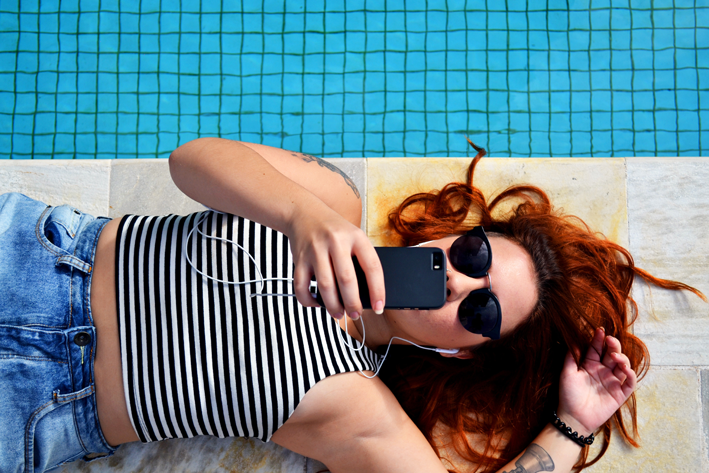 What are the world's best push notifications? And what makes those push notifications so effective? In this post, we'll attempt to answer both questions.
Push notifications are a vital tool in the mobile marketing toolkit, but oftentimes they're generic and uninspired. Every so often, however, a mobile team crafts a message that blows people away. Maybe it's an especially clever pun, or maybe it's timed to sync with a real-world event. Whatever the reason, it's clear that the best push notifications are more compelling and memorable!
Based on our research, here's our list of the best push notifications we've ever seen.
Instacart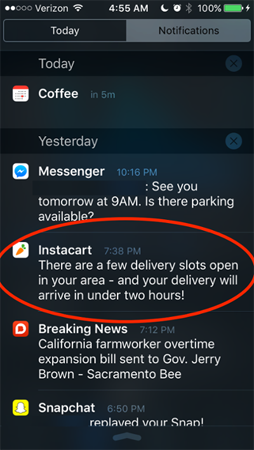 Why It's Great
This push notification from Instacart is actually an abandoned shopping cart prompt. It was sent to a user who started shopping but never completed the purchase.
With that in mind, the message's effectiveness is twofold. Implicitly, seeing the Instacart name and logo reminds the user to finish their order. The message also provides peace of mind at face value by explaining why the delivery will be prompt. This adds more value than a simple "come finish your order" message because it provides a compelling reason to complete the checkout. Definitely one of the best push notifications we've seen!
8tracks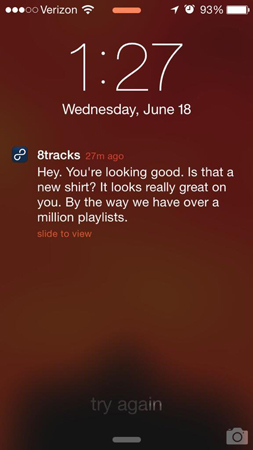 Why It's Great
The 8tracks radio app shows how well it knows its audience with its push notification campaigns. The brand's voice is bright, bubbly, and not at all what users are accustomed to hearing from companies. 8tracks captures that voice in its push notifications.
The attention-grabbing nature of these messages can be a double-edged sword — what if users don't like beating around the bush? But with the right audience, a quirky message like this can outperform a more direct value proposition (which users may not need to hear).
Wanelo

Why It's Great
Retail app Wanelo crafts one of the best push notifications in a couple of ways. For one, the message is timely. Fashion is seasonal, so it makes sense to promote products with holidays and other annual events.
The message is interesting to read and tempting to click on. The use of emojis contributes to this: simply including emojis in a push notification can increase open rates by 85 percent. Furthermore, the clickbait "tap to see" call to action is welcome here. The recipient already knows the content will be about Saint Patty's, and it's impossible to list out every item in a push notification, so it's reasonable (and effective) to simply tempt users into tapping.
Foursquare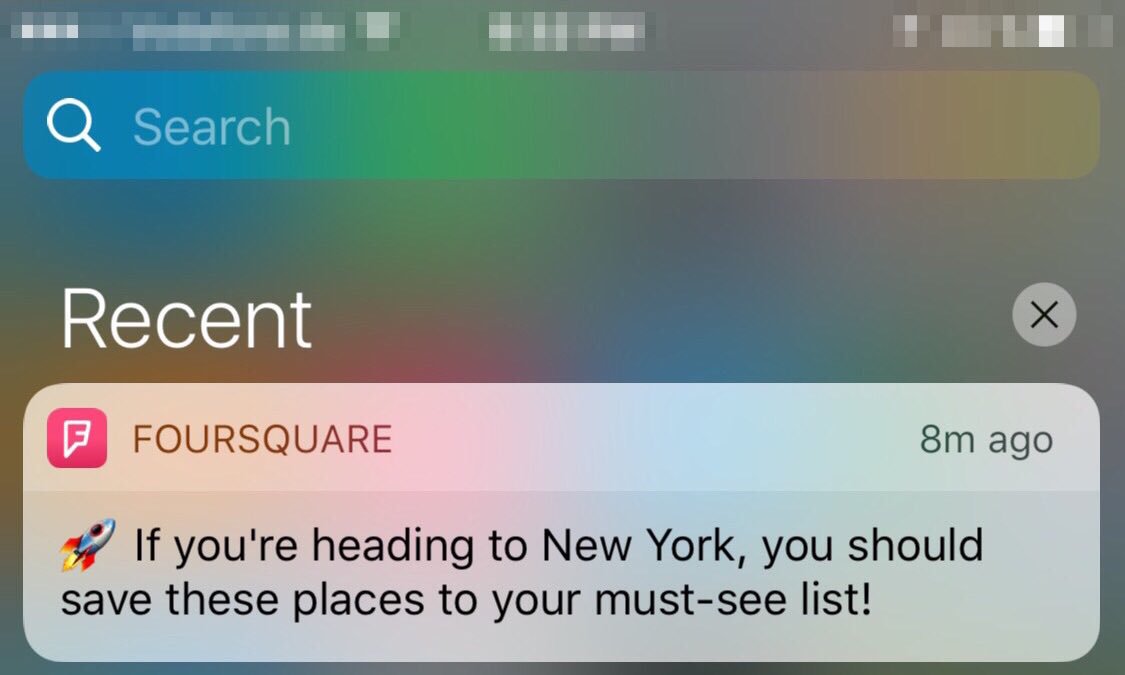 Why It's Great
According to the user who posted it, this Foursquare push notification was actually triggered by geolocation. That's a smart use of geofencing on Foursquare's part. Instead of focusing on local, neighborhood-wide recommendations, the app picked up on the fact that this user was traveling to serve city-wide recommendations.
This message adds value because of how timely it is. Imagine stepping off the plane in a new city and receiving this push notification. Even if you're not immediately in the mood for a cafe or a museum, you can bookmark locations to visit later in your trip.
Google Maps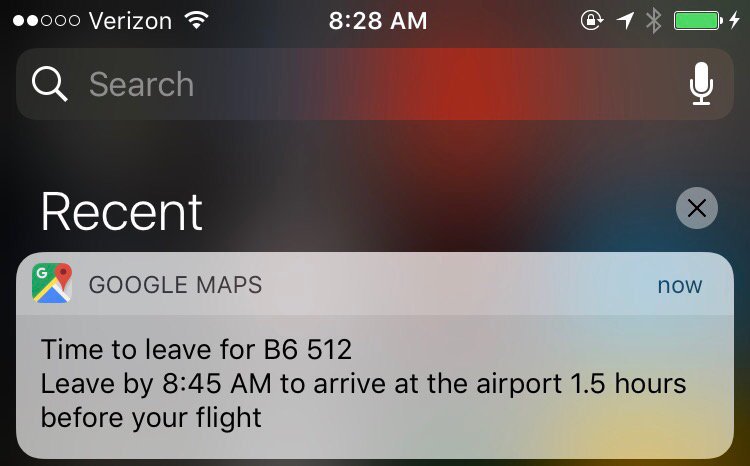 Why It's Great
This is the best push notification by Google Maps, presumably powered by data from a calendar app, is a great example of utility in push. Not all mobile messages are a matter of marketing: sometimes messages can deliver value in and of themselves.
In this case, travel reminders save users trouble checking the route every half hour to confirm traffic conditions. The app can take all of those factors into account when delivering a time estimate.
Dunkin'

Why It's Great
This situationally relevant push notification by Dunkin' Donuts shows just how important personalization can be. Under normal circumstances, there are only so many ways you can pitch K-Cups to customers. You might use Dunkin's K-Cups for your morning coffee, but there's rarely a reason to buy more (or less).
Taking local weather conditions into account opens up new possibilities. A warm cup of coffee is a lot more alluring amidst a snowstorm — and going outside is a lot less alluring. This push notification plays on those instincts to tempt customers to stock up on coffee beforehand.
The Very Best Push Notifications
Hope you've enjoyed our list of the best push notifications we've seen. Along the same lines, you may also enjoy our list of the 7 Most Creative Push Notifications. We always have an eye out for great push examples, so look forward to more.
—
Leanplum is the mobile marketing platform built for engagement. We help brands like Lyft, Tinder, Grab, TED, and Zynga orchestrate multi-channel campaigns — from messaging to the in-app experience — all from a single, integrated platform. Schedule your personalized demo here.