Mobile App Analytics
Designed for Action
The key to making mobile analytics valuable is to make it actionable.
We provide the insights to fuel app engagement.
Analytics
Analytics should inspire real-time action, rather than serve as a rearview mirror for historical performance. That's why we capture all events and behaviors associated with a user, without limits or data point costs.
We enable complete flexibility with the power to customize parameters, reports, and metrics. Our out-of-the-box insights examine engagement, retention, revenue, uninstalls, and more. We highlight significant campaign changes, so you focus on optimizing rather than crunching numbers.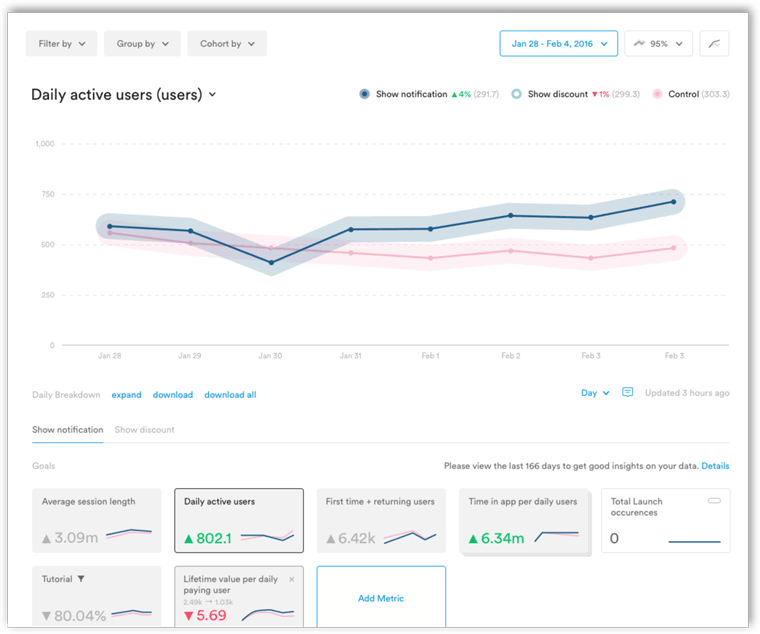 All Intelligence, No Guesswork
Campaign metrics make it easy to establish your baseline, understand your customers, and fine-tune strategies.
Flexible Exploration
Filter, group, and cohort across all events to deliver campaigns to the users who drive revenue.
Out-of-the-Box Data Science
See campaign impact in real-time to focus on optimizations, rather than crunching numbers.
Real-Time Analytics
See campaign performance as it evolves to incite meaningful action. With deep user profiles, you can filter, group, and cohort data at a granular level.
Automated Insights
Get out-of-the-box data science with highlighted metric tiles. It's easy to see statistical significance and understand campaign performance and trade-offs.
Global Confidence Intervals
View confidence intervals on every metric to understand when you have enough data to make a decision on your campaign.
Rich Reporting
Move beyond static reports. Get comprehensive mobile app analytics with personalized dashboards, data visualizations, and custom metrics support.
Uninstall Tracking
See at a glance who uninstalls your mobile app and take action to retain users.

"Through Leanplum, we carefully manage tests for a large existing user base, and are able to measure against a wide variety of different metrics. This is crucial, as product changes often have unintended consequences. Having a holistic view of the impact to user behavior is the only real way to ensure you're making the right call."
Eric MacKinnon, Director of Product Management for B2C Apps at App Annie
Explore More Capabilities