Mobile A/B Testing
Without Limits
A/B test any combination of variants
in and out of your mobile app.

Mobile A/B Testing
Leanplum has the most extensive mobile A/B testing solution in the industry, with optimization at the core of everything we offer.
We believe no one should rely on a gut feeling when making critical campaign decisions. That's why Leanplum comes equipped with the ability to run A/B and multivariate tests. Deploy mobile A/B tests without App Store resubmissions and get automated insights that highlight significant changes. Measure and intelligently manage both messages and in-app content changes to maximize ROI.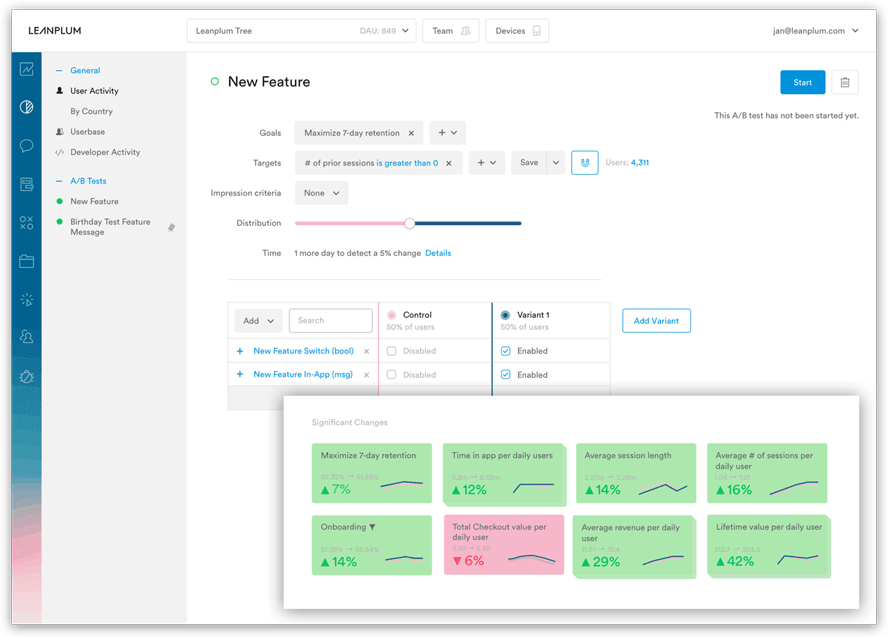 Focus on Impact
Create meaningful experiences and optimize app performance, driving revenue and engagement.
Complete Freedom
Test any type of content in and out of your app, such as UI content, logic, and messaging channels.
Test with Ease
Designed for anyone to use, our Mobile A/B Testing solution is powerful yet easy.
A/B test these sample variants
and watch engagement soar.
In-App UI
Buttons
Text
Images
Hidden Elements
App Logic
Messaging
Audience Segments
Timing
Messaging Channels
Onboarding Tutorials
Deep Links
Permission Requests
Channels
Push Notifications
In-App Messages
App Inbox
Email
Programmatic Delivery
More Than A/B
You can test A/B or MVT, with unlimited variants and variations. When you're ready to launch, serve the test to any percentage of your audience. Examine the effects before rolling out changes in full.
Automated Insights
We automatically highlight significant changes across all metrics, even if you don't set a goal. See what works at a glance without spending time crunching numbers.
Time Estimator
Before you press "go" on your mobile optimization test, know exactly how long the campaign will take to reach statistical significance.
Statistical Rigor
Compare campaign conversions with your control group to swiftly determine ROI and set rules for your next mobile app A/B test.
Impression Criteria
Your data is never diluted. We only include users in mobile app A/B testing results if they are exposed to the change, so behavioral differences reflect precision.
Two-Tailed Testing
Rest at ease with results you can trust. Our two-tailed testing approach exposes both positive and negative effects. You get visibility into trade-offs to make the right campaign decisions.

"Leanplum has given us this ability to see how customers respond to small and large changes to our apps. The platform's ease of use, coupled with some excellent support from the Leanplum team, has helped us to increase our rate of A/B testing and has enhanced our learning of customer behavior on apps."
Lee Mullins, Optimization Manager at Tesco UK
Explore More Capabilities