Segment Your Users to Make Personalization Powerful
User segmentation may not be the sexiest feature of a mobile marketing SDK, but it deserves more attention than it receives. Segmentation is a powerful tool for content personalization, customized messaging campaigns, and user intelligence, just to touch on a few of its capabilities.
So what is segmentation and why does it matter? To put it simply, segmentation allows you to group and target your users according to specific attributes. You can filter users according to location, device, time spent in the app, number of purchases, and more — almost anything you can dream up. This matters because this data allows you to create personalized campaigns for these specific segments.
For those of you who are visual or aural learners, each section that we cover will link to our full video on segmentation and direct you to the specific portions that we talk about each tool. Happy viewing!
We gave a few examples already of how you can segment your users, and you can see the complete list of user segments inside the Leanplum SDK itself.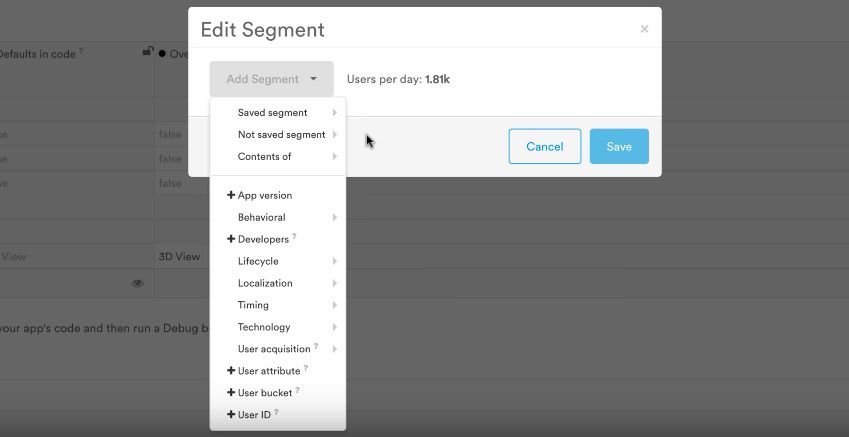 To better illustrate how you can segment your users, here are a few examples of how you can segment your users to achieve specific goals:
Segment by city: Use to target users with a special offer for stores only in a specific area

Segment by lifecycle: Target first time users only for your onboarding campaign

Segment by app version: Send messages to users who haven't seen your new feature yet
One of the great things about Leanplum is that we have a lot of partnerships with mobile install attribution providers, which allows us to communicate to our customers the sources of app installs.
Tracking acquisition is important to find out how your users got to your app, giving you insights into your most valuable marketing efforts. In Leanplum, you can segment users based on these attributes. Meaning, you can send messages only to those users who found your app through a specific paid ad campaign.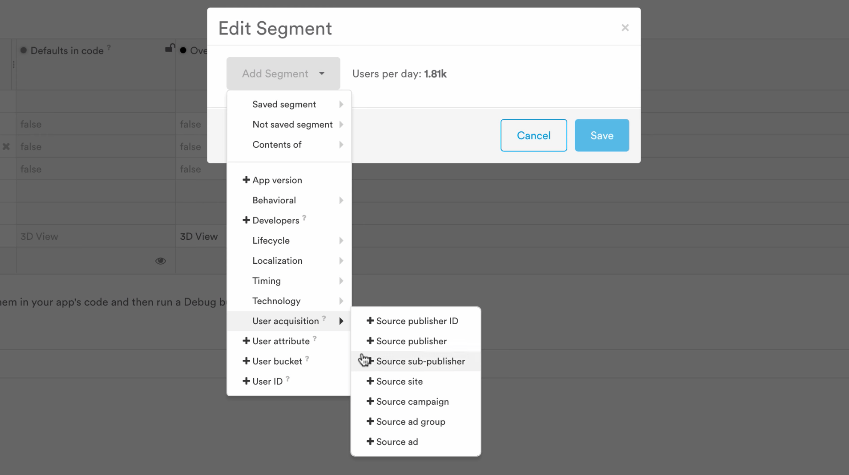 Mobile attribution is trickier than web attribution. It's easy to see how users got to your website by a quick look at Google Analytics, but because mobile users have to first go through the App Store to reach your app, direct acquisition paths are less clear than on the web. Our partners make tracking mobile install attribution possible, and with segmentation, you can personalize your content to users based on those acquisition channels.
Although there are a lot of options with out of the box segments alone, we also offer you the ability to create custom segments based on any event you're tracking. This allows you to personalize not only based on who your users are, but by what your users do.
You can segment your users by behavioral attributes based on specific app events. For example, you can target only those users that have made a purchase in the past 30 days, or those that have spent more than $10 in the app. You can also segment your users based on their overall lifetime value.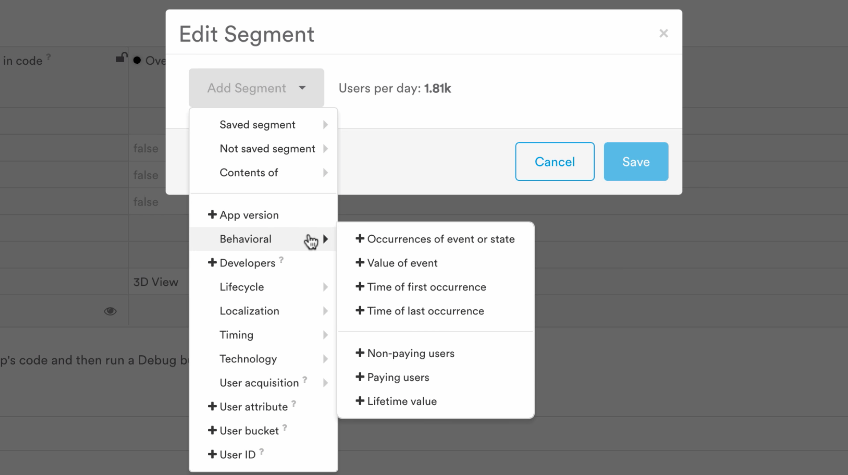 Best of all, there are no limits on the number of segments you can create. Segments are both real-time and retroactive, meaning that you don't have to predefine segments before use. When you do create a segment, Leanplum will go back and look through all the data we've ever captured to find all users who fit that segment.
By now you should understand a little better how segmentation can be a powerful tool in creating personalized campaigns. Here a some use cases to inspire your next experiment in segmentation:
Onboarding
Segment first-time users. Create a messaging campaign to introduce your new users to your app and remind them via push notifications throughout the week to try your features. For increased granularity, create additional segments to continue targeting specific niches of users: only those users who haven't opened the app in the past three days, or only those users who haven't completed the social login form.
Reengagement
 Segment dormant users (i.e. users that haven't used your app in the last 30 days). A/B test push notifications and email to see which brings more users back into your app. Personalize your content by alerting users to a flash sale of their favorite brand or a recently discounted airfare. When you analyze your A/B test, segment your analytics to see only those users who converted.
New Feature Rollout
Segment those users with an older version of your app. Use a push notification to coax a user into your app with a new feature, then prompt them with an in-app message letting them know how they can take advantage of that feature. If a user engages with your feature, consider prompting them to leave a happy review or other helpful feedback.
How to Start Segmenting Users Today
In Leanplum, segmentation is shared, meaning you can use it everywhere on the platform. Feel free to segment your users in messaging campaigns, while rolling out aesthetic changes, testing new features, or analyzing the results of an A/B test. Segmentation isn't siloed to a single feature of our platform, but fully integrated throughout.
Segmenting your users is a great way to learn about who your users are and how you can personalize your app experience for every individual. If you want to try it out yourself, schedule a demo.
—
Leanplum is the most complete mobile marketing platform, designed for intelligent action. Our integrated solution delivers meaningful engagement across messaging and the in-app experience. We work with top brands such as Expedia, Tesco, and Lyft.