NY Times: A 167 Year-Old Newspaper Fearlessly Faces the Digital Revolution
Founded in 1851, The New York Times has been an American household name for over a century.
You read that right. 1851.
Traditionally a print media business, The Times has fundamentally reshaped its strategy to adapt to an increasingly digital world. Deriving inspiration from brands like Netflix, HBO, and Spotify, The Times now invests heavily in its core offering (journalism), while continually adding new features — like a full suite of mobile apps for anything from cooking and crosswords to real estate.
Today, we take a close look at The New York Times' flagship app. How does the publication condense their enormous content archive for mobile, and what is it like to consume rich media on such a tiny screen?
Let's dive in.
First-Time User Experience
What NYT Does Well
The New York Times' app onboarding flow begins with a beautiful photograph of a journalist on assignment. A short but powerful value proposition introduces the world-class journalism that The Times is renowned for, and a clear CTA moves users forward into the app.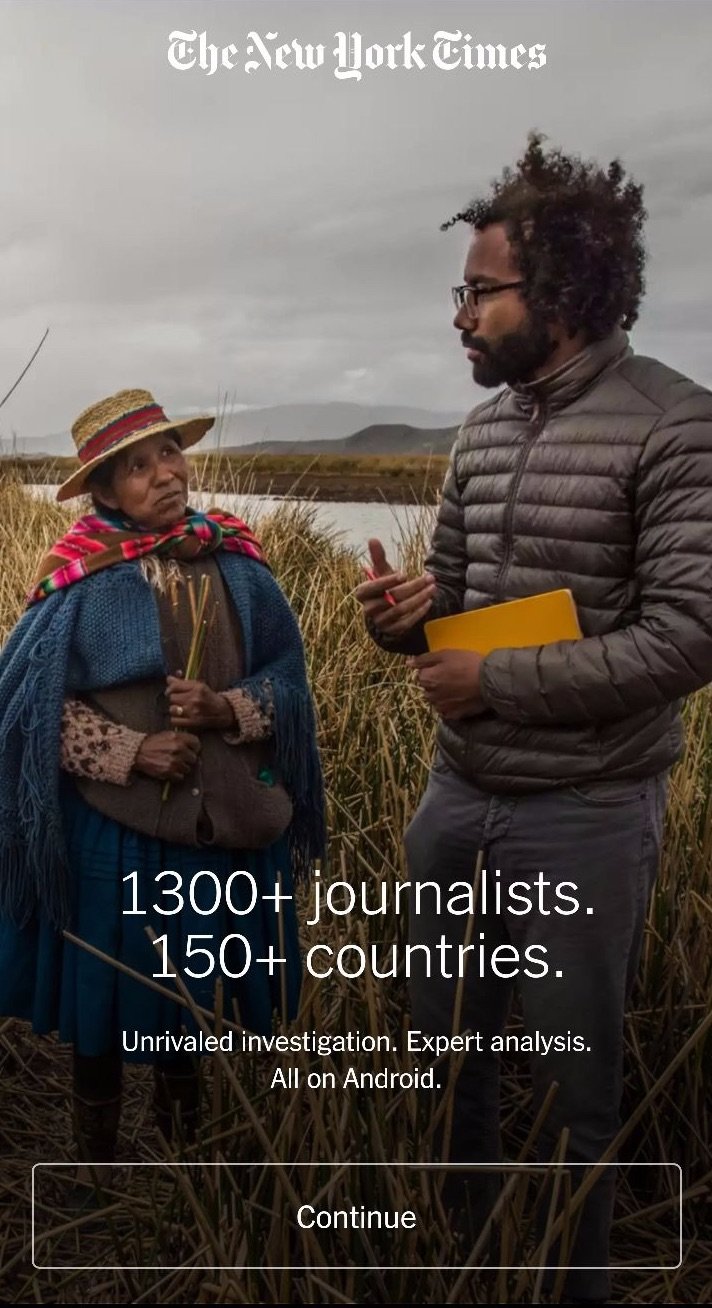 After clicking "Continue", I am given the option to 1. log in as an existing user, 2. subscribe, or 3. dive right into content as a guest user. I go straight for the content, and am dropped into the mobile equivalent of The New York Times front page.
One Way To Improve
The New York Times immediately presents users with the option to subscribe, but does not elaborate on the value of doing so. Currently, the publication allows up to five free articles per month before requiring payment.
If users skip this step because they don't understand why a subscription is necessary, then The Times would be missing out on a key monetization opportunity.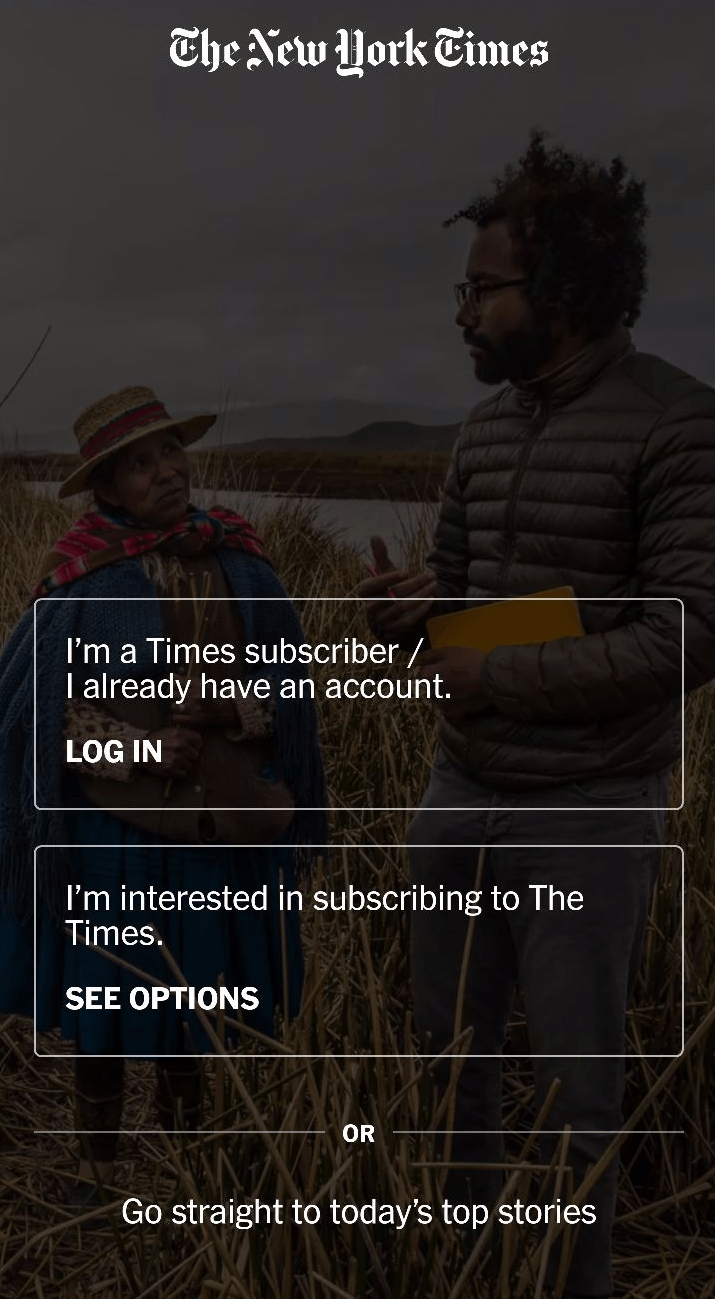 The above screen is a perfect opening for a short sentence or two explaining why users should subscribe. To test the efficacy of this addition, The Times could conduct an A/B test where a segment of users see the page as it is now, while others see an updated version with the value clearly explained upfront. If there are statistically significant spikes in subscriptions, or even just clicks to "See Options," then The Times can confidently implement this subtle change.
Additionally, the onboarding flow noticeably lacks a tutorial, insteading opting for a straightforward approach that leads users right into the heart of the app. While this is intentionally designed to be minimal, long-time readers who have traditionally consumed content on web or in print may not intuitively know how to navigate a mobile app.
To lend a helping hand, The Times could experiment with an optional tutorial that is introduced via an unobtrusive in-app message, a small button, or an interactive pop-up — any of which could point to the different categories users may want to explore. Similarly, a multi-channel onboarding strategy may also be worth testing. A short series of educational push notifications or emails may work wonders in illuminating features that new users are unfamiliar with.
As always, A/B testing each new element prior to launching is a must. This way, it can be concretely determined whether changes are positive, negative, or make no impact at all.
Accessing Content
What NYT Does Well
After a short and sweet onboarding flow, I find myself in the heart of The New York Times' daily news. Today's top story is a photojournalism piece featuring portraits of schoolgirls who were kidnapped by Boko Haram back in 2014.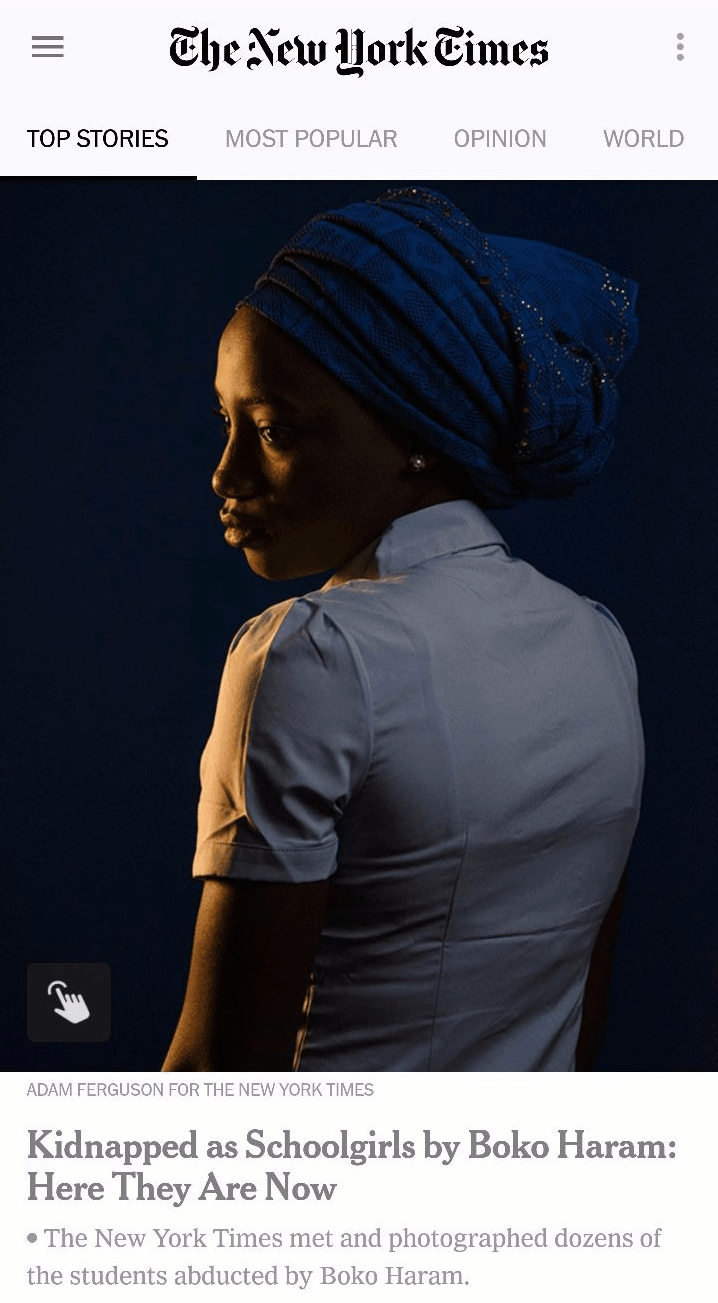 Right beneath The New York Times logo is a menu of the newspapers' core sections — Top Stories, Most Popular, Opinion, World, U.S., Business Day, Sports, Arts, New York, Magazine, and Video — which you can scroll through from left to right and vice versa. This menu acts a shortcut to your favorite news topics, and can be customized via a drop-down menu at the top right of the app.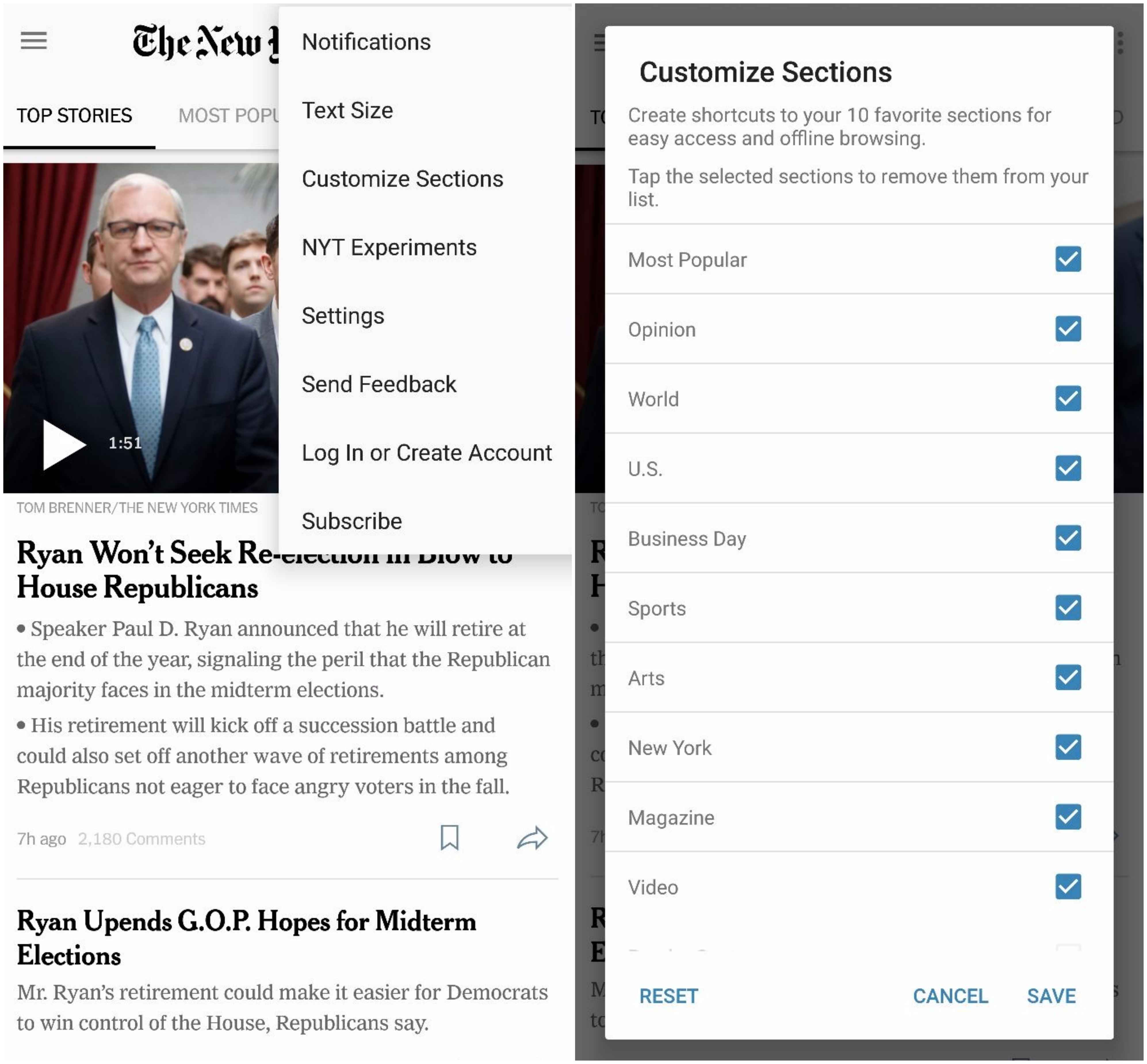 When clicked, each tab on this menu displays relevant content in a list format (similar to individual sections in a newspaper). Recently published pieces appear at the top of the list, and content is frequently refreshed in real-time. When you tap a headline to view a full article, it reads similarly to The New York Times' web experience.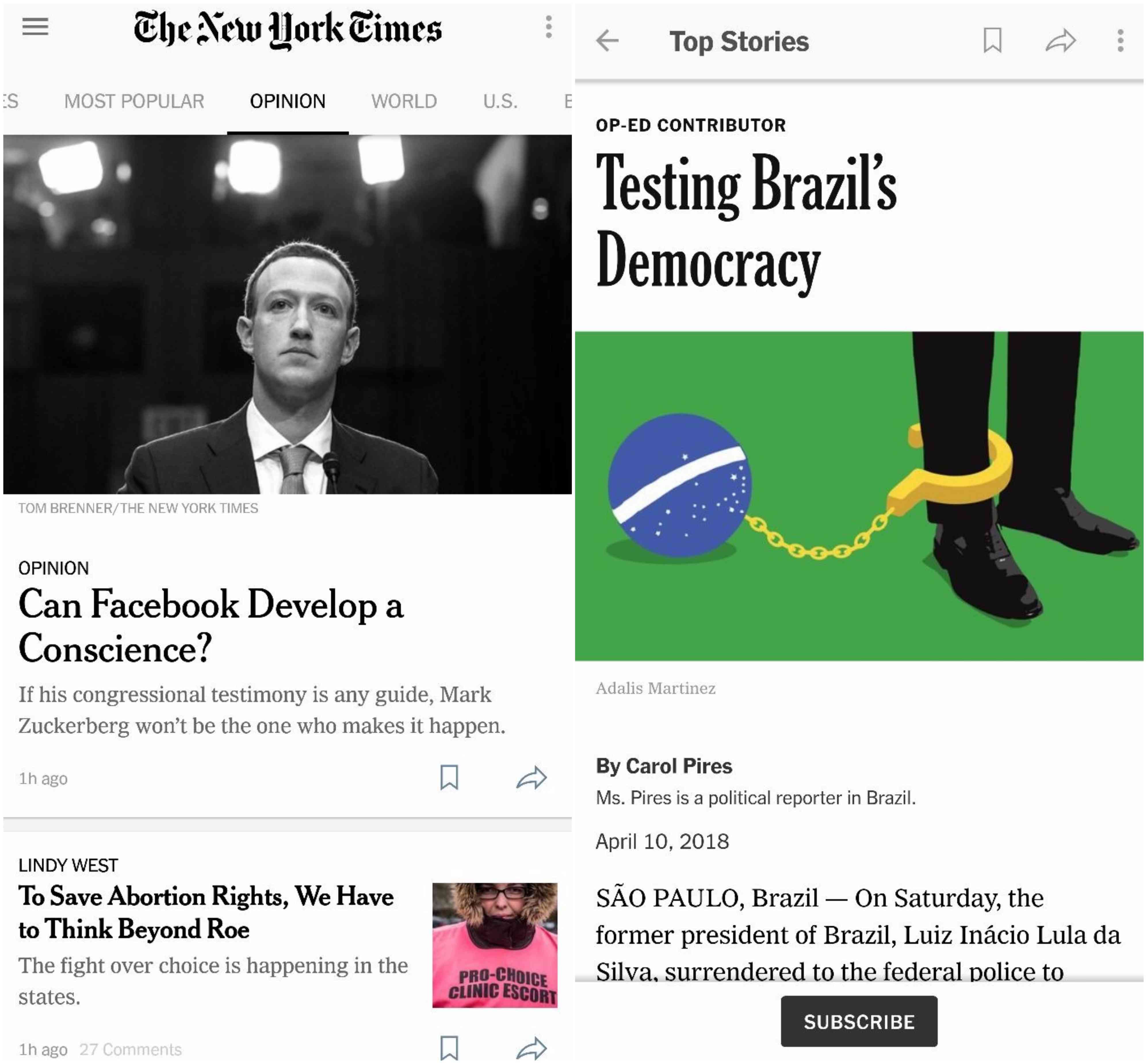 Towards the top left corner of the app, there is a drop-down menu that summarizes all of The New York Times' content categories. These dive into further distilled subjects like Technology, Food, Books, Health, Obituaries, and Climate and Environment. From here, you can also search for specific content, access app settings, and subscribe or login.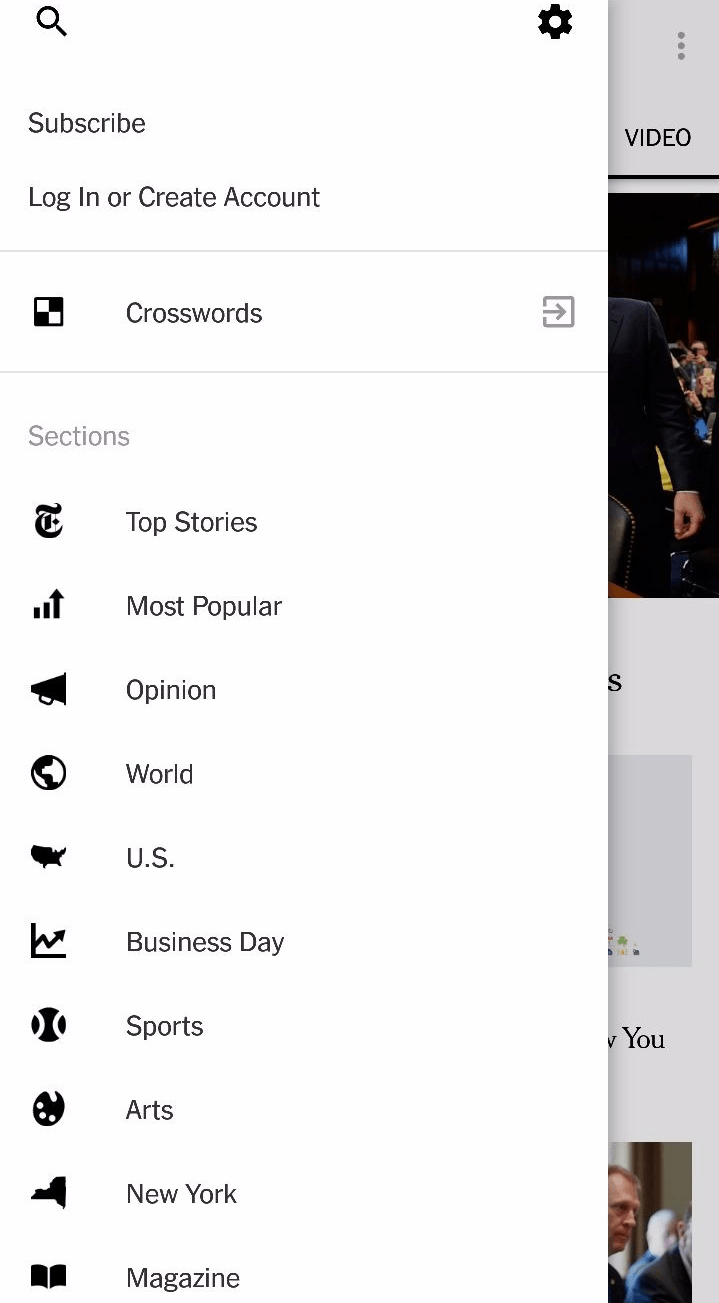 The New York Times' app interface is clean, intuitive, and easy to use — even for non-tech savvy users. Some of the app's millennial-friendly features — like a list of most popular content and briefings of the day's top stories — are likely inspired by the now shuttered NYT Now app, which aimed to reach a younger, mobile-first audience that was never exposed to print news.
The newspaper truly does an amazing job of organizing an enormous library of content into an approachable format.
One Way To Improve
I noticed during my week of using The New York Times app that push notifications are sent constantly. I received about three to five notifications a day — usually during work hours when I did not have spare time — that consisted of seemingly random headlines. Push notification text was also consistently cut off, so I couldn't tell at a glance what type of article the app was pushing (no pun intended).
Push notifications are important for news apps to engage, retain, and monetize readers. However, too-frequent push notifications — especially irrelevant ones — can fatigue users, and, in the worse case scenario, lead to churn.
Android devices currently allow 38 characters of push notification copy, and iOS devices allow 148 characters. Moving forward, The Times could tailor messaging with these character limits in mind so push notifications are optimized for each device type. This will help users gain a better understanding of the content they are receiving.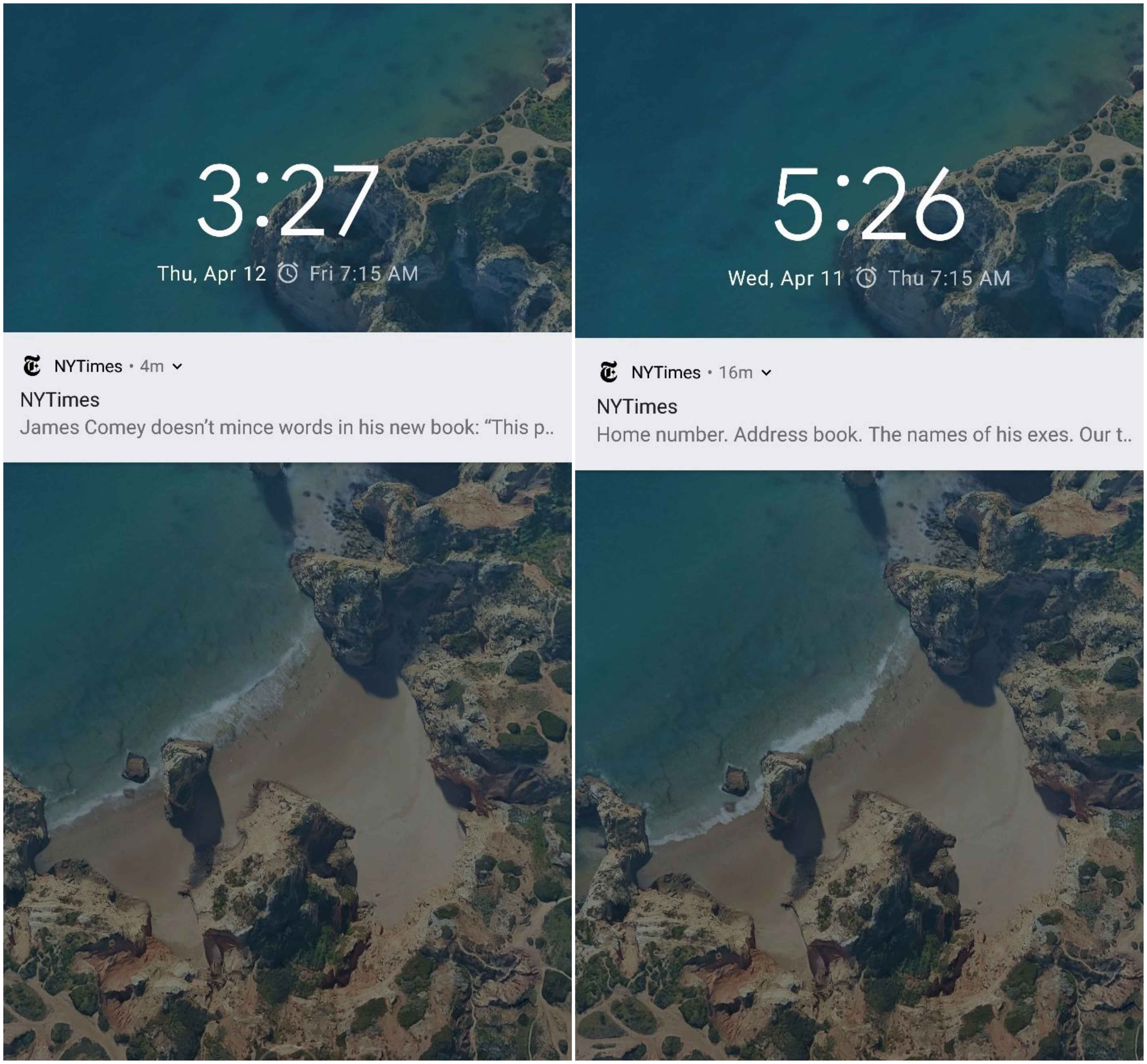 To prevent flooding users with too many headlines, The Times should identify articles that are worthy of a push notification based on reader history and in-app behavior. If The Times really wants to kick it up and notch with sophisticated personalization, they could ask users to choose the news categories and journalists they care about most during onboarding, and then serve push notifications relevant to these selections.
With the right mobile marketing tools, it is also possible to kick it up with notch with perfectly timed, personalized messages that reach users at just the right moment. After all, when relevant messages are sent when users actually want to receive them, they become much more impactful.
Video & Visual Stories
What NYT Does Well
The New York Times has done a wonderful job optimizing rich content for mobile. These innovative content types — such as photography, interactive visual stories, animation, 360 video, and even VR — have established The Times as a creative leader in the publishing industry.
Take the top story of the day: "Kidnapped as Schoolgirls by Boko Haram: Here They Are Now." The article showcases a series of interactive photographs featuring schoolgirls who were kidnapped by Boko Haram back in 2014. Beautiful, high definition portraits of women come together to tell a comprehensive story of this tragedy, and subjects occasionally come alive and jump out of the screen. There are easily over a hundred still and moving images throughout the article, but everything loads immediately without lagging.
The article is a masterpiece of visual storytelling — even on the limited screen of a mobile device.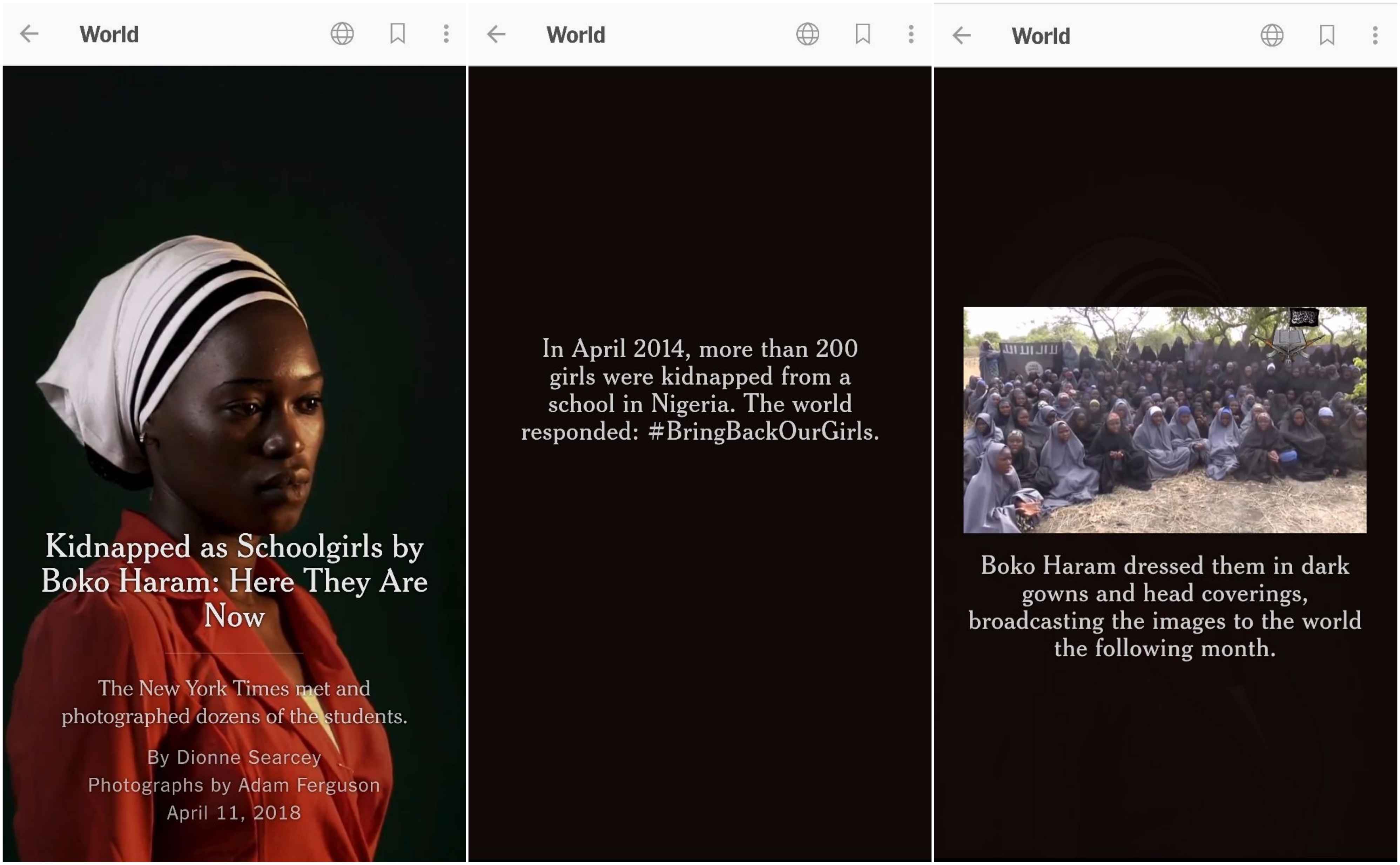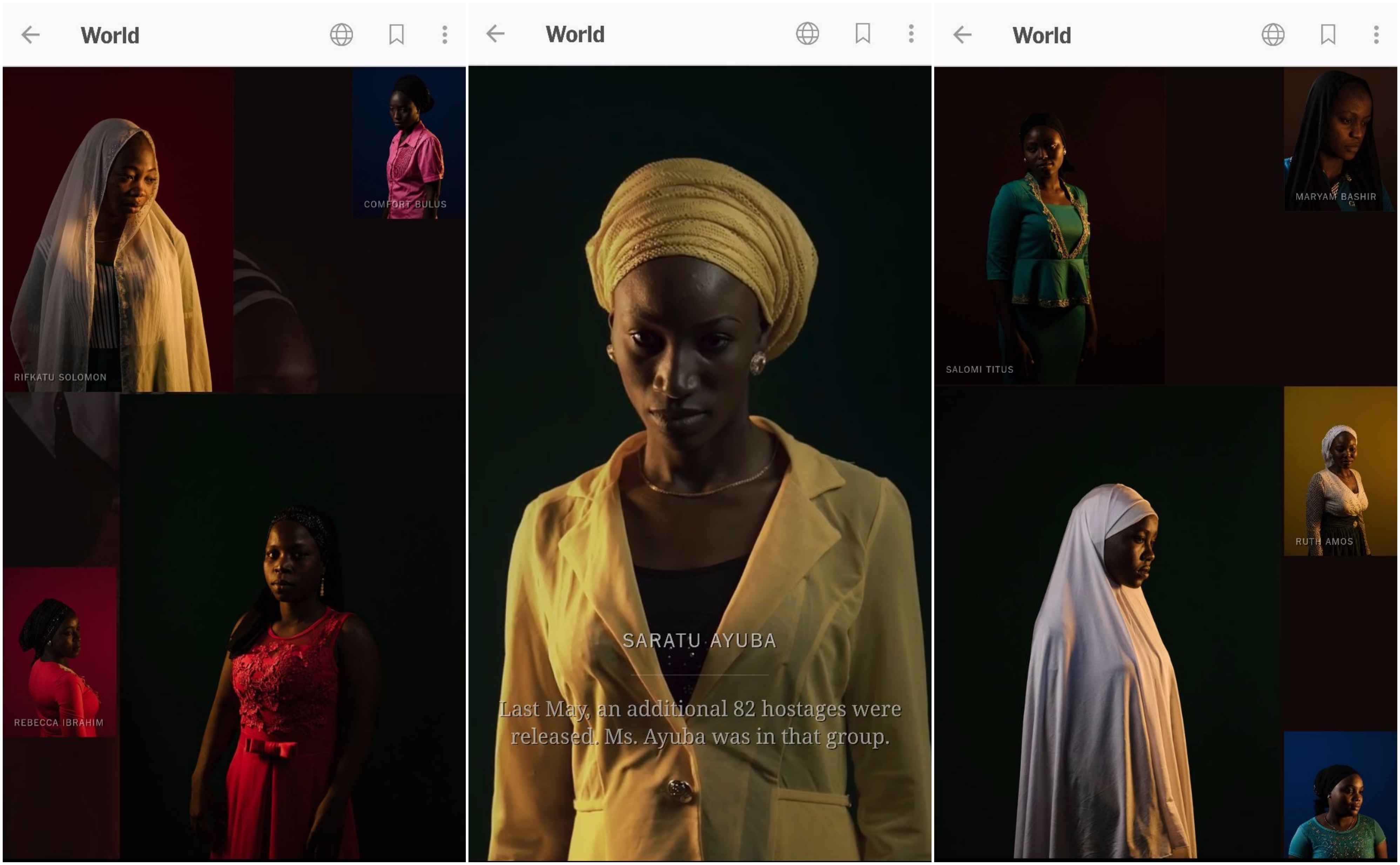 One Way To Improve
Videos are also well-optimized for mobile and integrated smoothly into The Times' app interface. However, if you choose to watch one, you first have to sit through an ad that takes up the entire screen of your device. Unless you are interested in learning more about the brand being advertised, you are obligated to watch the ad from start to finish. To escape, you have to leave the app altogether. Not a great experience for uninterested users.
There is a simple fix for this. Even if users still have to watch an ad all the way through to access desired content, The Times could include a small button that allows users to opt out and return to the app home page. Otherwise, they may get annoyed and seek out other options.
New York Times' App Engagement
As a long-standing American newspaper, The New York Times understands the importance of embracing change. To counteract the collapse of print media in the digital age, it strategically invested in digital mediums that are high quality and loved by readers worldwide.
While the app is not perfect, its user-friendly interface showcases a digital fluency that many traditional print media brands have not been able to duplicate.
This type of foresight is what keeps The New York Times thriving 167 years after it was founded.
For more in our ever-growing list of App Engagement Analyses, see our articles on Snapchat, Flipboard, and Soundcloud.
—
Leanplum is the mobile marketing platform built for engagement. We help brands like Tinder, Grab, Tesco, and Zynga orchestrate multi-channel campaigns — from messaging to the in-app experience — all from a single, integrated platform. Schedule your personalized demo here.