My Life at Leanplum: Meet Aleksandar Gyorev
Disclaimer: This post originally appeared on Quora as an answer to "What is it like to be an intern in a startup?" It has been edited for grammar and clarity.
---
Here goes my take on what it feels like to intern at a startup: TL;DR: It is amazing! I  was a full-stack software engineering intern at Leanplum for Summer'15. I will kick things off with a small comparison between my internship at a startup (Leanplum) and the one I had before that at a tech giant (Microsoft, as part of the Bing Local team).
Education
The greatest difference between the two, ignoring Microsoft's pros (extremely spoiling intern program with a crazy amount of perks and swag) and cons (chaotic working environment with terrible communication between teams), is what and how you learn at a small company. During my 3 months at Bing, I worked on a small piece of a small feature that was supposed to improve the accuracy of a particular way the search results are computed. Thus, I became tightly specialised in running curated queries and reducers, and analyzing the returned results to make some conclusions, to ultimately improve the search quality. At that point in time, I didn't see necessarily as a bad thing. However, switching gears from a tech giant to a soon-to-be unicorn startup opened my eyes. Big time!
First of all, when you have an engineering team of less than a dozen people, the impact that you have on the product is insane — all interns work on a full-time employee projects. Furthermore, when the product is still relatively young, the things you build actually matter and you can see the immediate impact. For example, when I left Microsoft, as well as my mentor, I had no idea what was going to happen or when my improvements would be released, if at all (because they are buried so deeply in the Bing backend, that you can hardly keep track of what is happening with the stuff there). This, in combination with poor task and team management/communication, can be so demotivating and frustrating. Although working at Leanplum was quite challenging and frustrating at times, it was a different type of frustration.
The learning curve is steep, and I mean steep! You are more or less thrown head-first into the code base, and there is not much hand-holding going on. The only way out is to get your hands dirty, experiment, and not be scared. I've learned so much in such a short period of time, and having highly motivated and driven people around me is so energising. It keeps me moving forward.
Within a couple of weeks of receiving my first project, I got it up and running on our dashboard within minutes from my final code review. Being able to deliver something that is at the forefront of the product, that big companies like Expedia and StumbleUpon use all the time, is motivating that it gives you this feeling of incredible self-fulfilment.
Following that, I was encouraged to work on a full-sized new feature beginning to end, while discussing the details around it with both the product team and senior engineers, who guided me towards solid and scalable design solutions.
The development process at a startup is way more agile and fast-paced. It's nothing like the glacial speeds of an outdated waterfall developer cycles that take ages to approve and implement.
The reality is that small companies need smart people, but also employees with a can-do mentality. Interning at such a place helped me grow into somebody who fit that mold.
This summer, I heard one intern say:
Current college education doesn't prepare you for the real-life tech industry.
For me, the best way to learn is by going through a startup (bonus points if it has something to do with the mobile industry).
So instead, a nice way of putting it is:
The real full-stack San Francisco startup internship is doing some software development, some tech support, some sales engineering and some marketing.
Culture
So much for comparing to Microsoft. Let's talk about the environment Leanplum is in. The people at Leanplum are the company's greatest asset!  Everyone is super friendly and extremely smart. You are in the company of ex-Googlers, Olympiad medalists, an ex-VC and even an Air Guitar champion!
At a startup, you are an individual, not just another cog in the wheel. Better yet, as an intern you are treated the same way as a full-time employee, and you don't feel any kind of segregation or hierarchy in the office.
We have a big calendar on one of our walls that tracks of all kind of events, like birthdays, anniversaries, holidays, etc. I got a warm surprise for my birthday, which just goes to show that the company (and the people there) care about you as much as you care about them. These small things build company loyalty.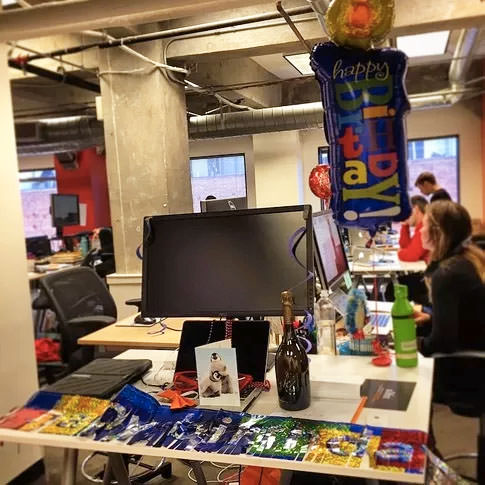 Another thing I love about Leanplum is how open it is about everything. We have weekly all-hands meetings, as well as everyday stand-ups, so you know what is happening on every team. If you don't understand something, you are always more than welcome to ask and somebody will explain it to you. You can touch base with members from every team you like. Personally, I sync with our Head of Marketing to see what the latest campaigns and conferences are, and sometimes I'll tag along on a sales call to see how our product is presented to potential customers, and how the team handles different questions and concerns thrown at them.
Overall, our team culture is great! Everybody is very close, and we regularly go out to happy hours at our favorite local bars.
There aren't that many interns, but I guess it is quality over quantity :). Last summer there were only four of us here in San Francisco. We all got along extremely well and had fun together.
Location
Now, let's talk about the location of the office. We are in the mecca of the tech industry right now. There is no other place in the world that gives you the opportunities you will have in San Francisco and Silicon Valley.
When I first started, I attended a different meetup/tech talk/networking event every other night, and it never got boring. You meet so many people from so many backgrounds and there is something you can learn from every single one of them, be it a developer, a sales member or a VC.
We also have a beautiful penthouse at our office building with an amazing 360 view of the city!
San Francisco is beau·ti·ful. There is:
The Golden Gate Bridge
Dolores Park
Coit Tower
The Marina
Ocean Beach
Golden Gate Park
And so much more! There is a great music scene as well (I'm especially biased towards SFJAZZ). Some people may like it, others might think about the drought, but it practically doesn't rain here. The people in California are chill! Super friendly and laid back folks. The food is amazing; you can find whatever kind of cuisine you like, and it would taste fantastic!
Perks
Last but not least, let's discuss the perks of interning at a startup, specifically Leanplum. One may think that big companies provide you with the best perks and intern programs, but I have a different take on it.
We have an unlimited supply of all kinds of snacks, healthy breakfasts and catered lunches, as well as monthly credit towards a gym membership or any kind of physical activity. We have go-karts, which we drove around the office (until we were banned), and then outside in the parking lot!
There is also a dart board and table tennis for whenever you feel like you need to give your mind a rest. But the coolest thing was our company trip to Mexico to celebrate our recent funding! It was a big milestone in Leanplum's history. Check out some pics. There's no need to say how beyond imaginable this was!
I know some of you may think that there is nothing a startup can offer that a big company like Google or Facebook can't, but once you go down that road and experience the startup world, you'll never wanna go back! I loved it so much that I was hired from an intern to a full-time software engineer at Leanplum.
We are rapidly growing and racing full speed ahead. If this sounds like the place for you, don't hesitate to comment on this post or message me on Twitter with any questions. To see openings directly, visit the jobs page at Leanplum. Hope you're as excited as I am!
---
Leanplum is a mobile marketing automation solution that drives engagement and results. We're hiring! Visit leanplum.com/company/jobs to discover openings and learn how you can apply.