Tuning in With Turner Broadcasting at Mobile Ventures Summit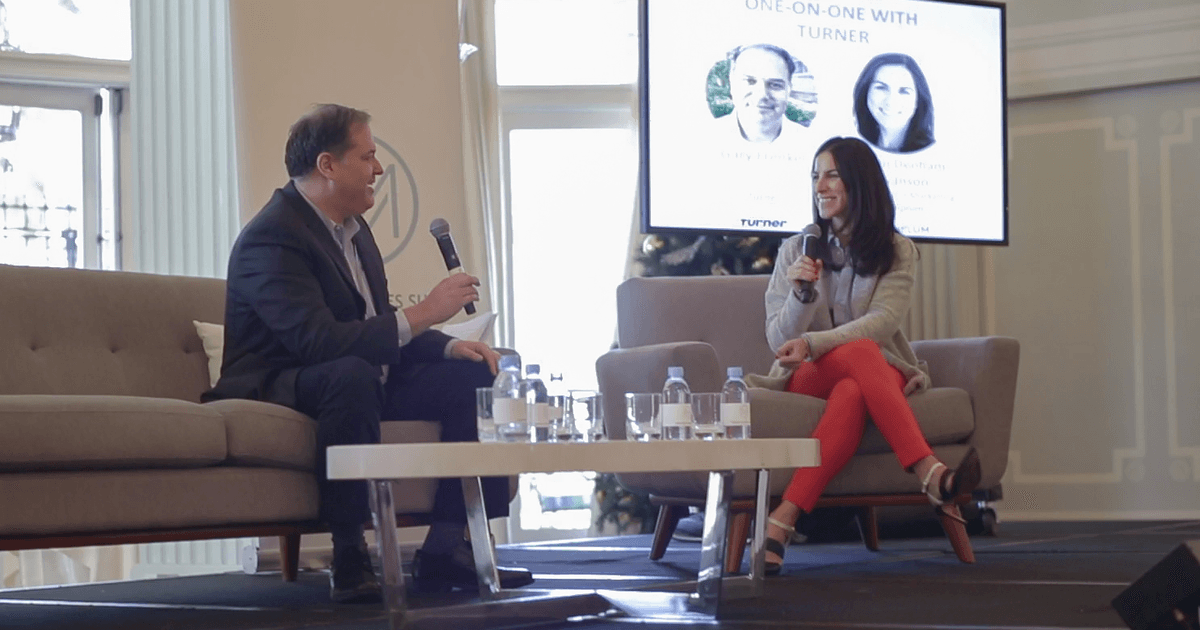 At Mobile Ventures Summit in Santa Monica, I had the opportunity to sit down with Gary Frenkel, Head of Digital Products and Operations at Turner Broadcasting. We discussed Turner's mobile marketing strategies across its TBS and TNT properties.
Gary shared lots of great insights, including how a traditional media company like Turner is staying relevant in a changing landscape of television and media, how its using mobile to drive acquisition and compliment its TV strategies, and also what's on the horizon for the broadcasting giant.
It's Tough for Traditional TV
It's tough for a media OG out there in a mobile-first world, but TBS and TNT are finding their way. One of their strongest differentiators is their diversity of content now available. From live events and sports to originals and acquired content, they're able to appeal to a much wider audience. In fact, they're among the few media companies who have grown their audience across both networks. Both TBS and TNT are up year-over-year for many returning shows, in a climate where most cable networks are seeing declines.
However, to have this kind of success, TBS and TNT's internal structure of networks needs to be organized to align with mobile goals. That's why they don't look at mobile as distinct from the rest of their product lines. As Gary explained, teams are aligned based on featureset, not platform, so product lines are tied to monetization, user interface, data, and CMS.
Mobile + TV = Match Made in Heaven?
For TBS and TNT, mobile is best for capturing leads, primarily through social marketing. Gary noted, "63 percent of consumers prefer using TV for long-form content. At this point, mobile is still not ideal for premium content." However, TBS and TNT continue to grow and engage with their users by getting them to their desired content as quickly as possible. It wants to reduce friction and drive viewership on television by casting through its apps.
TBS and TNT have invested heavily in casting technology, which allows users to easily beam content from a mobile device to their connect TV.
For example, let's say you're watching an NBA game on your phone on your commute home. Once you get home, their software can detect that you have a connected TV device, such as Roku or AppleTV, and prompts you to choose where you want to continue watching the game —  your connected TV or mobile device —  without the need for a special app or plug-in. The best part? You can pick up at the point in the game where you last left off, so you won't miss a minute of the action. It's a slick and seamless experience enabling users to go from mobile to television in less than a minute.
Additionally, they've employed other tactics to help get users to their favorite content quicker. Their tactics: removing pre-roll ads, and increasing mid-rolls ads and pre-login "freeviews" for major programming events.
With "freeviews," first-time users are able to watch five to 10 minutes of content, including sports, before being asked to sign in to an authenticated account. These features allow users to sample programming easily before making their viewing choice.
So for consumers, TBS and TNT mobile apps enable casting, ease of access to the content they love, and supplementary content such as articles. For the networks, the apps help expand their audience, capture data, and give them direct access to the consumer.
TV and mobile sound like the perfect pair!
To the Future & Beyond
Four years ago, TBS and TNT were the first TV networks to stream on-air content live and they continue to lead the industry in reimagining the television viewing experience.
Gary highlighted four areas they will be focusing on over the next 12-18 months:
Continue to make it as easy as possible for users to watch what they want, wherever they want it

Build new options for users to immerse themselves in worlds of their favorite shows through AR/VR, fan clubs, non-video content, and games

Explore ways to generate revenue outside of advertising, including e-commerce and ad-free subscriptions

As digital ad spending outpaced TV ad sales in 2017 for the first time, continue to innovate and provide value to their advertisers.
It's an exciting time as the worlds of TV and mobile merge and the viewing experience across screens only gets better. Stay tuned — TBS and TNT are clearly just getting started.
—
Leanplum is the mobile marketing platform built for engagement. We help brands like Tinder, Grab, Tesco, and Zynga orchestrate multi-channel campaigns — from messaging to the in-app experience — all from a single, integrated platform. Schedule your personalized demo here.