The Mobile Marketing Stack: From Tactical to Strategic
mParticle, a Leanplum partner and mobile data management platform, recently released a report on "The State of Mobile App Marketing." Of its many revealing statistics, it shed some light on the priorities and challenges that mobile marketers face and what the future of mobile marketing may look like. B2B marketing automation has grown increasingly complex, and there are more tools available to mobile teams than ever before. We're going to cover the highlights of mParticle's analysis, but you can also get the full report here for free.
"Since its founding, Leanplum has viewed data as the strategic fuel to build meaningful relationships in mobile. Working with vendors like mParticle will allow our customers to extend their data to the rest of the ecosystem and create consistency with mobile data management." — Bob Garcia, VP of Business Development at Leanplum
Retention Is Even More Important Than Growth
mParticle's survey indicates that over 70 percent of mobile marketers classify increasing app user engagement and retention as a higher priority in 2016 than 2015.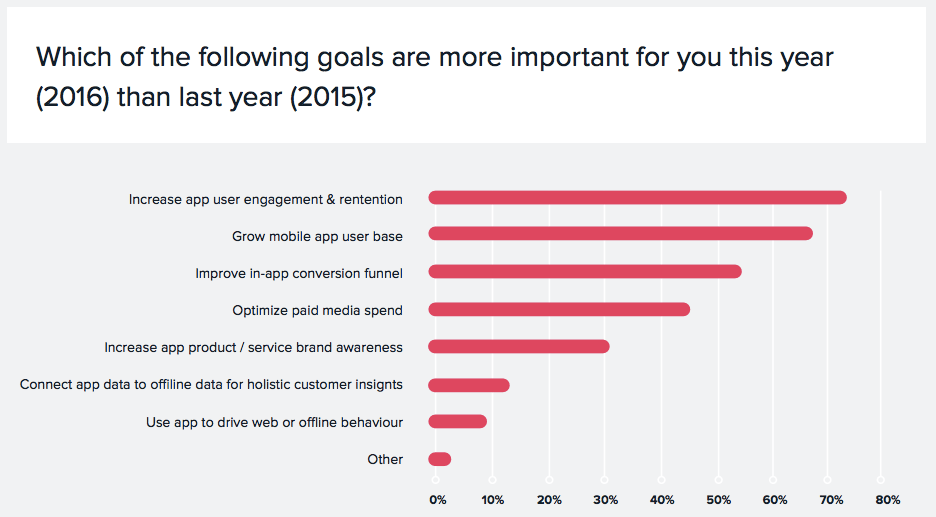 According to the numbers, marketers even value retention over growth, with over 70 percent of respondents saying that increasing app user engagement and retention is their highest priority.
It's much less expensive to retain an existing user than to acquire a new one. From day one, you need to think not only about how to acquire users, but how to engage your current users to keep them active. Marketers can improve retention by optimizing onboarding, creating engaging messaging campaigns, or personalizing their content.
We've mentioned before that retention is the new growth hacking. For more information on how to retain app users and increase engagement, check out these five tips.
Having the right Mobile Marketing Platform is key to retention success. The right tool belt equips you to create engaging campaigns to re-engage your users, keeps them hooked, and gives you the testing and analytical capabilities to optimize and refine your efforts. Engage them proactively with messaging and personalization before worrying about the next shiny tool to install. If you're worried about needing both messaging and analytical capabilities, find an SDK that can do both.
Proliferation of Tools Has led to User Data Silos and Fragmentation
Apps with marketing budgets of all sizes use a variety of tools to power their growth with "several third party SDKs" as the primary means of data collection according to mParticle's survey.  SaaS and the Cloud have all but removed the barrier for mobile marketers to begin using new tools to power growth, but as their focus pivots to retention the speed is hamstrung by development requirements.  
Respondents use tactical solutions powered by point SDKs for attribution, email marketing, push notifications, and mobile marketing automation, to name a few. The report points out that, "roughly 30 percent of respondents utilize email, push notifications or mobile marketing tools, suggesting significant opportunity for growth in these categories given the general sentiment among respondents that these tactics are effective and that 'full funnel marketing' is important."
As we'll see later, there appears to be a gap between the amount of time spent on mobile messaging and its perceived success and effectiveness. Because of this, mobile marketers should take a strategic approach to their "stack" and place prominence on removal of data silos from growth to retention. A unified mobile marketing platform and reusable data strategy can not only help you with retention, but it can also integrate email, push notifications, and marketing automation into a single platform.
If you're looking for a next generation mobile app marketing platform, Leanplum provides integrated Analytics, Messaging, Automation, App Experience Management, and A/B testing reducing the fragmentation and ensuring apps provide a seamless user experience from install to adoption.
Biggest Barrier: Not Enough Engineering Resources or Team Members
The report found that, "the biggest barriers to success for app marketers are people-related."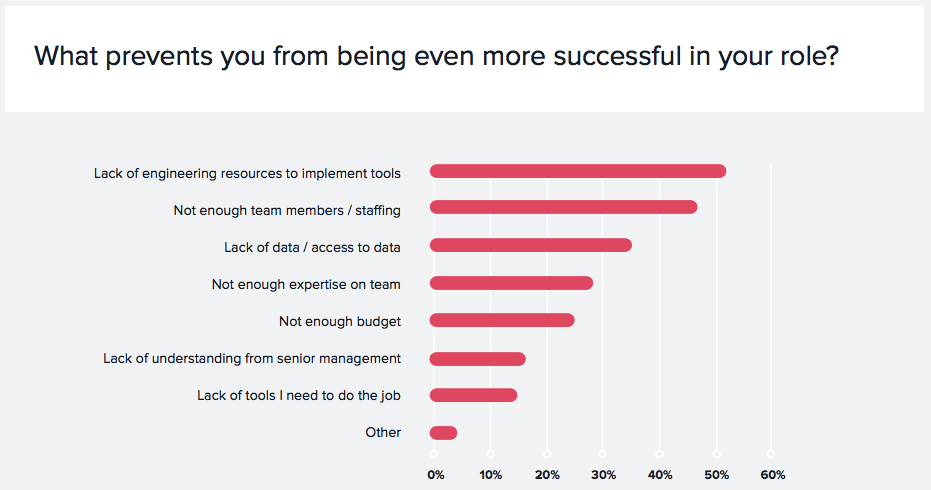 Over 50 percent of respondents said that a lack of engineering resources to implement tools prevented them from being more successful in their roles. And over 40 percent said that a lack of sufficient team members or staffing did the same.
Because you can make in-app changes without any coding or App Store resubmissions, Leanplum is perfect for small teams with a lack of full stack engineering resources. So not only can you send messages, and analyze your data, but you can make granular app changes as well. If you're new to marketing technology and you're wondering how the marketing automation process works, this is a good overview. Marketing automation spans everything from messaging to UI changes. Are you beginning to see why a strategic approach to your Mobile Marketing Stack is more important than ever?
Marketing Teams Are Small and Strapped For Resources
According to the report, 72 percent of respondents have one-to-five people on their app marketing team, and as you recall, over 40 percent said a lack of sufficient team members prevented them from being more successful in their roles.
This indicates that marketing teams are too small, and need more resources and team members to help them with their strategy and success. These resource factors can prevent mobile marketing teams from reaching their fullest potential or restrict them from executing the campaigns that they could with bigger teams.
Leanplum's intuitive UI enables mobile product owners and marketers to manage their messaging campaigns, edit in-app experiences, and A/B test everything while building rich user profiles and surfacing actionable metrics, which is just an additional benefit of being the total package for mobile ROI.
Another interesting stat from this report is that there seems to be a misalignment between the time spent on mobile messaging and its perceived effectiveness.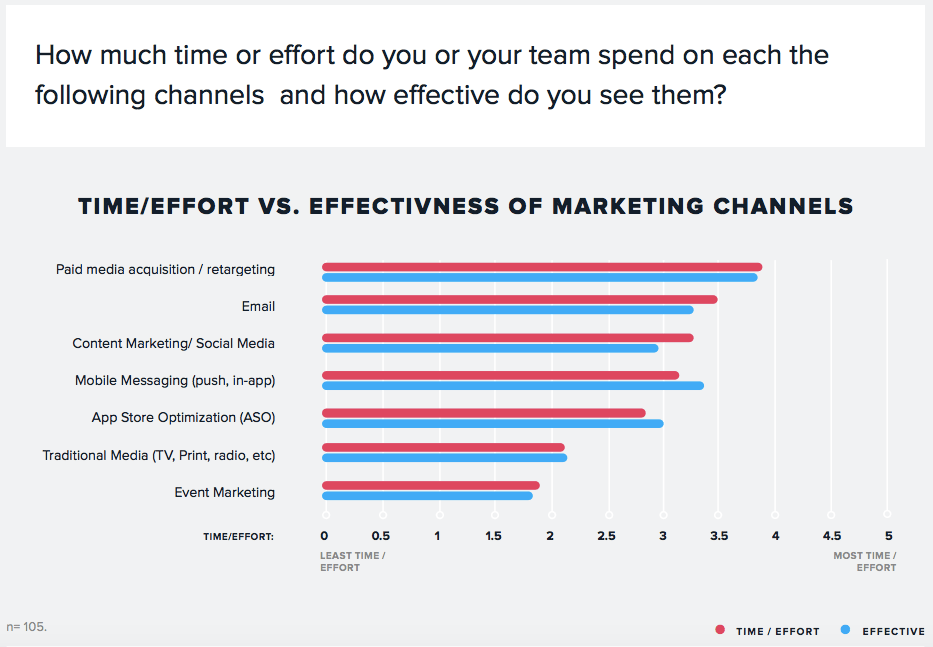 Respondents indicated that mobile messaging was their second most effective channel (preceded only by paid media acquisition/retargeting). Yet it was only the fourth-most prioritized channel as far as time spent, beaten out by email, content, and social media, despite those channels' diminished efficacy in comparison.
This also shows that despite being stretched for time and resources, mobile messaging is one of the most effective channels that mobile marketers utilize.
In sum, mobile app marketing is seeing a pivot away from exclusive prioritization of user growth, and is putting more time and energy into retention hacking. As mobile marketers fully embrace the effectiveness of mobile marketing automation and mobile messaging, we can expect to see a lot of new opportunities and potential for growth from apps that jump on the mobile-first train.
—
Leanplum is the most complete mobile marketing platform, designed for intelligent action. Our integrated solution delivers meaningful engagement across messaging and the in-app experience. We work with top brands such as Expedia, Tesco, and Lyft.