Mobile Marketing Automation, Explained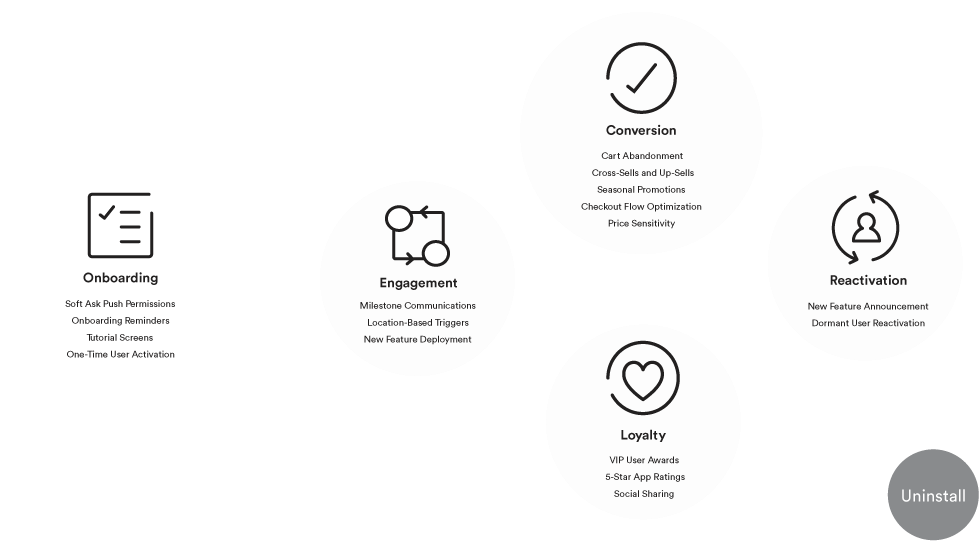 Mobile marketing automation, or MMA, is a catch-all term for marketing software that's designed to optimize mobile experiences.
Marketing automation has existed for a while. For over a decade now, digital marketers have used software to automate email campaigns, analyze website traffic, and collect user data. But mobile brings unique challenges to the table that traditional marketing automation software didn't provide. These are just a few of the opportunities that require dedicated mobile marketing automation:
Geo-location tracking

Automated drip campaigns that coordinate across push notifications, in-app messaging, email, and more

Complete user profiles based on user behaviors in and out of the app
These examples of marketing automation are only the beginning. Mobile platforms offer plenty of marketing opportunities that weren't available on desktop platforms. That's why it's hard to repurpose a desktop marketing platform for mobile. In general, marketing automation solutions that were built for mobile from the ground up provide the most complete services.
The marketing automation definition will vary, depending on who you ask. That's because mobile marketing automation is a big category, encompassing several components that work hand-in-hand. Our CEO's explanation on Quora briefly summarizes our views on the topic, but we can go into even more detail. Let's examine a typical user lifecycle campaign to see how marketing automation helps every step of the way.
How to Use Messaging in Your Mobile Marketing Automation
Mobile marketing automation features usually offer messaging services. We can split these services into four types of messages.
Push Notifications
Push notifications are messages that are sent directly to users, even if their phone is locked or they're not currently using your app — empowering you to re-engage anytime, anywhere. You can read more about them here.
At a high level, push notifications have one basic goal: they bring users into your app. Ideally, clicking on your notification will trigger a deep link that takes the user to a particular page in your app. Now that the user is engaged, you can use other types of content to hold their attention. Which brings us to…
In-App Messages
In-app messages are a broad category. One example is the tutorial screen: when a new user starts your app, you can show them a series of messages to guide them through the app's functionality. In-app messages also include pop-ups that inform users of deals and discounts.
Push Pre-Permissions are an important type of in-app message. These popups prompt users to allow the app to send them push notifications. The secret to earning more push opt-ins is to ask for permission at the right time.
In general, in-app messages improve the user experience by offering valuable information at the right times. They should also align with business goals — messages can increase the odds of making a sale, or they can prompt the user to add more profile information. In both cases, these messages are designed to increase engagement with the app.
Email
Email marketing might sound far removed from mobile app marketing, but the two should work hand-in-hand. Even the most dedicated users won't be in your app all the time, and people who are on the fence are all the more likely to use your app a couple of times before forgetting about it. Email works with push notifications as a tool to re-engage users who aren't in your app.
One of the biggest benefits is that you don't need to wait until the user has opted in to receiving push notifications. It's easier to capture email addresses than push permissions during the onboarding process, so email is a more reliable way to reach your whole audience.
Another key difference is that email is permanent. Even if the recipient has a cluttered inbox, the message will be marked as unread until they make a deliberate decision about it. In contrast, iOS notifications vanish once the phone is unlocked.
Even for people who frequently engage with your app, email is a useful means of communication because it's harder to ignore. Offers like coupons and discounts may be easier to offer by email than by push because the user can refer to them later.
App Inbox
The App Inbox is Leanplum's in-app solution to the notification permanence problem. Sometimes app publishers want to offer messages that the user can refer to later, but they don't want to rely on a separate channel like email.
Our App Inbox offers the best of both worlds: messages are delivered straight to the user's device as push notifications, but they also live in a persistent in-app screen. This makes it easy to check up on missed notifications or to retrieve a discount code.
Rich Personalization in Mobile Marketing Automation
Users are engaging with your app, and that's great. What comes next?
In order to continue to create meaningful content, you have to learn more about your users. Platforms like Leanplum offer a sophisticated analytics dashboard that helps you understand how people interact with your app. You get complete and rich user profiles that take into account technology, location, demographic information, behavioral attributes, where they are in the user lifecycle, and more.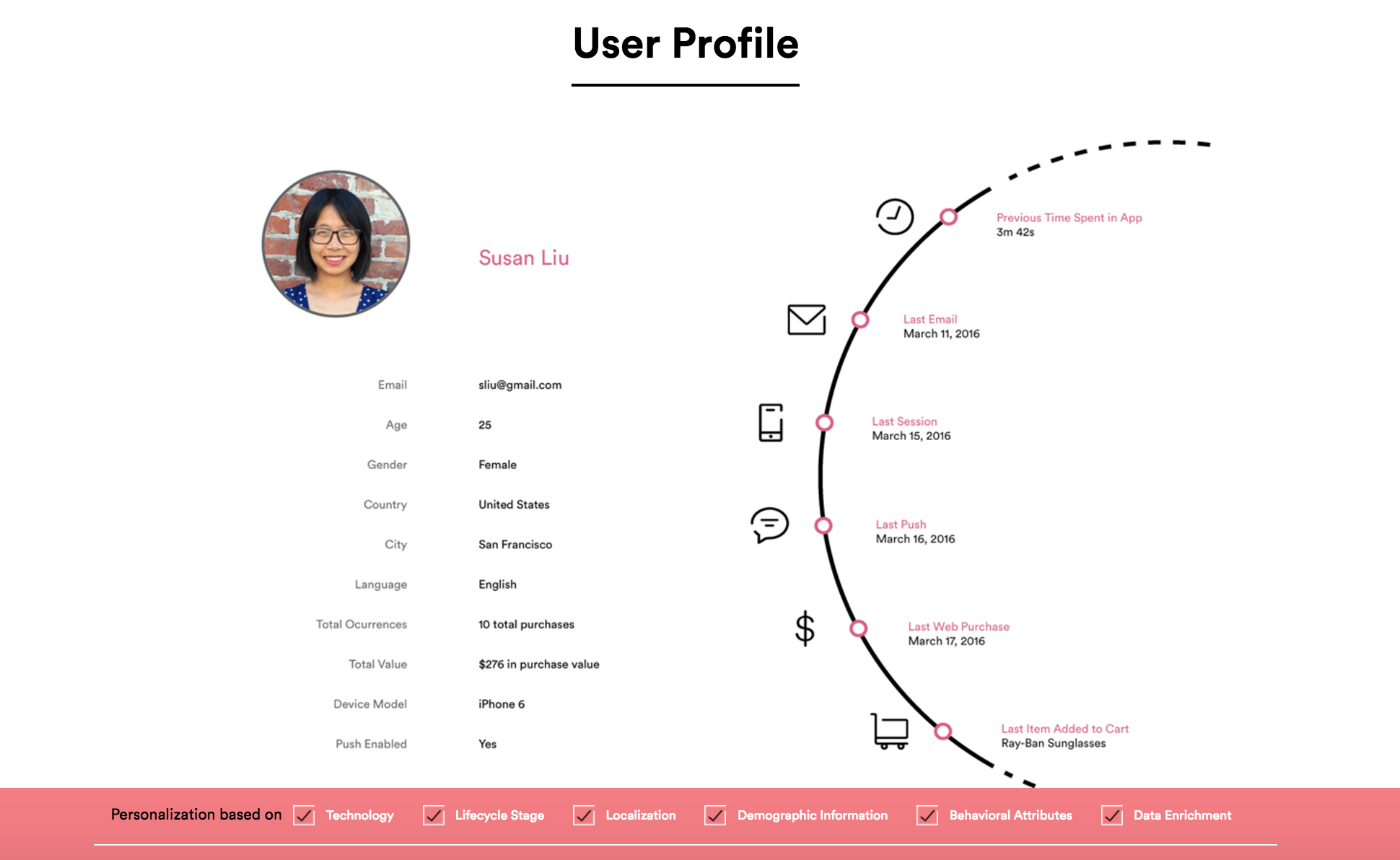 Once you understand usage trends, you can sub-categorize users based on those trends. This is called segmentation. By segmenting users, you can generate messaging that's tailored specifically to frequent users without alienating new users, or vice versa. You can also take demographic data into account and offer different deals to people in different regions. Segments can be as broad or as specific as you'd like.
One key differentiator with Leanplum's analytics software is that we offer assisted automation. All statistically significant metrics are displayed on your dashboard, including the ones that you weren't explicitly tracking. This way, you'll discover even the unintended consequences of your optimization efforts. For instance, a messaging campaign may see more opens than usual, but increase your uninstall rate. We ensure you see the full picture of app performance, with both positive and negative effects, so you can rest easy.  
A good analytics platform explains the opportunity cost for every tweak to your app. Without complete data, optimization turns into guesswork.
How to A/B Test & Optimize UI for Mobile Marketing Automation
The last step in a MMA campaign is to test your results.
Analytics tells you what your users are doing, but it doesn't tell you how to change their behavior. With proper mobile A/B testing, you can confirm your hypotheses and find out if your app tweaks are changing user engagement for the better. One of mobile marketing automation's goals is to help you automate app testing.
One way to make these minor app tweaks is with Leanplum's UI Editor. Normally, when you push a change to your app's code, you have to wait for App Store approval before the change goes live. This could turn a 10-minute tweak into a three-day wait. If each iteration takes days, you won't know if you made a mistake until it's too late.
With our Visual UI Editor, you can deploy the entire package to the App Store and roll out changes on the fly. The information is already coded into the app, so you can make these changes without going through the App Store update process. And because the UI Editor is all visual, marketing and design can test different tweaks without added coding.
—
While it's easier to visualize mobile marketing automation as a linear process, the reality is that each of these steps occurs simultaneously. Clients with a popular app will draft new messages based on their audience segmentations, A/B testing each piece of content along the way. If the analytics tool flags a surprising new change, content and messaging will respond right away. If you're looking to dive even deeper into this complex topic, VentureBeat's MMA report is a great place to start.
Still, you can reference this as a high-level overview of what a full-featured mobile marketing automation platform should offer. For a popular app publisher with intricate business goals, the easiest way to market at scale is to leverage a mobile marketing automation solution like Leanplum.
—
Leanplum is the most complete mobile marketing platform, designed for intelligent action. Our integrated solution delivers meaningful engagement across messaging and the in-app experience. We work with top brands such as Expedia, Tesco, and Lyft. Schedule your personalized demo here.