Rent the Runway, Cleanly & TED: Mobile Engagement Masters
On March 7, we kicked off the NYC edition of our Mobile Movers & Shakers Series in SoHo, bringing together the local mobile community for an evening of mobile education, great food/drinks, and networking — all under the sparkle of a disco ball!
This was the first event of it's kind this year in NY bringing together brands like BOXED, TheRealReal, Bleacher Report, and Capital One.
Beyond the disco ball and getting to hang out in a private SoHo Loft for the evening, the main highlight was a panel of the industry's best, ready to discuss how they impact and retain mobile users. Jeff Zaretsky, EVP of Growth Services at FIVE Agency moderated a panel of brand rockstars: Jonathan Hastings, Product Manager at Rent the Runway; Nilton Duque, Head of Marketing & Growth at Cleanly; and Cody Winn, Director of Mobile & Platforms at TED Conferences.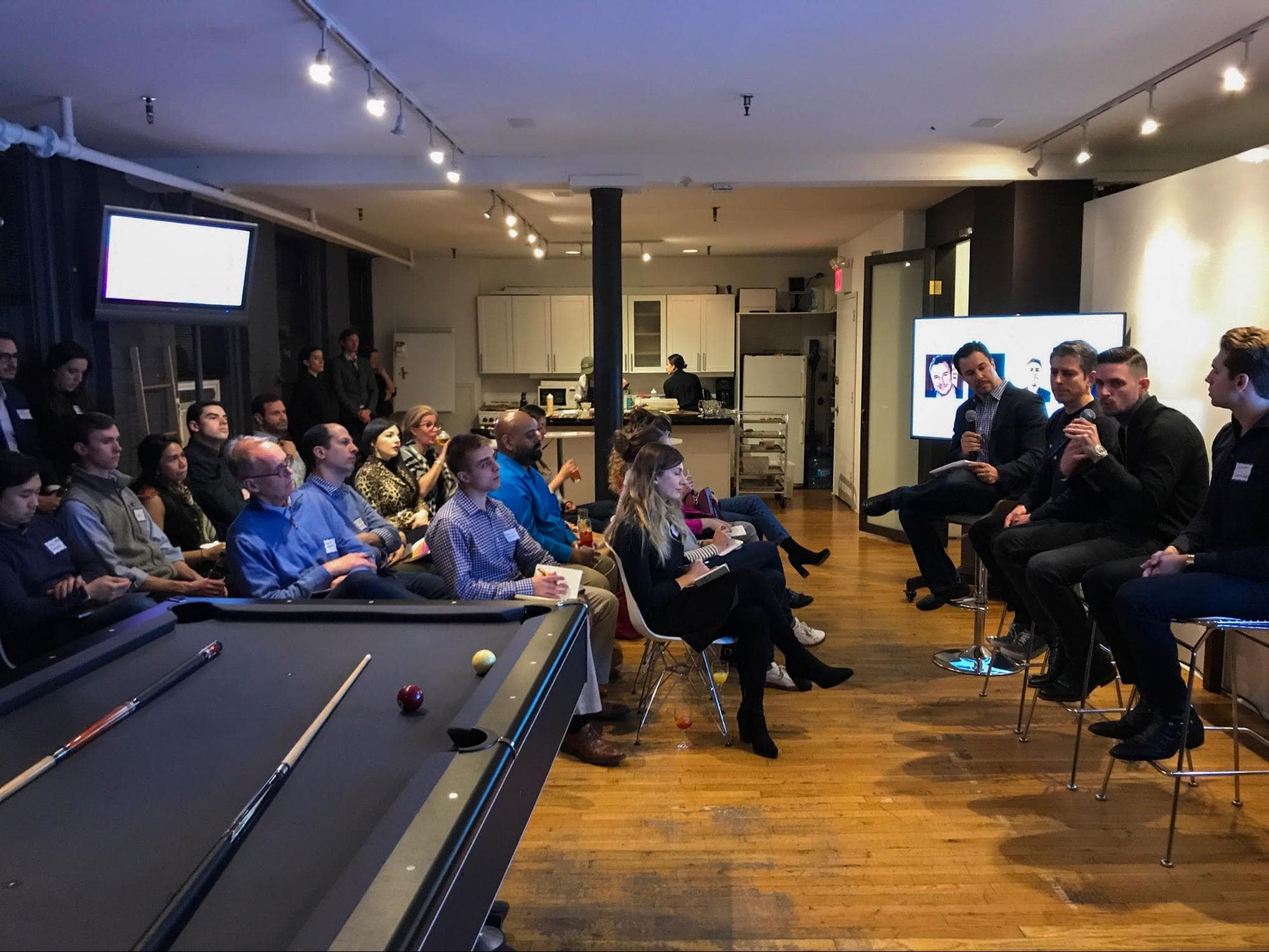 According to research from Gartner, mobile today is one of the most effective marketing channels, ranking in the top two at every stage of the buying cycle. For arguably the most important stage, conversion, it ranks first. Our panelists couldn't agree more.
When asked what mobile meant to each company, Jonathan from Rent the Runway shared how its mobile strategy has changed very dramatically from a few years ago, when most of its users rented clothing a few times a year to now offering a popular subscription model. Rent the Runway's strategy now sees native mobile as an integral part of the consumer journey, and increasingly the first touch point.
Cody at TED explained how TED Talks are on ted.com and YouTube, so the app has to offer something different to keep users engaged in the app. Consequently, TED has a renewed focus on tighter curation, downloading and offline video availability, accessibility, and personalization.
Cleanly, on the other hand, sees 90 percent of its business transactions occur on its mobile app, so mobile is synonymous with its business. There's no divide or difference between mobile and non-mobile.
The conversation quickly shifted to one of the most talked about mobile topics: retention. Data shows that in general, only two percent of users retain after 90 days. So what retention strategies work?
Rent the Runway shared how making things exclusive to the app, such as new arrivals hitting there first, has really helped. For TED, getting users to see interesting content and offering features that provide value during video playback that are easy to figure out has been a winning strategy. Cleanly's focus is incredible user experience including features like an in-app wallet with pre-buy credits, membership, and rewards.
Another hot topic was balancing relevance with messaging frequency, so as not to oversaturate users. TED and Cleanly led an interesting discussion on that balance — and how they got it just right.
Cody from TED shared how messaging overload is different on iOS than Android. When it comes to Android, sending more messages doesn't necessarily lead to uninstalls, and the app successfully persuaded users to opt into more frequent messaging. But on iOS, when TED experimented with similar efforts, there was a higher instance of users who opted out completely. Due to this, TED A/B tested an increased message volume for about a month and observed what happened. On Android, when TED decreased messaging frequency, it saw no change in uninstalls or unsubscribes, but lower engagement. On iOS, when TED increased frequency, it experienced more opt-outs, but not much more engagement.
Cleanly kept messaging in check by reaching out at a weekly frequency through email and push, corresponding to customer usage. SMS isn't used as frequently, about monthly instead, to respect users' privacy and preferences. Cleanly also personalizes its services based on usage — for instance, showing alteration services only to ie: alterations frequent dry cleaning users.
The panel wrapped up their engaging discussion by bringing up what the future of mobile looks like.
Jonathan from Rent the Runway shared that more experiences will take place outside of the app, so we'll see more integrations with voice (i.e. Alexa and Google Home), audio (Airpods have really normalized those interactions), Apple Watch, etc. Our phone is how we do certain tasks, but more peripheral tasks are occurring on these other devices. Marketers' new challenge is to make those interactions useful, meaningful, and give value back to users.
Cody from TED believes societal issues related to tech addiction and destructive habits will get more mainstream attention. The conversation about tech addiction has been a hot topic in the industry lately, especially recently with the launch of iOS 12 and screen time, but the incentives of any business unit or product manager are still to increase addictiveness, engagement, revenue. This started within the design industry as responsible design. Cody hopes to see this topic discussed more at thought leadership events and also how it's possible to succeed within third-party services that aim to limit mobile use.
I can't tell you how captivating this panel was. As a Field Marketer, I'm looking forward to bringing more events like this to NYC. And don't worry we aren't forgetting Amsterdam, Berlin, San Francisco, London, Singapore, and other cities throughout the year. We want you to know Leanplum events are where you will be learning and networking with the best in the industry. Till next time!
PS – Visit us on May 1-2 at MAU 2019, booth #300. Learn more about the events we will be hosting around the event here.

—
Leanplum is a mobile engagement platform that helps forward-looking brands like Grab, Tinder, and Tesco meet the real-time needs of their customers. Schedule your personalized demo here.