Make 2017 the Year of Soaring Mobile App Retention [Webinar]
Earlier this week, we held our first ever joint webinar. We invited Apptentive's Red Russak, Neumob's Jay Hinman, and our own Lauren Wendland to get into the nitty-gritty of mobile app retention. In case you missed it, you can watch the full webinar here.
Mobile marketers are catching on to the importance of retention. It's not just a trend. While an AppsFlyer report found that retention remains a critical challenge in 2017, year-over-year retention rates have actually increased. App teams are realizing that this is the time to double down on retention efforts.
Still, retention remains a big problem with no simple solution. Between the three webinar participants, we each had our own thoughts (and research) on how best to tackle the issue.
The good news is that our findings are complementary. With a three-pronged approach to increasing retention, publishers can optimize even more elements of the in-app experience. Let's find out how each of these products helps mobile marketers retain more hard-earned users.
App Retention With Leanplum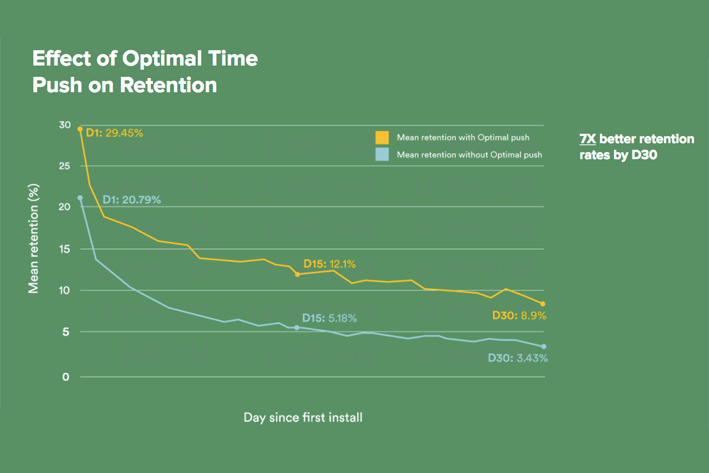 The webinar opened with our own take on retention. Several of the findings are derived from our retention report, where we found that many brands are over-spending on acquisition and under-spending on retention. We explore that idea further in a blog post on why mobile engagement matters.
So acquisition is costly, but there's no easy way to funnel money into retention. What's a marketer to do in this situation?
One of the most efficient ways to increase retention is through push notifications. It might sound simple, but apps that send any type of push notification whatsoever experience a 20 percent lift in retention rates.
Hard to imagine, right? If push notifications as a whole help apps retain 20 percent more users, imagine how effective a fully optimized push campaign would be. Based on our research, apps that use our Optimal Time algorithm rather than pre-scheduling messages at a set time enjoy an incredible 7x boost to retention.
There are many approaches to retention, but push notifications are one of the most effective. Re-engaging users before they churn helps keep your app top-of-mind, even months after the initial download.
App Retention With Apptentive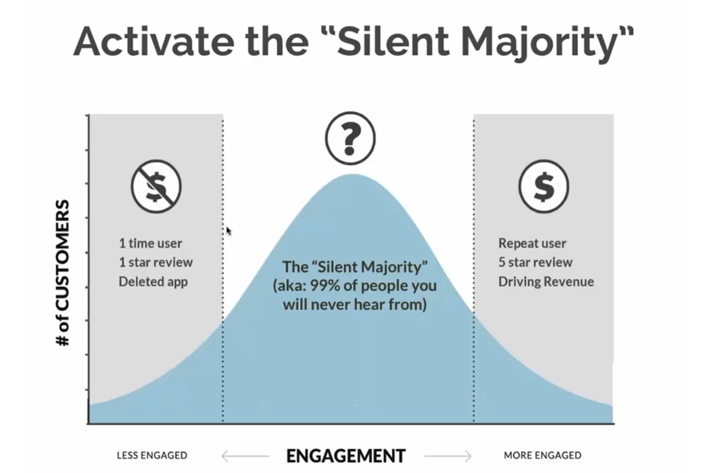 Apptentive's retention strategy differs a bit from ours. Instead of reaching out to proactively reduce churn, Apptentive's platform helps clients listen to the "silent majority" of app users.
It's an unfortunate fact that most unhappy customers will never complain. True, there are some who go out of their way to leave 1-star reviews, but most people never voice their thoughts on the apps they use. Yet listening to these unhappy users is the key to making them happy.
Asking for feedback within the app is one way to show customers that you're listening. Not only does this give your product team useful data for deciding which features to build, but it also helps contain the feedback to a more manageable space.
If a user is unhappy, the last thing you want is for them to shout their complaints in an App Store review. Keep negative opinions private by letting users speak directly to you. Some might even prefer private channels to public reviews, because there's a higher chance the company will reply.
In-app feedback forms are also great for pre-qualifying users before requesting an App Store review. It's risky to kick users out of the app for any reason, especially if it doesn't directly benefit them — so only ask for a review if you're sure the person loves the app enough to come back.
App Retention With Neumob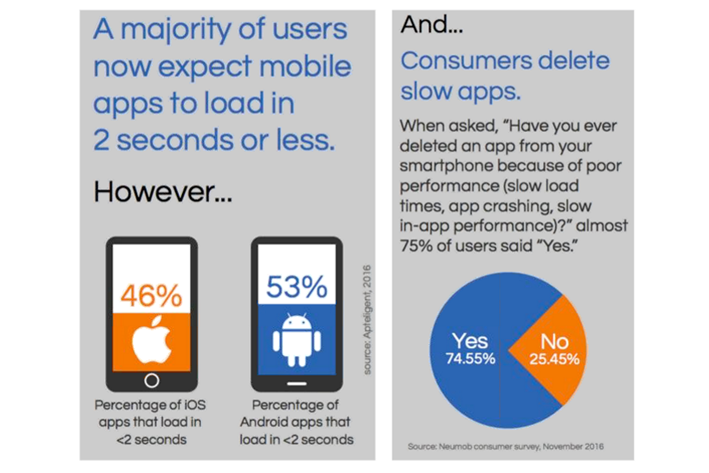 While both Apptentive and ourselves focus on the "front end" of the app — the part that users directly interact with — Neumob focuses on the back end.
According to Jay Hinman of Neumob, app performance is underappreciated for its impact on the user experience. Neumob's findings show that the majority of users expect stellar performance from their apps. That means fast load times and no crashes. And yet, roughly half of the apps on the market don't meet the average user's speed expectations.
Neumob's solution is a technical one. By accelerating third-party API calls, apps can improve performance without sacrificing data collection.
Publishers often install SDKs to better measure their app performance. Examples include marketing platforms like ourselves and Apptentive, or advertising attribution platforms like AppsFlyer. But each SDK represents yet another external server the app must connect to before it loads. These external integrations are vital for business, but they can hamper the user experience.
Neumob's solution to better retention is to improve the in-app experience by decreasing load times. It's simple but effective. The company employs a suite of technology, such as a proprietary transfer protocol and content caching, to speed up load times across the app. Unlike traditional web CDNs, these optimizations improve third-party API calls in addition to first-party app content.
Preparing for Better App Retention in 2017
We hope this recap has prepared you for the app retention challenges in the year to come. Once again, it's not too late to watch the webinar in full.
While there's no single solution to the retention problem, it's comforting to know that a multi-faceted approach will have a real impact on results. From keeping users engaged to optimizing the in-app experience, there's a lot that publishers can do to minimize churn — but it all starts with having the right tools.
—
Leanplum is building the marketing cloud for the mobile era. Our integrated solution delivers meaningful engagement across messaging and the in-app experience. We work with top brands such as Tinder, Tesco, and Lyft. Schedule your personalized demo here.