Mo' Money, Less Problems. How App Retention Affects ROI
Retention matters, and it matters a lot. In Leanplum's latest data science report, Retention, Revealed: The Need-to-Know Facts Behind App Retention & ROI, we dove into how mobile app publishers can make the most of their users.
The average CPI (cost-per-install) is roughly $2/user. Traditionally, this is one of the key metrics that mobile teams look at when evaluating their performance. Consider the following chart for a comparison of the average CPI on Android and iOS.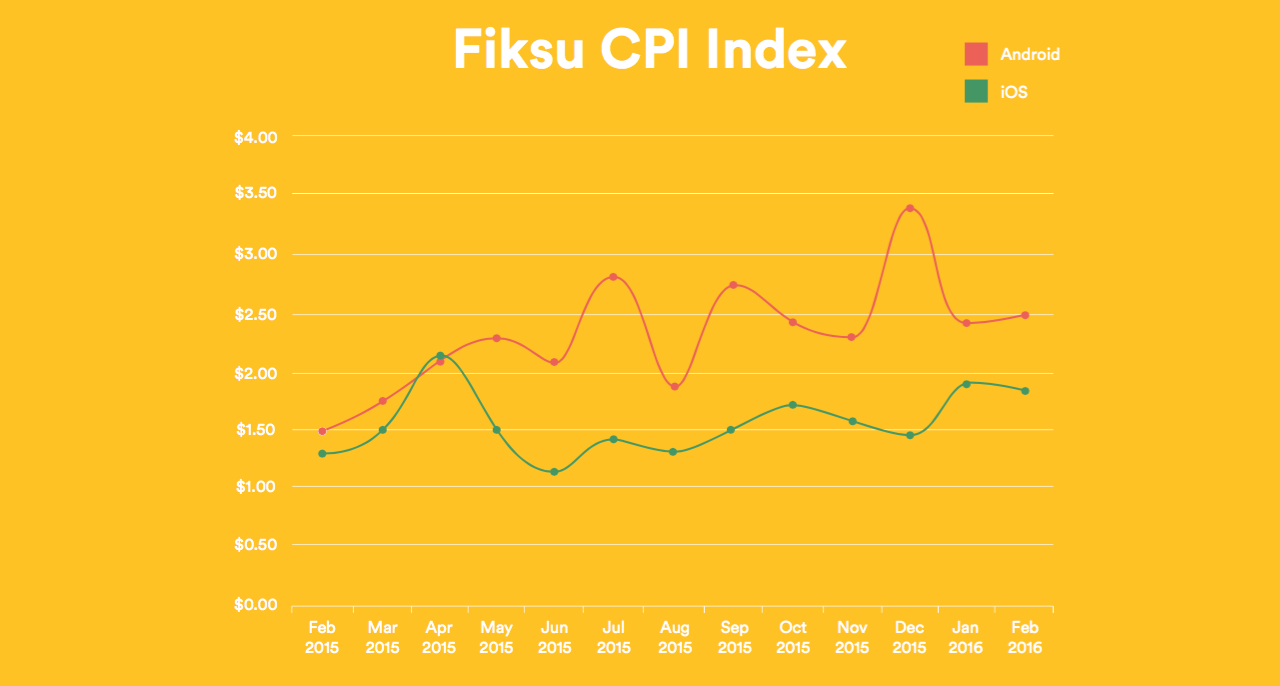 Average CPIs for mobile apps, according to Fiksu.
Compared to CPI, retention is difficult to quantify. How much is a single user worth over his or her lifetime? It's easy to break down the cost of acquisition and the average revenue generated per user, but it's harder to determine the ROI of retention. Anyone can claim that retention matters, but without the data to back it up, would any mobile team change their strategy?
That's why we delved into ROI in our report. By using leading apps as a reference point, we identified how much revenue could be generated with a higher retention rate.
Recap: How Much Retention Are Apps Missing Out On?
Our data science report found that one channel has a disproportionately large impact on user retention: push notifications.
Just how important are push notifications to retention? We found that the mere act of sending push notifications gave apps a 20 percent higher retention rate. Behavior-based push notifications enjoyed an extra 0.5 percent of retention on top of that.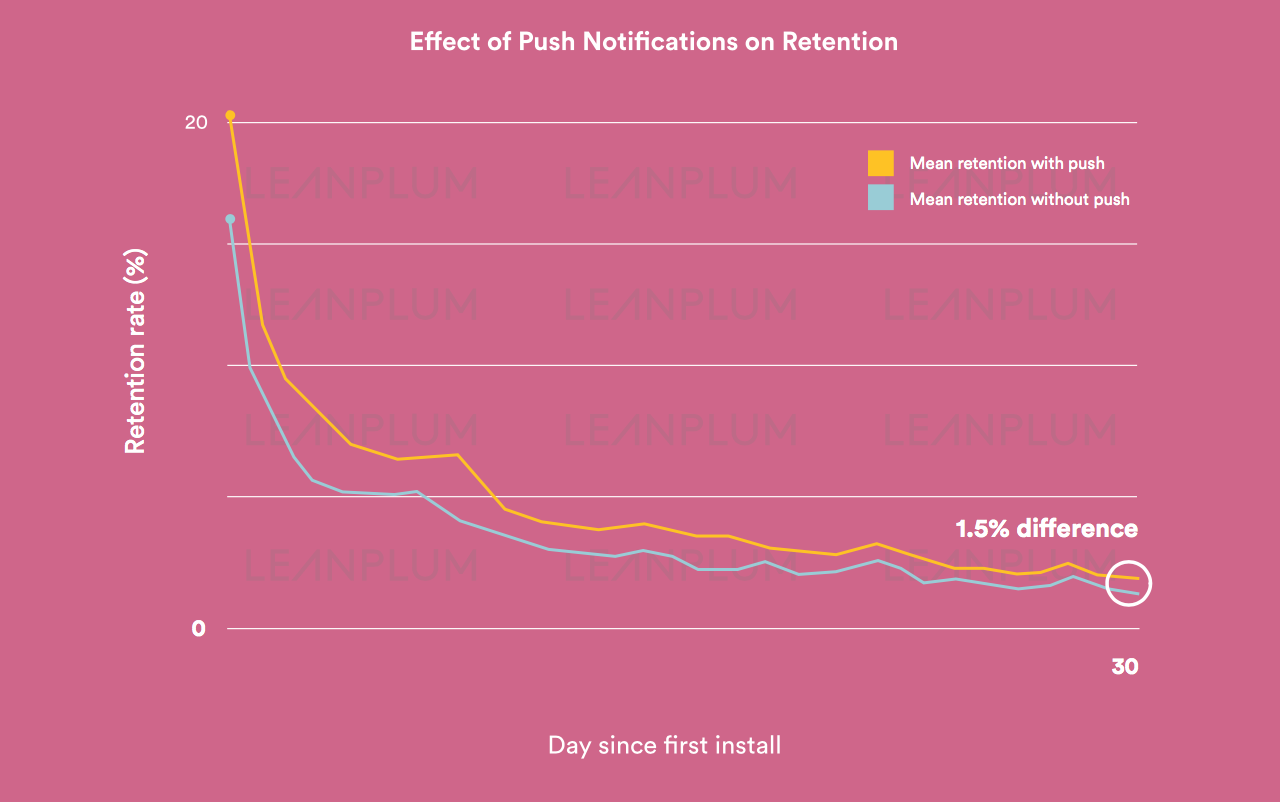 The effects of push notifications on retention.
Our biggest discovery was that our Optimal Time algorithm provided an even bigger boost to retention than personalization. Over the first 30 days, the average retention rate of apps that sent push notifications using Optimal Time versus apps that didn't was almost 7x higher.
Let's break these numbers down to understand why retention matters for your ROI.
What 20% More Retention Means in Revenue
What does a 20 percent increase in retention mean for different apps? Let's look at the immensely popular Pokémon GO. The game saw 75MM downloads in a number of days. We can pull from the day seven retention rate — 8.07 percent — and assume that Pokémon GO includes push notifications as part of their engagement strategy. As a result, Pokemon Go is capable of retaining an extra 1,210,500 players at day 15. Capturing these additional users by day 15 means you have a good opportunity to retain them for the remainder of their app lifetime.
Adopting push notifications in your mobile marketing arsenal can impact how users interact with your app over the course of their lifetime. You increase retention and preserve your financial investment in app installs.
Translating 7x Retention to Revenue
According to Mobile Commerce Daily, Target's Cartwheel app had more than 25MM downloads and earned over $3B in revenue. Drawing from the aforementioned numbers, we estimate that Target could retain an extra 1.74MM users if it used Optimal Time.
If Target used Optimal Time push notifications as part of its messaging strategy, it would have the potential to retain 1.74MM more users and earn an extra $209MM in revenue over the app's lifetime. This is a substantial gain for such an easy tactic.
It's clear that personalization is a key element to driving higher engagement with app users, but of course there are many factors to consider, including platform, content, and delivery type. A/B testing to experiment with the right combination of message and content will ensure greater app engagement and ROI.
More Retention Means More ROI
It's clear that the key to more revenue with less investment lies in retention. While so many app managers focus on "growth hacking" their app to success, the data proves it's time for the spotlight to shift to retention hacking.  
If you're not convinced, Forbes analyzed the effect of retention on revenue in a report. It noted, "According to Bain and Co., a five percent increase in customer retention can increase a company's profitability by 75 percent. And if those numbers don't impress you, Gartner Group statistics tell us that 80 percent of your company's future revenue will come from just 20 percent of your existing customers."
What Strategies Can Mobile Teams Use to Increase Retention?
Successful retention hacking requires an integrated effort. Push notifications might be the big-picture solution, but a well-designed messaging campaign requires coordination on multiple levels.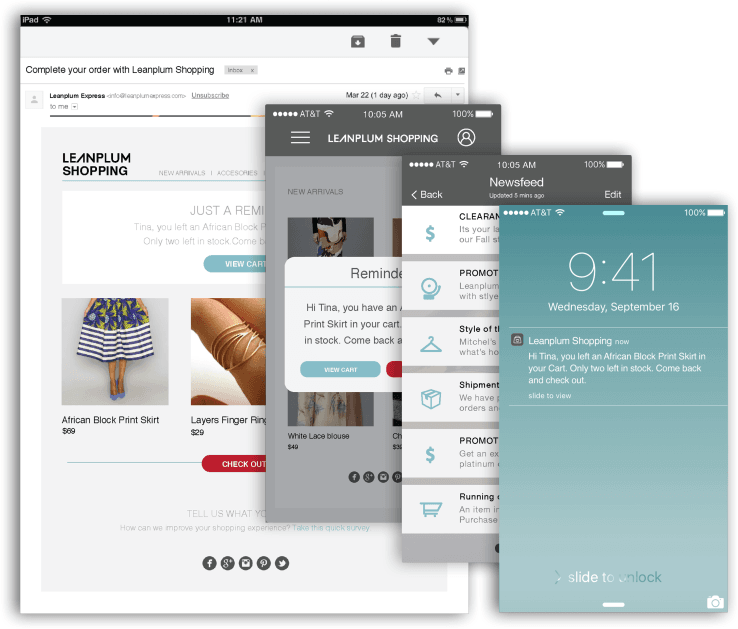 Use Leanplum's multichannel messaging to increase retention.
Read our data science report to discover more strategies to power your messaging. With the right combination of A/B testing, personalized content, and sophisticated lifecycle campaigns, you'll increase your return on your acquisition dollars in no time.