Measuring the Impact of ASO? Read This First
App Store Optimization (ASO) has become quite a hot topic over the past few years. In fact, ASO has evolved from a simple marketing task to a dedicated team of professionals within marketing, growth, or product departments.
ASO is the process of improving the discoverability and conversion rate of a mobile app in an app store. Improving discoverability has more to do with optimizing keywords so that app store users can easily find an app. On the other hand, increasing conversions involves optimizing app store marketing assets in a way that resonates with the user so that when users land on a Product Page, that app is perceived as the solution they are looking for.
So why has this niche topic become so big?
Adam Rakib, co-founder and VP of Business Development at StoreMaven, says that it's largely a result of the fact that companies are now able to measure the Return on Investment (ROI) for their ASO efforts.
He explains that not too long ago, measuring the impact of keyword and creative changes was nearly impossible and involved a lot of assumptions. Now, backed by data, you are able to accurately monitor conversion rates and growth from organic channels. You are also able to see your organic traffic attribution and measure the impact of keyword and creative asset changes.  
As mentioned above, ASO namely involves app store creative experimentation and keywords optimization. For iOS, A/B testing is done on platforms like StoreMaven, which provides a sandbox to test performance before uploading changes to the real store. On Google Play, in addition to platforms that provide a sandbox for testing, developers can also leverage Google Play Experiments, which further allows developers to run A/B tests on their store listing.
The big question is, after experimentation and applying winning creatives to your actual store, what is the best way to accurately measure the impact of your ASO efforts?
Unfortunately, measuring the ROI for ASO is not as straightforward as you may think, but this article will cover best practices and point to key resources for additional assistance.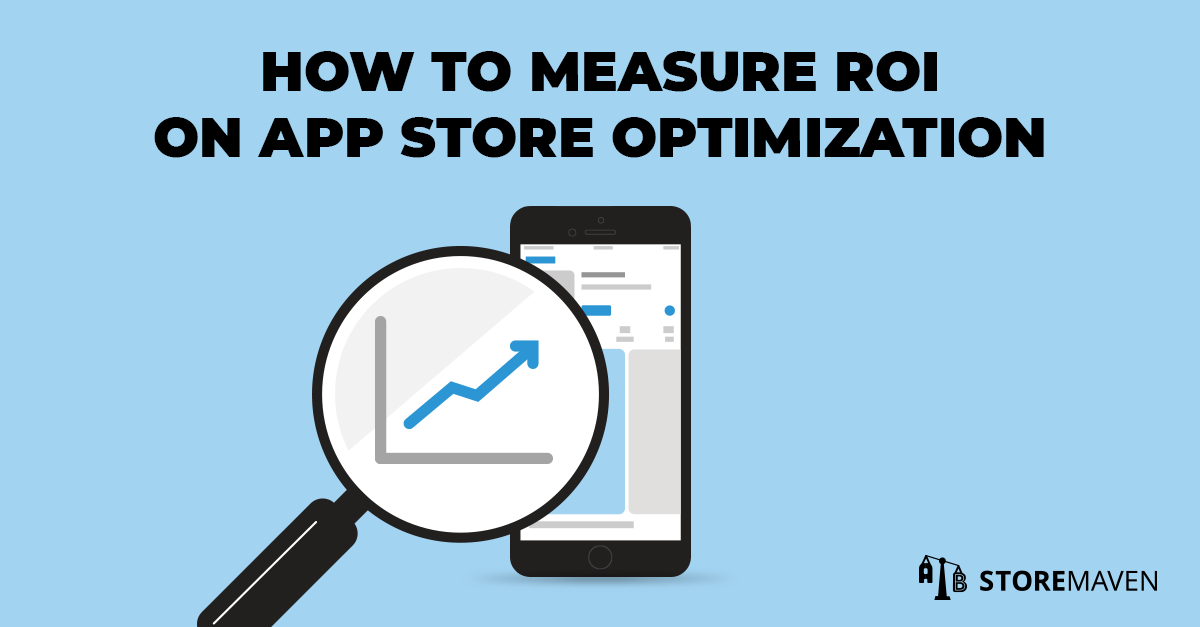 Challenges in Measuring the Impact of ASO
It's difficult to attribute your app marketing performance to your ASO efforts for a number of reasons — the most obvious being that your broader acquisition strategy generally includes numerous marketing initiatives (e.g., TV, billboards, paid campaigns, optimizing app store content and metadata, etcetera). Monitoring aggregated conversion rates and Product Page views is often very misleading.
For this reason, it is crucial that you isolate the factors that potentially move the needle for each traffic source.
Here are some examples of why it is important to segment by traffic source for analysis:
In terms of

search traffic

, keyword optimization and paid search ads within app stores can impact your entire search funnel (i.e., impressions, page views, and installs) but will not impact your browse and referral traffic.

In terms of

browse traffic

, being featured (in Google Play and/or the iOS App Store) will significantly impact the number of installs from users that randomly browse the app store, but will not impact your search and referral traffic.

In terms of

referral traffic

, optimizing the creative ads used on networks where you acquire traffic will have a direct impact on the quality of your referral traffic but not necessarily impact your search or browse traffic. However, if you are advertising at scale these efforts can in fact impact search and browse traffic, since building brand awareness will naturally increase the number of people who look for your app. Hence, it's important to understand the correlation between spending more on ads and your "organic" installs.
Before we dive in further, let's take a quick look at the potential impact of ASO across these traffic sources…
Now that you have a basic understanding of the isolating factors that can impact each traffic source, and the potential lifts per channel, let's review the tools available for the most accurate measurement and analysis.
How to Measure ROI on ASO
The only accurate way to run a pre-post analysis on the impact of ASO is to segment traffic by search, browse, and referral sources.
In Google, you are only able to separate organic traffic (i.e., search and browse traffic) from paid traffic in your analysis. But they do offer the unique possibility to use Google Play store listing experiments to A/B test winning-sandbox creatives in the live store for your real traffic source blend. While a pre-post analysis is more difficult due to the lack of segmentation capabilities, Google Experiments will conclude your A/B test with 90 percent statistical confidence, which provides solid evidence for how different marketing assets change user behavior.
While the Apple App Store doesn't provide A/B testing on your live store, they did make a significant update to App Analytics in iTunes Connect last year, that goes one step further in providing solid proof on how your sandbox-tested creatives perform in the real store. iTunes Connect now allows you to segment your traffic by search, browse, and referral sources. This affords you the opportunity to isolate factors that can impact each traffic source — making it easier than ever before to measure the precise ROI of your ASO efforts.
While App Analytics on iTunes Connect is included with the Apple Development Program membership, most developers are unaware of their access to this important ASO tool, much less know how to leverage it. For a step-by-step guide on how to use iTunes Connect to measure the ROI of ASO, you can download our free eBook below (Disclaimer: it's gated but totally worth the download)!
If you have questions, feel free to reach out info@storemaven.com.