The Winning Strategies Behind Jump Ramp Games, Boxed & Grailed
As a New Yorker, I've quickly learned: when invited to a rooftop… always accept.
This past Wednesday evening was our semi-annual Mobile Movers and Shakers Event. The event brought together mobile leaders from the top brands, such as Tinder, Foursquare, NBC, Business Insider, American Express, Macy's, and Equinox. As well as upstart brands starting to make a name for themselves, like GroundLink, MealPal, and Seated (my app of choice right now that I can't stop blabbing about — someone even overheard me bragging about it at a networking lunch this week and asked me to repeat the name).  
The event commenced with delicious hors-d'oeuvres, vibrant cocktails, and — I'd be remiss not to mention — #litaf Instagram stories. Because if you attend a rooftop party in NYC and don't throw it on the 'Gram, were you actually even there?
Once the starters, drinks, and Instas were a-flowing, we gathered all of the attendees for the fireside chat of the evening, jam-packed with golden nuggets of value.
Our panelists included:
The hyper-passionate and creative

Alex Tarrand

, Vice President of Marketing at

Jump Ramp Games

, which pushes the boundaries of liveops through dynamic contests and a live streaming in-app game show.

Allie Donovan

, the insightful and delightful Director of CRM & Retention for

Boxed

, a membership-free wholesale retailer for bulk-sized packages.

The legendary

Adam Fraser

, Head of Mobile Development for

Grailed

, a high-end, curated community marketplace for men's clothing.
Because all of our panelists' names started with the letter "A", the crowd started to refer to them as the Triple As. But believe us when we tell you that the value they provided was major league, (even All-Star quality).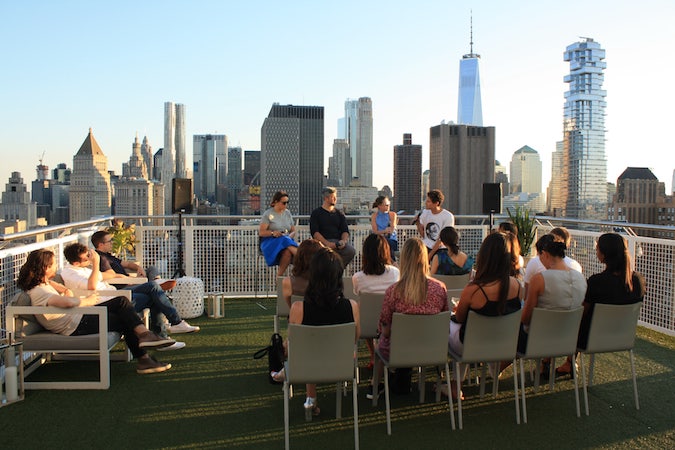 What does mobile mean to you?
Alex: We use mobile for sponsorships, sweepstakes opportunities, and streaming — as a pure engagement play (meaning no monetization) — so that we can build an audience base that we can migrate to other properties. To us, mobile is the home for a bunch of other initiatives.
Allie: Mobile is just one part of our strategy. When buying online, you're not necessarily buying across one channel —  especially when you're buying in bulk. If you're on the go and you forget about something, you can add it to your cart on mobile and then check out on web. It's really about making the process as seamless as possible. It's easy to drive traffic from Facebook and other acquisition sources, but it doesn't necessarily always lead to conversions, so that's why we don't rely solely on one channel.
Adam: Mobile is essential for us in terms of engagement. It helps us retain our users organically and is fundamental for buyers and sellers to communicate. Users are in the pocket of whom they're talking to, which is massive for our business.
What do your users expect out of their mobile experience?
Alex: We tend to have a younger audience. This forced us to offer bite-sized, digestible content as part of a user's normal in-app behavior. We changed our game show from 15 minutes (which was painfully long for Millennials) to between 30 seconds and two minutes.
Allie: Convenience is super important for our customers, especially in terms of the payment process. We needed to make it as easy as possible because any friction will lead them to purchase elsewhere. Take Apple Pay — it freaked me out how easy it was the first time I used it. It really helps conversions.
Adam: We have a large content piece in our app. Our users are exclusively Millennials, so we do a lot around fashion blogging and tying that into the platforms that users look at, like Instagram and Snapchat. We keep the brand consistent on every channel, delivering content that's relevant to users.
How do you keep in touch with users' interests?
Alex: We do a combo of aggregated data and user testing. A few months back, we did "fake whiskey tasting," and had the founders drink whiskey to cope while we gave them punishing feedback. It was invaluable. One person gave us seven minutes of nice remarks and then at the end some incredibly helpful yet critical feedback. We wouldn't have been able to get that feedback unless we asked for it.
Allie: We talk to a lot of young people around our office and ask open-ended questions, their feedback, what they enjoy using. It's much quicker than long-form surveys.
Adam: One of the big issues we deal with is curating our marketplace. Our community has many loyal "power-users" all over the world who have unique styles. We ask them to help curate — giving them this power keeps them up-to-date with trends, and in turn helps us know what's going on.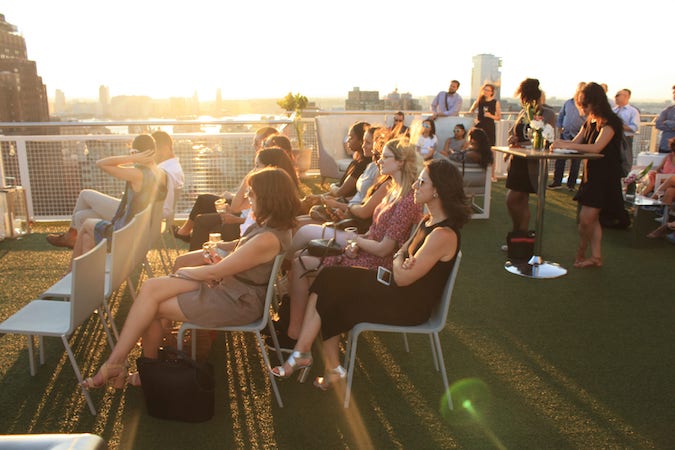 What does the future of mobile engagement look like to you?
Alex: We use machine learning to hyper-segment our audience and deliver custom messages without our involvement. Yes, it causes anxiety at first, but it helps us focus on creating really interesting content.
Allie: We do personalization across — not only mobile — but every channel. Everything must be consistent, so our customers see us as one brand with one message. We segment based on different buying behaviors, like who shops frequently and who doesn't.
Adam: Our sellers are much stickier than buyers. You have much more incentive to come back to the app when four or five people are talking to you daily, so there's a natural value-add for that audience. Therefore, buyer retention is a big focus — we try to recommend things that buyers didn't know they'd be interested in. People come to browse often, so making it relevant and showing them things that they might find cool (filtering feeds) is big for us. As we get smarter with our data, being able to filter out noise is the biggest challenge.
How do you balance personalization without being creepy?
Allie: Users expect personalization. They know you collect data and we have to live up to their expectations. At Boxed, we have an incredible data science team. They built an in-house solution called "Smart Stock Up," which predicts when consumers need to restock. If they need to buy a product every six months, it will recommend that product in that timeline. It's smart enough to know that some items don't need replacing — you don't need to buy coat hangers every two months — so it filters out those items. It's all about delivering a helpful and personalized message to customers throughout their journey.
You all have great app reviews. Why? How do you stay in touch with user needs?
Alex: We run multivariate tests for our ratings prompt — next week, we're going to experiment with gamifying it, hosting a pop-up with a question asking how many *NSYNC members there are (everyone always forgets poor Chris). We'll reward you for a correct answer, then trigger an in-app message asking for a five-star review. Even if it's the same kind of rewarded content, if we present a new mechanic, our audience reacts favorably — in this case, giving us positive ratings.
Allie: I advise getting to the bottom of what is an actual issue. Look deeper in reviews beyond one angry use who went on a rant. Also, note what users love. Keep things fresh and understand what they're looking for at the right time.
Adam: Prompting users to leave reviews at the right time is huge. Once they buy something, they are happier about the app, so ask after key moments like purchases. To minimize negative reviews, keep a pulse on social media and check in with your customer support team.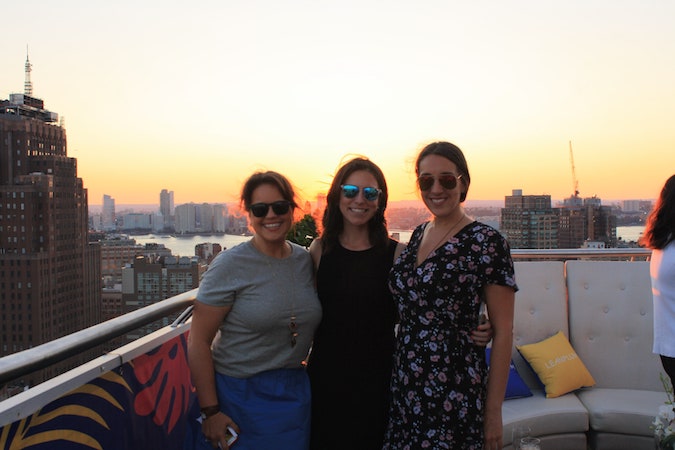 What's the most effective channel and frequency for engaging your users?
Alex: The in-app experience is also a channel. Making that fun has been a big goal as of late. If users know they are coming into an app experience that is positive, that aids retention.
Allie: Push is an amazing channel and I think it's completely underutilized. We've sent multiple push notifications in one day. If the experience is good and it's something people find valuable, multiple messages are successful. It's the wasteful messages that get poor results.
Adam: Some of our users get 20 push notifications a day — but messages are super relevant. In our case, it works. Millennials want to know as soon as something happens. If we don't tell them right away, they get mad for missing out.
What creates stickiness in the first three months after acquisition, to build customer loyalty?
Alex: Find patterns of what sticky users did and work around that. Don't go first from the "Aha!" moment straight to pushing for checkout. Instead, lead them toward simple yet incremental milestones. Get them to favorite an item, then send offers for that product — don't just force conversion right off the bat.
Allie: Listen to customers and understand what they're looking for. The more personalized we get, the more successful we are. For example, if you buy milk, you will probably buy Oreos. (Or maybe just me!)
What do you think about the future of your tech stack and what business issues it will solve?
Allie: Sadly, building our own tech in-house creates silos. Bringing all that technology together, and making every department work together, is essential. As a company, we need to be one voice. One thing we're proud of: Most of our partners have the same checkout process, so customers remember where they came from, which keeps them loyal and sticky.
Adam: Iteration on product speed is big for us, especially with limited engineering resources. Each platform we operate on — web, iOS, and Android — gives us different challenges. For example, how do we deal with different platforms and in different regions, without having to duplicate engineering work? Learning how to use developer time wisely is major.
Don't Miss What's Next
Craving more great content? Check out our webinar with IMVU, Hooks & Aha Moments: The Future of Mobile Customer Engagement, which dives deeper into app engagement.

—
Leanplum is the mobile marketing platform built for engagement. We help brands like Tinder, Grab, Tesco, and Zynga orchestrate multi-channel campaigns — from messaging to the in-app experience — all from a single, integrated platform. Schedule your personalized demo here.