Ask An Engineer: A Q&A With Girls Who Code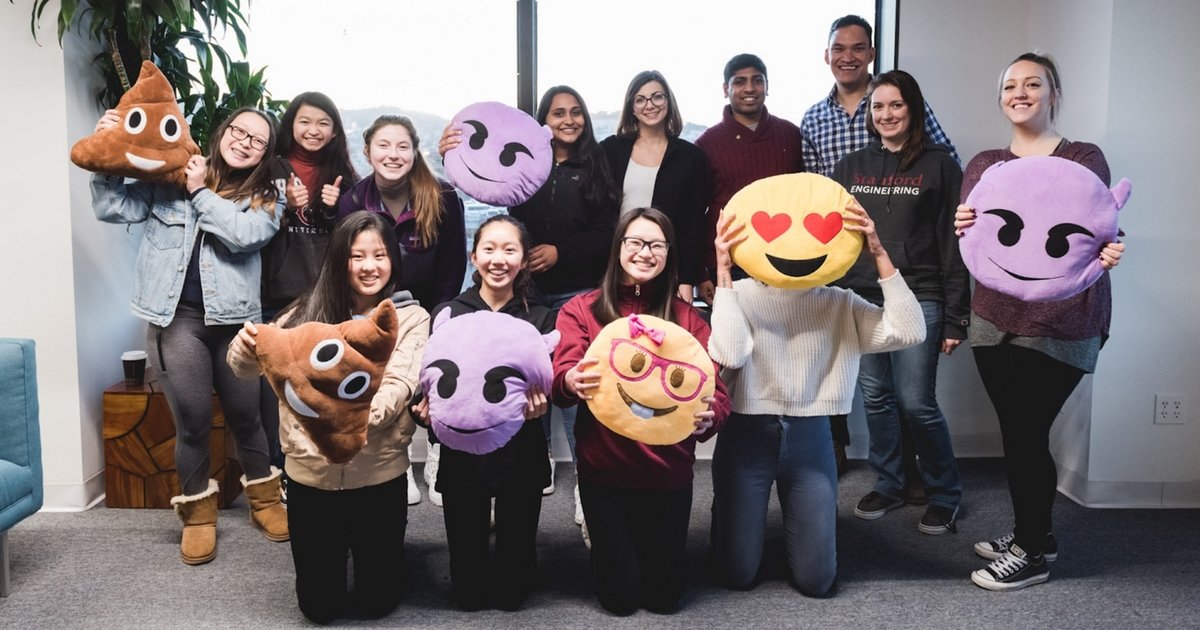 Last week, 8 girls from the Girls Who Code San Mateo chapter crowded into the common space of the Leanplum San Francisco office for a Q&A with our engineers. The panel included Billy Grissom, Senior Software Engineer; Tatiana Norman, Technical Program Manager; Sayaan Saha, Software Engineer; and Corinne Horn, Machine Learning Scientist.
Girls Who Code is a nonprofit organization that aims to support and increase the number of women in computer science. All the girls in attendance were high-school-aged and interested in pursuing a career in software development. Eager to learn from experienced engineers, the girls asked many questions about the challenges and benefits of working in the field, as well as the realities of being a woman in a predominantly male industry.
Q&A Panel Highlights
Note: Answers from Leanplum's engineering team have been condensed for clarity.
What motivated you to pursue a career in computer science?
Sayaan: I really like software because I get to build stuff. Having something I built go live or into production is an extremely rewarding feeling — your contributions are truly visible in an organization.
Tatiana: I didn't become interested in computer science until I was in college, where I worked closely with technical teams in a variety of internships. I liked the "building" aspect of the field, as well as the constant planning and optimizing that goes into day-to-day work. After college, I got my Masters in Computer Science and Engineering. I wish I would have done it much, much earlier.
Corinne: I've loved math and science since high school, and have always loved doing puzzles. In my higher education, I pursued electrical engineering — the degree which had the most puzzles. Coding is a fun way to express that interest.
Billy: I started [computer science] in high school. I had just moved from Atlanta to Sacramento and began freshman year with zero friends. What that resulted in was retreating into the computer lab, where I discovered Photoshop and got really into graphics. That evolved into writing scripts for Photoshop, writing video games, and to where I am now. I really like the creating aspect of computer science as well.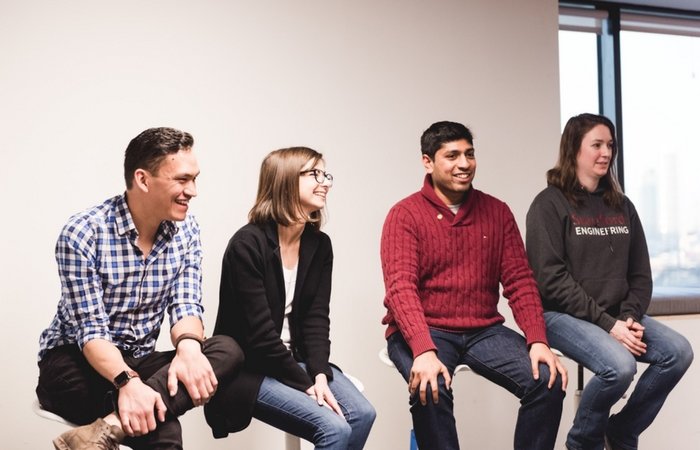 From left to right: Billy Grissom, Tatiana Norman, Sayaan Saha, and Corinne Horn
What's the hardest part about getting a job in computer science?
Billy: The interviews are hard. Even if you know the answers, it's definitely an interesting confidence exercise to code something on a whiteboard while being quizzed about it constantly. It takes practice.
Sayaan: To add on to that, some people aren't good test takers. It's a common problem we see in interviews — people get nervous and don't perform to their ability. To reiterate what Billy said, practice, practice, practice.
Why did you choose Leanplum?
Tatiana: The reason why I chose Leanplum over a big tech company is because I knew I would be able to forge my own path and grow in my career. So far, I haven't been disappointed.
Billy: I second that. I did my time at a lot of big companies like Leapfrog, Apple, Amazon, Twitch, and Glassdoor. I eventually ended up here. The growth opportunity has been really awesome. A really big part of why I chose Leanplum too is the culture. It definitely feels like a big family. Oh, and the dogs.
Sayaan: The whole time I've been here, I've been arm's-length away from our co-founders. It still blows me away how accessible and amazing they are. They aren't just these elusive titles — they are people I see everyday and interact with constantly.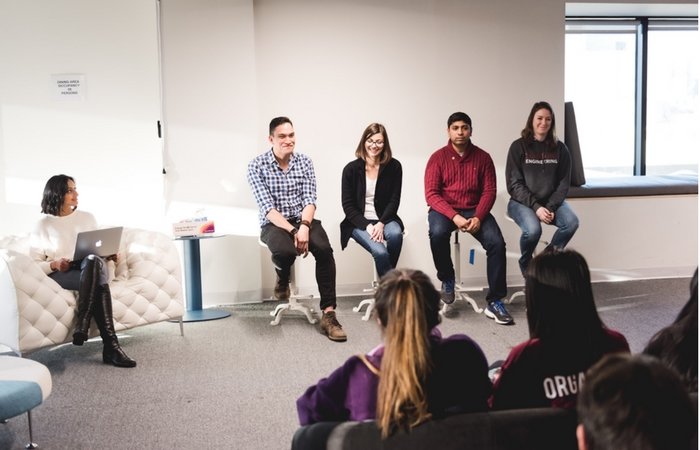 What are crucial qualities to achieve success in the computer science field?
Billy: I would say passion and doing what you love is what motivates you at the end of the day. The more passionate you are about something, the more you want to iterate, and the more you will improve.
Sayaan: Having intellectual curiosity, or being curious in general. A cool thing about software is that it's constantly changing. Being the personality that always wants to learn something new will always positive in this industry.
Corinne: Not letting yourself get discouraged. The world is full of challenges — especially for women in tech. If computer science is something you want to do and you like doing it, working hard and charging forward despite obstacles will pay off.
Tatiana: Being able to seek out and tackle new challenges that will be beneficial to you or your team. Maybe you're not an expert at a particular type of technology, and your job doesn't give you the opportunity to try something now. Figure out a way to do it! The "I can do it" drive is something that has been really helpful to me personally.
Any advice for aspiring programmers?
Sayaan: The nitty gritty of day-to-day work can make you lose track of what excites you about software. Take some time to pursue personal projects that reminds you of why you do what you do. I was searching for flights to Mexico one day, and wrote a script that queried a Google API to check flight prices. Though I only did this to get a cheap flight, being capable of doing it reminded me of why I love software.
Corinne: Building on that, take some time to make those side projects public-facing. Once you get your work out there, you will become incredibly marketable.
Tatiana: There's a stigma in our industry that tech people aren't very friendly, or don't know how to talk to people. Technology, as much as any other industry, is all about the people you work with and being a member of a team. Also, if something scares you, then that should be the first thing you do.
Corinne: And don't be afraid of failure. Treasure the lessons you learn from them. Never stop yourself from doing something because you are afraid to fail.
Billy: There are still so many exciting discoveries to be made in tech. Explore it! If you get stuck, reach out to community and collaborate. Move forward together.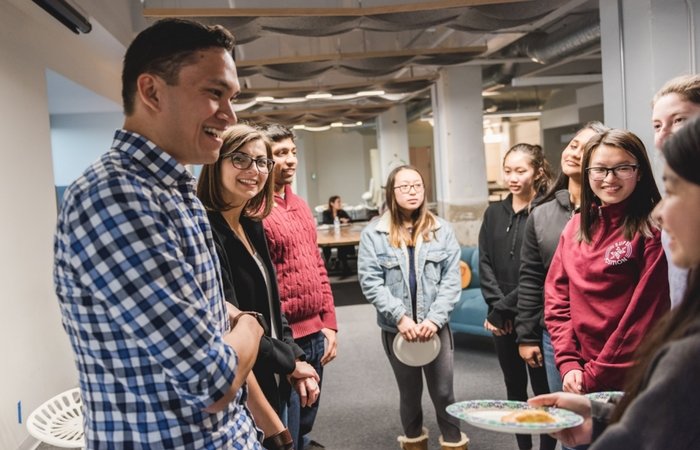 For the girls — what are the challenges of being a woman in a predominantly male field?
Corinne: The biggest challenge for me is understanding which difficulties I encounter are attributable to being a woman, and which are not. Since I've always been in the math and science fields, I am already used to being the only woman in the room.
Tatiana: I always try to assume, or pretend, that challenges are not based on my gender. I simply think of myself as a contributing member to a team. It's interesting, because when you're in a predominantly male field as long as we have been, you stop noticing that you are the only woman in the room. My advice is to not let it be something you think about. At the end of the day, technology is merit-based. If you're good at it and passionate about it, you'll succeed. If you encounter people along the way who are not treating you well, then that's not the place you want to be.
What are the benefits of being a woman in tech?
Corinne: You get to do what you love. That's the most important benefit for me.
Tatiana: I like being different. I like being the only girl in the room, and changing people's perspectives about what girls can be like.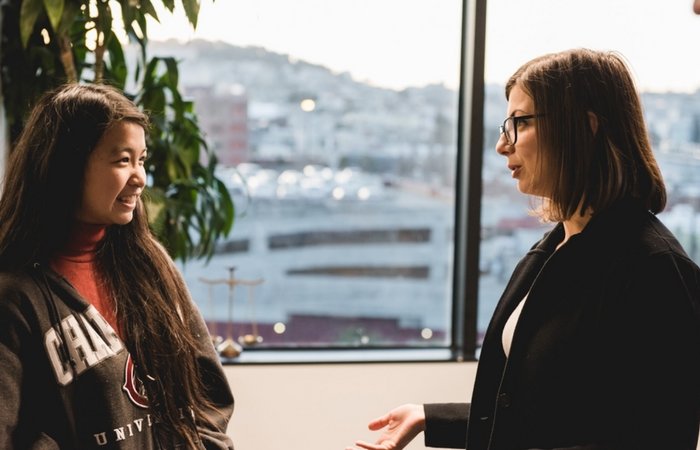 A big thank you to the Girls Who Code San Mateo chapter for submitting such thoughtful questions, and to the Leanplum team for their answers.
—
Leanplum is hiring! Explore our career opportunities here.