Exclusive Forrester Report: How to Improve Mobile Messaging
Forrester's latest report, "Mobile Messaging: Catalyst And Core Channel For Commerce," is packed full of information and advice on the future of mobile messaging. Inside, you'll learn how digital business professionals can succeed and scale.
To help digest this information, we're going to break down their report into three fundamental problems with modern mobile messaging. Then, we'll provide solutions for these problems that will send your business into the future of mobile messaging.
Problem 1: Not Utilizing Cross-Channel Messaging
Mobile experts can use messaging to serve customers in their mobile moments of need. Each unique messaging channel serves a broad base of consumers, and according to Forrester, "enterprises must rely on all communication channels to give consumers choice and improve the effectiveness of their efforts."
It's not enough to send one push notification and call it a day. Expand your messaging campaigns to fully integrate the unique advantages of push, in-app messages, app inbox, email, and SMS. The first step is to understand how your target audience uses its mobile devices. Then, define your goals and take advantage of A/B testing to determine the best channels, or combinations of channels.
Solution: Centralize your messaging efforts in one platform
Use different messaging channels to reach broader audiences or start one-on-one conversations. You can use push notifications to reach all your users at once with promotions tailored for individual users, or leverage in-app messages to ask users to provide a five-star review when they're most engaged.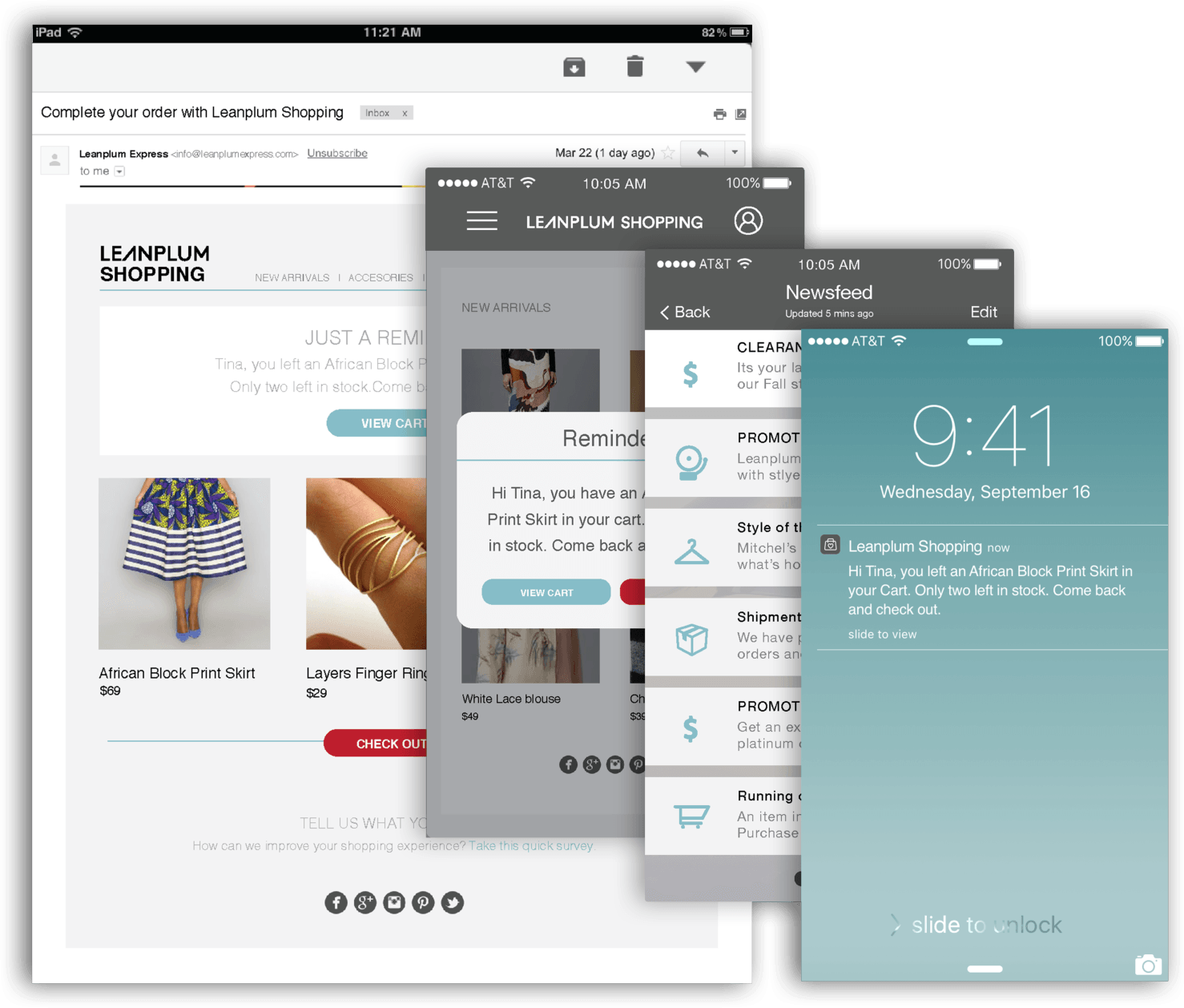 You can figure out which your most effective channel is for each of your campaigns by using an integrated A/B testing solution. You'll want a solution that gives you the freedom to test each and every aspect of your messaging campaigns.
Pro tip: increase your push notification opt-in rates with a feature like Push Pre-Permissions. Suppress the default permissions ask and wait to ask until your users are most engaged with your app. One of our customers saw push opt-ins jump 182 percent using Pre-Permissions.
Problem 2: Lack of understanding for how consumers use mobile apps
Forrester says that, "too few digital professionals have mastered the art of messaging," because they, "lack the ability to use context to engage consumers proactively." A comprehensive messaging strategy requires intelligent insights and rich data. Without analytics, your mobile messaging will be flying blindly on hypotheses and guesswork.
Some of these basic understandings that businesses lack are: how often their users use the app, what triggers use of the app, or where they may get stuck when attempting a purchase, accessing customer service, or making a financial transaction.
According to Forrester, only 35 percent of digital business professionals use analytics to inform contextual and predictive insights.
Solution: Understand your users with analytics
To understand your users and their behavior, you need solid analytics and data to back up your campaigns.
If you're creating engaging messaging campaigns and optimizing your results with A/B testing, an automated analytics platform can measure your engagement, retention, revenue, uninstalls, and more. If you use Leanplum, we'll automatically highlight significant metric changes and automate insights so that you can see all the relevant — the good and the bad — data at once.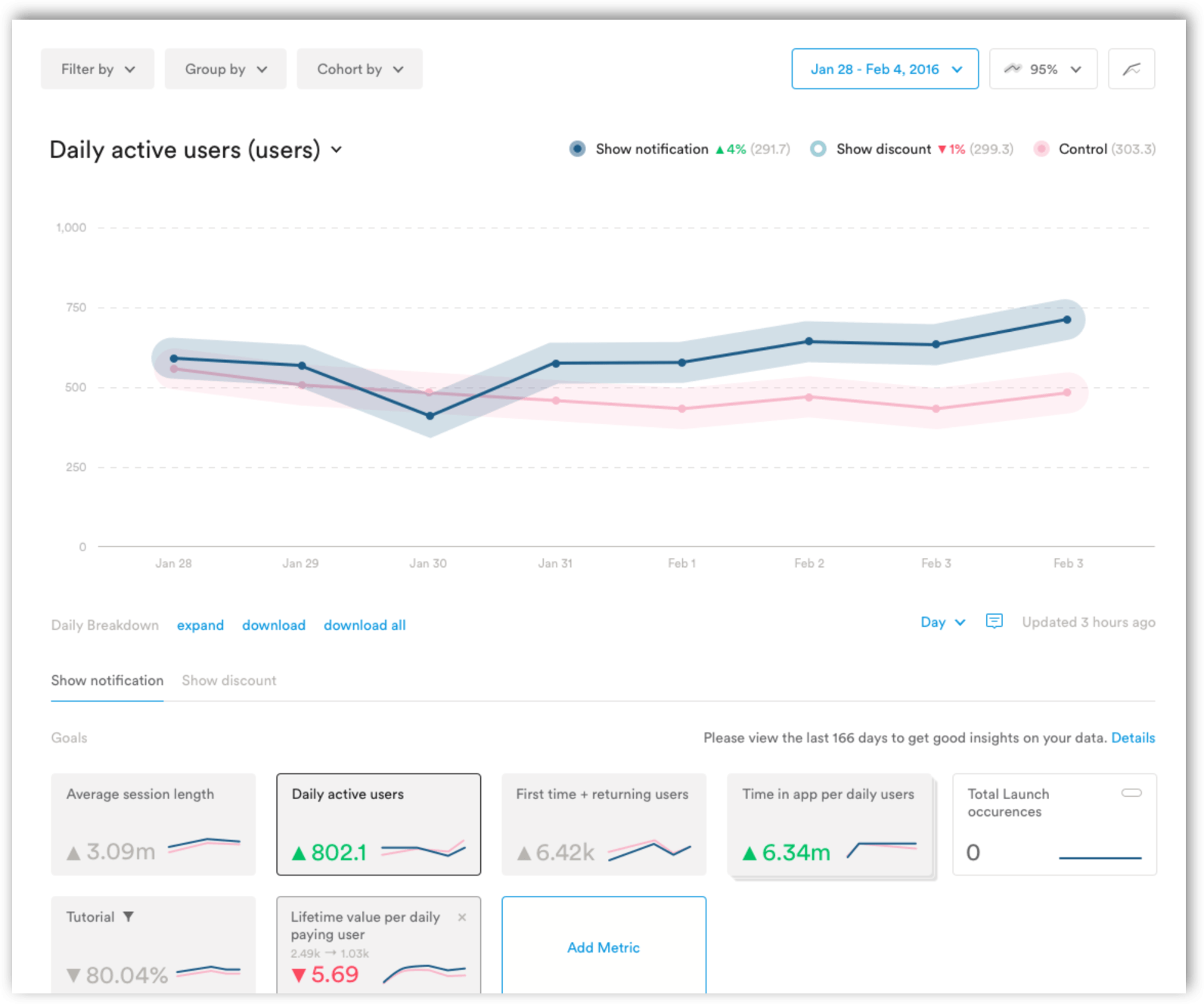 A/B testing is about tradeoffs, and there will always produce both positive and negative results. We highlight all significant changes so that can make the most informed decision possible for future campaigns and goals.
Problem 3: Building apps, but not ongoing engagement strategies
Forrester found that, "among those [digital business professionals] surveyed, 69% have an iOS app and 65% an Android app, but only 25% use push notifications." Of those that do use push notifications, an even smaller amount use automation to simplify their mobile messaging efforts.
Digital business professionals need to think of messaging as an engagement channel to reach their users with timely, relevant content.
Forrester also reported that, "every vendor interviewed reported massive increases in adoption and usage of apps and conversion within apps when enterprises employed messaging in conjunction with apps." Mobile messaging leads to increased engagement and conversions.
Solution: Automate your campaigns to maximize user engagement
You've created a messaging campaign, optimized the results through testing, examined the data to improve your future campaigns. Now, the icing on the cake is to automate your campaigns to trigger based on user behavior and data.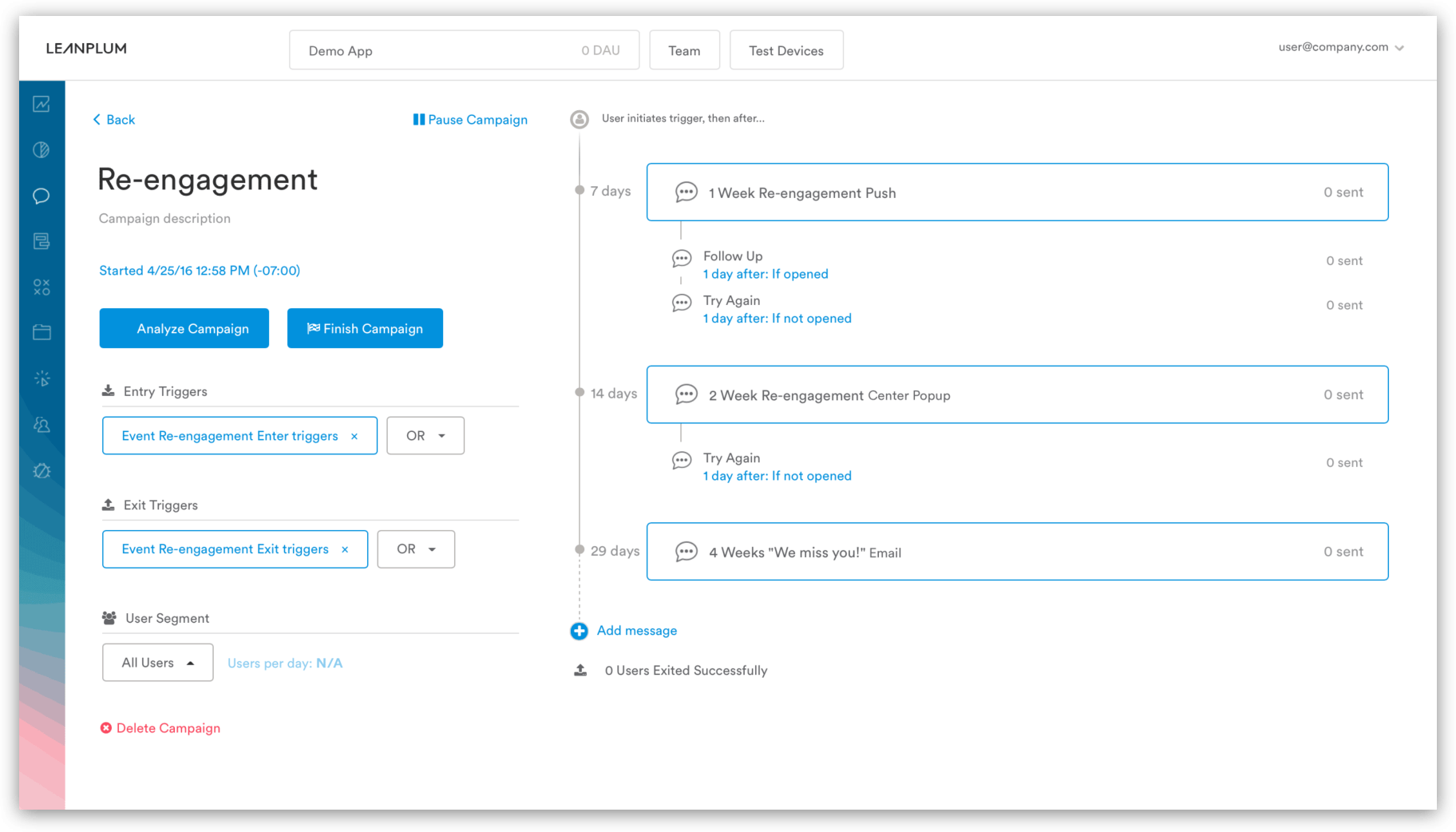 For example, it's a good idea to create an onboarding campaign to send cross-channel messages to your users in their first week after downloading. This can dramatically increase retention and user growth.
But what if your user hasn't engaged with your app in the past week?
Instead of trying to manually keep tabs on all your dormant users, you can automatically trigger a pre-determined campaign to any user that hasn't opened your app in the past seven days. Engaging with your users has never been easier.
Conclusion
Prioritizing messaging is essential to future engagement, but it's meaningless without strong analytics and automation to help you scale and engage.
Check out the full report from Forrester, and if you're interested in finding out more about how you can increase open rates by up to 800 percent by using behavior-based sends, check out our guide, "Personalize or Bust: The Impact on App Engagement."
—
Leanplum is the most complete mobile marketing platform, designed for intelligent action. Our integrated solution delivers meaningful engagement across messaging and the in-app experience. We work with top brands such as Expedia, Tesco, and Lyft.