Delta UX Analysis: Making Your In-App Experience Soar
A couple months ago, we looked at the Southwest Airlines mobile app to analyze its user experience, monetization techniques, and more. Today, we're continuing the UX Analysis series with a close look at Delta's app. The airline is one of the largest in the US, and its mobile app enables a variety of features, from flight booking to baggage tracking.
If you're ready, let's dive deep into Delta's app UX to see where it excels and where it can be improved.
First-Time User Experience
What Delta Does Well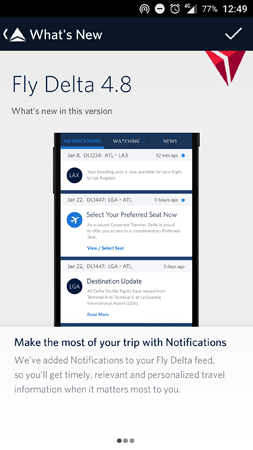 The first screen that new users see is the What's New page. The swipeable screen lets users stay on top of what's changed since the last update.
This screen is especially useful for new feature announcements. It draws attention to new app features, without disrupting users with a pop-up message. The screen is easily dismissable with a tap on the top-right check mark, yet it still delivers information for those who want it.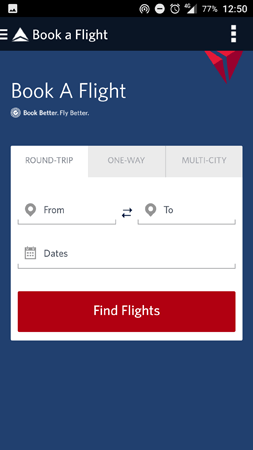 After the What's New screen, users are asked to log in. At this point, people already have an idea of what to expect from the app thanks to the list of features under What's New. After logging in (or continuing as a guest), users are finally dropped into the Book a Flight screen.
This screen is actually the app's default. It makes sense: booking a flight is the most obvious use case of the Delta app, so this functionality is impossible to miss. This provides a better UX than making the user navigate to the booking screen every time.
One Way to Improve
While the What's New screen makes perfect sense for returning users who just updated the app, it's a bit confusing for new users. Why showcase new features to new customers when they haven't even explored the app's default features yet? This can be fixed by segmenting out new users and only showing the screen to returning ones.
Main Menu
What Delta Does Well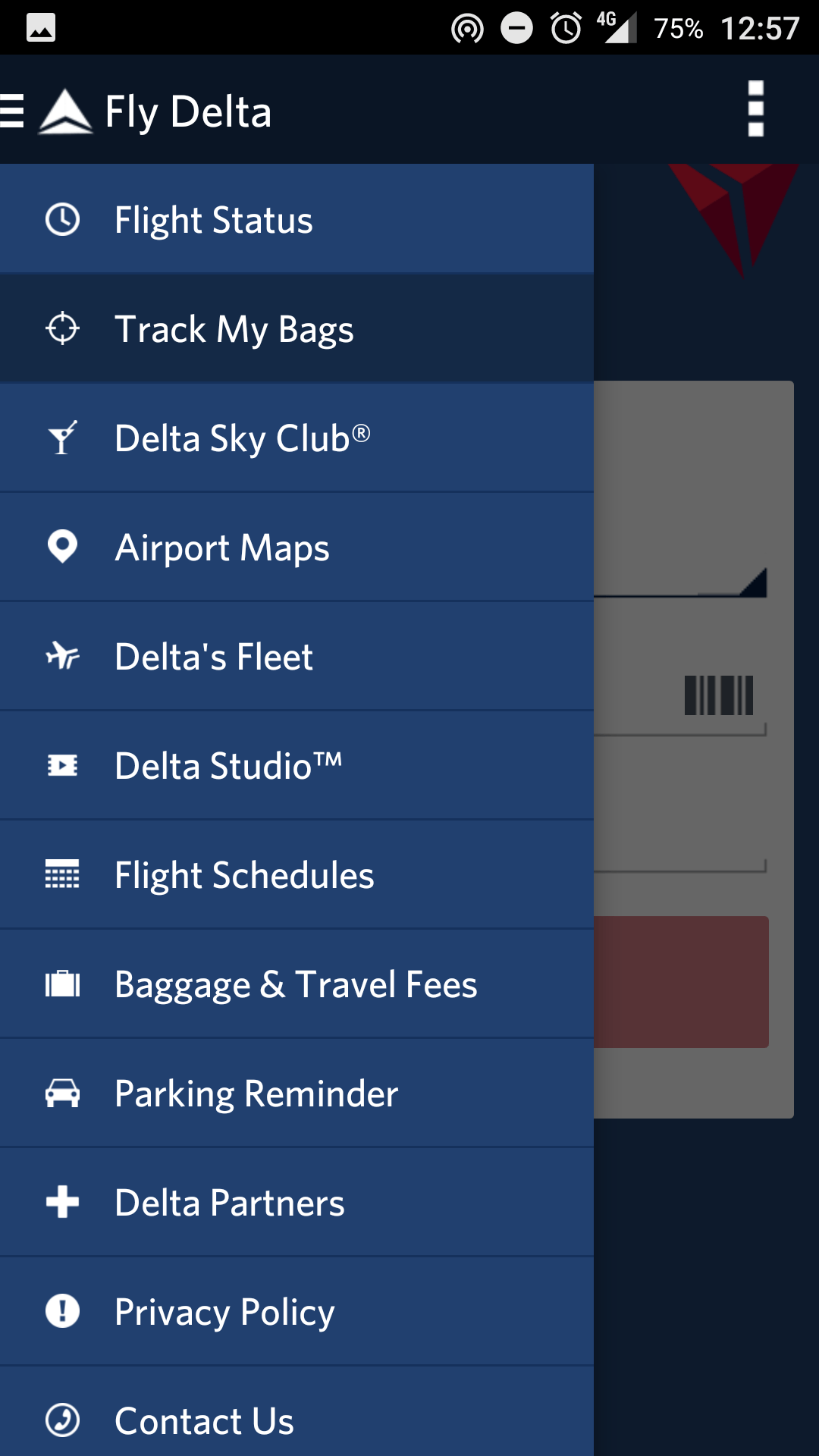 Delta's sidebar menu is clear and intuitive, providing easy access to each of the app's features. An embedded login reminder gently keeps registration top-of-mind for guest users.
The core functionalities of the app are at the top of the menu, including existing trips with Delta, flight booking, the Today in-app travel organization tool, and a travel notification and flight monitoring feed. Supplementary features, such as baggage tracking, flight status, and a Delta Sky Club location search are listed below.
One Way To Improve
If you decide to tap the login button on the menu, you are prompted to enter your SkyMiles number and password. For unregistered users (hello 👋), there is a small 'Join SkyMiles' prompt below the login fields. To bring more attention to this CTA, Delta should A/B test a variety of text sizes to determine what gets the most new accounts.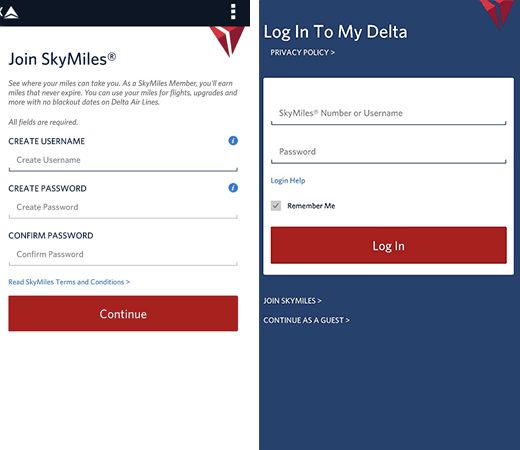 Clicking on 'Join SkyMiles' leads to a registration page, which includes a clear explanation of the benefits of becoming a Delta member. Non-members can access Delta's key features, such as flight booking, but members get the added bonus of accumulating airline miles and allocating them towards free flights or upgrades in the future.
As an app best practice, Delta should showcase these member benefits as soon as possible — in this case, right on the login page — to hook in new users. This way, those who are on the fence won't have to take an extra step to gain a better understanding of what they are signing up for.
To feel out the impact of this change, Delta could run A/B tests where some users see the benefits text right on the login page, and some users on the registration page (where it is now). If a significantly higher percentage of users move forward with registration with the benefits text introduced straight-away, then this update can be confidently implemented.
Booking a Flight
What Delta Does Well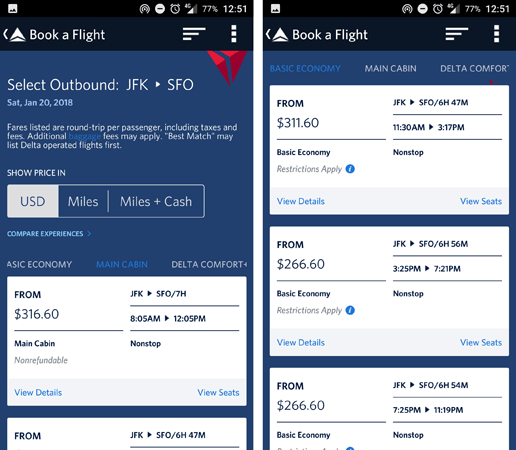 The flight booking flow in the Delta app is straightforward. After selecting your dates and destination, the app presents a list of available flights. This includes different seating tiers, so customers can easily compare prices between economy seats and first class.
From a monetization standpoint, this screen is effective at upselling users on the luxury seating options. The app actually defaults to the Main Cabin section; you must swipe to access the Basic Economy seats, which are the cheapest available. The app points out that certain features are missing from the Basic Economy seats, like the ability to select a seat before check-in.
Once you select a pair of flights, it's smooth sailing all the way to checkout.
One Way to Improve
The app could save users a couple of taps by using location data to suggest departure airports. In fact, this functionality is already built in — but the way the app obtains location permission isn't quite optimal.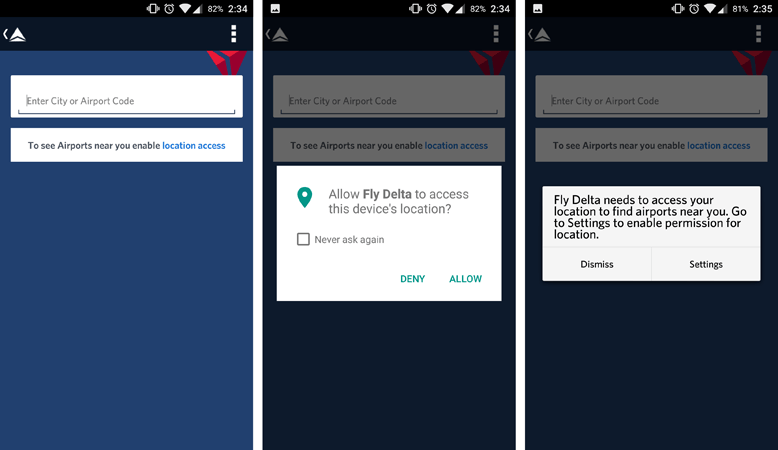 The app displays an option to share your location and discover nearby airports, as seen on the left. This is a good message because it explains the value of sharing your location — without slowing you down with an in-app message that you must tap to dismiss.
However, tapping the location access button immediately displays the default system prompt, shown in the middle. This is risky because the user has the option to stop the app from making these permission requests in the future. If that happens, the only way to change the permission settings is by exiting the app and navigating the system settings.
If you tap deny on the middle screen, a customized in-app message explains why the app can't find airports near you (shown on the right). But this message is redundant, because the user already denied the location request.
Instead of explaining the value of sharing location data after the fact, the message on the right could be displayed before the system prompt in the middle. If the user taps yes, then the system prompt will be shown; if not, then the in-app message will be dismissed without giving users the chance to deny permission on a system level. This is similar to our Push Pre-Permissions technique, which helps app teams obtain more push notification permissions.
Creative Features
What Delta Does Well
Delta has many creative features that make it easy for users to continuously interact with the app.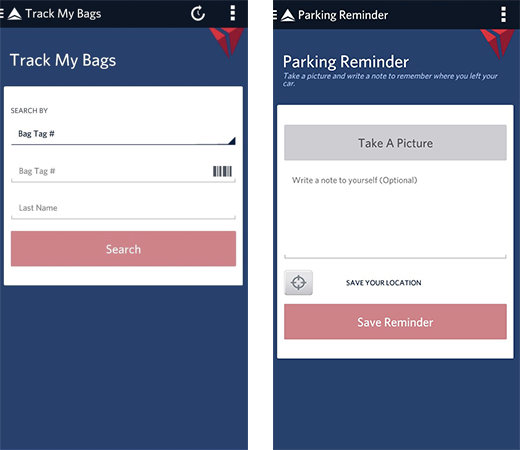 Some of the features could be an app within itself. A parking reminder lets you take a picture of your parking spot and jot down a note so you never forget where your car is again. Perfect, because who can remember where they parked days (or weeks) later? A bag tracking search engine and barcode scanner allows flyers to search for their luggage via a tag number. You can even browse Delta's entire fleet to find exact aircraft dimensions and seat maps — great for snagging that extra roomy seat.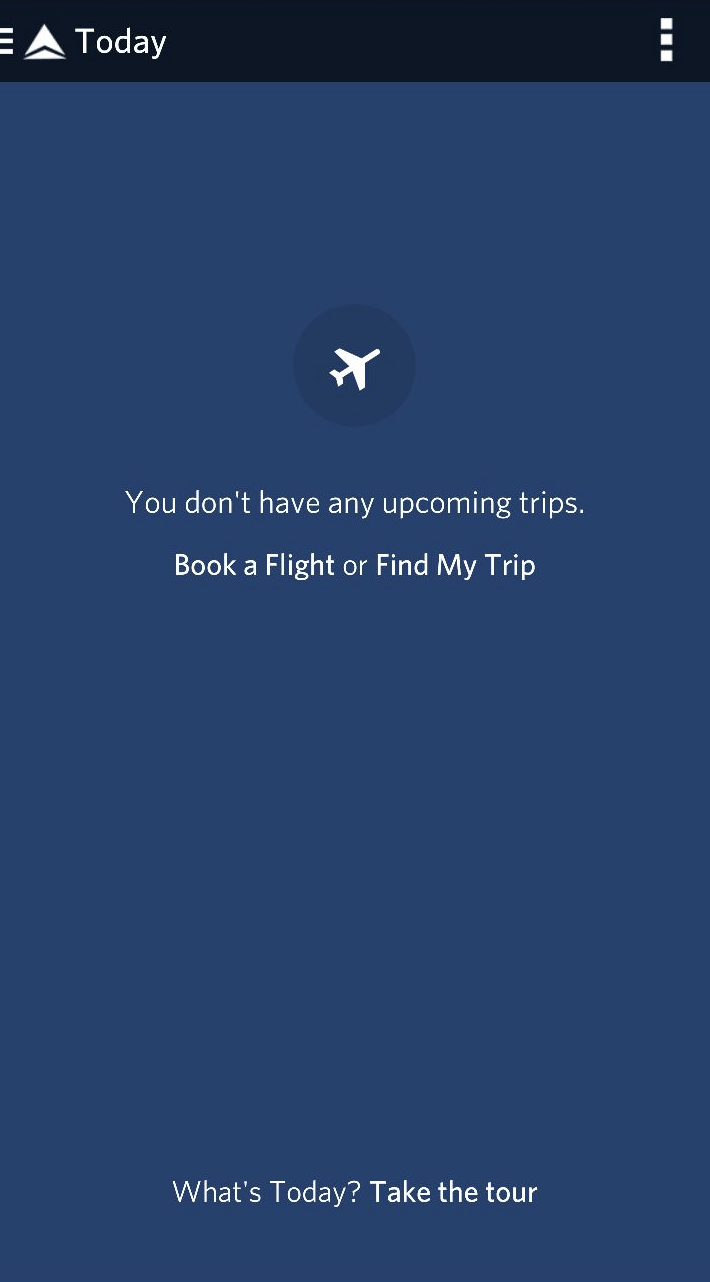 Delta's Today is an in-app organizational tool where you can gather everything you need for a day of travel. With Today, you can check into your flight, change your seat, track your bags, view connecting flights, and more.
Overall, the Delta app is an admirable effort to challenge existing travel apps such as TripIt and Tripcase, which also consolidate all aspects of travel into one touchpoint.
One Way to Improve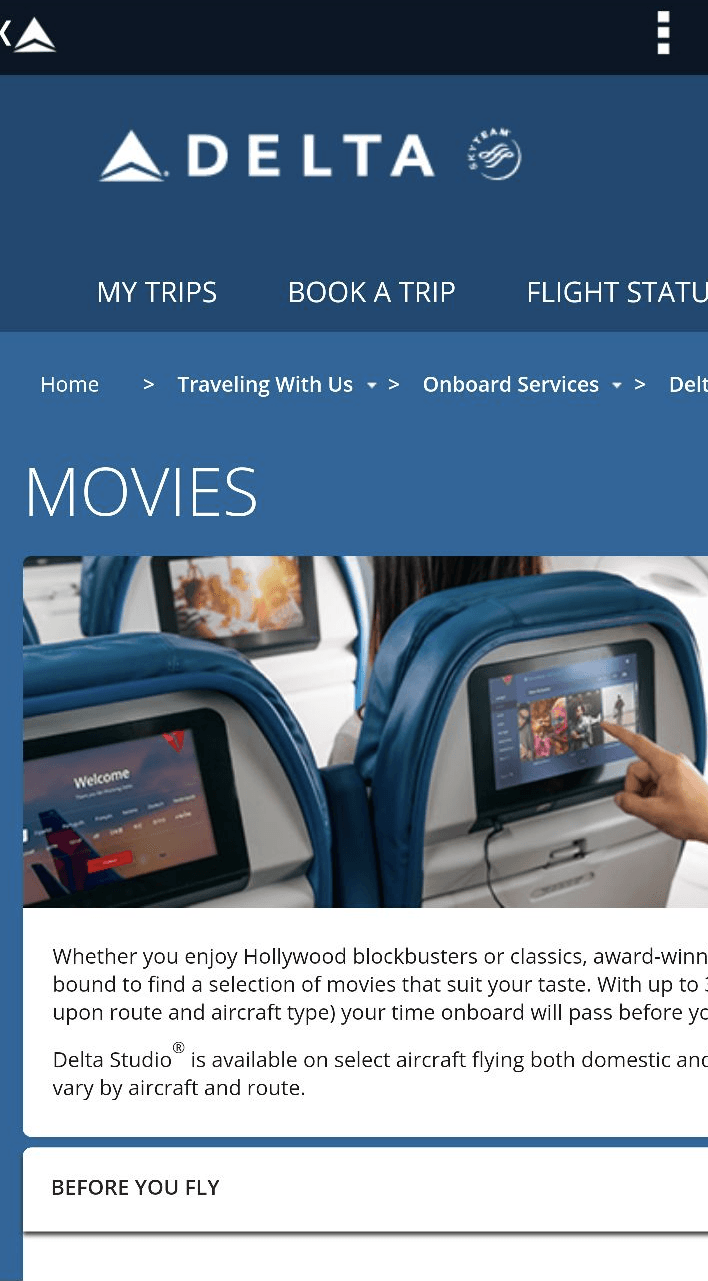 While it's great that Delta presents so many conveniences for their users, some of the landing pages have not been optimized for mobile. An example is Delta Studio™, which shows up skewed on the app screen.
Once Delta irons out these kinks, users will have a seemingly endless number of interesting (and well-functioning) actions to take within the app that will enhance their next trip.
Tips for Travel App UX
With an intuitive onboarding flow, straightforward flight booking, and a compelling variety of features, the Delta app goes above and beyond in creating a comprehensive travel solution for its user. With a few small updates, Delta can simplify the in-app experience even further, increase the percentage of registrations, and ultimately encourage users to become loyal, repeat customers — the bread and butter of any airline business.
For more in our ever-growing list of UX Analyses, see our articles on Southwest, Reuters, Starbucks, ESPN, NBA, NFL Mobile, Fidget Spinner, Etsy, Airbnb, and Soundcloud.
—
Leanplum is the mobile marketing platform built for engagement. We help brands like Tinder, Grab, Tesco, and Zynga orchestrate multi-channel campaigns — from messaging to the in-app experience — all from a single, integrated platform. Schedule your personalized demo here.