[Webinar] This Valentine's Day, Swipe Right on Mobile Engagement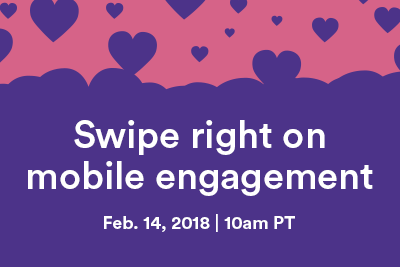 Valentine's Day can be a bag of mixed emotions. For some, it's a day to express their love and spoil their significant others. For others, it's a day they'd prefer Hallmark never created. But for brands trying to engage with their mobile users, it's an opportunity to shower them with some extra love and attention.
Avoid being a party of one this Valentine's Day and tune in to our fun-loving webinar, Swipe Right on Mobile Engagement, at 10 a.m. PT/1 p.m. ET.

We'll dive into dating app insights to answer four big questions:

What are the most popular emojis?

When do the most matches occur?

When do people turn to dating apps?

Are people more likely to open dating app pushes and emails?
Whether or not you're a dating app, this webinar will help stir up emotions and ideas for how to drive engagement with your mobile users — not just on Valentine's Day — but year-round.
So swipe right and let's make it a date!
—
Leanplum is the mobile marketing platform built for engagement. We help global brands orchestrate multi-channel campaigns — from messaging to the in-app experience — all from a single, integrated platform. Schedule your personalized demo here.