Show Me the Money: The 2019 Mobile Finance Apps Report
Attention, finance apps! We've got a collection of priceless customer engagement trends — just for you.
We're talking data split across regions, platforms, journey stages, and channels, invaluable intelligence to help you understand (and improve) your costs, conversions, and retention.
You may remember our popular 2018 Mobile Engagement Index, released last Halloween. Well, we teamed up with Liftoff again to update and expand our finance learnings, creating the 2019 Mobile Finance Apps Report.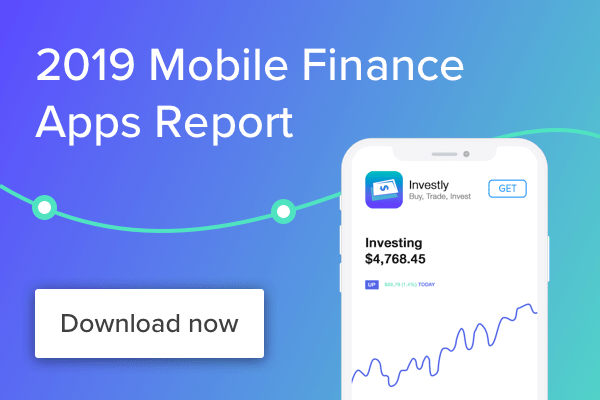 Download this resource now, and read on below for our favorite findings.

1. Finance Users Across Platforms
iOS and Android have surprisingly different audiences. So we set out to discover if one audience engages better than the other.
But when we compared costs and conversions by platform, the initial data didn't tell the whole story.
At first glance, the data indicates that iOS users, at $8.58, are far more expensive to acquire than Android users, at $5.15. At first glance, it appears Android users are a bigger steal.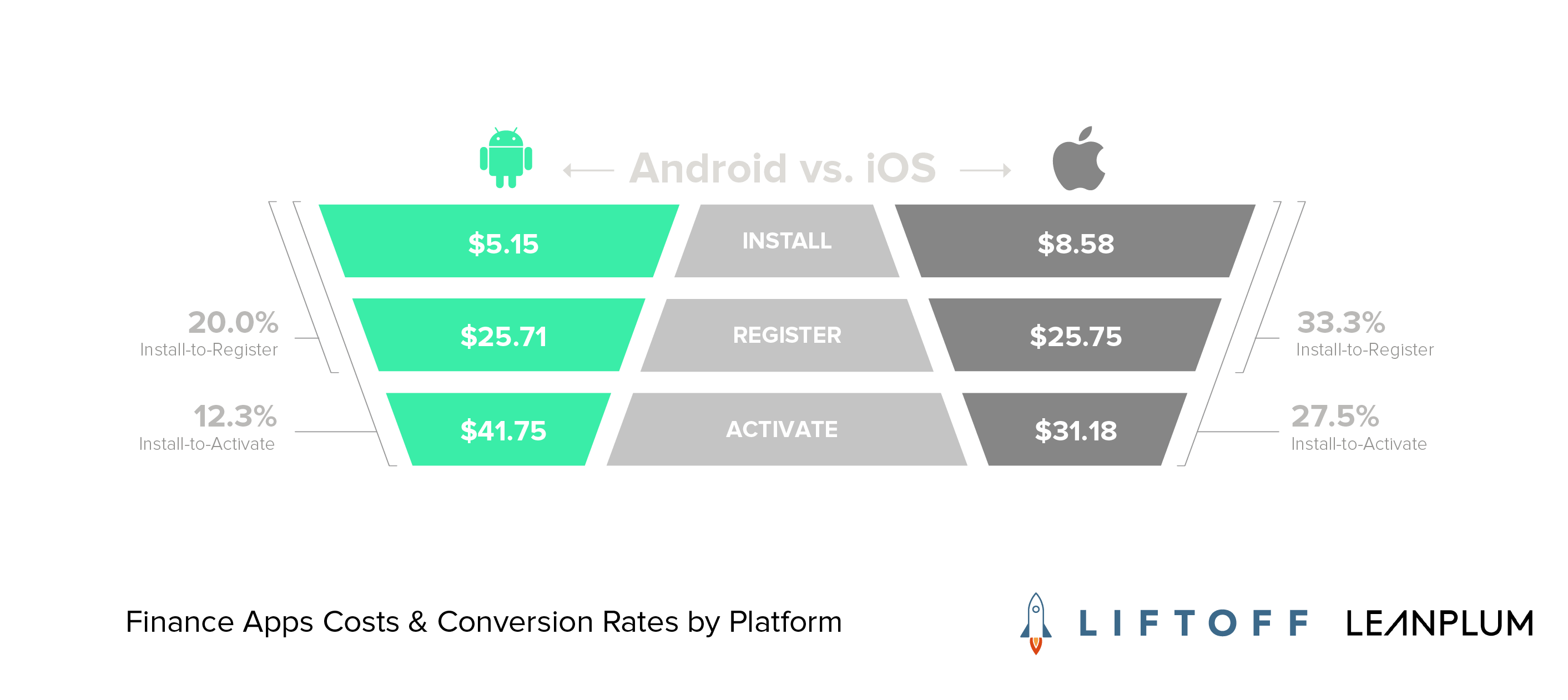 Looking at the next stage of the customer journey, the install-to-register rate for iOS users is 13.3 percent higher than for Android users. And deeper in the funnel, the differences are even more significant. iOS users convert over 2x the rate of Android users — 27.5 percent, compared with 12.3 percent.
In the end, the final decision concerning which audience to target will always depend on your specific app and objectives.
2. Finance Users Around the World
To help marketers set targets, budgets, and expectations for user acquisition, we turned to acquisition costs versus engagement around the world.
We found that in many countries, mobile finance app engagement is off the charts. For instance, the cost to acquire users in North America (NA) has almost doubled over the last year. But those users offer value that shouldn't be overlooked, engaging at an unprecedented rate.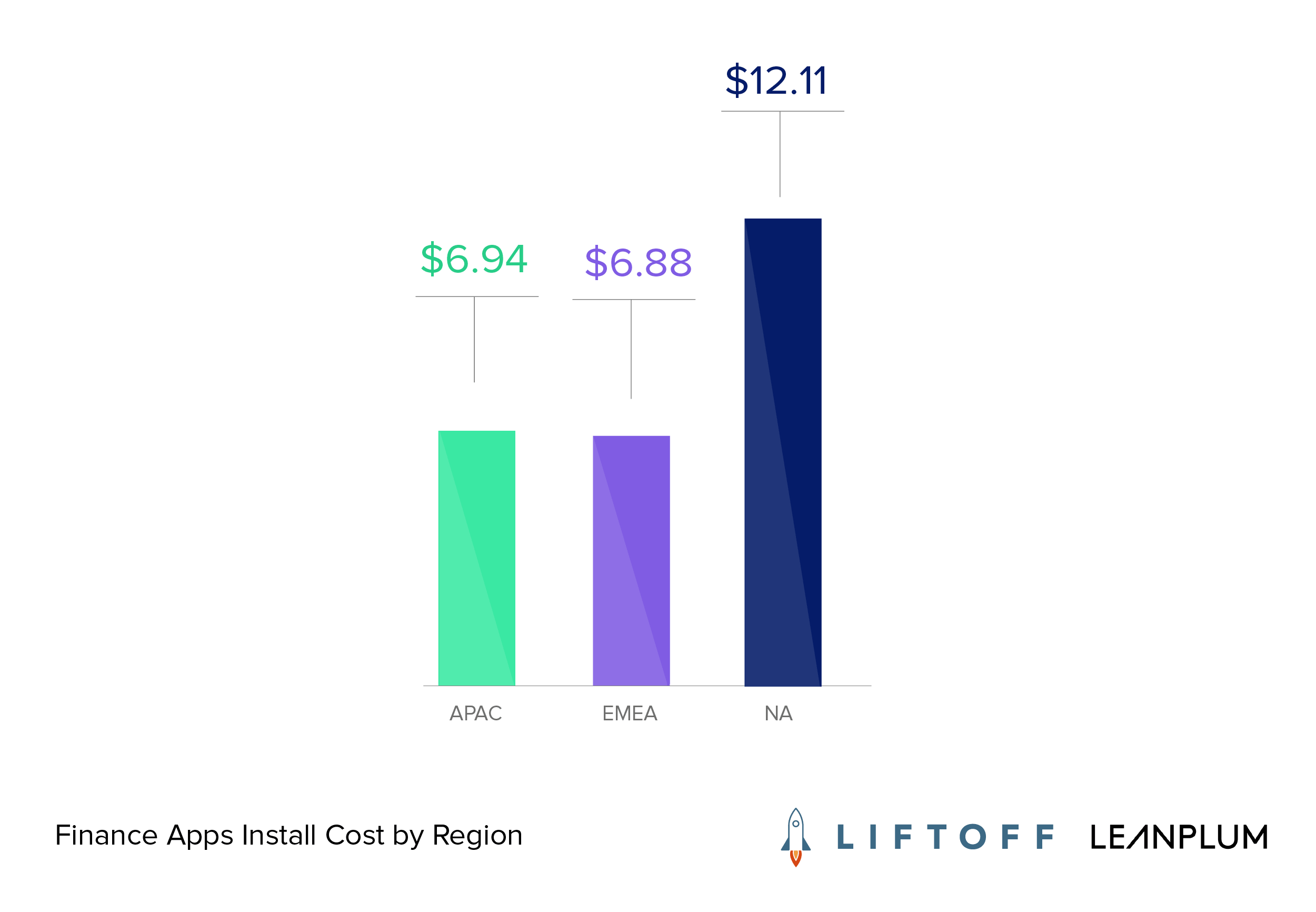 In other regions, costs have remained more stable. In Asia-Pacific (APAC), costs and conversion rates suggest users are a win-win: cheaper to acquire and easier to engage.
Europe, the Middle East, and Africa (EMEA) is a region full of complexity. While mobile finance app adoption and use are moving at different speeds, they are at least moving in the right direction.
3. Finance App Retention
So you know the basic benchmarks. But what does it take to build a better — and more engaging — finance app experience?
Finance apps typically retain users at a much higher rate than other app categories, such as travel, media, retail, dating, and gaming. In fact, day one retention for finance users is 73 percent higher than other categories.
By day one, finance apps have retained 34.8 percent of users, compared with 20.1 percent across other categories. While the numbers do drop — as to be expected when analyzing retention over the first 90 days of the customer journey — by day 90, finance apps still have stronger retention, 3.4 percent of users, compared to 2.2 percent in other verticals.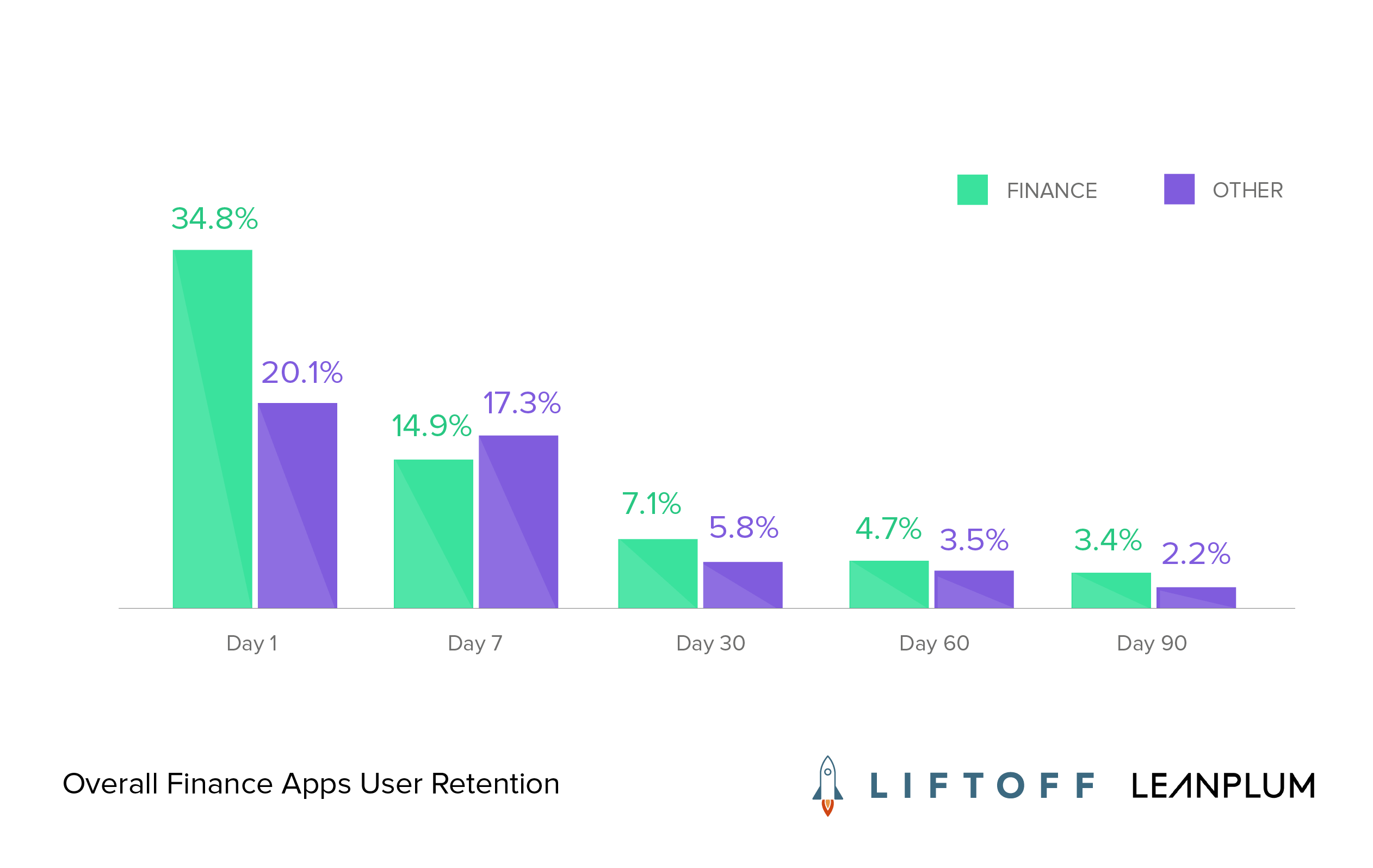 It's not just how many users keep the app installed, either. We also analyzed sessions per week and average time to return, to give marketers a full picture of how finance users engage.
The TL;DR: Newer users engage more often. In fact, users who are one week old have a whopping 5.6 sessions per week. But that number declines as users have the app installed longer, before ultimately plateauing. Even as users become loyal, they engage less often. Over the course of their lifetime, on average, it takes them a little over a week in between sessions.
With retention rates like this, other app owners would be remiss not to take a dive into the data and see what they can glean.
4. Finance Channel Engagement
Bring on multi-channel engagement.
The average push notification open rate for finance apps is 15.78 percent — compared to seven percent across other categories. That's more than twice the open rate!
When it comes to email, the numbers are a bit more even, showing that users are still interested in receiving communications from finance apps, though not with the same gusto as push.
Because finance apps have users so engaged, they also have the opportunity to send occasional promotional messages that benefit users, such as offers about upgrading to a higher reward card, maximizing savings, or investment advice. But if the majority of messages become promotional, user engagement may begin to drop. Make sure there's a careful balance between promotional, transactional, scheduled, and messages that generally help users get the most from the app.
The result? You'll drive better finance engagement, retention, and lasting loyalty.
—
Want to read more benchmarks and best practices? Download the 2019 Mobile Finance Apps Report today.