3 Use Cases for Better Customer Relationships
As technology advances and competition intensifies, the customer experience is increasingly becoming a key differentiator for brands focusing on long-term retention and growth. Consumers today expect consistent, personalized and real-time experiences in their brand interactions across every touchpoint. With its ubiquity in the customer lifecycle, mobile is uniquely placed to deliver these experiences.
Leanplum's recently announced our Campaign Composer (now in beta) that makes it a snap for marketers to deliver on that promise. They can now build, personalize, and optimize campaigns that map to the customer journey across all engagement channels, in and out of the app.
Here are a few examples of how we do it.
Onboarding New Users
A first impression is one of the most critical moments in a user's journey. When done right, onboarding can become one of the most effective ways to convert new users into active users. Campaign Composer (beta) enables marketers build and test different onboarding experiences to drive long-term user satisfaction and higher retention rates.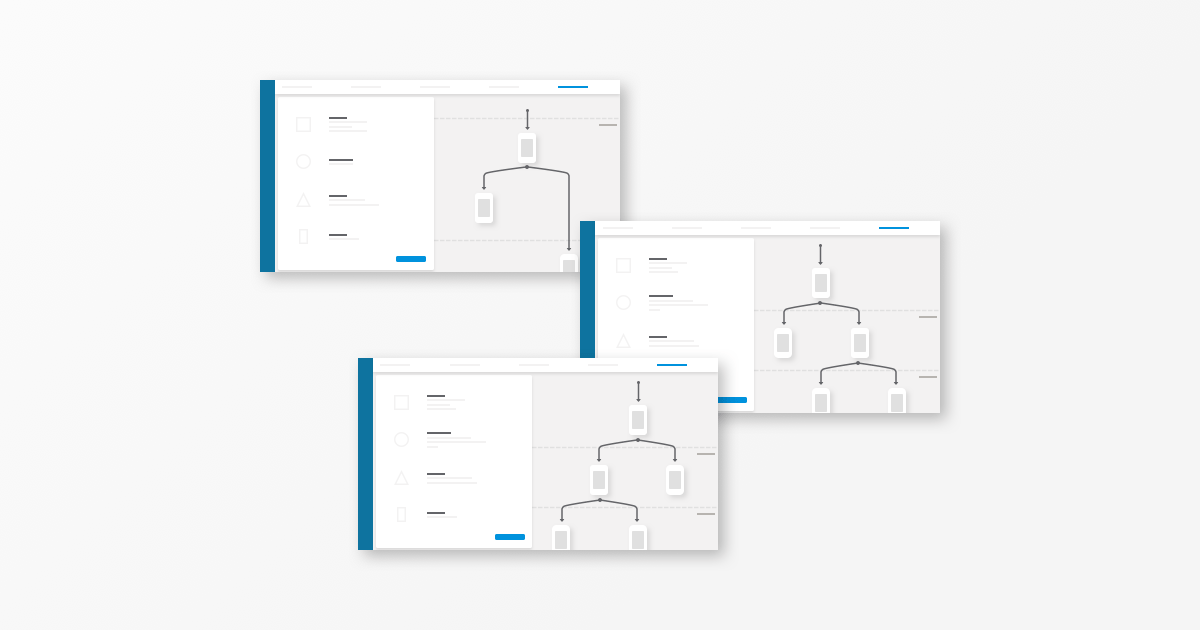 Above, you can see a sample sequence. Select a goal (in this case, onboarding), choose the audience (all first-time users), and choose delivery trigger (when user first opens the app).
Next, select channels for onboarding — say a series of in-app messages that guide a user through the app functionality. If a user completes the onboarding process, send a welcome email. Campaign Composer (beta) enables marketers to visualize multiple paths for each use case.
However, if a user abandons the onboarding process part-way, create a branch for the scenario. Send a reminder email or push-notification deep linking to the exact screen in the onboarding process where they dropped off. If a user doesn't even begin onboarding, create another branch to send them a reminder across channels.
Marketers now have complete flexibility to select engagement channels and determine the intervals at which messages should send. They can also run tests to determine which scenario resonates best so that new users experience the most optimal onboarding process. All this makes for more engaged users.
Driving Holiday Conversions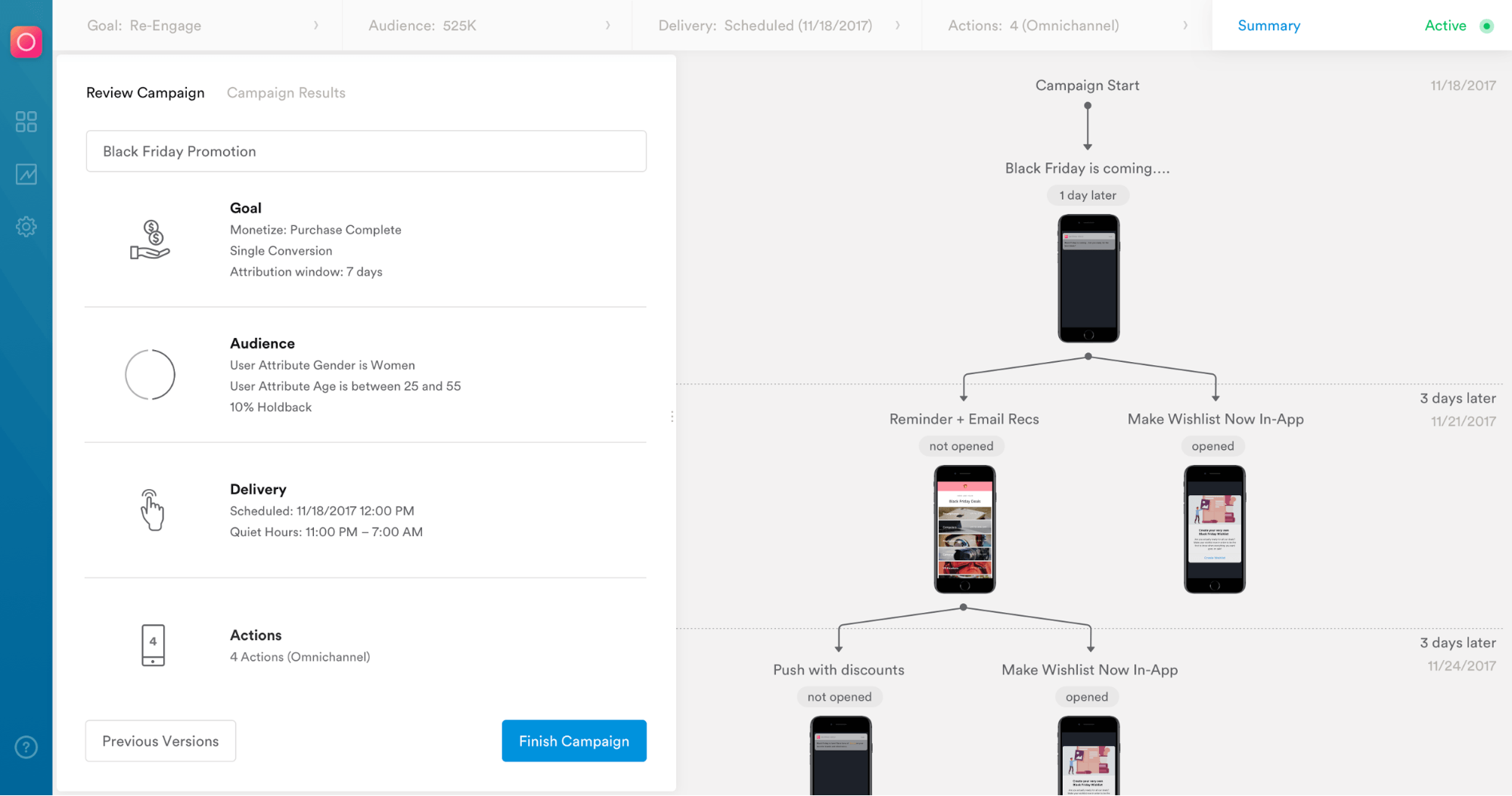 Marketers can build campaigns to engage and influence their customers along their journey and guide them toward a desired outcome. For this holiday season, let's see how a marketer can guide a targeted audience (e.g., women 25 to 55) toward making a purchase.
Ideally, marketers want to deliver the campaign when their audience is mostly like to engage with it. For delivery confidence, set 11 p.m. to 6 a.m. in each shopper's local time zone as quiet hours. People love a deal, but not when it wakes them up in the middle of the night!
Begin engagement with a push-notification that reminds shoppers about the upcoming holiday season. Then, factor in user behavior by delivering an in-app message asking shoppers who opened the push to create a wish list, and an email with product recommendations to the shoppers who didn't.  
At the appropriate time, and depending on user behavior in the previous step, send a push notification with discounts, advancing them in their customer journey towards conversion.  
Re-Engaging Dormant Users
As customer acquisition costs increase, marketers are finding that re-engaging dormant or lapsed users is a cheaper and more effective strategy.
With Leanplum's Campaign Composer (beta), marketers can craft campaigns based on user behavior and target them with personalized messages to bring them back into the app. They can also A/B test their entire campaign to get a more accurate measure on its returns.
Let us see how marketers for a mobile game can bring dormant users back into their app.
A campaign goal might be to re-engage lapsed users aged 25 to 35. Start off with a push notification containing a personalized message, including a gamer's first name. If the gamer opens the push, deep link to a personalized landing screen in the app. If they don't open, offer incentives aligned with their previous behavior in the next push notification. For example, maybe offer free coins or extra lives, depending on the nature of the game. If even this doesn't evoke the desired behavior, change the incentives.
The takeaway? Marketers have the platform to build campaigns with personalized messages and behavior-based incentives that re-engage dormant users.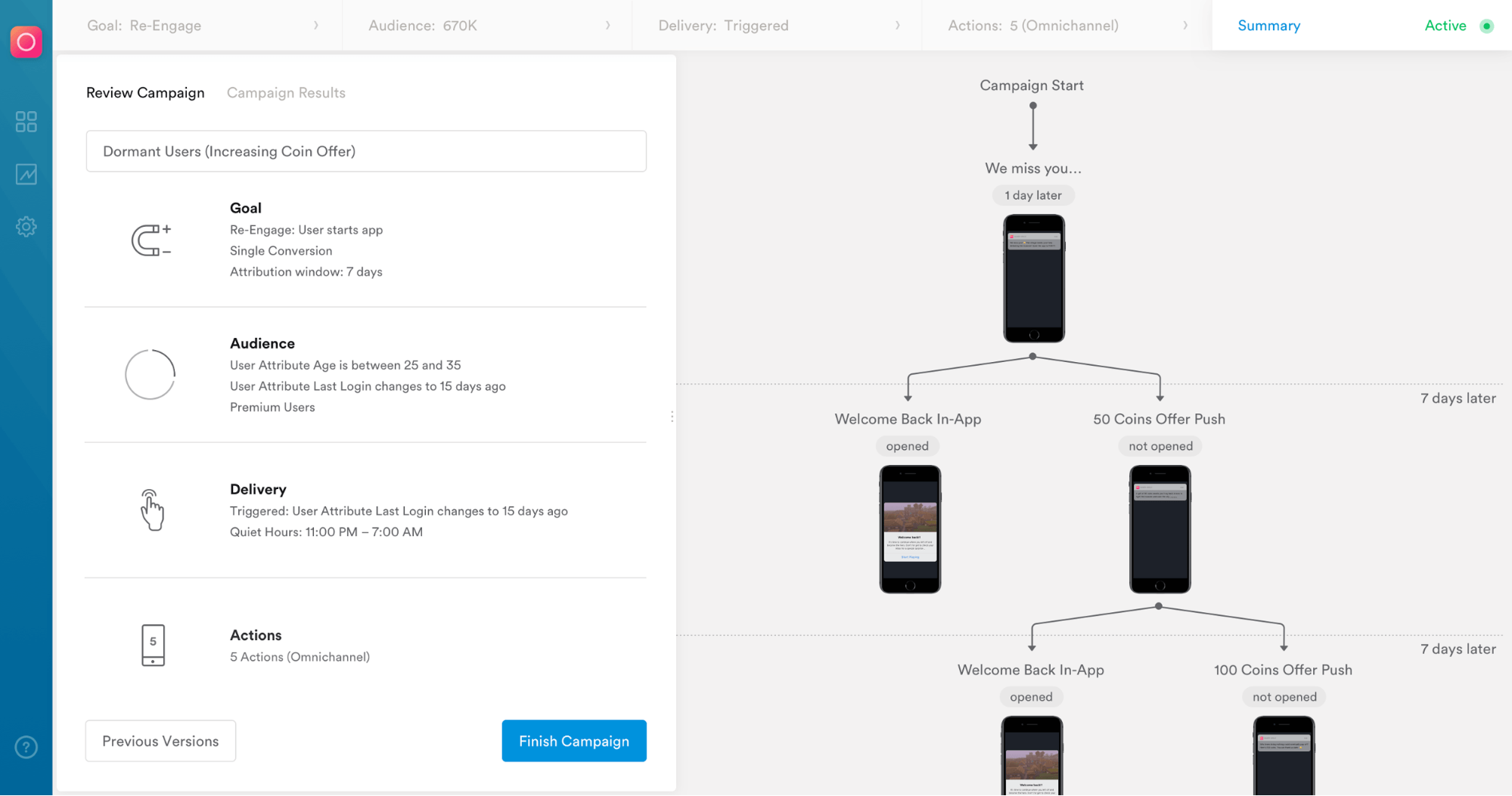 Get Started Today
We're excited to enable you to build better customer relationships with our Campaign Composer (beta) and app personalization. Find out more by registering for our December 12th webinar, or schedule your personalized demo with Leanplum today.