Introducing Campaign Composer (Beta)
At Leanplum, our goal has been to help businesses form deeper and more meaningful relationships with their customers.
Today, we take the next step and unveil the evolution of our product — our new Campaign Composer (now in beta) that helps marketers map the customer journey across every touchpoint and build behavior-driven, multi-channel campaigns at the individual level. It is the industry's first and only solution that enables marketers to deliver connected end-to-end user experiences that lead to deeper customer relationships.
This is so important. The mobile device is a uniquely personal medium that has transformed the customer journey. For marketers the pervasiveness and proximity of mobile makes it a powerful tool that helps them understand and anticipate customer behavior. As a result, marketers have the opportunity to respond to their users' needs, goals, feelings, and expectations with a customized experience both in and out of their mobile apps.
With Leanplum's new Campaign Composer (beta), marketers can now respond to behavioral triggers at every stage in the customer journey through campaigns that span push notifications, in-app messages, email, web push, App Inbox, and the in-app experience.
Enter Campaign Composer (Beta)
Marketers can now visualize, build, and test multi-channel campaigns that mirror customers' journeys — all with a few clicks inside our intuitive and easy-to-use Campaign Composer (beta).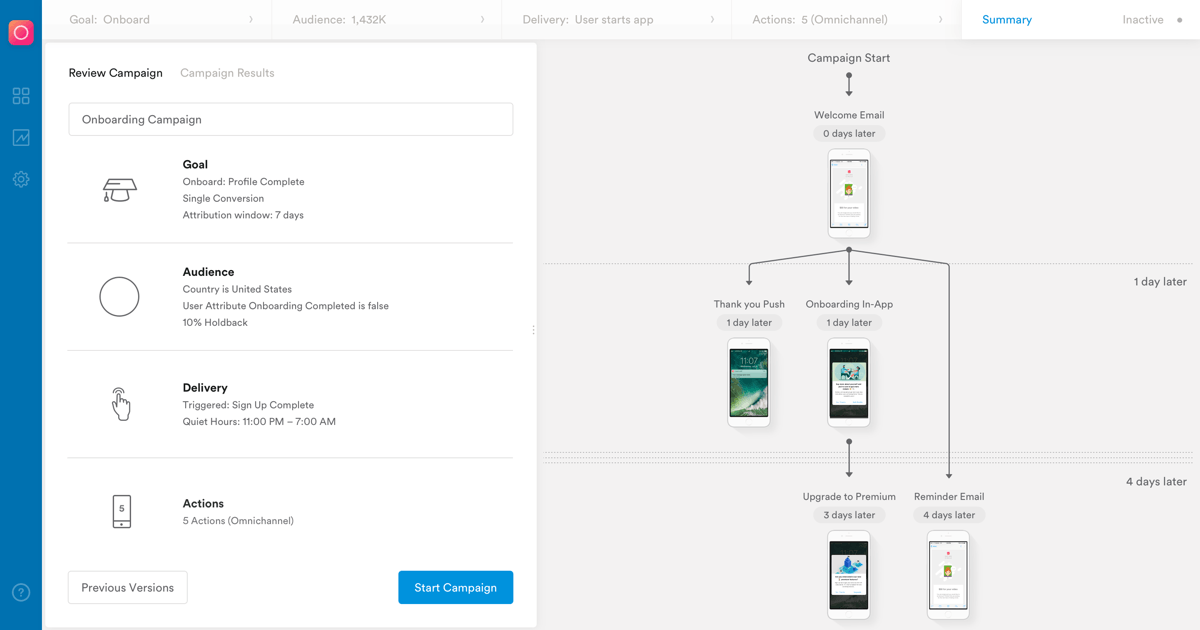 As seen above, in a single glance, marketers can preview the end-to-end campaign. Campaign Composer (beta) provides a visual way for marketers to account for all possible user actions at each and every turn and respond to their users' individual behaviors.
For example, in an onboarding workflow, marketers can create one path for a user who has opened a welcome email and finished onboarding, and another path that includes multiple reminders.
With Campaign Composer (beta), marketers are guided to select target audience segments and choose a delivery method, as they build out cross-channel paths that achieve their business goals and KPIs.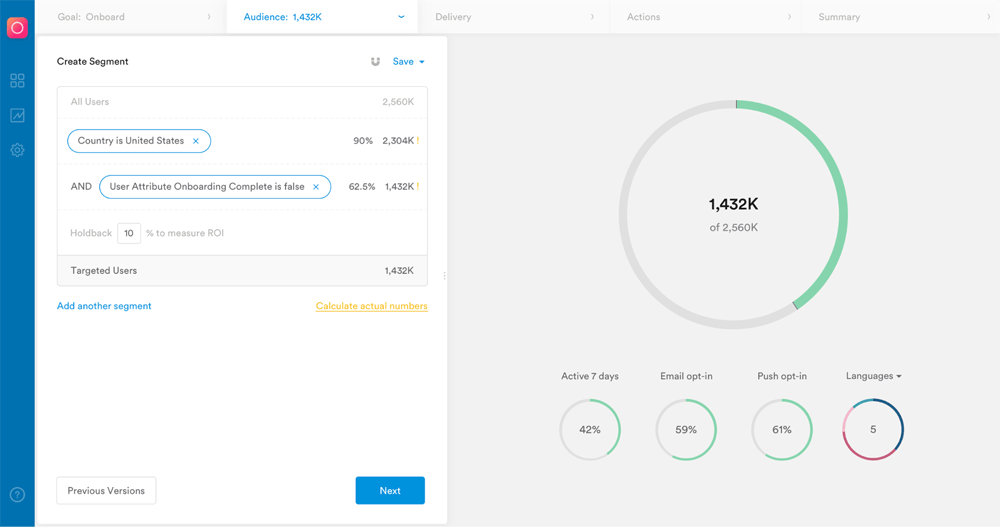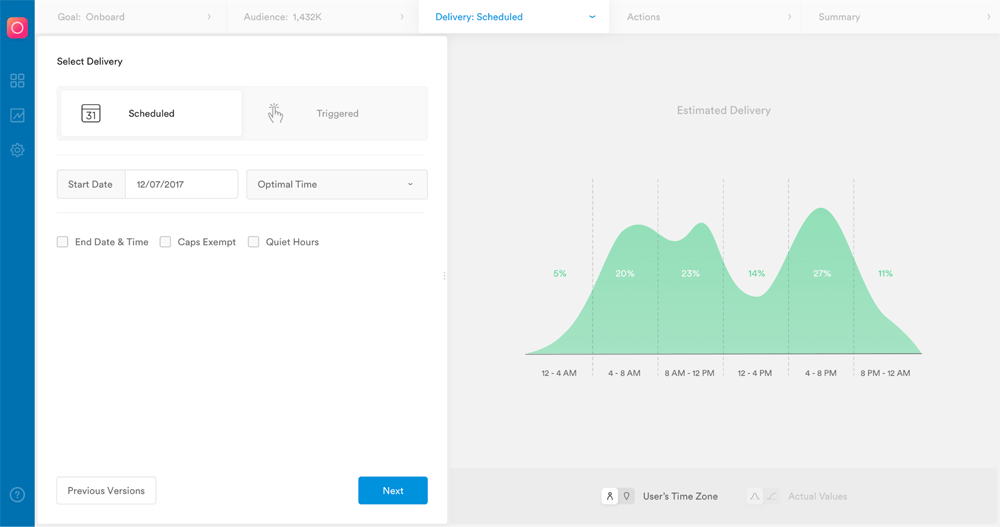 At every step of campaign creation, users receive immediate guidance and feedback, from identifying the best audience size to the right channel choice. Our Campaign Composer (beta) enables marketers to proactively understand the future impact of their campaigns and optimize them for the highest engagement.
In short, this takes the guesswork out of campaign creation and improves ROI of your marketing dollars.
The Impact on App Personalization
Mobile engagement doesn't end when a user responds to a message or returns to an app.  Successful marketers know that personalization needs to include the in-app experience as well.
Marketers now have a new weapon in their arsenal to do just that.
With Leanplum's Campaign Composer (beta), marketers can go beyond just messaging and deliver tailored in-app experiences by building campaigns where specific app features or functionality can be triggered by user attributes, behaviors, or past history. In short, marketers can control and customize the end-to-end app experience for individuals, at scale.
Without expending any engineering resources, marketers can personalize not just the in-app UI and UX interactions, but also the product behavior. As a result, campaigns provide personalized engagement and app experiences along the customer journey, driving loyalty and growth.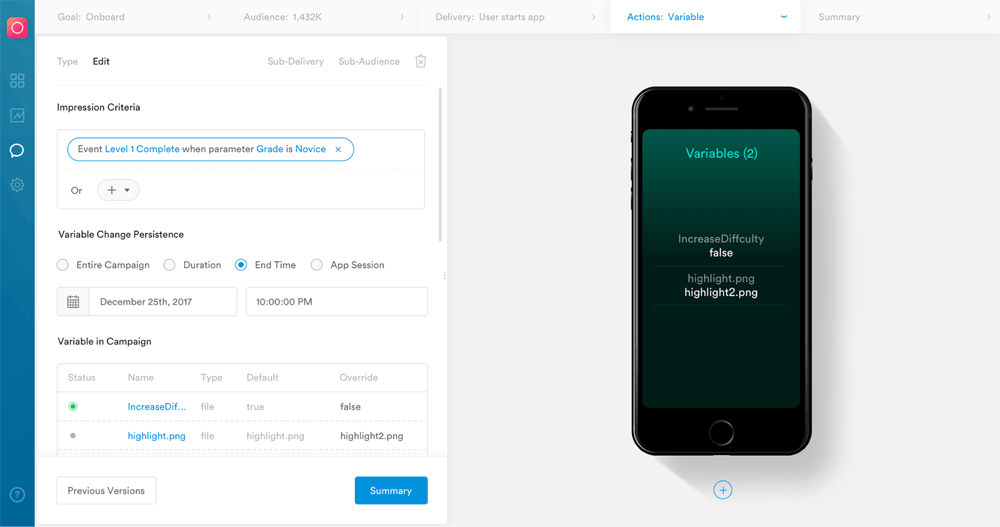 What does this look like? For example…
A marketer can increase or decrease the difficulty of a mobile game, depending on how quickly users advance — ensuring those particular players don't lose interest

A marketer can promote a premium feature via a free trial, enabling the trial temporarily, engaging with users about the benefits, and offering discounts for the upsell — contingent on user behavior

A marketer can automatically apply a discount based on how a user responds to a promotion, with no need for clunky discount codes
Your Mobile Marketing Takeaway
Personalizing in-app feature flows within campaigns gives marketers the power to ensure users have a seamless brand experience along their complete customer journey, heightening user satisfaction, and in turn boosting retention and monetization.
We're excited to enable you to build better customer relationships with our Campaign Composer (beta) and app personalization. Find out more by registering for our December 12th webinar, or schedule your personalized demo with Leanplum today.