App Store Optimization Tips for Beginners
App Store Optimization tips are critical to standing out from the crowd.
As the mobile app economy grows exponentially, competition is increasing and the cost of acquiring new users is skyrocketing. Consequently, the biggest barrier to growth in the app universe is maintaining positive ROI by reducing CPI (cost-per-install).
Growth experts, taking on the challenge, have learned to invest heavily in the first-time user journey. In the heart of that journey stands the app stores.
Whether organically, by cross promotion, or through paid traffic, everyone lands on an app store. While all installs occur in the store, people behave differently before choosing to install or to drop.
Developers spend millions of dollars pushing traffic to app stores only to find out that the majority of visitors don't install despite making it all the way to the store. Based on 150M data points from tests conducted on StoreMaven's platform with more than 60 percent of the world's top developers, a better version of your app store page can double your conversion rates and significantly cut the cost of user acquisition.
In this post, we'll cover the essential App Store Optimization tips and uncover the potential uplifts of testing each key element.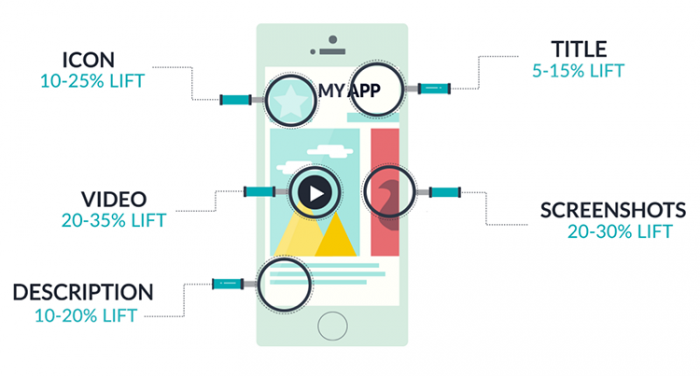 The potential lift each asset holds
App Store Optimization Tip #1: Understand User Behavior
Designing the optimal app store page begins by understanding user behavior inside the app store. One of the major learnings from analyzing app store visitor engagement is that we can classify visitors into two major groups, based on their behavior patterns.
Decisive visitors: Users who do not engage with the app store before deciding to install or leave. Decisive visitors represent 60 percent of all app store traffic.

Explorers: Users who engage with the content available in the store to make a more informed decision before installing or leaving. Explorers represent 40 percent of all app store traffic.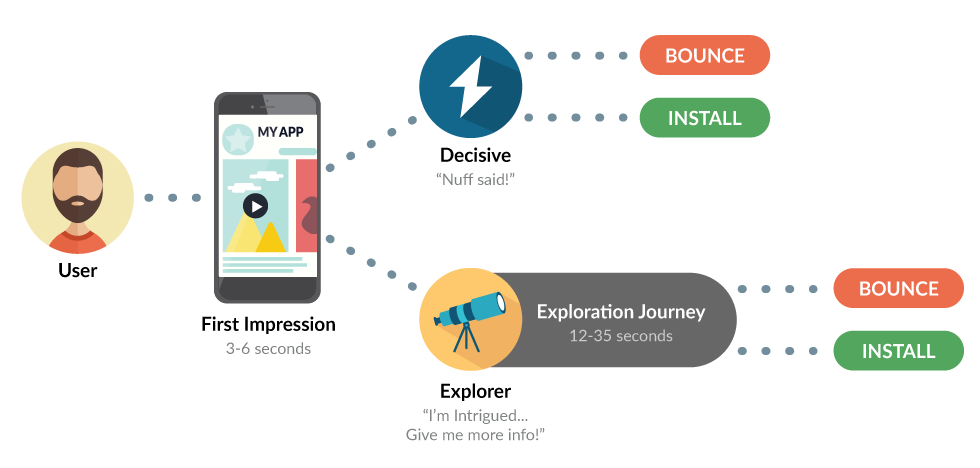 Like with any other marketing materials, the first impression matters most. Basically you have three to six seconds to influence 100 percent of your users, determining two major KPIs:
Exploration rate

Install rate per user segment
App Store Optimization #2: Customize Each Platform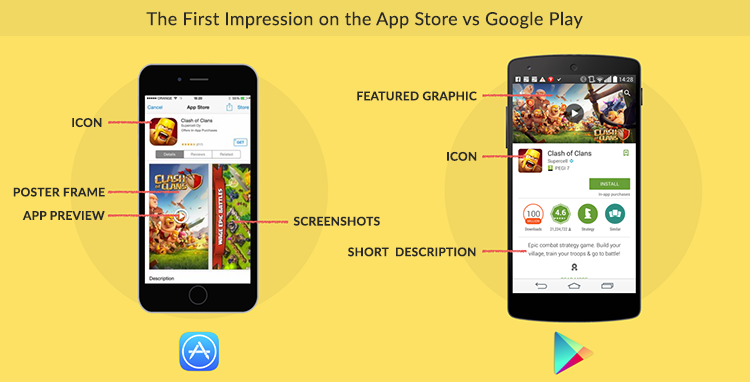 On both stores, the first impression is comprised of the creatives that visitors see the moment they land on the app page. These marketing assets are the key drivers not only for the install conversion rate, but also for the quality of your installs.
On iOS, the screenshot gallery is most dominant and is "above the fold," while on Google Play the gallery is "below the fold," making the top feature graphic and the short description key elements of the first impression.
App Store Optimization Tip #3: Test Your First Impression
Now that we understand the app stores' first impression landscapes and have an idea of where to begin testing, we just need to craft an optimized first impression to enjoy the greatest CVR lift.
There are three aspects to take into consideration when designing variations for testing.
Messaging
As each industry has its own inherent challenges and complete landscape, it's important to understand what motivates your specific audience. Why should your audience download your app? How can you best display your key selling points in a manner fitting with your specific audience?
In the retail industry, for example, users need to be convinced that not only is your app better than your competitor, but also that using the app will improve the shopping experience compared to shopping in stores, websites, and even mobile sites. Messages that relate to money savings or time savings will probably appeal to your audience.
The gaming industry, on the other hand, looks for fun. Whether using a cool graphic or capturing the sense of a thrilling game, you need to sell the fun-factor. We recently worked with Kabam to test three different messages as a first impression for Marvel Contest Of Champions, lifting their CVR by 66 percent!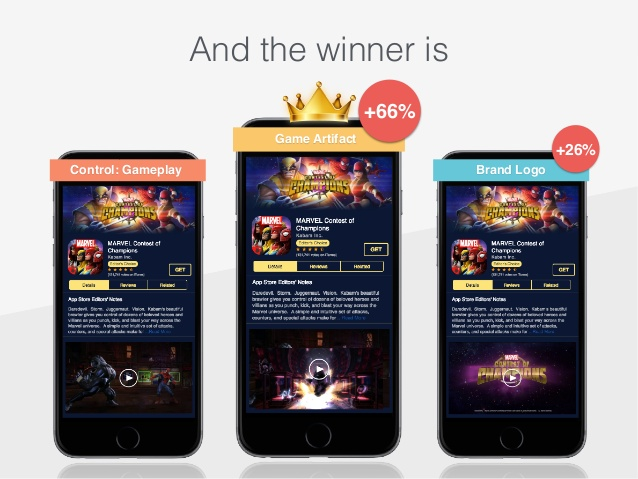 App Store Layout
Each app store layout sets different challenges to overcome. While the layout of Google Play's product pages remains constant, Apple offers several features that completely change the layout and first impression.
Whether it's gallery orientation, video presence or Apple's featuring elements, the above-the-fold view changes, crowning different assets as your main real estate to convey messages for the users.
Make sure to design your app store taking into account those 60 percent decisive users who never swipe past the first impression.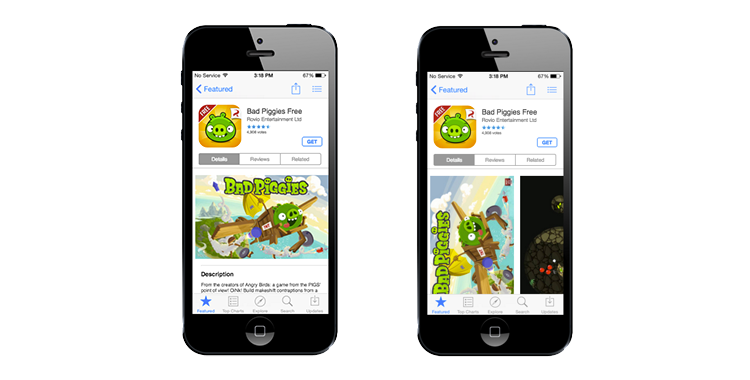 Landscape screenshots will increase video clicks but decrease gallery scroll rate. Test what works best for you.
Creative
There are several trending approaches for designing your app store creative assets. Whether it's your screenshot gallery or your Feature Banner, test to see what your users respond to best. Of course, your messaging approach will vary according to  the emotion you are trying to elicit from your audience.
Feeling-oriented: Using lifestyle images or visuals that are more similar to ad banners can often do a terrific job at conveying the value of your app. Such screenshots tend to draw a stronger emotional connection to the brand and product. Especially if the app's UI isn't that sexy or cutting edge.
Feature-oriented: Here you use real screenshots of the app used to explain the different features and highlight unique selling points. Make sure you help visitors focus on the compelling UI components and enforce the connection between the textual caption and visual. This will help users quickly understand the image and not get lost in the clutter. If your UI is exciting, or a key differentiator in your app's category, this approach may resonate well with your target audience.
Hybrid: A mix of both approaches, highlighting features over a contextual background, or simply switching off between feeling-oriented images and feature-oriented in one set. This style of design can often offer the best of both worlds — an engaging image that draws curiosity, and an accurate visual representation of the app to showcase its functionality.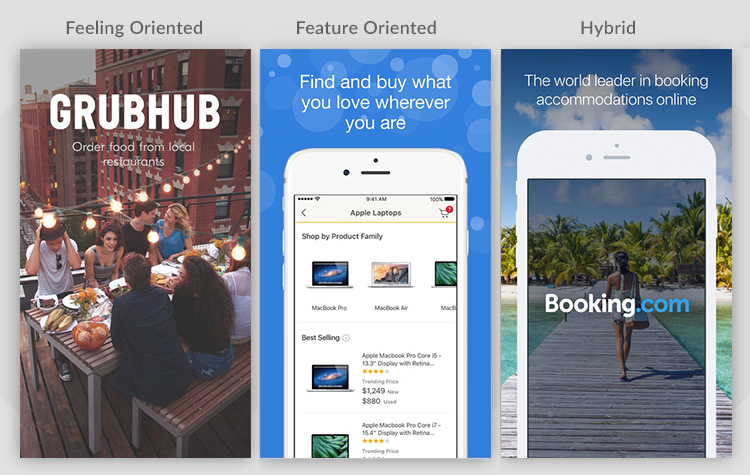 App Store Optimization Tip #4: Set Your Test for Success
Okay, so now that you have a testing agenda and guidelines for crafting impactful variations. What else do you need to get right for successful testing?
There are three principles to keep to have valuable results and to enjoy an actual CVR lift.
Designing tests with high potential for reaching 95 percent confidence level

Choosing the right traffic source that will impact both paid and organic users

Understanding how to analyze app store engagement (ASE) metrics to draft a yearly test plan
Interested in more info? Make sure to read our full App Store Marketing Guidebook that will walk you through all there is to know about ASO.
About StoreMaven
StoreMaven invented the only way to AB test App Store and Google Play marketing assets.
The world's top mobile companies rely on StoreMaven to optimize their app stores and install conversion.

The information in this post is based on thousands of tests and over one billion data points collected by the StoreMaven platform.