TuneIn Engagement Analysis: 100K Radio Stations, 1 App
TuneIn is an online radio company that provides live news, music, radio, sports, and podcasts to tens of millions of users. While much of its content is free, the company offers a premium subscription for special broadcasts, commercial-free music, and an overall ad-free experience.
With over 100,000 broadcast radio stations and four million on-demand programs and podcasts from around the world, TuneIn certainly has a lot of bells and whistles. Let's take a look at how the mobile app delivers this unfathomable amount of content in a digestible way, and how users are encouraged to stay engaged.
First-Time User Experience
What TuneIn Does Well
The TuneIn app has a noticeably minimal onboarding flow. After a short loading period, the app opens up to a page promoting a free seven-day or 30-day trial of TuneIn Premium (depending on whether you choose a yearly or monthly subscription).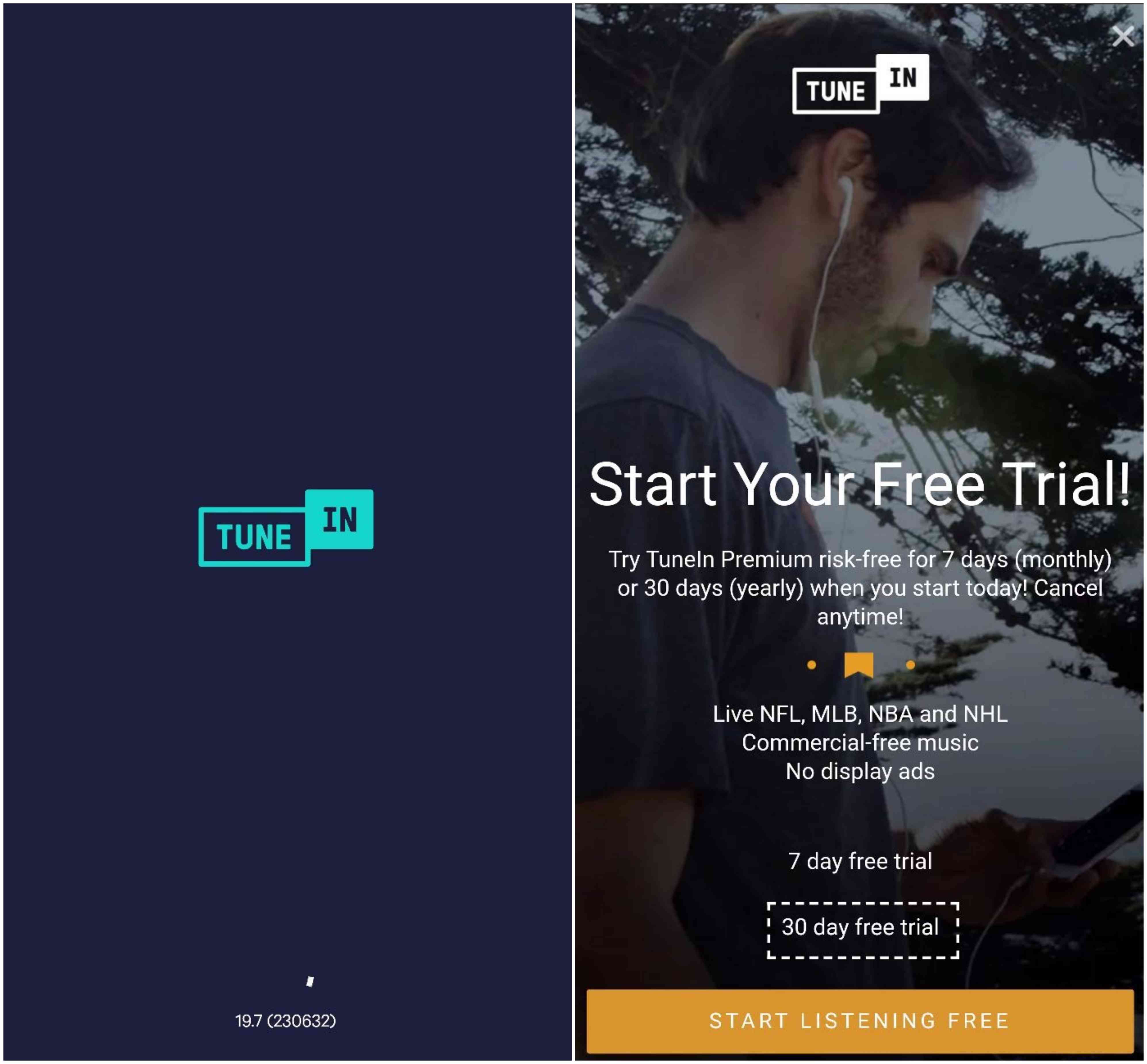 The value of TuneIn Premium is briefly explained, and the free trial offer is generous and compelling. As a freemium strategy, it checks all the boxes:
✓ Clear value proposition
✓ Introduced early-on in the app experience
✓ Allows users to experience the product before purchasing
✓ If users opt-in, it is already a successful upsell (since payment information is obtained upfront)
I decide to proceed as a guest user, and am immediately asked for permission from the app to access my location and contacts. The whole process is rushed, and I feel confused about why my information is needed.
I allow TuneIn to access my location, but deny access to my contacts. I simply don't trust the app enough yet. Then something funny happens. I am asked for access to my contacts again. And again. And again.
I finally click "don't ask again," and the requests stop. Would it have gone on forever otherwise? Who knows? I'm not interested in finding out.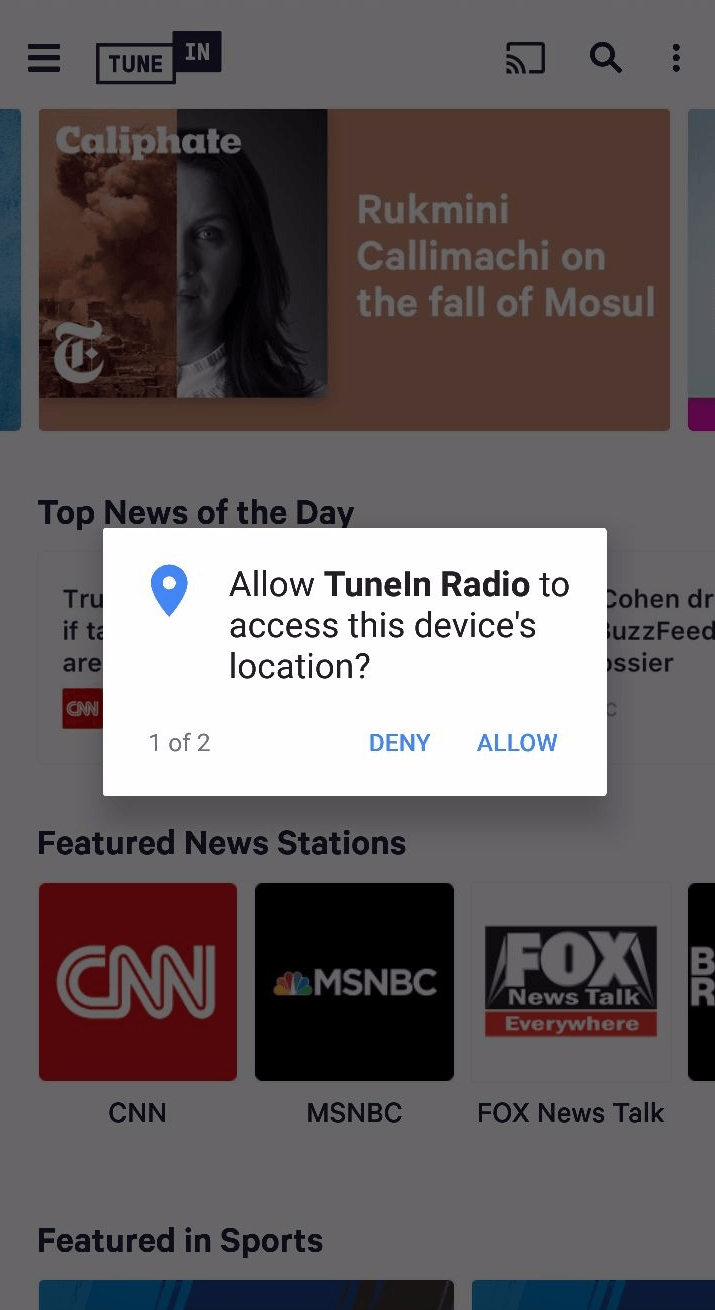 Once I get past TuneIn's persistence, I am able to fully view the app homepage. It is clean and showcases stations for news, sports, podcasts, and music — a nice overview of the app's content types. With featured news stations, podcast listicles, and music recommendations for moods and activities, the homepage is a good place for users to explore new types of content they might not normally come across.
Towards the top of the page, TuneIn keeps track of your recently visited stations and announces newly released episodes from stations you have favorited. It is a nice touch, and makes it easy for users to pick up where they left off from their last visit.
At the bottom of the homepage is a CTA touting the benefits a seven-day free trial — a good reinforcement of the option to upgrade.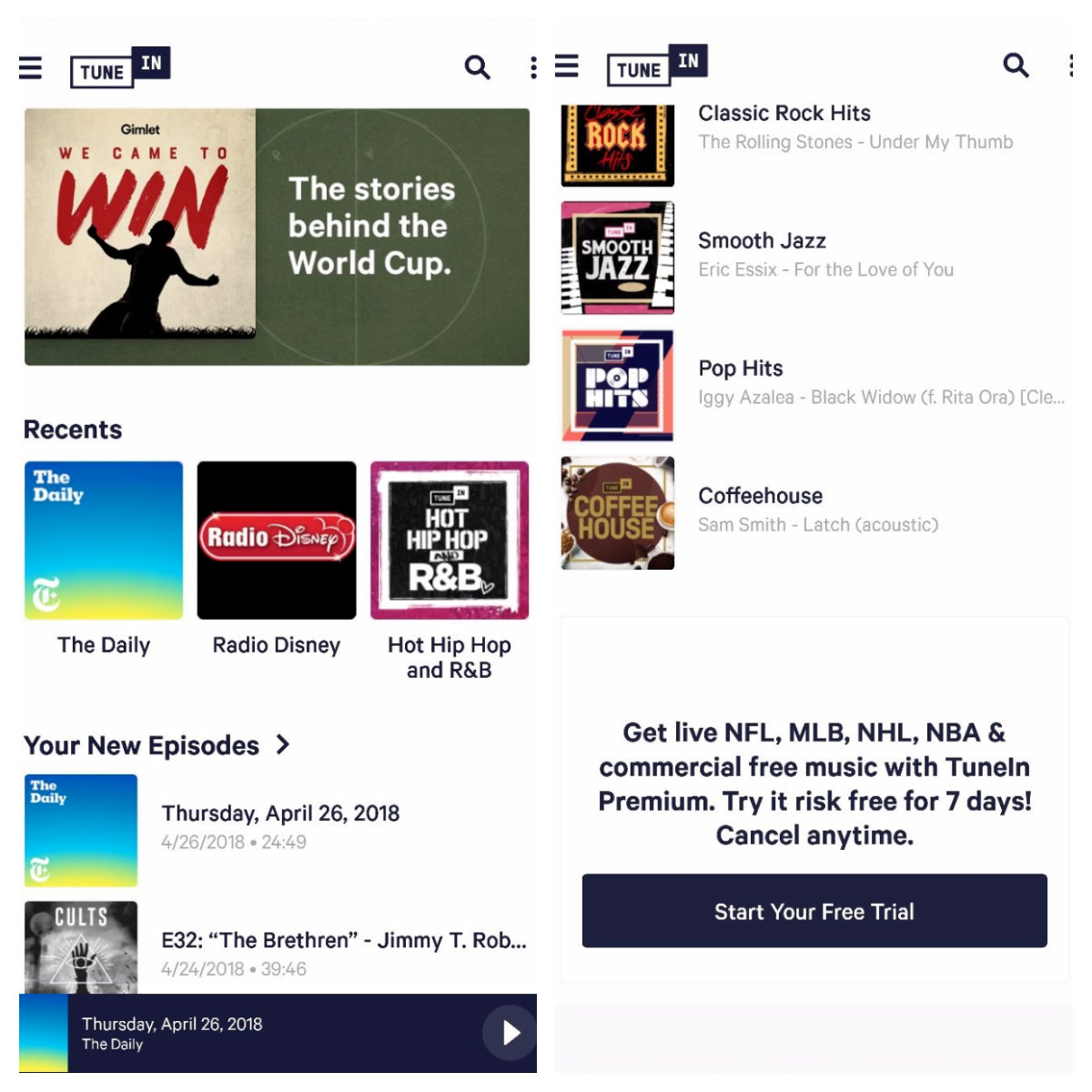 One Way to Improve
As an alternative to its current strategy of pushing an upgrade to premium right away, TuneIn could experiment with a "Spotify approach" — that is, showing users the value of a premium subscription rather than telling them.
When using Spotify's free service, music is interrupted by ads that include a subtle CTA to upgrade if users want to skip them in the future. When listening on mobile, all songs must be shuffle played (instead of being able to pick a specific one), and you can only skip a certain number of songs.
This is a great strategy on Spotify's part, because users are already familiar with the service and engaged with the app. Thus, they can truly understand the value of an upgrade.
Another piece of feedback — TuneIn could have warmed me up before aggressively pushing me for permissions. When I was asked for access to my location and contacts, I didn't know what my data would be used for and was therefore reluctant to share it.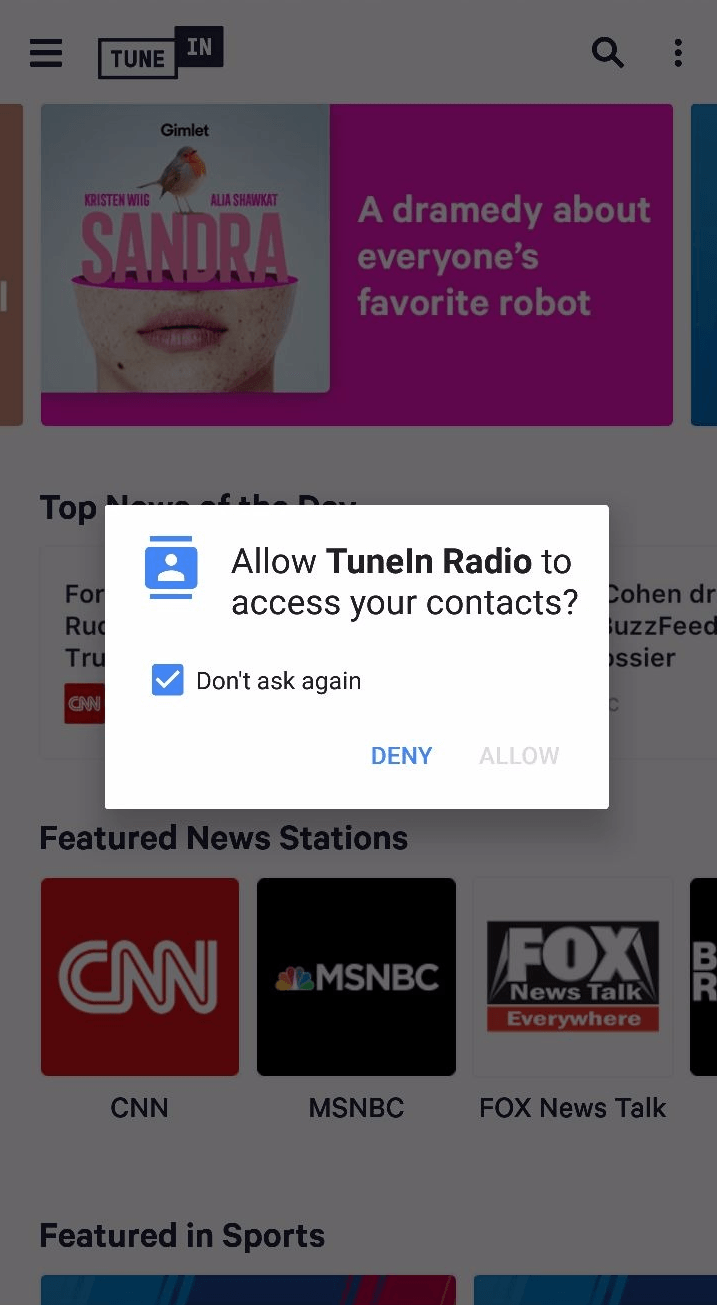 The nonstop requests for access to my contacts was excessive. I denied permission once, and was repeatedly interrupted by the same pop-up over, over, and over again. The whole process felt like an annoying glitch — not a great first impression for new users who have no loyalty to the app yet.
To fix this poor onboarding experience, TuneIn should first allow users to familiarize themselves with their service and interface. Asking for permissions after this basic courtesy makes much more sense.
Priming users before presenting a hard ask never hurts, either. Prior to asking for permissions, a tailored in-app message could be placed in front of the actual request itself. The extra real estate allowed by the in-app message provides an opportunity for TuneIn to explain why the request is being made, and what users will get out of it. If the user declines, the permission request is never displayed and can be served at a different time (say, at a moment of in-app happiness or optimal engagement). This, in turn, will increase acceptance rates, and prevent TuneIn from unnecessarily bugging users.
Main Menu
What TuneIn Does Well
The app's main menu can be brought down by an icon on the top left corner of the app.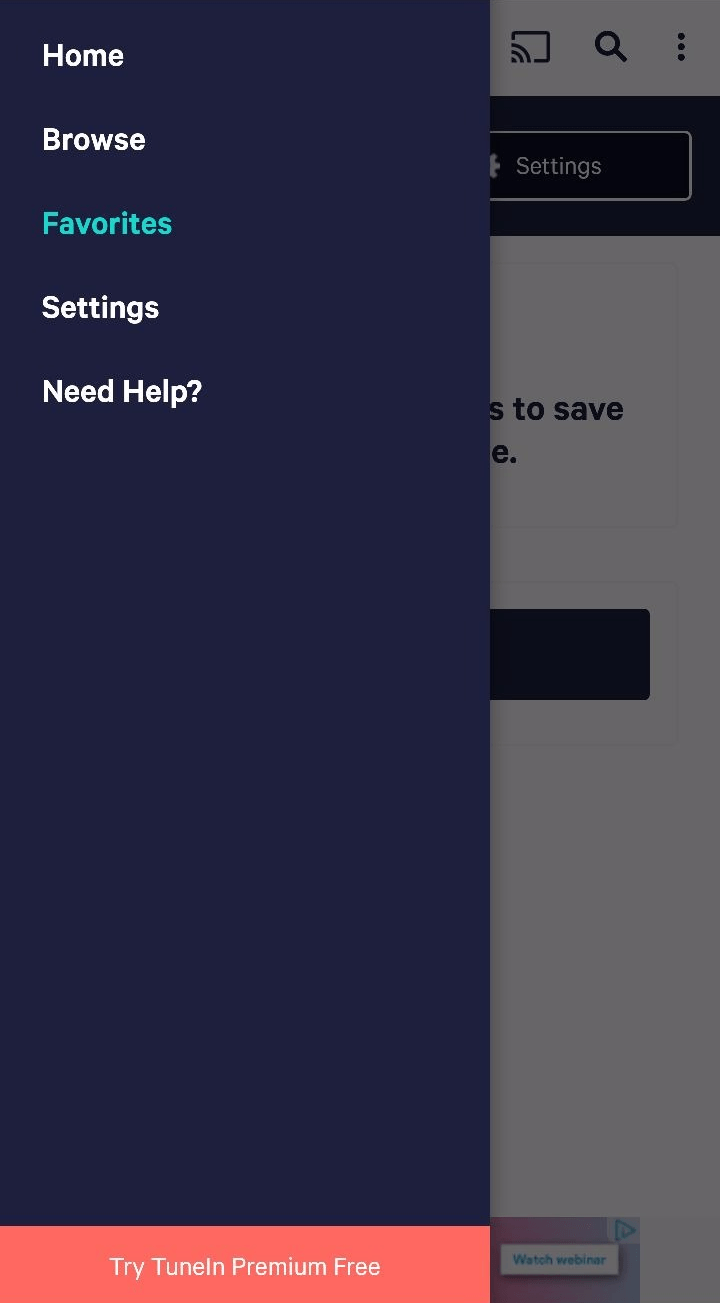 Here is a short breakdown of menu options:
🔎 Browse: When you click on browse, TuneIn lets you drill down into specific types of audio content. Popular categories — like Local Radio, Music, Sports, News, Recent, Trending, and more — are organized in a straightforward list. You can also find stations by language or location.
When you click on a category, you are led to a page of relevant stations in a format very similar to the app homepage, or in a neat list from. Content is easily searchable, and you don't have to jump through hoops to find something you are interested in. This menu, along with the app homepage, is a great way to discover new radio stations, podcasts, and music that you may not have come across before.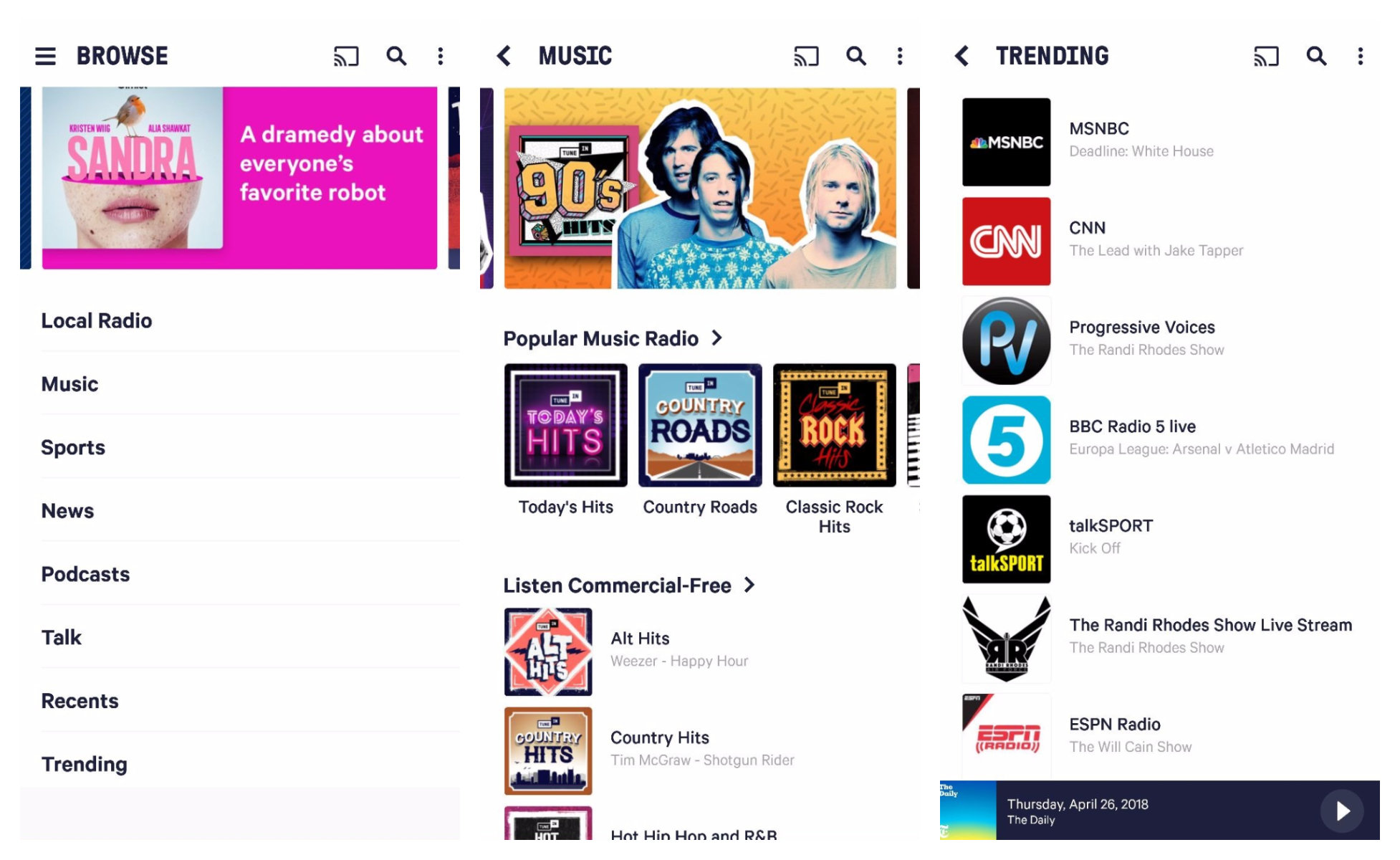 ❤ Favorites: This page is where users can sign in to find radio stations they have favorited. When using TuneIn, you can favorite stations, music, podcasts, individual episodes of radio shows — any content, really — and it will be saved and displayed in a categorized list.
Though the Favorites page is convenient if you only save a limited amount of content, I can see it getting trickier to find something specific if the list becomes too long. For now, though, this functionality works just fine.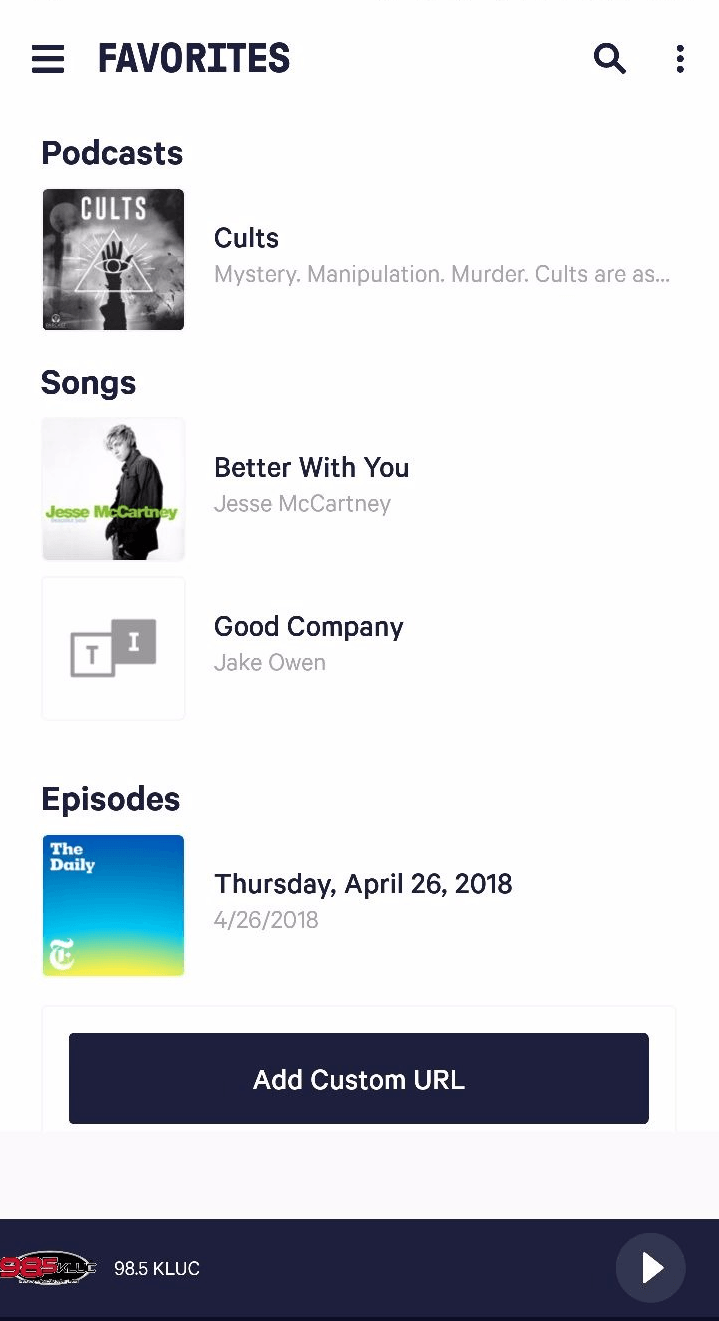 ⚙ Settings: At the top of the settings menu, there is a clear CTA for users to sign in, sign up, or upgrade to a TuneIn Premium account. Users can also toggle with features such as notifications, auto download, and auto restart of content.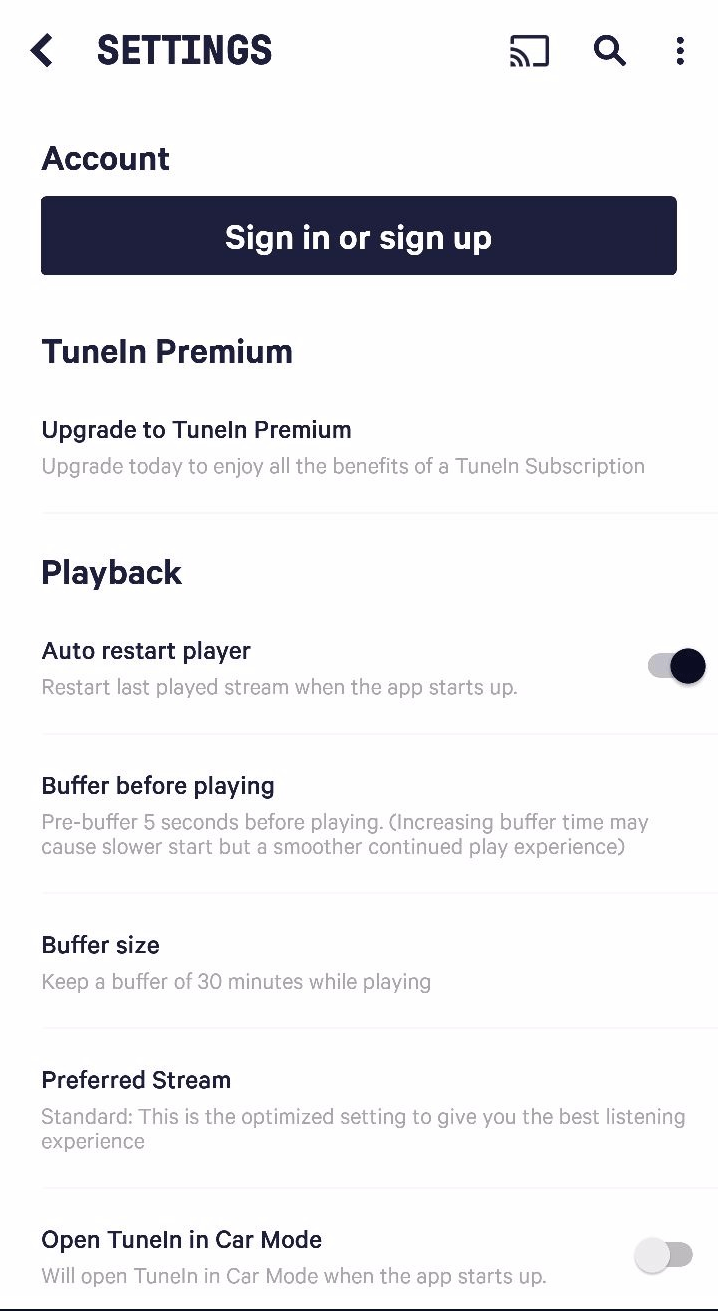 ❓ Help Center: Clicking on "Need Help?" on the drop-down menu automatically redirects you to the TuneIn online help center. Here, users can manually search TuneIn's database for relevant support, or scroll through a list of common FAQs such as "how do I edit my profile information" or "what's the difference between TuneIn and TuneIn pro?"
It is a thoughtful touch on TuneIn's part to make support accessible right from app rather than sending users on a wild goose chase elsewhere.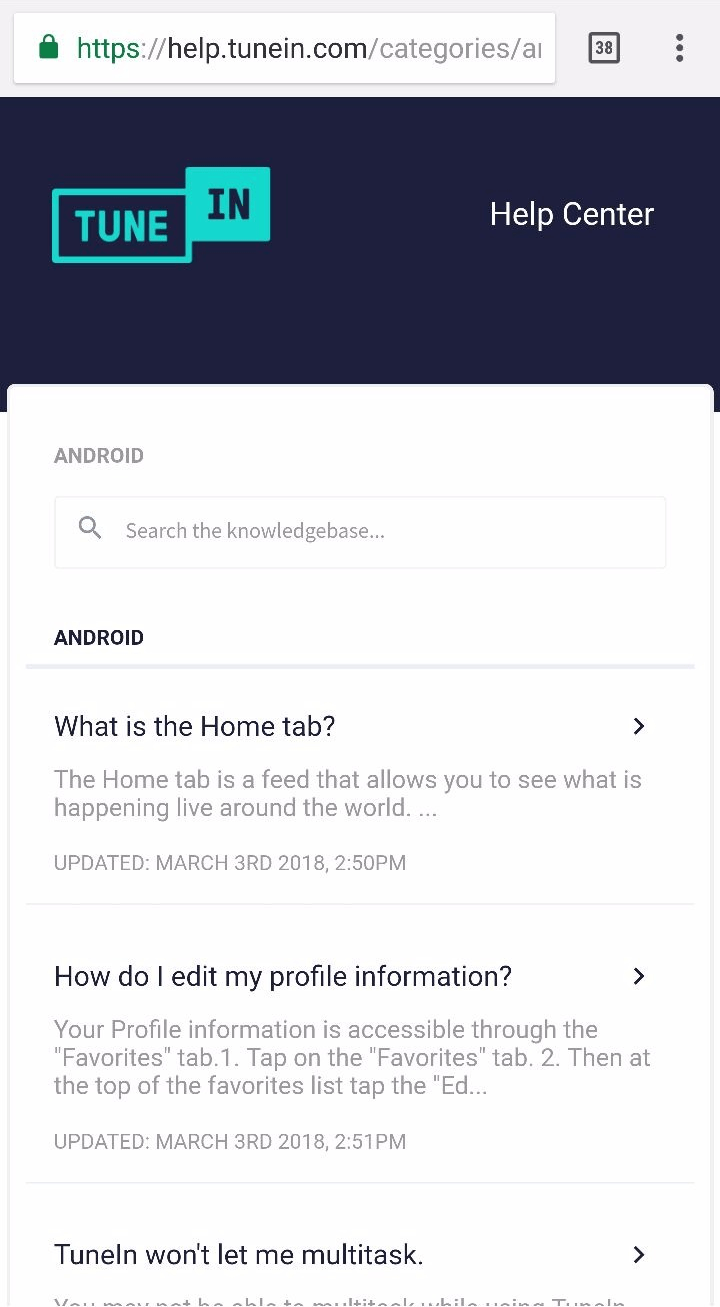 One Way to Improve
There are a number of locations throughout the TuneIn app where new users can opt into a Premium account, but only two locations where users can sign-in or sign up — the Favorites page and the Settings page.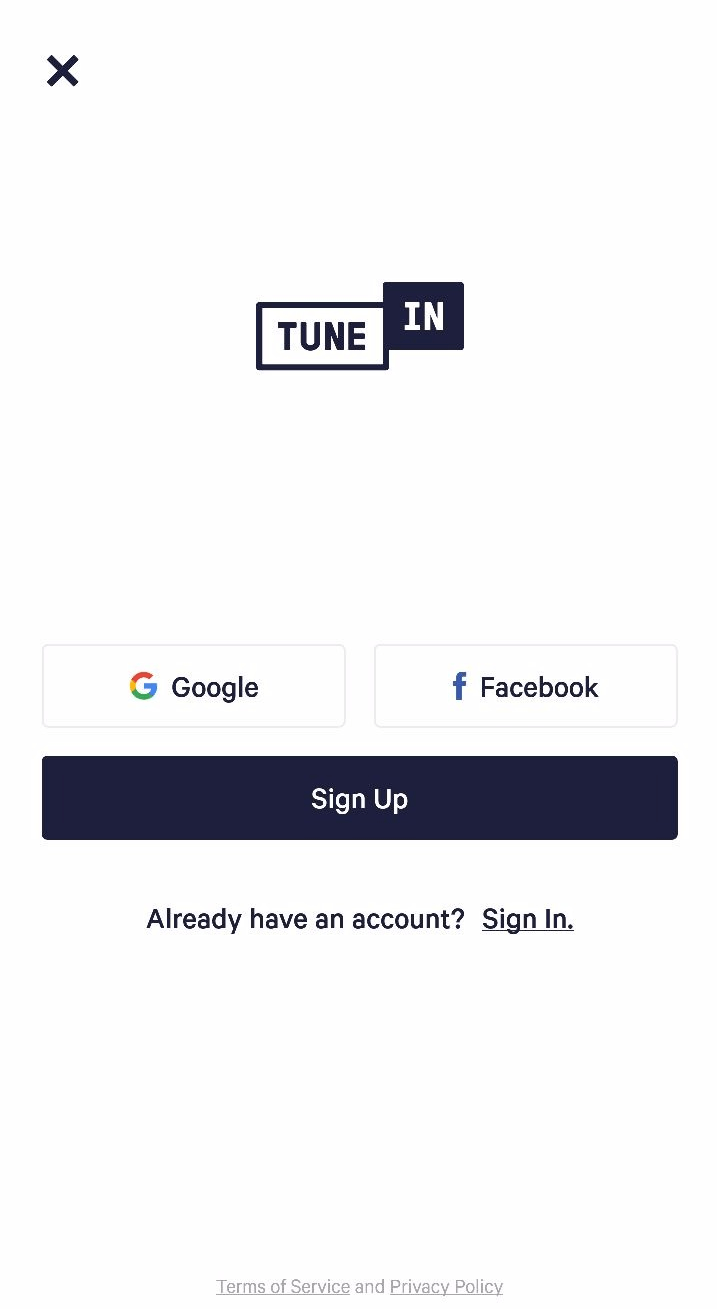 To save users a few clicks, TuneIn could add several more touchpoints for these actions. Logical places for a sign-in and sign up CTA would be towards the top of the main drop-down menu, or on a screen that is displayed immediately upon opening the app.
Additionally, while providing easy access to the TuneIn help center is smart, an interactive introduction of key app features during the onboarding flow may also be helpful for new users.
The Trulia app does a great job of educating new users as they go. Throughout the first-time user experience, moving pop-ups within the app highlight the app's core functionalities.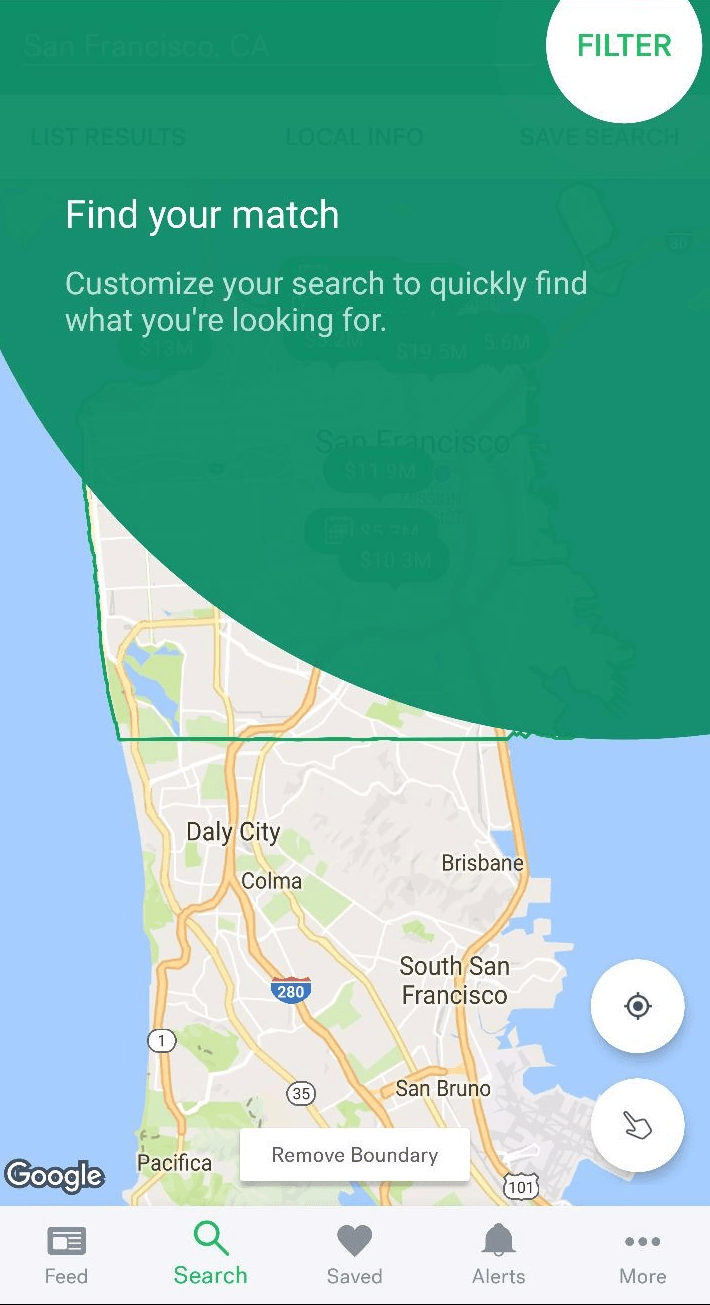 TuneIn may benefit from a similar approach. Currently, there is no tutorial whatsoever — you simply have to explore the app and learn on your own.
As always, A/B testing each addition prior to launch can ensure that new users are positively impacted, and that existing users aren't getting annoyed. A full assessment of the campaign across KPIs can also inform TuneIn of any tradeoffs that may be involved.
Listening to Stations
What TuneIn Does Well
Each radio station has its own page on the TuneIn app where available content can be streamed.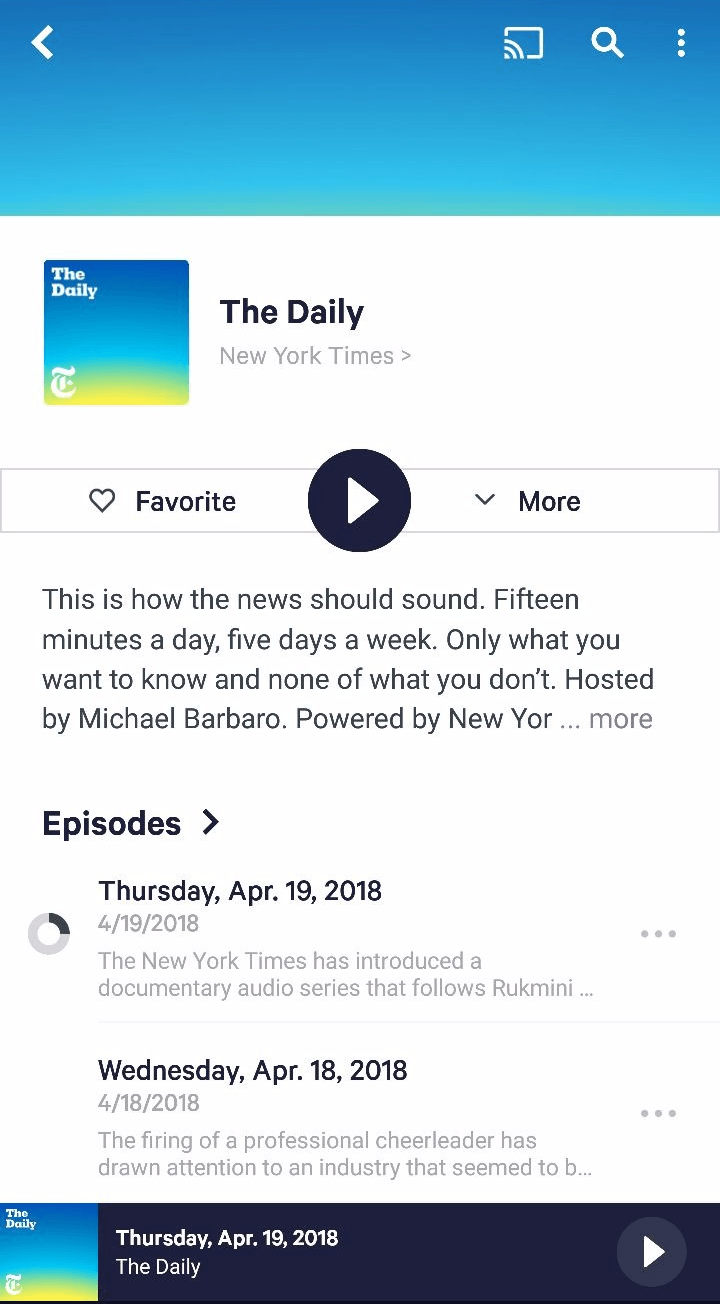 When you listen to a radio episode, podcast, or music show, you are directed to a streaming page. Here, you can rewind or fast forward audio, favorite it for later, or cast it to a nearby device.
A drop-down menu gives you the option to leave a comment about the content, share it with your friends or on a personal social profile, set an alarm or sleep timer (for a station to wake you up!), and switch to the app's car mode.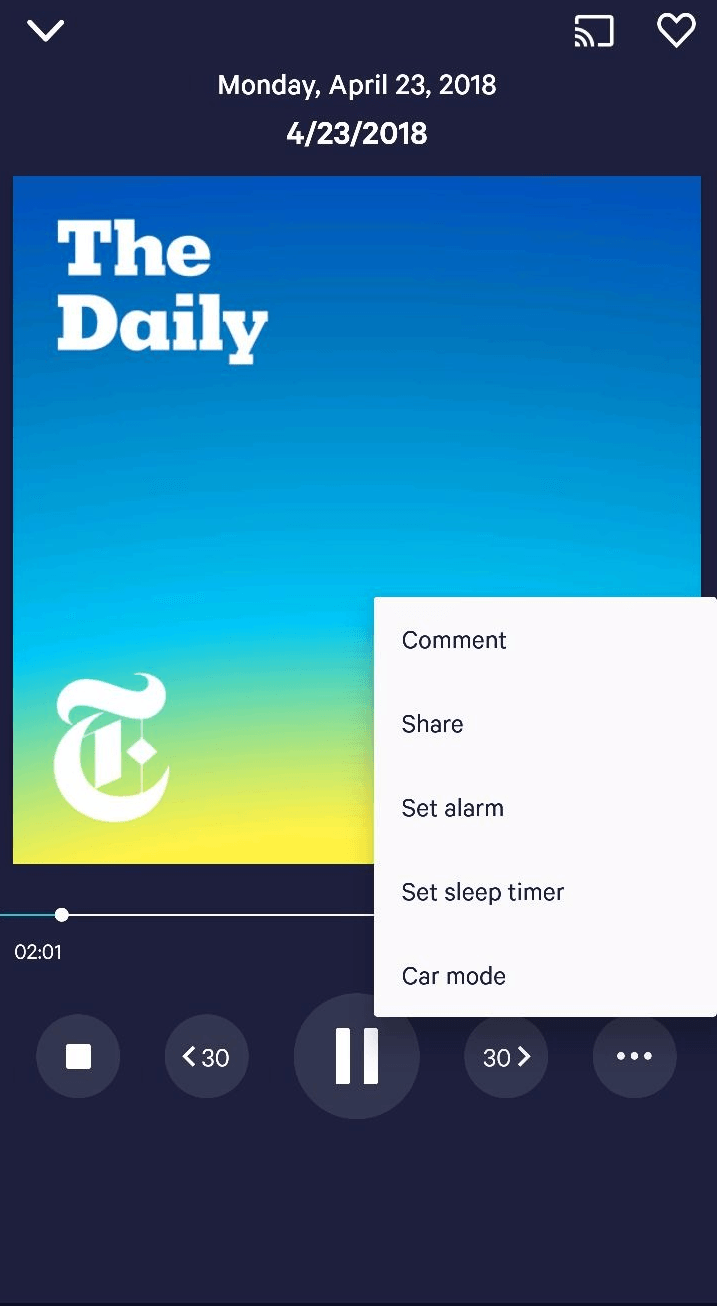 Car mode is a special feature for safe listening while driving. When enabled, the app displays big buttons so drivers can easily stop and play content, access their favorite stations, use voice search rather than type search, and more.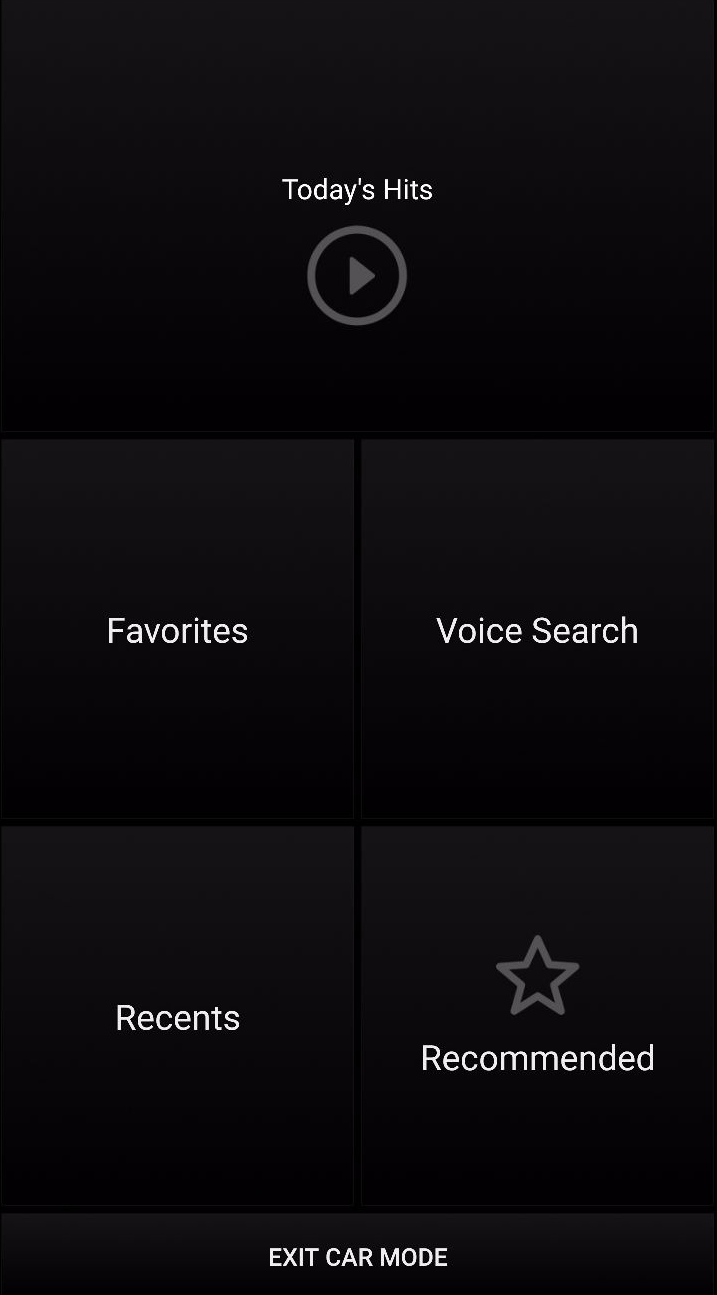 When you are listening to audio, a consistent bar appears at bottom of the app that lets you control your listening experience even while browsing through other pages. A push notification allows you to stop and play the episode outside the app.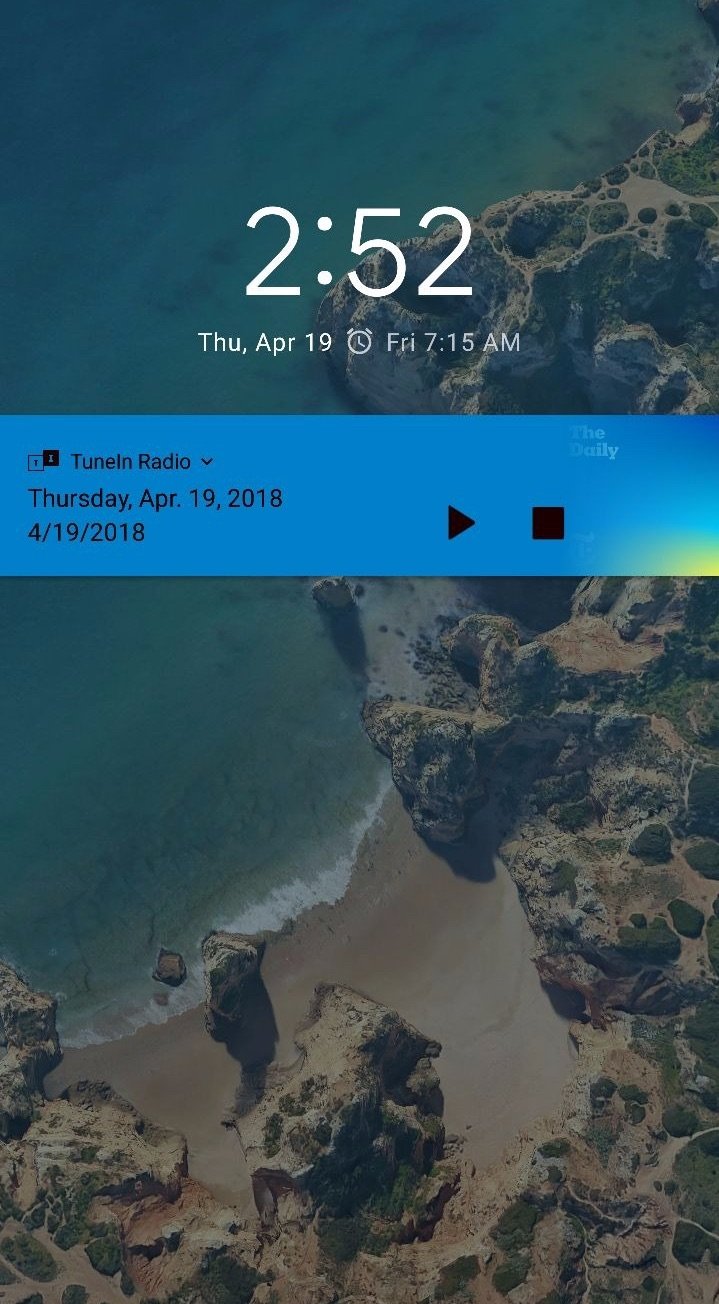 One Way to Improve
There are no glaring issues with streaming on TuneIn. The only comment I have is that you cannot download content directly from the streaming page. This means that if users want to download what they are currently listening to, they have to go back to the radio station homepage and scroll through a full list of content to find the episode they want.
To simplify the user experience, TuneIn could incorporate a download button on the streaming page, or add a download option to the existing drop-down menu. A small change like this would make all the difference.
The TuneIn app has a minimal, user-friendly interface that condenses its enormous library of content into an intuitive format. Finding and streaming content is a breeze, and features like car mode show the app's consideration for individual user experiences.
TuneIn does has some glaring imperfections — especially when it comes to requesting user data. However, if these are ironed out, the app could convince many more users to start listening to radio again.
For more in our ever-growing list of App Engagement Analyses, see our articles on NYT, Snapchat, and Flipboard.
—
Leanplum is the mobile marketing platform built for engagement. We help brands like Tinder, Grab, Tesco, and Zynga orchestrate multi-channel campaigns — from messaging to the in-app experience — all from a single, integrated platform. Schedule your personalized demo here.