Trulia: Finding Your Dream Home in the Digital Age
Finding a place to live used to involve hunting through the real estate section of local newspapers or spending hours on an agent's files. Luckily, smartphones have rendered those days obsolete, and we now have a wealth of apps to simplify the housing search.
In this installment of our App Engagement Analysis series, we look closely at the Trulia app, a mobile real estate resource that helps users find a new home.
How does Trulia provide value, and does it really make sense to turn to an app when making one of the biggest financial (and emotional!) decisions of your life?
Let's dive in and find out.
Onboarding
What Trulia Does Well
Trulia has a minimal onboarding flow compared to other apps. The very first screen includes a short welcome message, and the option to enter basic housing preferences.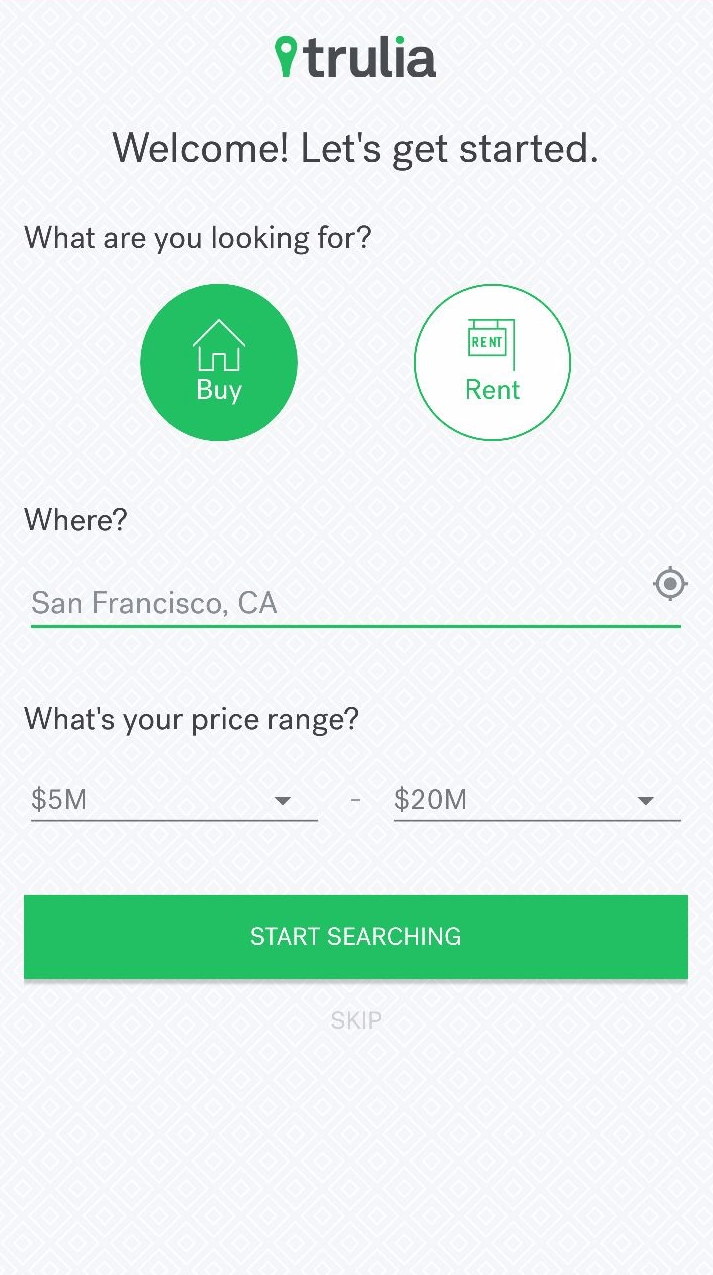 This no frills approach is a smart move on Trulia's part because it moves you forward — exactly what an onboarding process should do. The less effort required from users, the better.
A girl can dream, so I key in a $5-$20M budget for my future home in San Francisco.
After clicking the "Start Searching" button, I receive a prompt from Trulia to share my location so they can pull houses in my vicinity. It is a well-timed ask. I am already engaged, and it's clear how sharing this data will benefit my browsing experience.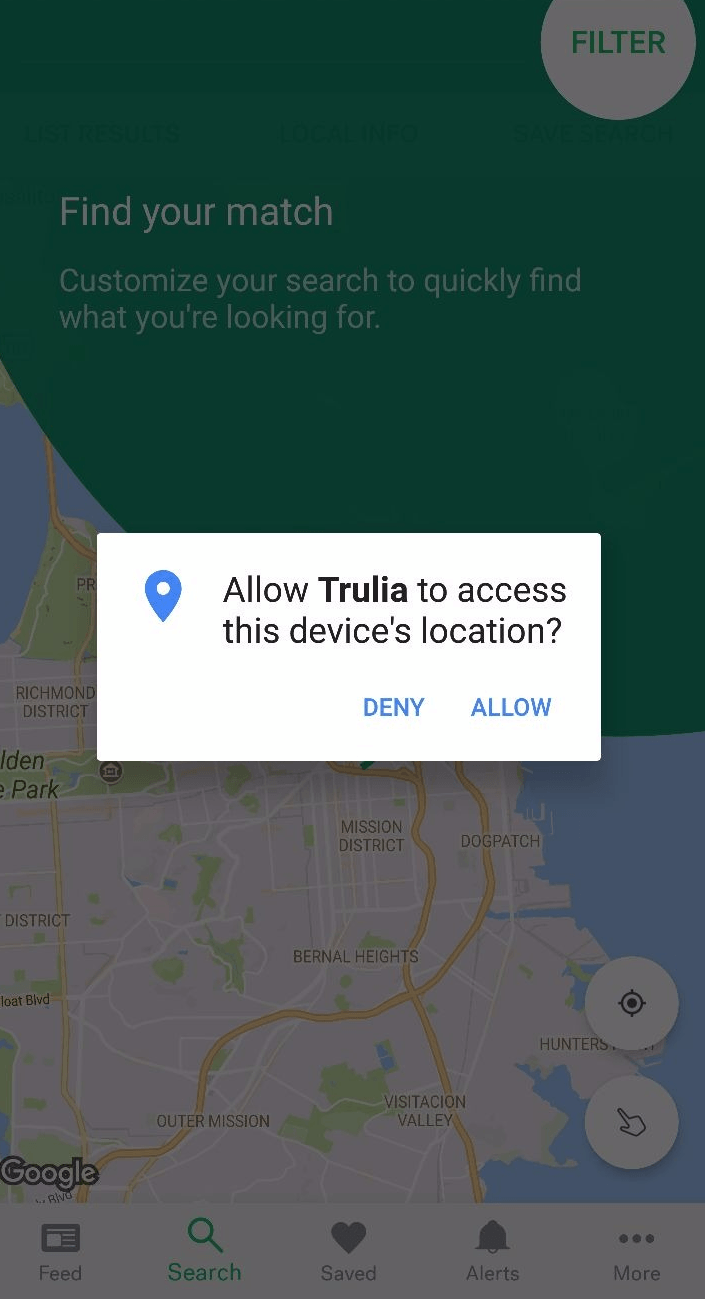 One Way to Improve
Apps that properly convey value during a user's first session are well positioned to attract, retain, and convert in the long-run. While Trulia's onboarding process is efficient, a short and succinct value proposition would set the right tone for those visiting the app for the first time.
To experiment, Trulia could run an A/B test where some users see the original "Welcome, Let's Get Started" headline, and some see a short value proposition in its place. If there is a significant increase in user engagement when a value proposition is present, then this change can be confidently implemented.
I also noticed that Trulia did not prompt me to register for an account during the onboarding flow (I was eventually directed to a sign-up page later on in the user experience). Though it makes sense to wait until users are at their most engaged, Trulia could suggest creating an account earlier (say, with a small, unobtrusive button on the welcome screen) and potentially boost sign-ups.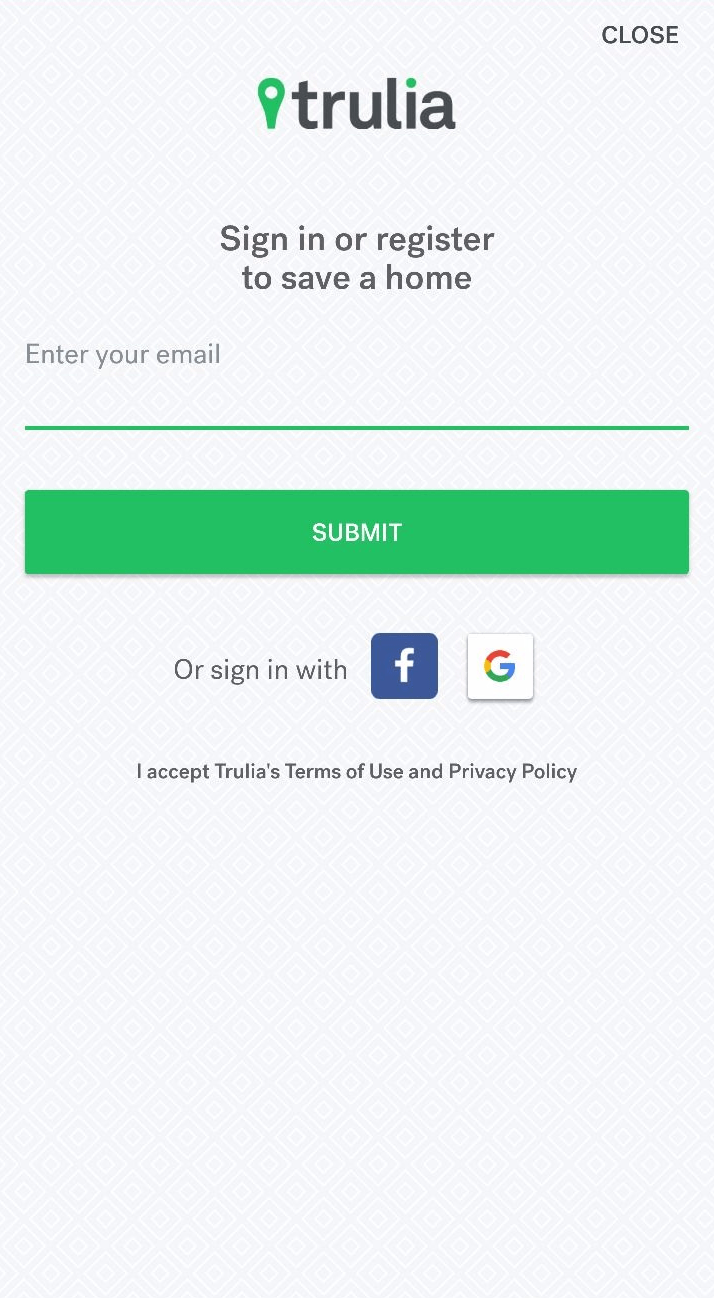 Introduction of App Features
What Trulia Does Well
The key functionalities of Trulia's app are interactively introduced throughout the first-time user experience.
Once you move past the welcome screen, a small pop-up leads to a personalized activity feed of real-time housing updates and suggestions. On the app's map view, a moving pop-up in the upper-right corner reminds you to filter your search for optimal results. When viewing a property, a similar pop-up highlights the "Save Search" function, so you know to bookmark listings you want to go back to.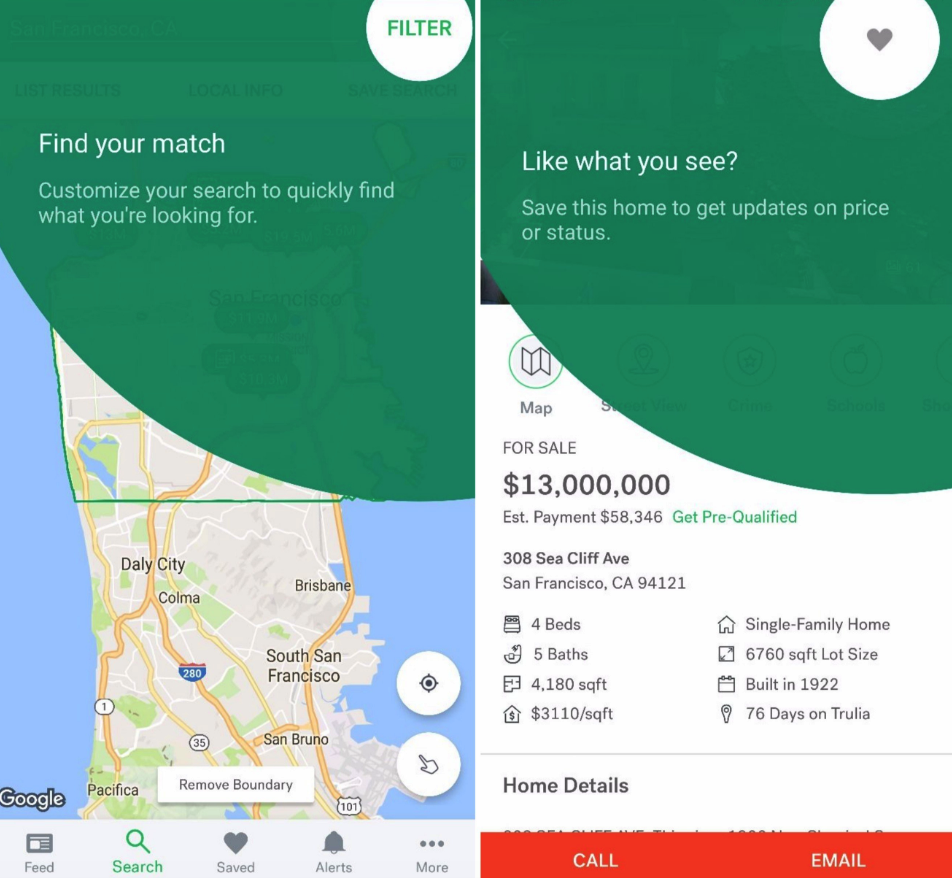 One Way to Improve
The Trulia app is straightforward, but users who are less tech-savvy could still struggle without guidance. A short tutorial of two to three slides integrated right into the onboarding process would be a good approach to ensure that users don't drop off due to not understanding how to use the app. It may be worthwhile to run some A/B tests to see if efforts such as these would yield a statistically significant impact on engagement
Searching & Viewing Properties
What Trulia Does Well
Trulia uses your smartphone's built-in GPS to display relevant properties. Sophisticated filters such as price range, number of bedrooms, square footage, and more can be programmed to customize housing results to a tee. You can even manually draw a border around an area of interest on a map to limit results.
Interested in learning about a neighborhood you are eyeing? Trulia lets you obtain a rich variety of local data like crime, schools, and traffic along with your search.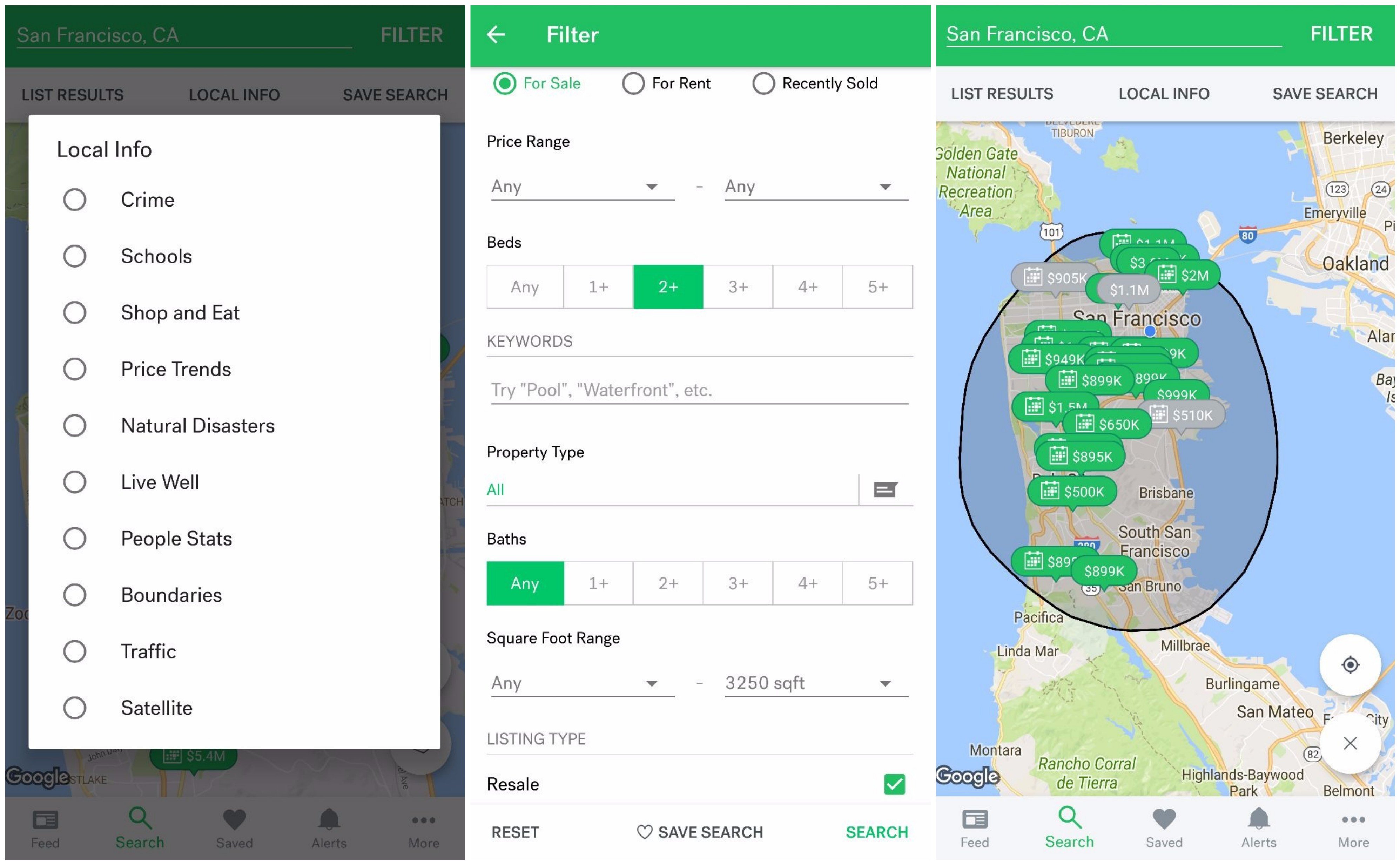 Property results can either be viewed in list form, or by price and location on a map view.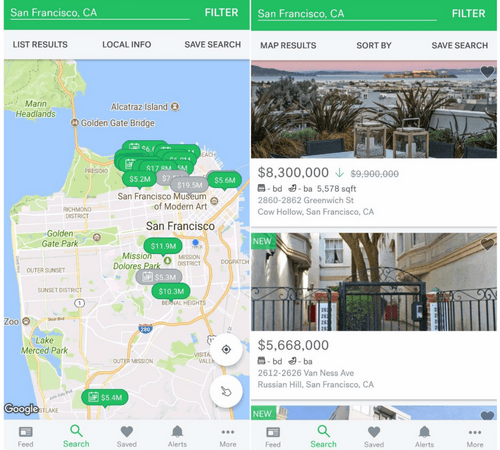 As you recall, I love myself and am looking for properties between $5M and $20M. I decide that I very much like a $13M home on Sea Cliff Avenue (reasonable!) and want to learn more about it.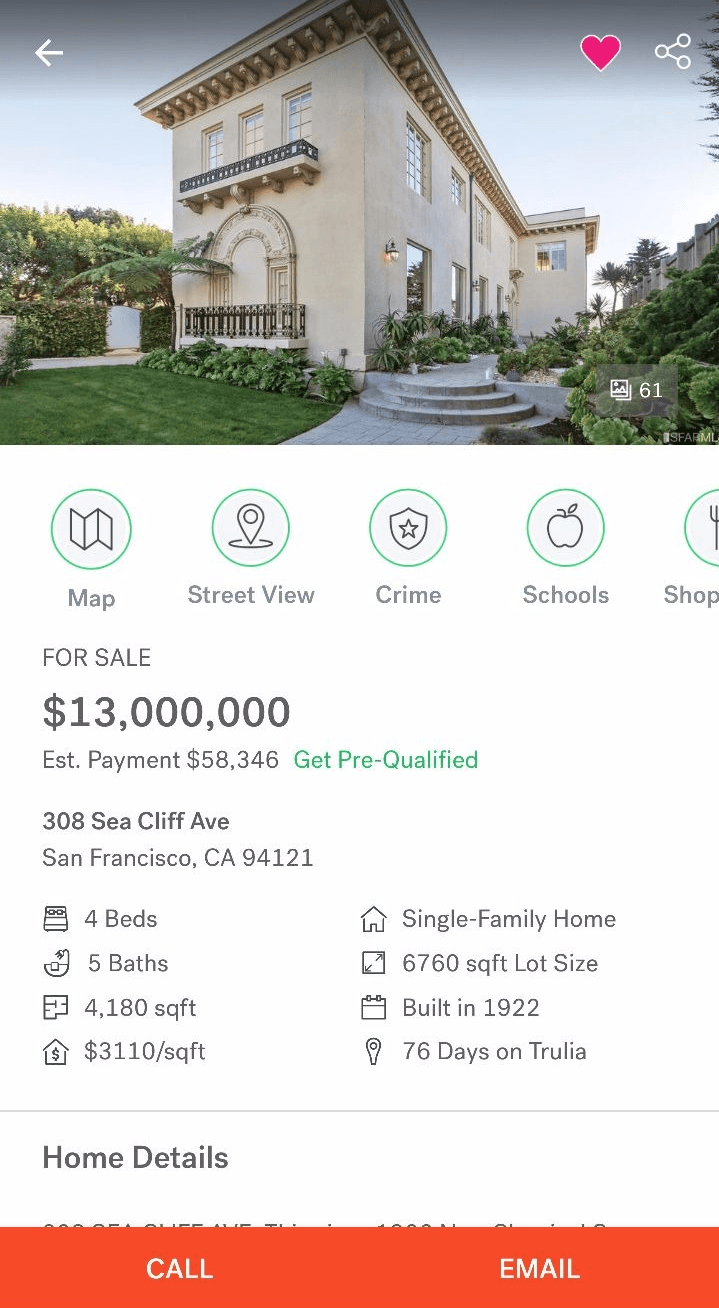 On the listing, I find in-depth details about the multimillion-dollar estate. A bright red CTA to call or email is a constant fixture, making it simple to take next steps with an associated agent. Another convenient addition is the ability to access Google Map directions to the property with just one click. Anything I would ever want to know about the neighborhood can be accessed right on the listing as well.
With all of this information available, it is unnecessary for me to ever leave the app — a great thing for encouraging user engagement!
One Way To Improve
Frankly, I did not find any usability issues with Trulia's current property search and viewing functionalities. Looking ahead, Trulia may want to consider adding more advanced filters for neighborhood research. This way, if I wanted to find the most "walkable" neighborhood in San Francisco, or only search for houses in the district with the best schools, I could turn to the app rather than elsewhere. These measures would truly propel the Trulia app into the future.
An additional comment I have is that the manual option to draw a border on the map is not intuitive, nor was it ever pointed out by the app. A way to address this would be calling out the button in the same interactive way that Trulia's other key features are introduced. Easy as 🍰!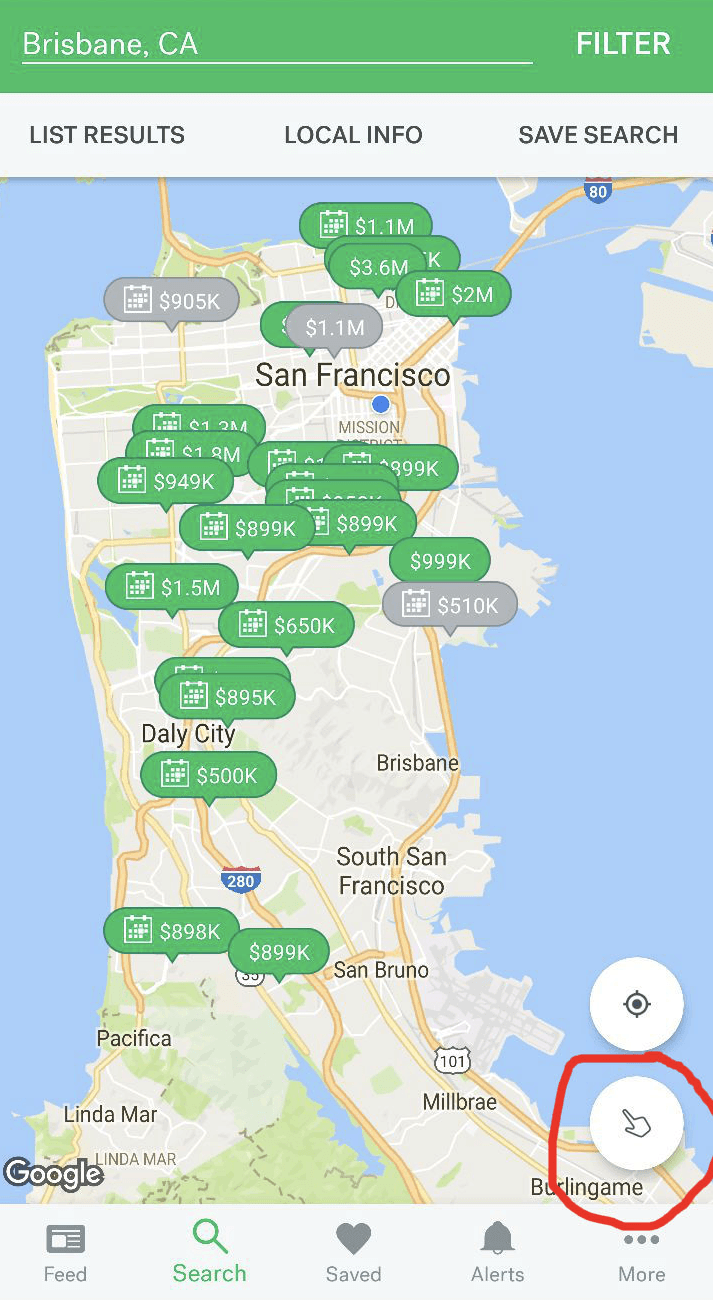 Creative Features
What Trulia Does Well
Trulia further cements their reputation as an all-in-one real estate destination with the myriad creative features available in-app.
A personalized activity feed displays homes based on your past preferences. An alerts tab allows users to opt into receiving tailored notifications for home suggestions, price changes, and more.
Trulia also covers the financial considerations of purchasing a home. A mortgage rate calculator and a rent vs. buy calculator are one-click away under the "More" tab. There is even an in-app tool to get pre-qualified for a loan.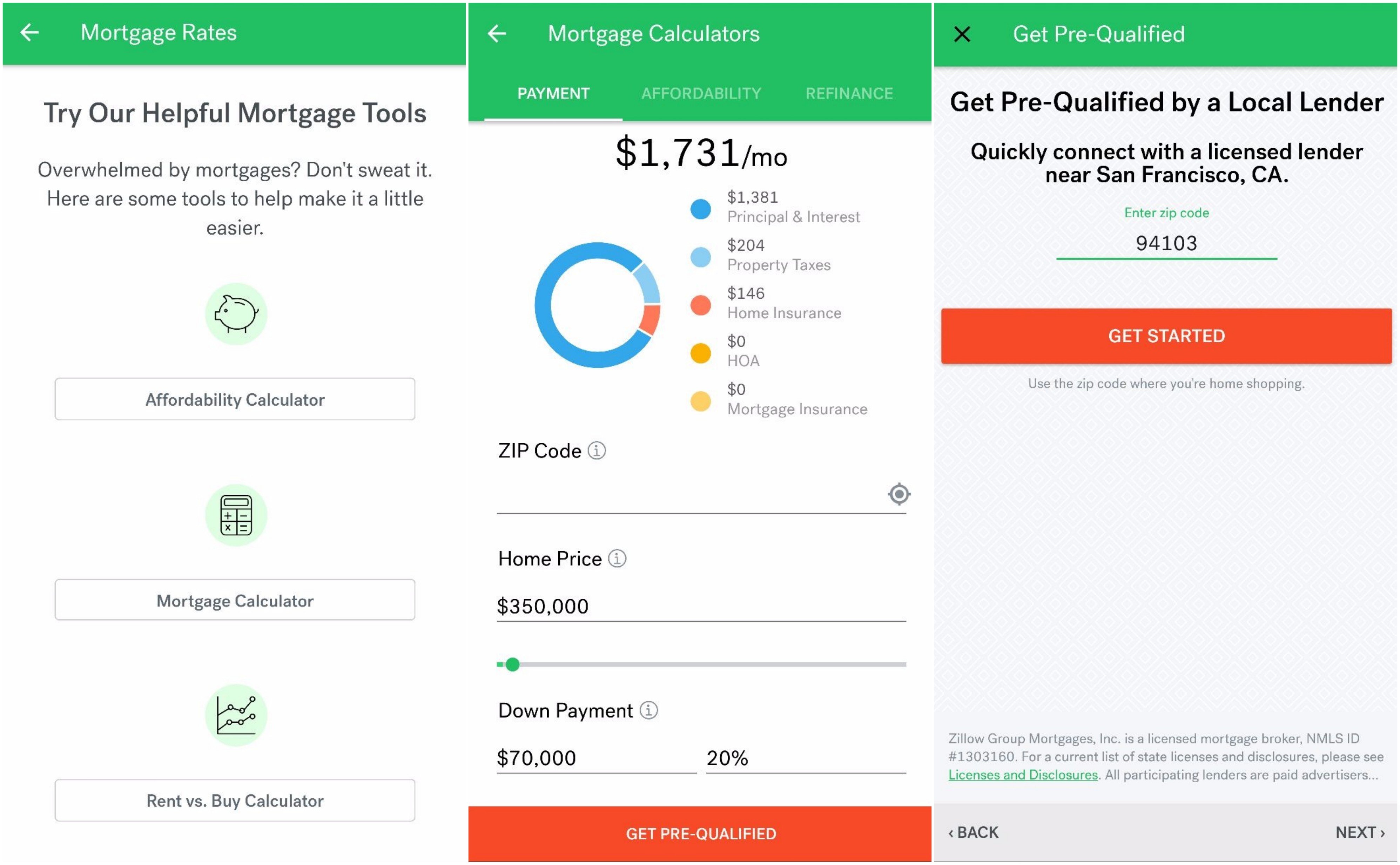 What Can Be Improved
On my activity feed, there is sometimes a glitch where some homes under "New Listings" do not have photos — something that could prove inconvenient for mobile house hunters. Personally, I would ignore listings where I can't actually see the property. Moving forward, Trulia may want to prioritize fixing this issue to encourage higher engagement on the searcher's side.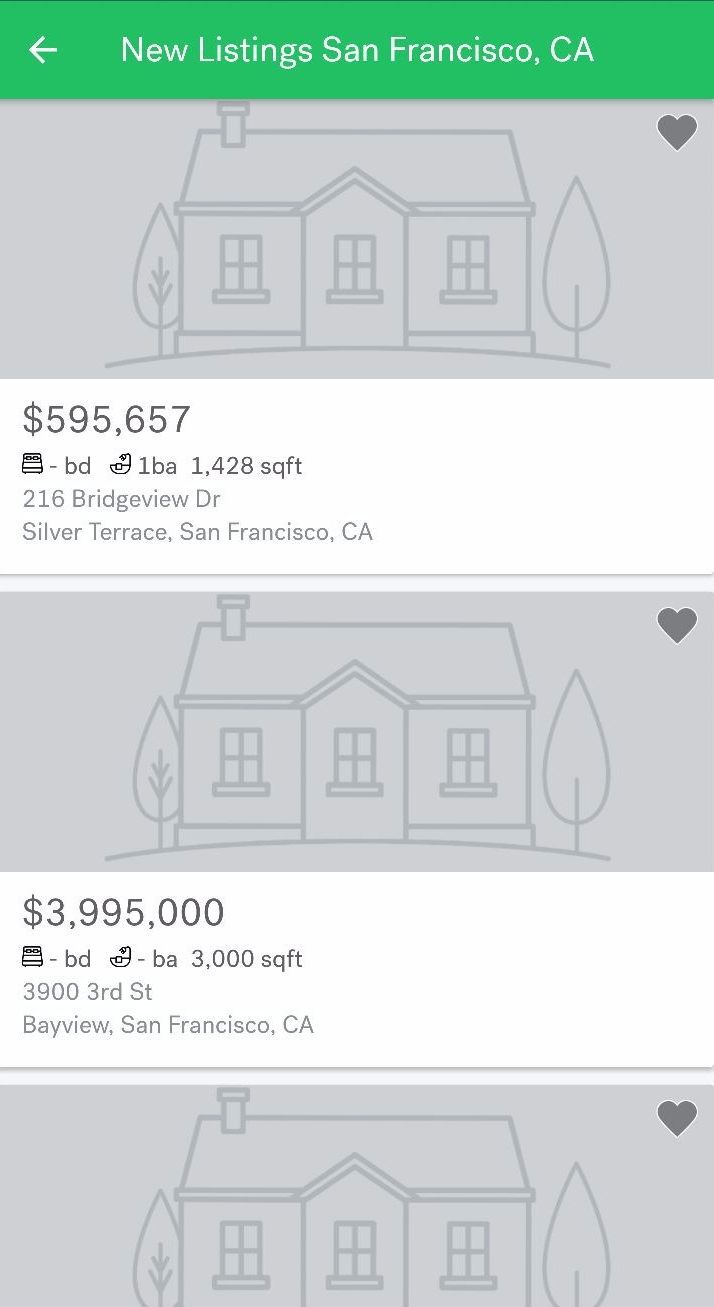 Trulia could potentially improve the activity feed even further by personalizing housing recommendations. As you recall, my budget is between $5M and $20M, but many of the houses pulled for me were at a pauper's budget of under $1M. This gap presents a great opportunity for Trulia to apply data and optimize the user experience.
Trulia App Engagement
Trulia's comprehensive features go above and beyond to address every conceivable real estate need. Within the app, house hunters will find a one-stop resource for searching and viewing property, neighborhood data, and even financial support and education. No question about purchasing a home is left answered.
Thanks to Trulia, I feel fully prepared to buy my $13M home on Sea Cliff Avenue. Now, I just have to find a way to get that money.
For more in our ever-growing list of App Engagement Analyses, see our articles on Delta, Southwest, and Reuters.
—
Leanplum is the mobile marketing platform built for engagement. We help brands like Tinder, Grab, Tesco, and Zynga orchestrate multi-channel campaigns — from messaging to the in-app experience — all from a single, integrated platform. Schedule your personalized demo here.