App Engagement Tools Every Mobile Marketer Needs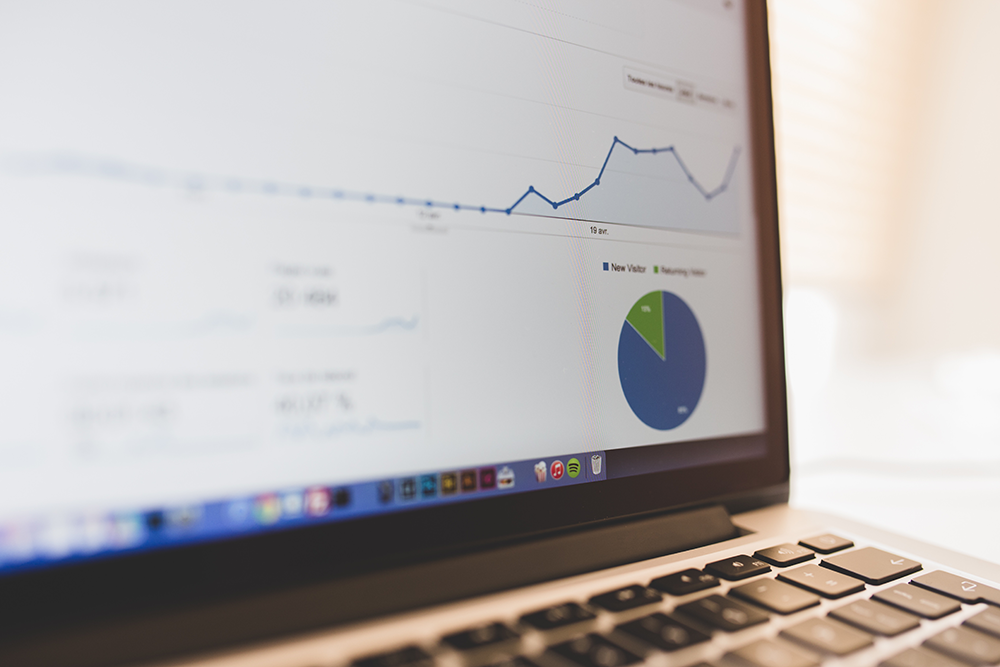 If there's one thing we know about successful mobile marketers, it's that they love to tinker. Marketing is as much an art as a science, and it can take several tries to land upon the most effective CTA or engaging copy. Mobile marketers excel in this environment — but sometimes technical hurdles get in the way of rapid iteration and creative brainstorming.
But cumbersome mobile marketing workflows don't have to come with the territory. With the right software in place, it's possible to iterate on marketing creatives without tying up engineering resources and waiting for App Store resubmissions. Better yet, the best mobile marketing platforms can enhance your campaigns with personalized data and real-time content.
These are just a few of the ways integrated marketing platforms help mobile marketers establish better workflows. As you'll discover, there's a way to personalize your marketing at scale without dealing with the tedium of execution.
And if you're looking for a quick list of all of our actionable insight, you can't afford to miss our 6-Minute Guide to Mobile Messaging.
Sophisticated Messaging for the Sophisticated Marketer
Messaging is core to the mobile marketer's job. More than any other factor, messaging has been shown to increase user retention —  by as much as 7x. Whether the goal is retention, engagement, or dormant user re-activation, there's a messaging use case for nearly everything. That's why mobile marketers are at their best with a robust messaging solution by their side.
The first criterion to consider is whether the solution offers cross-channel messaging.
Push notifications might be powerful, but they're not the only item in the mobile marketing toolkit. A marketer should have access to other out-of-app channels, such as email or SMS, to reach users who haven't opted in to push notifications.
It's also important to engage active users with in-app messages. For an even better in-app experience, you can selectively send certain push notifications to the App Inbox, allowing users to browse previously read messages from within the app.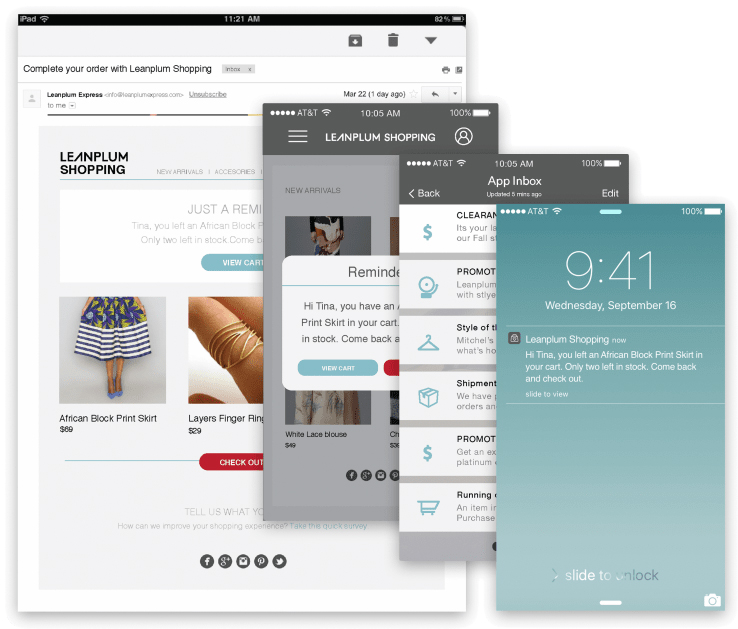 Now, for the second criterion: does the messaging solution allow you to augment messages with personalization features?
For example, Leanplum's Optimal Time leverages user data to send messages when recipients are most likely to open them. This takes the weight of message timing off the mobile marketer's shoulders while potentially earning a much higher open rate.
Other features, like Push Pre-Permissions, help marketers obtain more push notification opt-ins by sending prompts at customized times. These permissions prompts can be scheduled into a larger messaging campaign, allowing the marketer to customize the content if and when the request is made.

Marketing Automation That Cuts Out the Busywork
Mobile marketing automation is a large category, ranging from passive, data-driven services like CRM to active, outbound solutions like automated messaging. For mobile marketers, automation's most important goal is to take the tedium out of your job.
For the amount of time that a good mobile marketer spends crafting personalized messages, it's no surprise that every bit of automation can help. One example is Leanplum's calendar view, pictured below.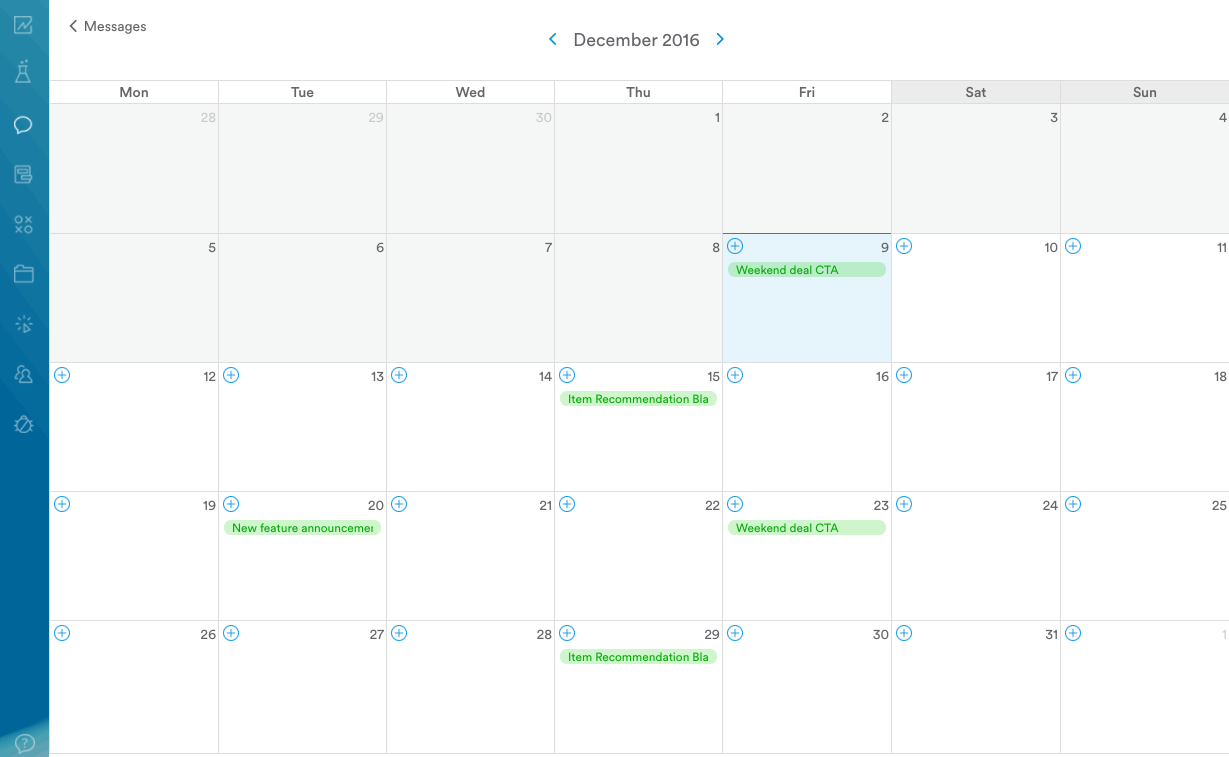 This simple-but-effective feature lets users visualize upcoming messages on a calendar, making it easy to identify congested and open periods. Considering the scale and complexity of a full-fledged mobile marketing strategy, a feature like this could save hours by streamlining your scheduling.
Another useful automation feature is the lifecycle campaign, which enables you to sort messages into a sequential campaign based on user behavior. At Leanplum, this is known as the Lifecycle Engine.
Technically, it's possible to independently schedule messages based on a series of triggers without using lifecycle campaigns. For example, you can set one push notification to send after three days of user dormancy, another after seven days, and then maybe an email after 15 days.
But it's impractical. Repeat this a few times, and it'll soon become difficult to keep track of which messaging is triggering when.
Lifecycle campaigns save you the trouble of cross-checking and coordinating messages. Usually, the goal is to engage a specific person over the course of their app usage (a.k.a. the user lifecycle). Given that goal, it makes sense to visually sort messages based on the lifecycle. Here's an example.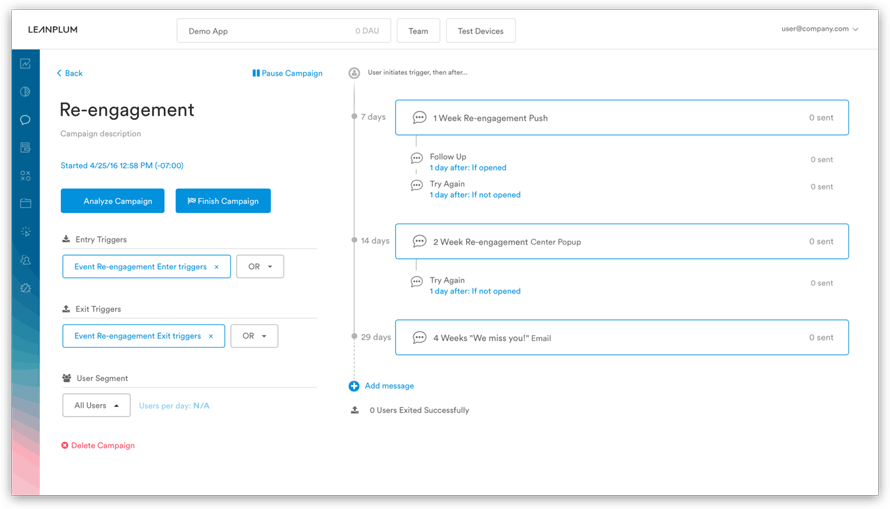 Organizing messages into precise lifecycle campaigns will save you countless hours as you scale. Most importantly, learning these tools and skipping the busywork lets you get back to what really matters: crafting compelling content.
Personalization That Drives Results
Let's face it: personalization is more data-heavy than it seems.
Every marketer knows how important it is to incorporate user data into messaging campaigns, but obtaining that data isn't always easy. It's possible to dig through a CRM database or spreadsheet to find interesting correlations between users — but that's rarely the best use of your time.
With a fleshed-out personalization solution, it's easier for marketers to focus only on what drives results. Platforms like Leanplum make it easy to skim the results of each messaging campaign and A/B test — all statistically significant changes are automatically highlighted, so you can obtain key information at a glance.
From there, you're a click away from creating new user segments based on your campaign results — without having to touch a SQL database or a spreadsheet.
With the power of user data at your fingertips, you can augment your messaging with all sorts of details.
For example, are you reaching out to previous customers in a retail app? Try offering product suggestions in the category that they most recently bought from. Looking to upsell a travel app customer to hotels in their destination? Don't just link to your app — offer specific suggestions based on the destination and local weather.
The right personalization platform will help you spend less time foraging for correlations and more time building campaigns that increase engagement.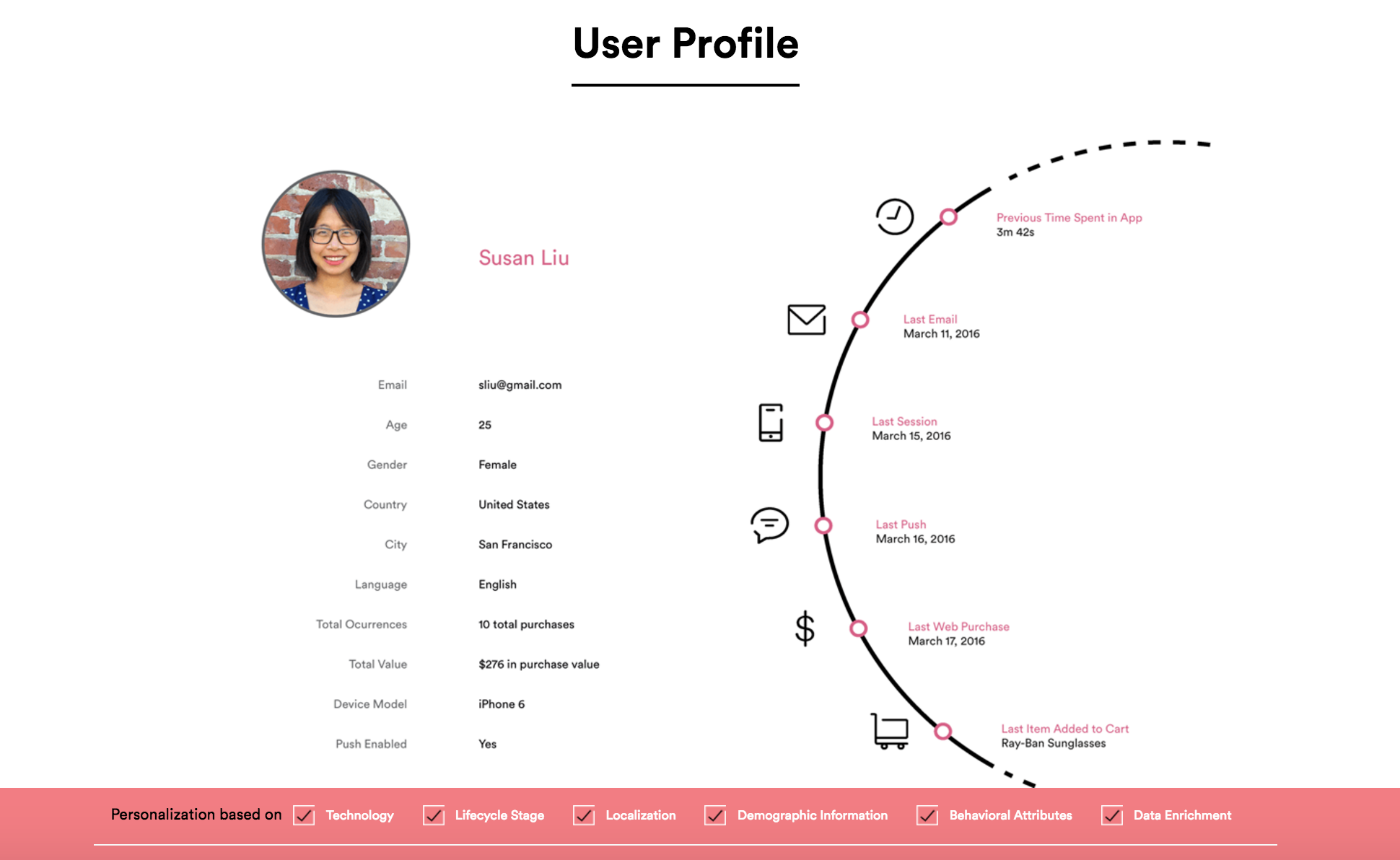 A Final Word on Engagement Tools
For many mobile marketers, the job is at its most exciting when you're discovering new things about your users. But the discovery process isn't always pretty — and without the right tools in place, it can introduce tedium and repetition to an otherwise dynamic job.
If you want to focus on what you do best, an integrated mobile marketing solution is the place to start. So don't wait — get started!
—
Looking to master the skills that every mobile marketer needs? Start with our 6-Minute Guide to Mobile Messaging.