Reuters Engagement Analysis: Keeping a Pulse of the User Experience
Reuters, the iconic news agency founded over a century ago, has expanded into the mobile app space within the last few years. For those not in the know, the Reuters app provides access to breaking news, market data, and more, straight to mobile devices around the world.
There's little doubt that Reuters' app content will keep you up to date with the world around you. But does the app's user experience support its content? To find out, we explore the finer points of its app in our latest App Engagement Analysis post. Read on to discover how Reuters keep mobile users active and engaged.
The Initial App Launch
What Reuters Does Well
The first element that grabbed my attention during the initial app launch was the lack of an onboarding flow. Some apps open with a multi-screen flow that's designed to teach readers how to browse the app and convince them to sign up for an account.
For Reuters, readers don't need an account to access the app content. That's good news for first-time users. Instead of fumbling with a signup process, new users are dropped straight into interesting content. And since news is such an established category, most people don't need a tutorial to learn how to navigate the app.
In place of an initial onboarding tour, Reuters uses a "What's New" in-app message to explain anything new since the person last opened the app. The first message that appears at app launch is the one below.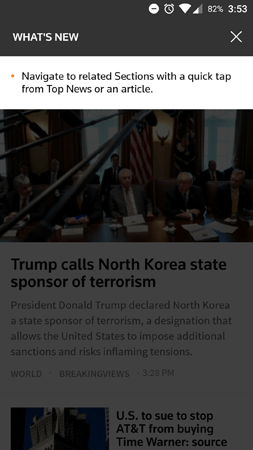 This What's New section is a good example of how to implement in-app messages. It's always tricky to alert users about app updates and new features. Many people don't read the changelog before downloading an app update, but it might be counterproductive to spam your audience with notifications for every update. How can app teams ensure their users are aware of each new feature?
This approach is the best of both worlds. The message succinctly explains a new feature that was added to the app. Some will appreciate the information, while others will dismiss it with a single tap. This in-app message is an unobtrusive way to keep app users in the loop.
One Way to Improve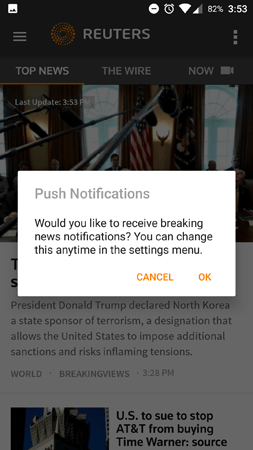 Let's look at Reuters' strategy for increasing push notification opt-ins. This is a critical moment; if you can't get users to agree to push notifications, it's hard to remind them to open the app. This push notification permission prompt isn't bad: It tells you the purpose of the push notifications, and it reassures you that you can always opt out later.
Furthermore, this message is a customized in-app message rather than a generic system prompt. If a mobile users taps No on a system prompt, the app won't be allowed to request permission again — but tapping cancel still leaves the possibility of a second request in the future.
The one way Reuters can improve this message is by delaying the send time. This permission prompt is sent at app launch, immediately after the What's New popup. At this point, readers haven't had time to explore the app yet. Try personalizing the opt-in time to catch users at a moment when they're more engaged — like after they've read three news articles.
News & Videos
What Reuters Does Well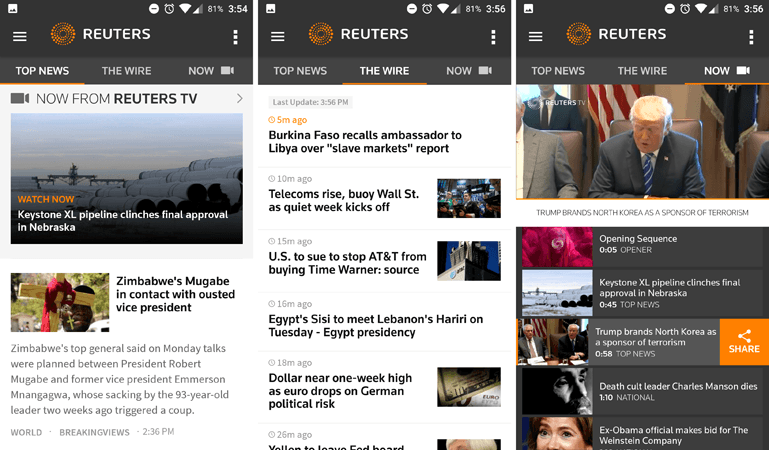 The news section of Reuters is as thorough as can be. The Top News tab features full-width photos and teaser text for easy browsing, while The Wire offers real-time updates on the latest news. Finally, the Now tab presents video news at the top of the screen, allowing you to keep watching as you scroll down the list.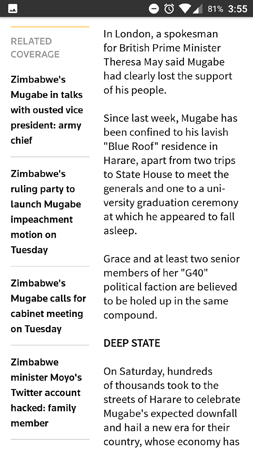 Each article reads more or less like on the web. There's a column for related articles on the side, which could help increase user engagement and session length. By helping readers discover more content to read, they're more likely to keep browsing the app.
One Way to Improve
The Reuters news section is already well-organized, so there's not much the app can do to improve the user experience. My only suggestion is to add a seekbar to the video player for easier navigation. Some of the video clips are several minutes long, and there's no way to skip to different parts of the clip.
Market Data
What Reuters Does Well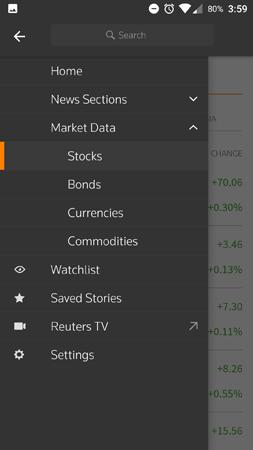 The main menu of the Reuters app reveals the full scope of what the newspaper covers. In addition to a full selection of news category, Reuters tracks an assortment of data from financial markets.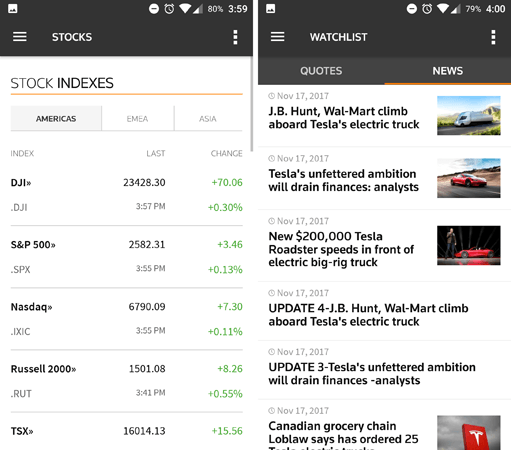 App users can browse numbers and graphs for both worldwide indexes and individual stocks. They can also add individual stocks to their watchlist for easy tracking.
In addition to real-time quotes, the stock watchlist includes a news tab. This screen aggregates news articles related to the items in your watchlist. In the above example, I bookmarked Tesla's stock, so the news tab is filled with Tesla-related news.
One Way to Improve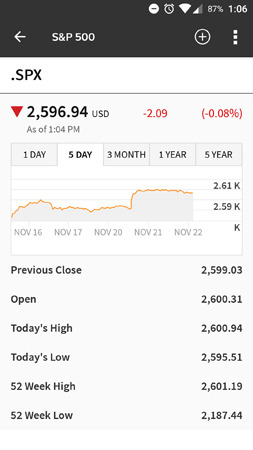 The market data feature is fairly fleshed out, especially for a news app. One suggestion is to improve the UX individual stock graphs. Even though both axes are filled in, it's not possible to tap and drag your finger across the graph to find the exact price at an exact point in time. You're forced to estimate for any point between the numbers on each axis.
Usability
What Reuters Does Well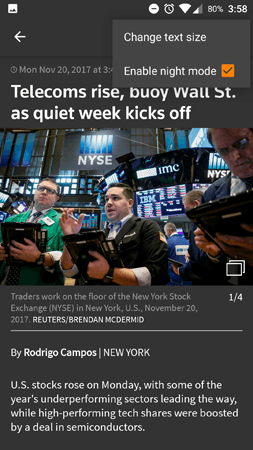 Reuters offers an impressive number of usability features in its app. These features might not impact the core content, but they make the app much easier to use.
The first feature is the night mode theme, which switches the whole app to a dark color scheme. As the name suggests, this theme makes for easier reading at night when bright white might hurt your eyes. The night mode setting is conveniently accessible from any screen, not just from the settings menu. If the color theme bothers you mid-article, you don't have to lose your spot just to switch it.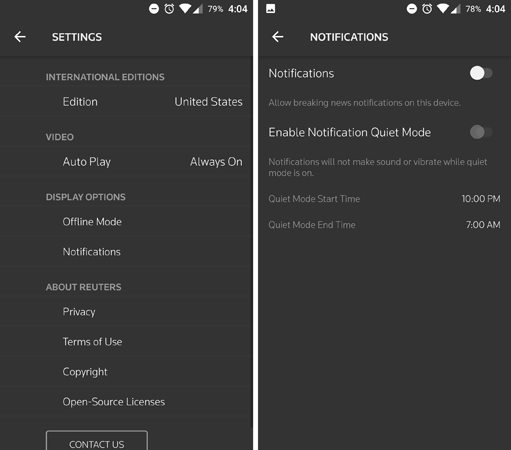 There are even more user-friendly features in the settings menu. The app allows readers to turn off video autoplay, which can be a major factor for people with slow mobile data. Autoplay can also be a problem if you usually leave your phone volume turned up and you're browsing the app in public.
The notification options are flexible as well. The app lets users define a notification quiet mode to prevent untimely disruptions. In an ideal world, app teams would personalize message send times via a mobile marketing platform, making this feature redundant. But an app user has no guarantee that the app will send timely push notifications, so it's wise to define a "do not disturb" period.
One Way to Improve
Push notification timing is a big deal for news apps. Ever headline is technically newsworthy, but no one can feasibly read a new push notification every 15 minutes. App teams need some way to curate these messages and ensure only the most relevant content is promoted. Furthermore, as the Quiet Mode option implies, it's equally vital to take time zones into account and ensure you don't bother users when they're busy (or asleep).
While it's good to offer a customizable quiet mode option, users shouldn't have to dictate that they want to sleep soundly through the night without news alerts waking them up. Instead, Reuters should control this on their backend. With the right mobile marketing tools, it's possible to send push notifications at the perfect time to each individual person.
How Reuters Gets Mobile News Right
The Reuters app is filled with content, yet it's not difficult to navigate. Each article is easy to read — especially with the night mode option — and you can even personalize push notifications to suit your own schedule. The app is already user-friendly, but there's always a way to improve. Follow these suggestions for an even better mobile app engagement.
For more in the App Engagement Analysis series, check out our posts on Starbucks, ESPN, NBA, NFL Mobile, Fidget Spinner, Etsy, Airbnb, and Soundcloud.
—
Leanplum is the mobile marketing platform built for engagement. We help brands like Tinder, Grab, Tesco, and Zynga orchestrate multi-channel campaigns — from messaging to the in-app experience — all from a single, integrated platform. Schedule your personalized demo here.