KLM Engagement Analysis: The World's Oldest Airline Goes Mobile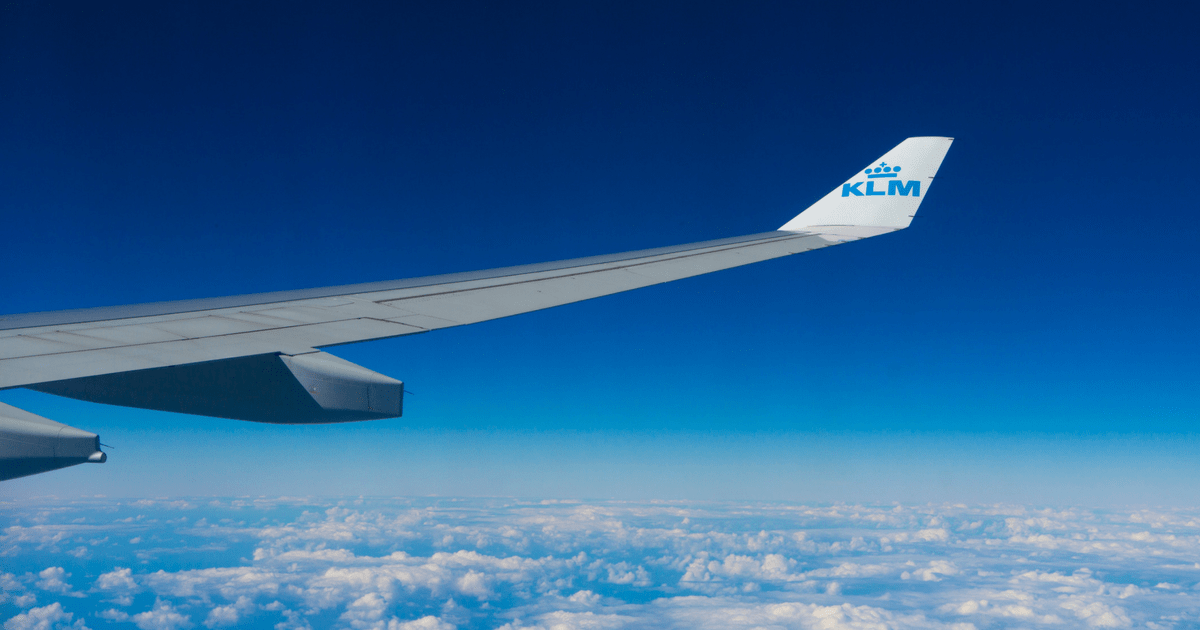 Did you know that KLM Royal Dutch Airlines is the oldest airline in the world still operating under its original name?
Yeah, we didn't either.
Another fun fact: KLM was founded back in 1919, a mere five years after the world's very first commercial airline flight.
Fast forward to the present day, and KLM has evolved into the digital age and gone mobile. How easy is booking a flight on the KLM app, and are there any features that distinguish it from the mobile presence of other airlines?
Let's find out.
First-Time User Experience
What KLM Does Well
Immediately upon opening the KLM app, the app asks for permission to send notifications and access my location.
Normally, showcasing the value of your app before asking for permissions is a mobile marketing best practice, but KLM uses approachable, conversational copy that succinctly explains why I should opt in. Because what I am saying yes to is crystal clear, I feel at ease and accept both requests.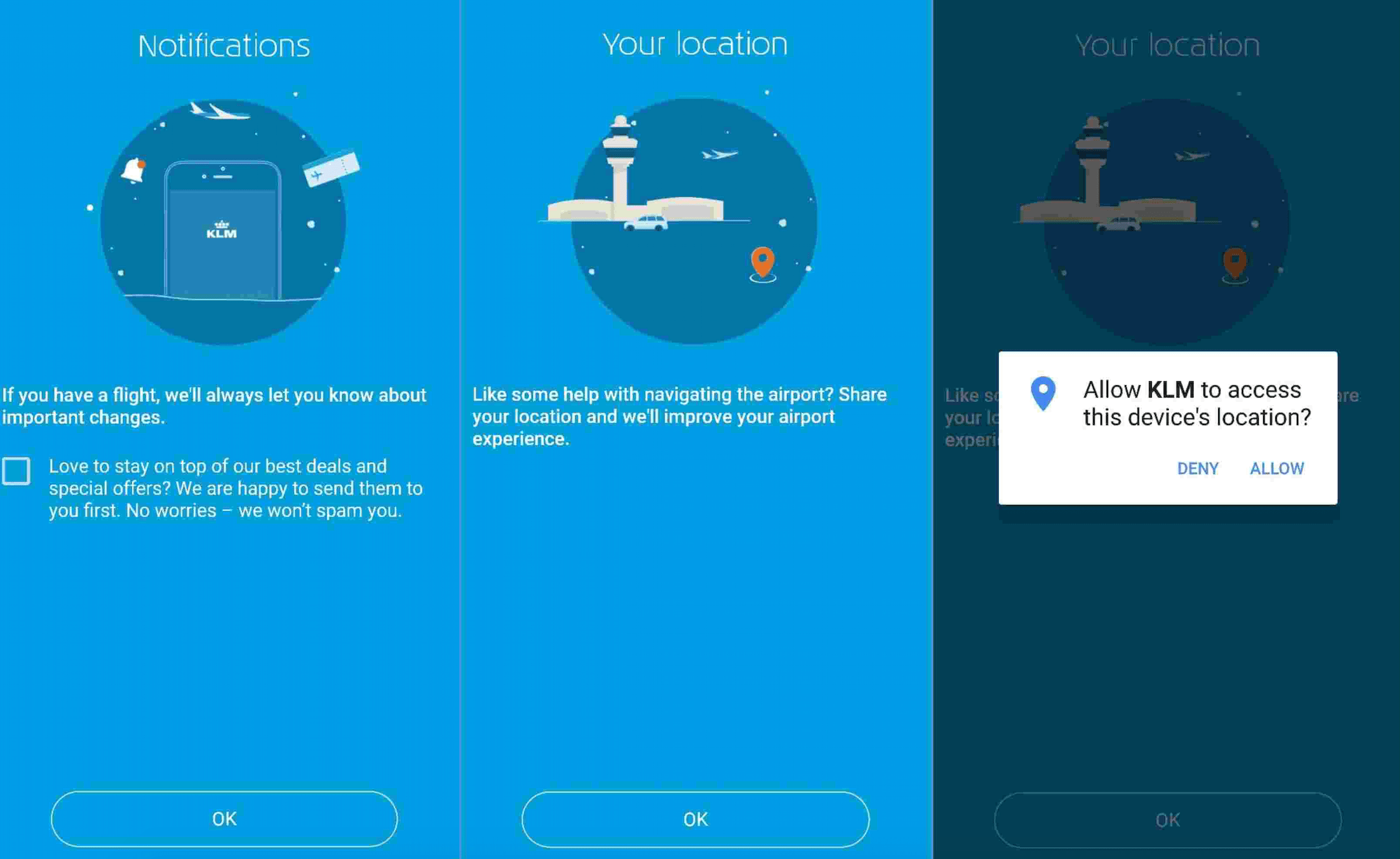 One Thing to Improve
KLM's onboarding flow is short and sweet — a good thing because it drops users right into the heart of the app. However, to take advantage of the app's full capabilities moving forward, you must be a member of the Flying Blue Loyalty Programme. While a Flying Blue menu option does live at the bottom of the app's home screen, I am never introduced to its benefits during the onboarding process or explicitly directed to sign up.
To educate new users on the perks of Flying Blue, or simply to make users aware of its existence, KLM could add an additional screen to the onboarding flow with a friendly value proposition.
To verify whether or not this would impact the completion of onboarding or encourage more sign-ups, KLM could run an A/B test to a select group of users. This way, the KLM mobile team can implement any changes with confidence.
KLM's first-time user experience could also be enhanced by a welcome email sent the day the user opens the app for the first time. This type of cross-channel messaging is capable of reaching users even when their apps are not open, and is a good way to introduce key features that didn't fit into the onboarding process. Since a welcome email allows more text than say, an in-app message or push notification, KLM could effectively encourage users to register as a Flying Blue members, boosting the volume of sign-ups.
Booking a Flight
What KLM Does Well
After KLM's onboarding process, I am dropped directly into the app's flight booking engine.
There are three separate pages: one for round-trip flights, one for one-way flights, and one for multi-city travel. The option to book a multi-city flight itinerary is something I haven't seen on many flight booking websites or applications before. It could definitely come in handy!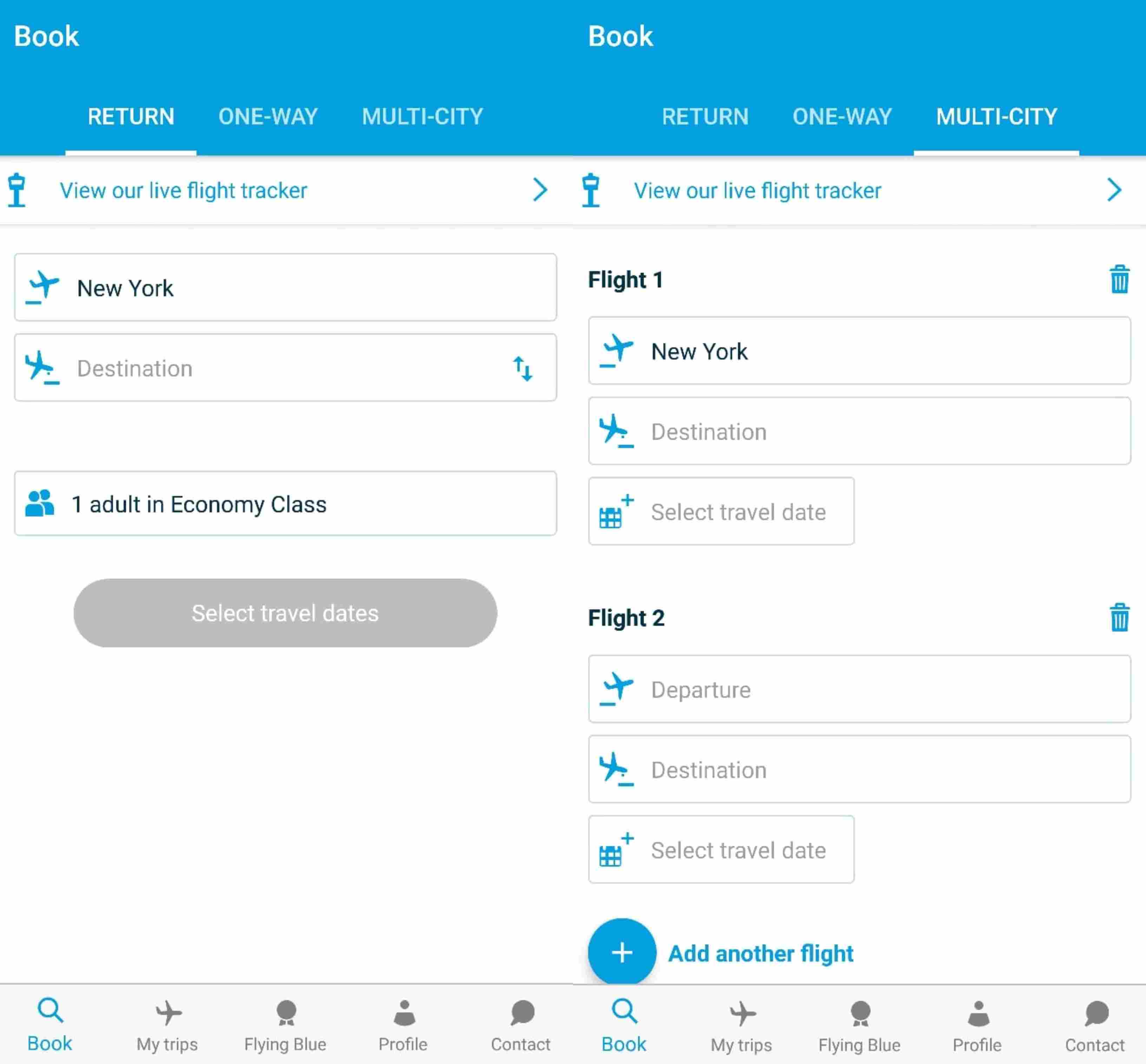 I decide to try it out, and key in a multi-city flight departing from San Francisco to San Diego, and then from San Diego to Las Vegas. Seems easy enough. Yet I am redirected to a page that tells me that there are no available flights on my chosen dates. Ok…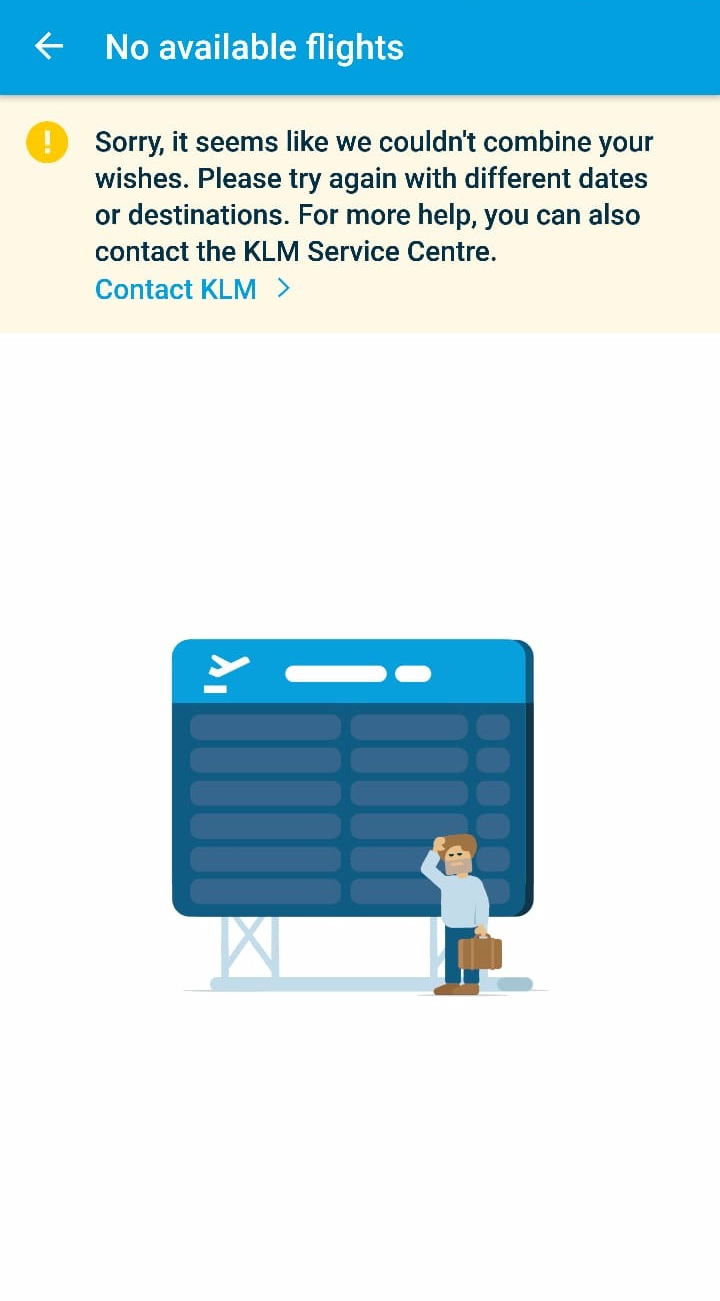 I try again, this time choosing a flight departing from San Francisco to Los Angeles, and then from Los Angeles to Las Vegas.
Still nothing.
They say the third time's a charm. This time I shake up my search with different dates, and try San Francisco to Shanghai as my departure flight, and Shanghai to Los Angeles as my return flight.
Boom! I finally get some results.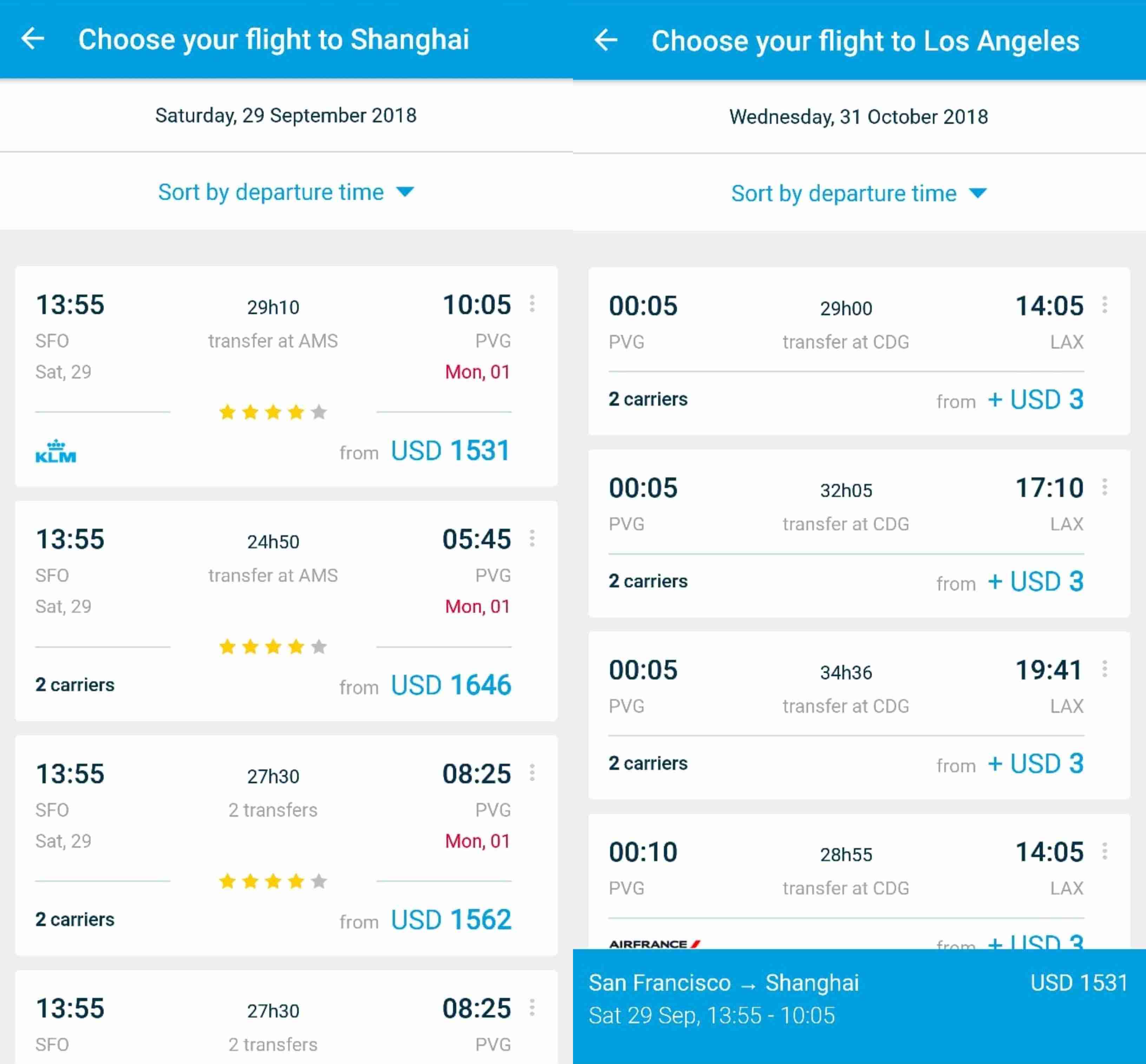 I select my flights, and am directed to a trip summary page with a typical checkout flow.
I fill in my personal information, but am not ready to take the plunge by entering my payment information just yet. Luckily, KLM provides me with the option to save my itinerary for 24 hours before I make a final decision, which I go ahead and do.
One Thing to Improve
It was inconvenient it took three tries before I could successfully find a flight — nevermind book one. After all, I was choosing from a provided list of destinations, not making special requests. If I were a KLM customer, this may have discouraged me from booking once and for all.
On top of that, once I saved my itinerary, I was essentially allowed to forget about it. After a couple days of not opening the app, I returned to two in-app messages notifying me of my expired fare. I did not receive any push notifications, emails, or other forms of communications that could have nudged me to complete the booking process.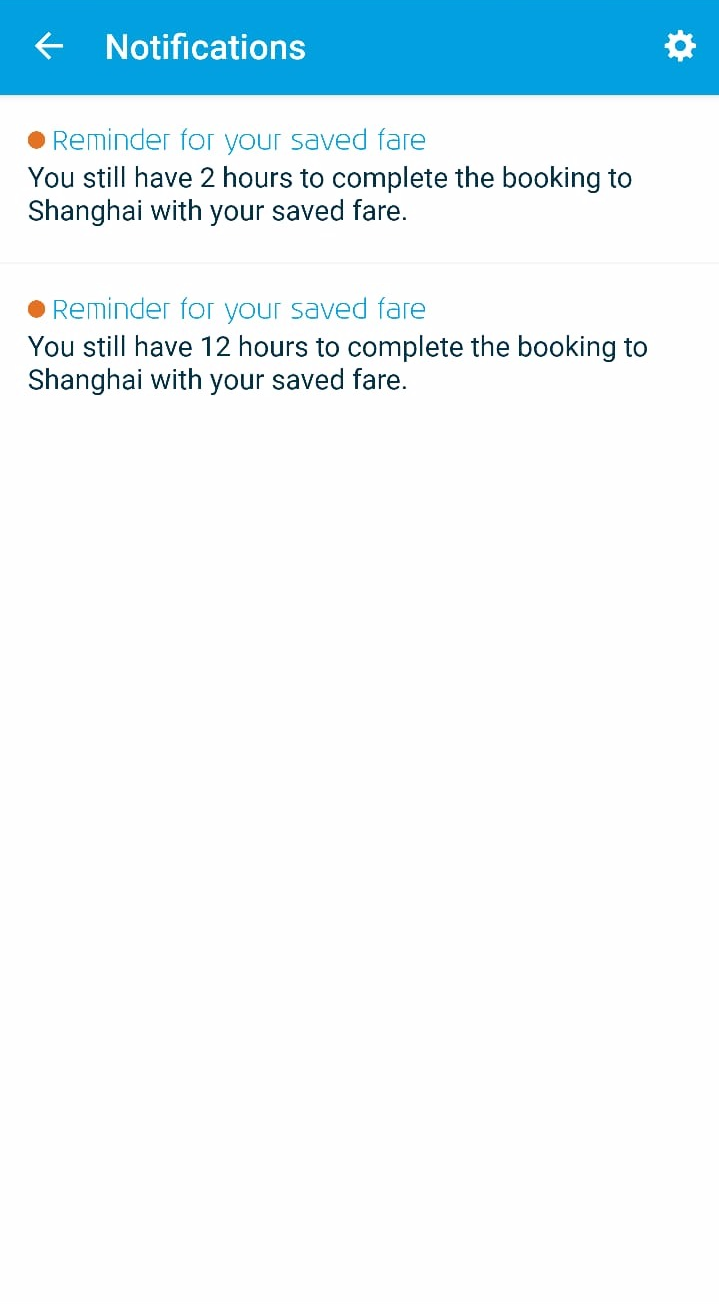 This is a golden opportunity for KLM to swoop in with cross-channel messaging like push notifications and email. These would have reached me even if my app wasn't open and kept my itineraries top of mind — encouraging me on my path to conversion.
Similar cross-channel messaging could be leveraged to introduce flight upgrade options as well as to hotel and car rental deals at chosen destinations. This would allow KLM to effectively upsell and cross-sell to users who have already expressed interest in booking a flight on the app.
In the future, these would be good strategies for KLM to monetize more travelers.
Main Menu & Special Features
What KLM Does Well
KLM's main menu has five tabs: Book, My Trips, Flying Blue, Profile, and Contact.
The Book and Contact options are self explanatory — this is where you search for and reserve flights, and reach customer support if needed.
The My Trips tab leads to a page of a user's upcoming and previous trips. If you have no upcoming trips, an "Add a Booking" button provides easy access back to KLM's flight booking engine.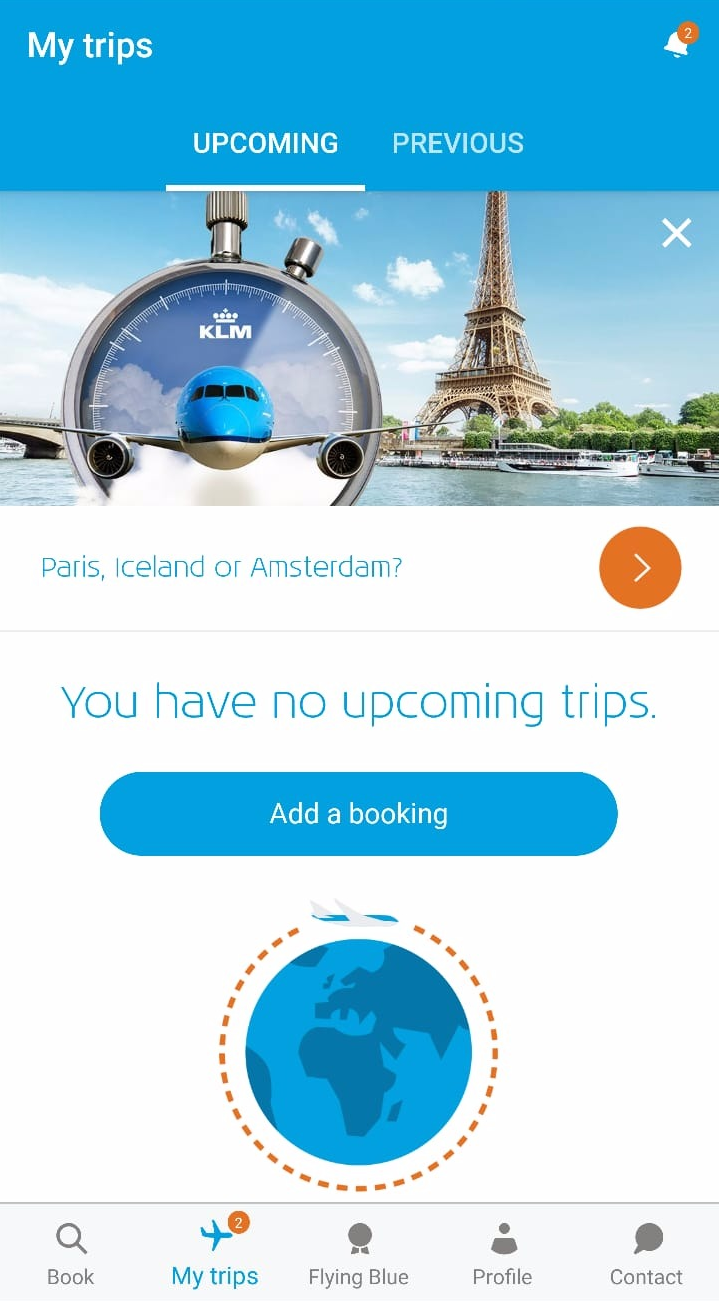 The app also suggests potential destinations for users. When I click on the "Paris, Iceland, or Amsterdam?" button on the My Trips page, I am led to a webpage of flight destinations which gives me an idea of KLM's price ranges and how those destinations fit into my budget.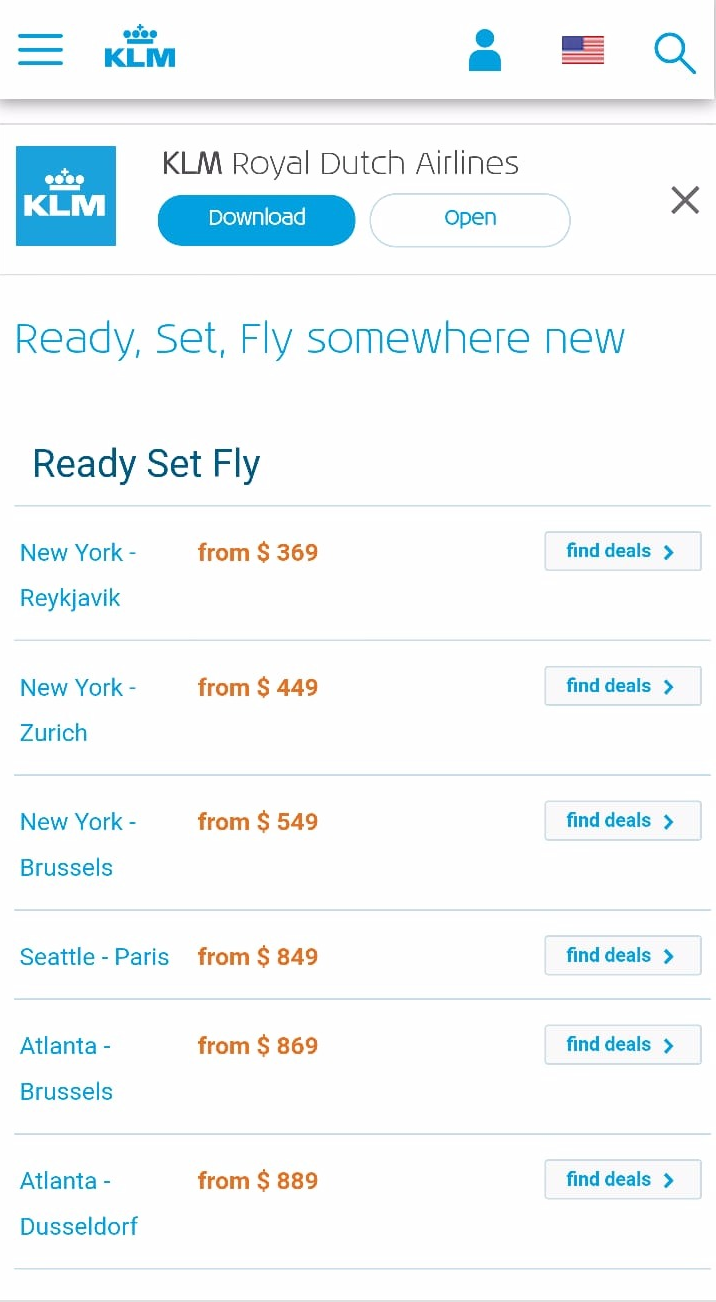 The Flying Blue page offers a mileage summary, previous transactions within the app, and a summary of the program's benefits. For non-members, this page isn't of much use.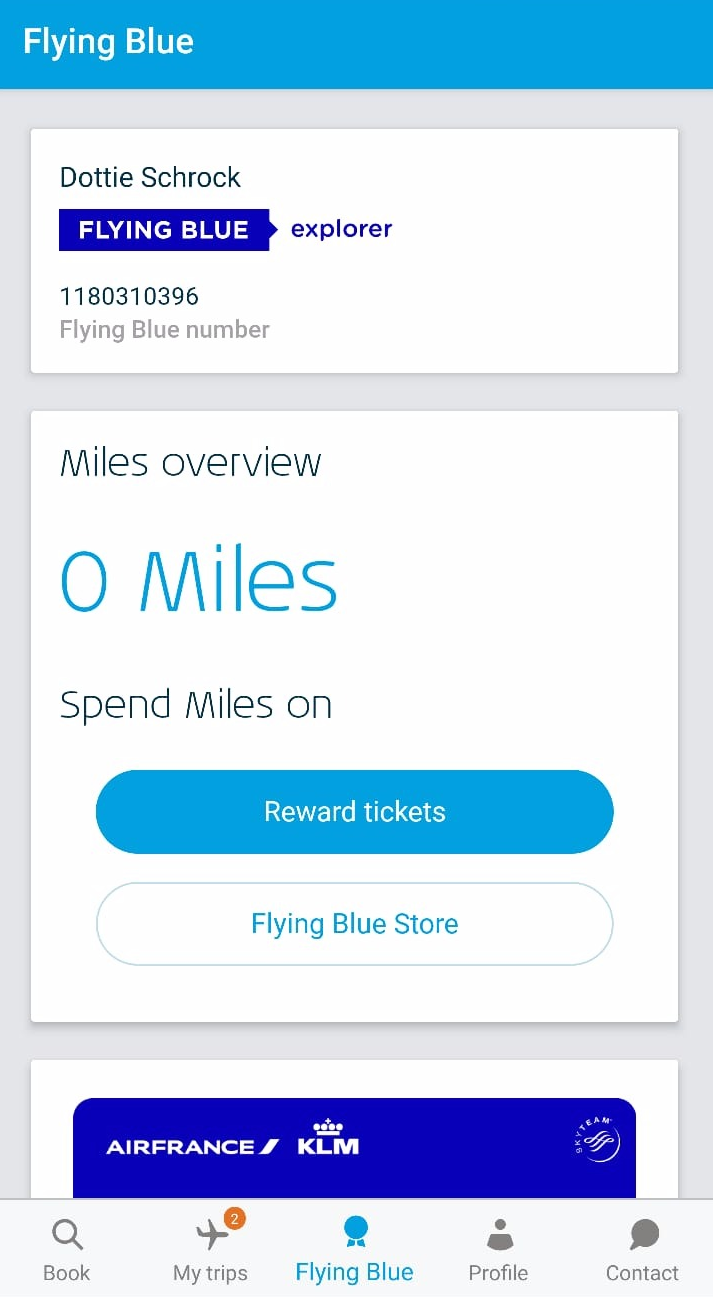 In the Profile page, you can find information like your personal details, saved payment methods, flight preferences, and uploaded travel documents.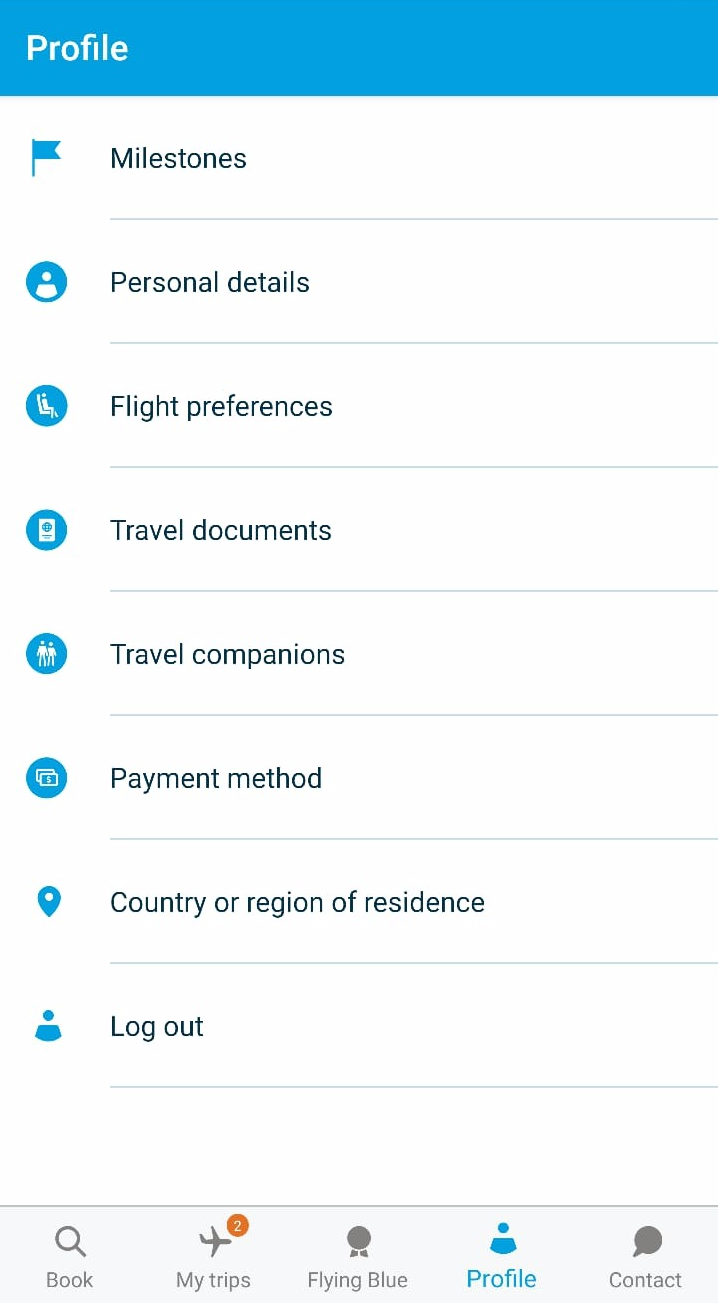 Flight Preferences is a standout feature on the Profile menu. From here, you can enter your usual departure and arrival airports, which the app then presets into the flight booking engine to simplify your search.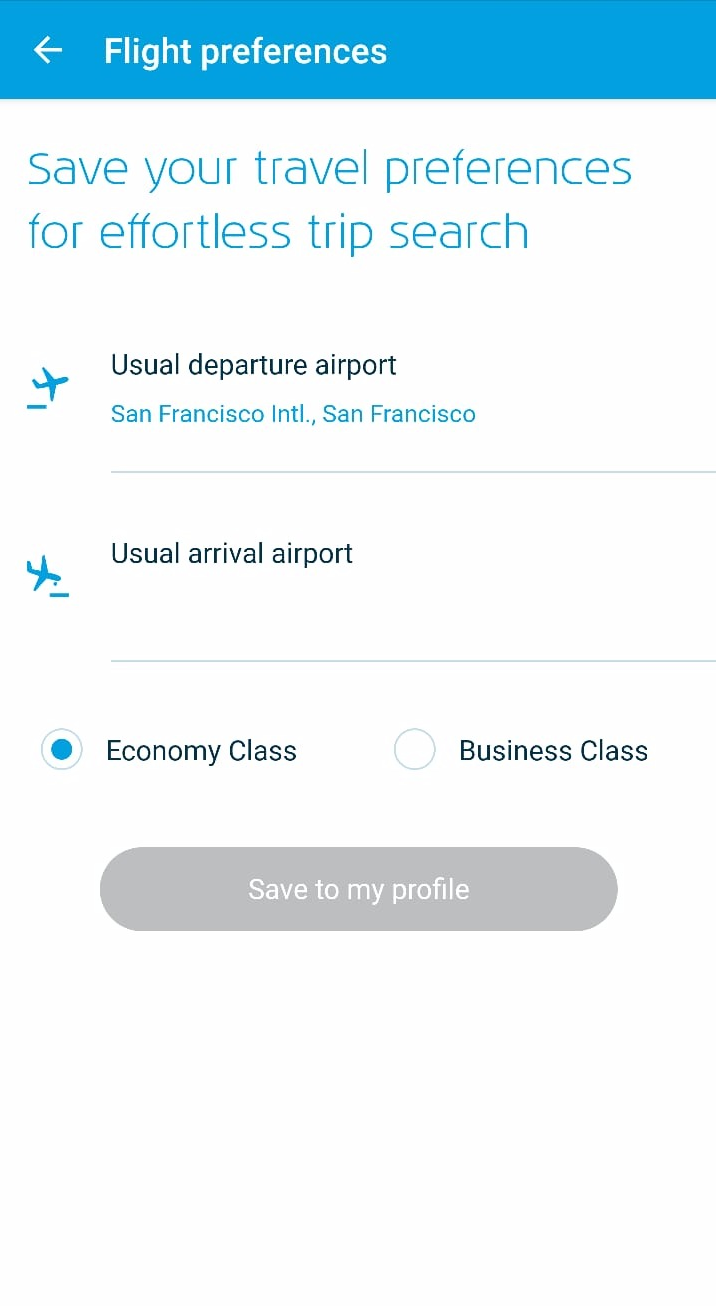 One Thing to Improve
Despite having access to my location, none of KLM's recommended flights departed from an airport near me.
To add some much-needed personalization, KLM could put the location data it collected during onboarding to use. This information would allow them to customize recommendations based on my real-time location. Now that would be some serious value.
Also, while the Flight Preferences feature under the Profile tab is a nice touch, KLM already has my location data, so ideally I wouldn't need to take this extra step. The Flight Preferences feature is also hidden away (I had to explore the app deeply to find it), so it would have helped if KLM had pointed out the feature with an in-app message, push notification, or email. They could even have asked me to set up my Flight Preferences during onboarding or when I searched for my first flight.
KLM App Engagement
Overall, KLM offers its customer a straightforward, no-frills mobile experience. The design of the app was aesthetically pleasing, and I was happy to avoid confusing buttons and complicated navigation settings.
While there is charm in its simplicity, the app does feel like it is missing something. Whether it was due to a lack of personalization, the imperfections of the flight booking engine, or the failure to use provided location data, KLM has a few opportunities to kick things up a notch.
With these improvements, KLM can create a cutting-edge app beloved by fliers around the world, and keep up with their competitors in the digital age.
For more in our ever-growing list of App Engagement Analyses, see our articles on Spotify, NYT, and Snapchat.
—
Leanplum is the mobile marketing platform built for engagement. We help brands like Tinder, Grab, Tesco, and Zynga orchestrate multi-channel campaigns — from messaging to the in-app experience — all from a single, integrated platform. Schedule your personalized demo here.